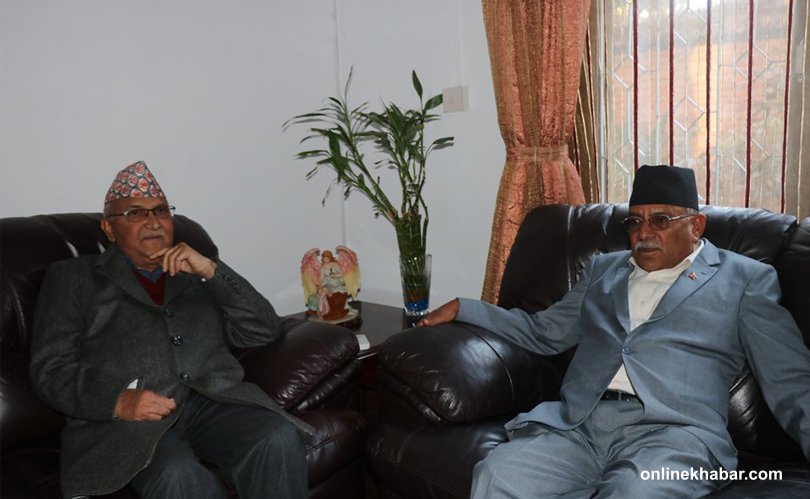 Kathmandu, April 16
The CPN-Maoist Centre, which is in negotiations with the CPN-UML in a bid to unify the parties for last six months, has concluded that UML Chairman and incumbent Prime Minister KP Sharma Oli does not want the merger to be concluded on the basis of equality. Instead, the party leaders accuse Oli of trying to make the Maoist party melt into the UML.
However, the leaders maintain that the unification is unavoidable, therefore it will take place sooner or later.
"Oli does not seem interested in the unification in its real sense, but pushing the Maoist Centre and ultimately killing it," a Maoist Centre leader says, "Just look at his way of leading the government. He is heading towards authoritarianism. Therefore, we should stay alert."
The UML side, on the other hand, has accused the Maoist Centre Chairman Pushpa Kamal Dahal of demanding the position of prime minister after 2.5 years, subsequently delaying the unification talks.
"It has been rumoured that issues about 50:50 equal share and mentioning of 'people's war' are delaying the unification. But, in fact, Prachanda [Dahal] wants to be ensured that he will be the Prime Minister after 2.5 years," a UML source says, "Oli has already given the verbal assurance. But, Prachanda wants it in writing, which Oli does not want."
"Despite such misunderstandings and doubts," the source concludes, "The relationship between two parties does not that low to foil the unification. It is certain."