As you roam around the beautiful Manohara riverside in Sanothimi of Bhaktapur, you can see signboards of Burger.com, Chhano, The White Rabbit, Silauto Sekuwa Ghar, Madrix, Burger House and Crunchy Fried Chicken, Sandar Momo, and Perungo one after another. As the name suggests, all these are restaurants.
Neither are there any dense settlements nor are busy roads and markets. There is no specific tourist destination to attract travellers. But, why are so many restaurants opening up here, making it a restaurant hub?
Changed face of the Manohara riverside
"The reason for this is the same as Nagarkot and Dhulikhel. The views from here are also breathtaking. The clear views of mountains, airport and the river entice the visitors," says Bishwa Raj Regmi, the manager of the Silauto Sekuwa Ghar.
A year ago, when he was planning to open a restaurant, this place was not as vibrant as it is now. Still, he dared to run a restaurant here, spending Rs 30 million. "After that, other restaurants started opening, making his place a restaurant hub," says Regmi, "Now, the Manohara riverside has become a restaurant hub."
Until a few years ago, there used to be a remote field here. As several structures as per urban planning began to be constructed, this place gradually changed its appearance.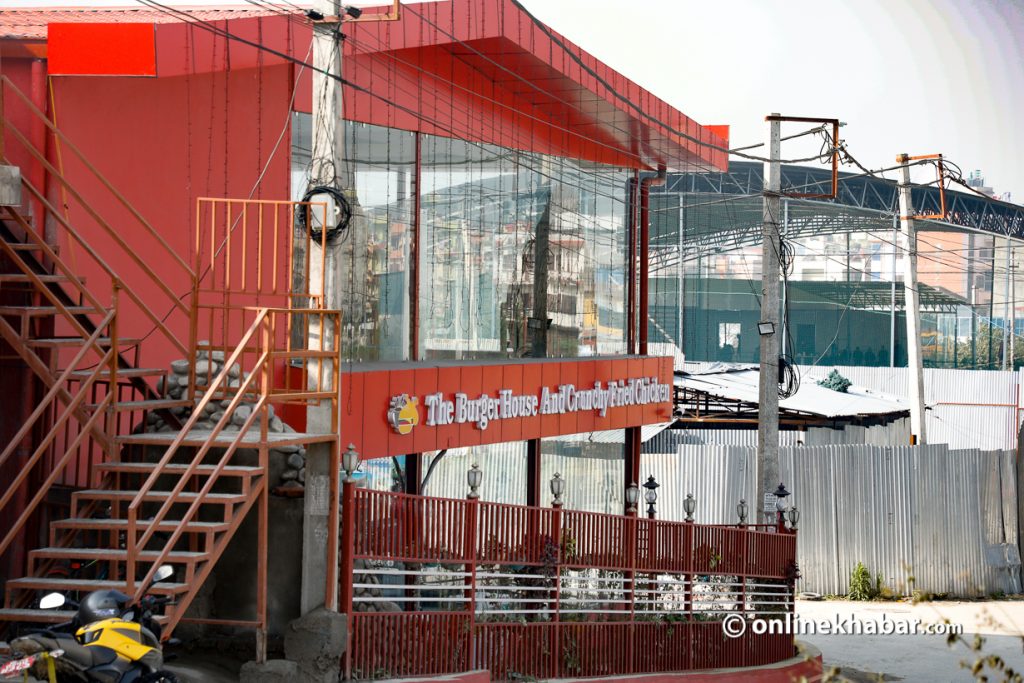 During that time, roads, sewers and parks were being built, and electricity poles were being erected. The workers were living in small tents. People started selling teas and cigarettes. Gradually, people began selling peanuts, panipuris, chatpate, momos and sausage, installing stalls.
The flowers in the park bloomed, and the trees grew. Gradually people started coming to the Manohara riverside to escape the urban crowds. As the number of people coming there for recreational activities kept on increasing, many instagrammable restaurants started opening.
Varieties of dishes, colourful electric lights, and live music added to the liveliness.
Emerging restaurant hub
Rabin Katuwal came to the Manohara riverside while hanging out with friends. After living in Dubai for a long time, he was thinking of doing something in Nepal. As soon as he saw the atmosphere here, he came up with a plan to run a food truck. In Dubai, he was fascinated by such business: making and selling food in the vehicle. One can take a vehicle wherever they go or wherever there is a crowd of people to sell the food.
"But, there is a legal hurdle in doing such business in Nepal," he says, "Then, I took a piece of land on lease here and ran a small cafe."
While in Dubai, he worked in a restaurant, doing dishes first and taking other jobs later. On his return from Dubai, he had some money, some experience and some plans to execute in Nepal.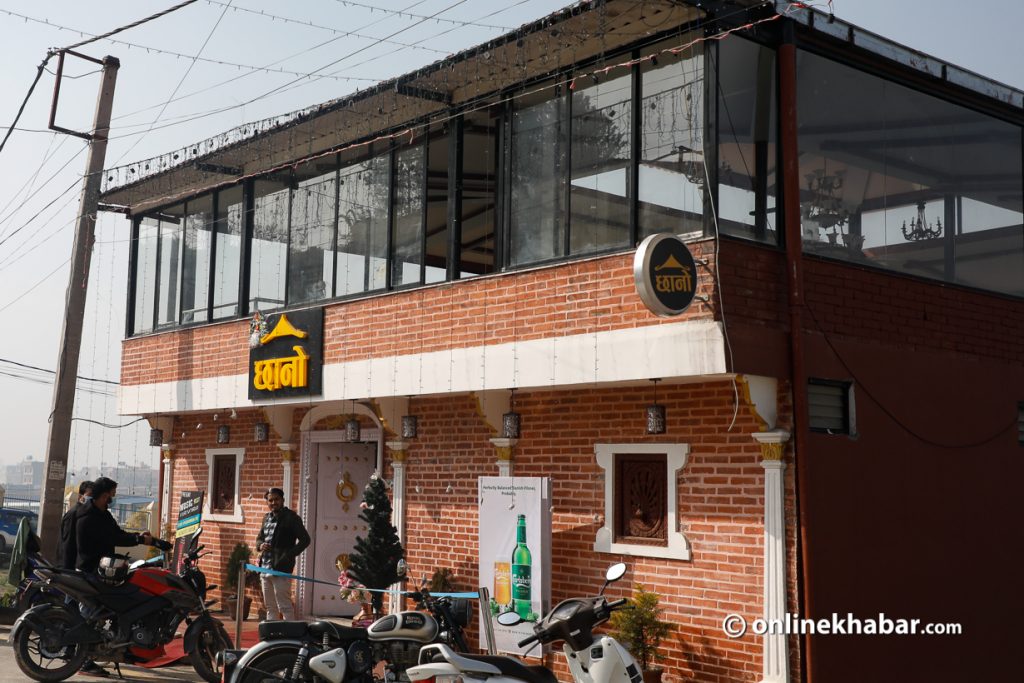 "I didn't want to go anywhere else after seeing this beautiful place," says Katuwal, "I started selling coffee and burgers on the Manohara riverside."
At first, his cafe was congested. Customers would buy burgers and go out to eat. He then rented more pieces of land and built a spacious restaurant and named it 'Burger.com'.
Likewise, Regmi of Silauto Sekuwa Ghar came to the Manohara riverside while walking around. At that time, there was a huge vegetable field over here. When land plotting started here under the urban plan, he thought a restaurant in such a new place would run well. Hence, he confidently invested money.
He built a spacious kitchen and dining room and also prepared a front garden. On the same side, he reared some kalij pheasants and local chickens. Then, he made a menu of indigenous flavours and named the restaurant with its attractive decor, Silauto Sekuwa Ghar.
"I started selling indigenous chicken and rice, kalij meat, pickles ground on silauto (a stone mortar for grinding spices), and grilled sekuwa. This gathered a crowd of foodies in the restaurant," says Regmi.
Similarly, a group of young people planned to do some ventures together. They chose the restaurant business and chose the Manohara riverside for it. "We have noticed the flow of visitors in the place. Also, many other restaurants were gradually opening here," says Suman Ramdel, "Therefore, we thought if we could start a restaurant here."
Except for a few, there is no franchise restaurant on the Manohara riverbank. Most of them have started their first business from this very place, such as Burger.com, Chhano, Silauto, White Rabbit. Katuwal of Burger.com says, "It's better to work on your own ideas than to take the franchise of others."
"Everything we need to make burgers, including chicken meat, is our own product," he says, "We continue to satisfy our customers by providing healthy and tasty food. We plan to open four other outlets this year."
Favourites of TikTokers
Customers do not go to the Manohara riverside just to eat. All the restaurants have made such a structure for the customers where the TikTok videos can be made, paying special attention to interior decoration.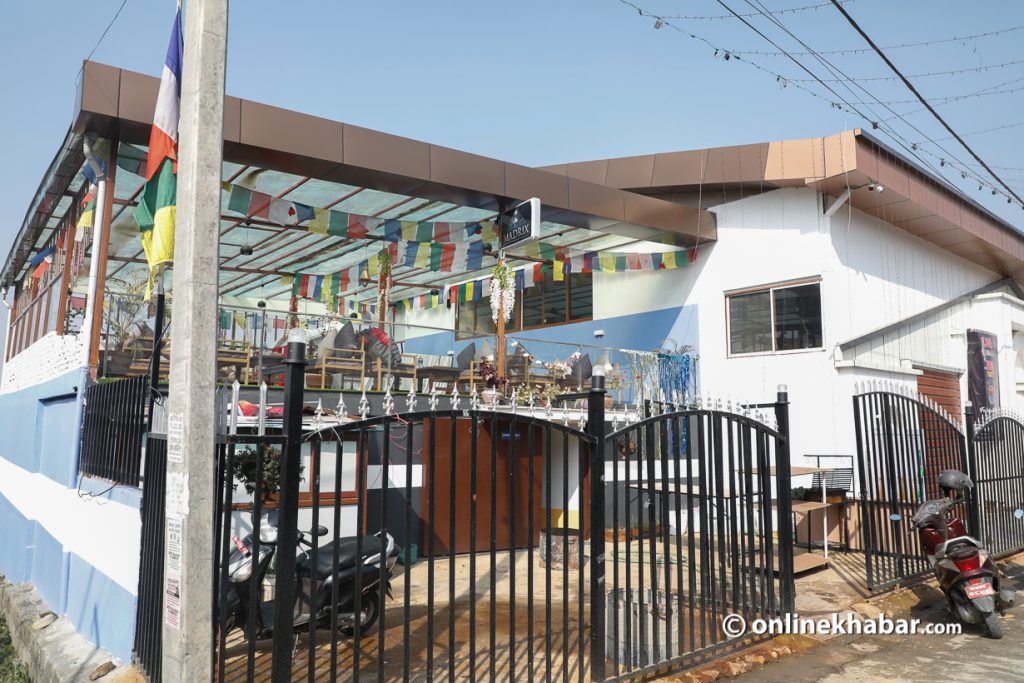 "Customers come here just to make TikTok videos," says Ramdel of White Rabbit restaurant. According to him, most of the youth make such videos while eating. The owner of the Madrix restaurant also says that customers like to make TikTok videos when they come here. "That's why we have designed such a structure where they can take photos and make TikTok videos," he says.
Even before the Manohara riverside became a restaurant hub, young people used to come here only to make TikTok videos. After the construction of a well-organised road and park, a huge number of people, especially young ones, flocked to this place for making TikTok videos keeping Suncity Apartments and Manohara river in the background.
"They also promoted our restaurants," says Ramdel.