"If you find a partner who understands you well, you will lead a successful life." Madan Krishna Shrestha still remembers what Ram Krishna Shrestha, the owner of RC Momo at Bhotebahal, said back in the days. The veteran actor and comedian, and one half of the popular Maha jodi, finds wisdom in those words even today.
"Ram Krishna dai was a simple human being. This nugget of wisdom came from experience, not from a scholarly pursuit," said Shrestha on a recent winter morning at his residence. "You find strength in whatever you pursue, if you have a partner who really understands you well. You have a good listener to share your problems with. You can understand, experience and live life."
The 'ma' in the 'ma-ha' found and tied the knot with his partner Yasodha Subedi at the young age of 23. During the early 70s, Subedi and Shrestha shared a common workspace at Sanchaya Kosh. He had already worked as an assistant accountant for three years when Yasodha started.
Sanchaya Kosh then had around 500 employees. The two would bump into each other quite often, and then that would be followed by brief conversations. The romance grew deep during these conversations which would be about everything, from family and home to news and magazines. Yasodha, who loved reading Filmfare and Dharmayug magazines, was wise beyond her years while he still had a charming juvinity to him that superseded his seriousness.
He had the quality to make everyone at ease with his sense of humour, especially her. Young Yasodha had another reason to fall for Shrestha; he had recorded a song on Radio Nepal which had already made him a minor celebrity
---
"During those evenings when I would walk her home, we would especially talk about our differences. She was from a Bahun family and I from a Newar. She was worried that her parents would never allow us to get married."
---
"I had read the book 'The Art of Handling People' during college. The book, which had plenty tips on attracting people, talked about the significance of sharing a common interest with the person of pursuit," Shrestha shares. That made him buy magazines Yasodha was fond of. He would read those magazines in front of Yasodha and would not stop reading them until Yasodha asked for it.
"During those evenings when I would walk her home, we would especially talk about our differences. She was from a Bahun family and I from a Newar. She was worried that her parents would never allow us to get married. I was also sure that my father would never approve of our relation," he says.
Shrestha's father was the head of the Panchayat at Jituphedi, an hour's walk away from Balaju. He was also an ardent social worker. That led to a moral conflict. His father was a traditionalist, but he also believed in progressive thought. Yashoda's father, on the other hand, was a district judge.
Rather than being detracted, the young couple grew more intimate with their shared vulnerability. "We would share lunch at the office. I would drop her home from work. Eventually, it became difficult for us to live without seeing each other," Shrestha says."We decided to get married."
***
If you have memories of watching the tv novella 15 Gatey on Nepal Television, a format the Maha jodi popularised during their active years, you will find similarities between circumstances under which the characters of series get married to the situation in which Shrestha's real life was headed towards.
"There are only two castes in this world; that of a male and a female," Shrestha's character stands up to his father in the series. But the 'reel' dad does not accept the fact that his son has just married a girl from a 'lower caste' outside of family. "Don't teach your father on the ways of life!" a stern Hari Bansha Acharya tells his son before evicting him.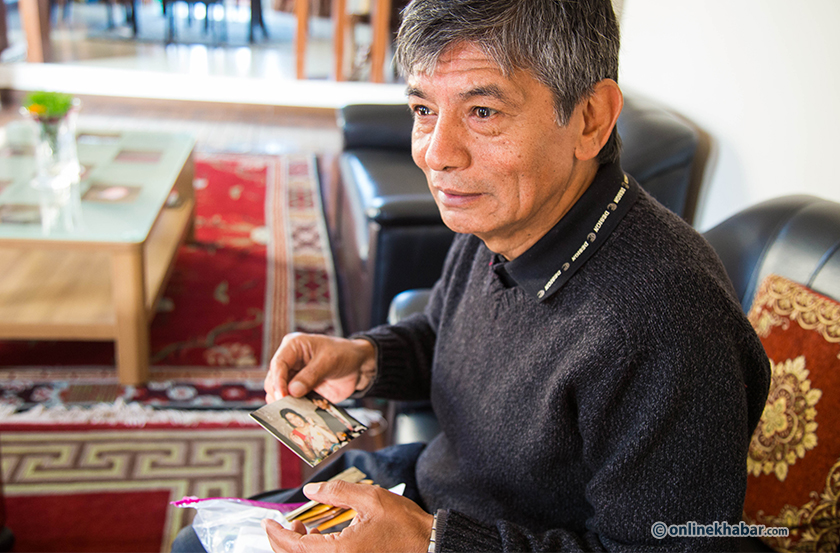 While Shrestha's real life conflict may not have been as dramatic, the decision to get hitched outside of the household did come with repercussions that were very theatrically inclined. "Inter caste marriages were not as common during those days," Shrestha says. "Even before we decided to get married, I think my father knew of the affair. He didn't say anything explicitly but I could read the disappointment in his eyes."
The couple finally got married in 1974 on the day of Indra Jatra at Suryabinayak temple. Shrestha wore a shirt borrowed from his friend Mohanlal. The tie was borrowed from another friend Ram Shrestha. Everyone but his family offered to help. The couple had rented a room at New Road for the cost of Rs. 60 per month which another friend Mangal Narayan helped painting. Pradip Shrestha, another friend who owned a store at Maha Boudha selling mattresses and duvets, gifted the couple with these essentials.
---
The couple finally got married in 1974 on the day of Indra Jatra at Suryabinayak temple. Shrestha wore a shirt borrowed from his friend Mohanlal.
---
"We stayed in that rented room for only two weeks after our marriage," Shrestha says. "We were worried about the future. How long will we live like this? What is my dad thinking? She was more concerned. 'What is my family thinking? What is my sister thinking? How are the neighbours taking this?'"
Shrestha finally met his father after a relative forced him to meet. Ishwarilal Shrestha, a brother by relation, had set up the meeting at his home where Shrestha's father had already come. "We both cried in each other's embrace," Shrestha remembers. "At last, my father's progressive side won the battle against tradition."
Shrestha's father decided to marry his son officially again according to Newar tradition where family and friends would be invited. Decorations were being put up, invitees were getting informed and invitation cards were being printed.
"The invitation read 'My dear son Madan Krishna Shrestha and Yasodha Maiya are…' even though my father knew she was a Subedi," Shrestha says. "I feel bad even now as I remember this."
***
"Yasodha is very fond of movies. She is especially fond of movies which move her and make her cry, movies she can empathise with," Shrestha says. "I think people who cry during movies are more humane and have good heart."
She cried when his cunning character out-fooled a poor homeless man in Laalpurja. She laughed when Shrestha's character pulled all possible string to birth a son in Bigyapan. She laughed again when in Dashain, greed and cunning put up a heartfelt comic show in which the bad guys win at end much like what happens in real life more often than not.
Life's reality hit hard for the couple after years of marital bliss when Yasodha was diagnosed with rectal cancer in 2012. What was initially thought to be a hemorrhoidal disease had evolved to the last stages when the diagnosis happen. "I was shattered," says Shrestha. "I wanted to give her the best possible treatment."
That day Shrestha came home and cried alone for hours.
 He shared the dreaded news with Hari Bansha first after which a decision was made to take Yasodha to Bangkok for the treatment. "I asked Hari Bansha if I should let Yasodha know about the disease. He said that it will boost her confidence if we tell her everything honestly. It will help her to fight the disease herself," Shrestha remembers.
Yasodha realised about the severity of the disease when the doctor used the word 'chemo' when discussing about treatment. The couple went to Bangkok immediately with Hari Bansha Acharya and Yasodha's health has been steadily improving ever since.
"She cares for me a lot," he says. "I am always polite towards her. She respects me a lot. I think you need mutual respect for marital bliss. I respect the fact that she left her family to come and live with me and start a new family. They say that Nepali women love even their dogs from their birth house. But to think that she couldn't even meet her dad before he died, I feel really bad. She now has cancer which is not a small disease. I am able to nurse her back to better health and I am grateful for that."
"Yasodha worked at Sanchaya Kosh for 40 years and on the day of her retirement she had said that she would go wherever I would go. But she cannot go anywhere after her illness. When she sees photos of Haribansha, Ramila and me on Facebook, she feels sad," he says."I cannot imagine my life being complete without her."
Ram Krishna Shrestha would have felt the same.