Some five years ago, Chandra Prasad Basnet went to Israel from Rangapur, Jhapa rural municipality-3 of eastern Nepal. He did not go there for foreign employment like many who leave the country. But, he was there to receive training in banana farming.
After a year, he returned to Nepal and started banana farming in the village.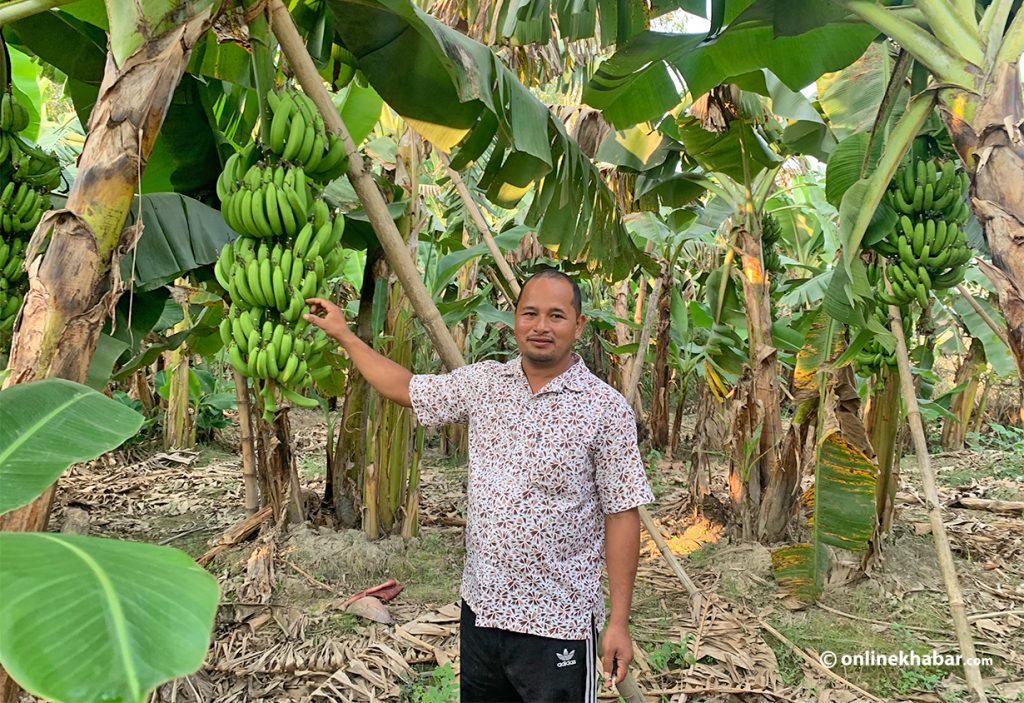 With his encouragement, others have also started banana farming rebranding the rural municipality as a banana block. The Prime Minister's Agriculture Modernisation Project (PMAMP), which is providing various support to the farmers as needed, declared Rangapur as a banana block last year.
The head of Jhapa Agriculture Knowledge Centre, Sagar Bista, says, "About 200 hectares of bananas are being cultivated commercially in the Rangapur village alone."
Basnet today has become a local hero and the first to start commercial banana farming in Jhapa. He is an example of how a young person can change the identity of a village if he puts in the right effort.
Success follows skills
Five years ago, Chandra Prasad Basnet went to Israel to receive training under the Learn and Earn programme, conducted as per the agreement between the Small Farmers Agriculture Cooperatives Ltd (SFACLs) and the Government of Israel. Upon his return, Basnet started banana farming by registering a company named Agri Centre Jhapa.
He started in paddy fields around his house and planted 1,000 banana saplings. Now, it has been expanded to 6.27 hectares near a riverbank, the majority of which he has rented out. In that land, he grows at least 50,000 bunches of bananas in a year.
"The earnings have been pretty stable, even during the lockdown. The market has also been positive," says Basnet, adding banana farming is more profitable than growing rice, corn and other grain crops. He is going to add some five hectares of land for cultivation this year.
He has cultivated malbhog, William hybrid, G9 and red bananas. The main markets for these bananas are Kathmandu, Birtamode, Damak, Surunga and Itahari.
To inspire the farmers in banana cultivation, Basnet has been producing saplings, distributing them and teaching plantation techniques for free. If the farmers complain about any disease in bananas, he also prescribes medicine.
He shares it was difficult to convince the farmers to start banana farming in the beginning. However, now times have changed and many people come to get advice and suggestions from him.
Empowering locals
"There are 20 farmers in Jhapa rural municipality who are engaged in banana farming," shares Basnet, adding that seeing them earn from banana farming is an absolute pleasure. "Not just me, everyone in the village should be self-sufficient; it will help in economic prosperity."
Constituent Assembly member Pooja Khanal is one of the banana farmers in the village. Inspired by Basnet, she is now cultivating bananas on 1.75 hectares of land.
She says, "Ever since he was in Israel, he used to say that we should cultivate bananas here. After he returned, I also started farming with his support, advice and inspiration."
According to her, not just her but the youngsters who returned from abroad are now engaged in banana farming. "Youngsters from Santhal, Urao (also Uranw) and other communities have become very attracted to banana farming. They no longer have to go abroad and can just work in the village. There has been an agricultural revolution here."
Meanwhile, many from far and wide come to Rangapur to meet and understand more about the banana business.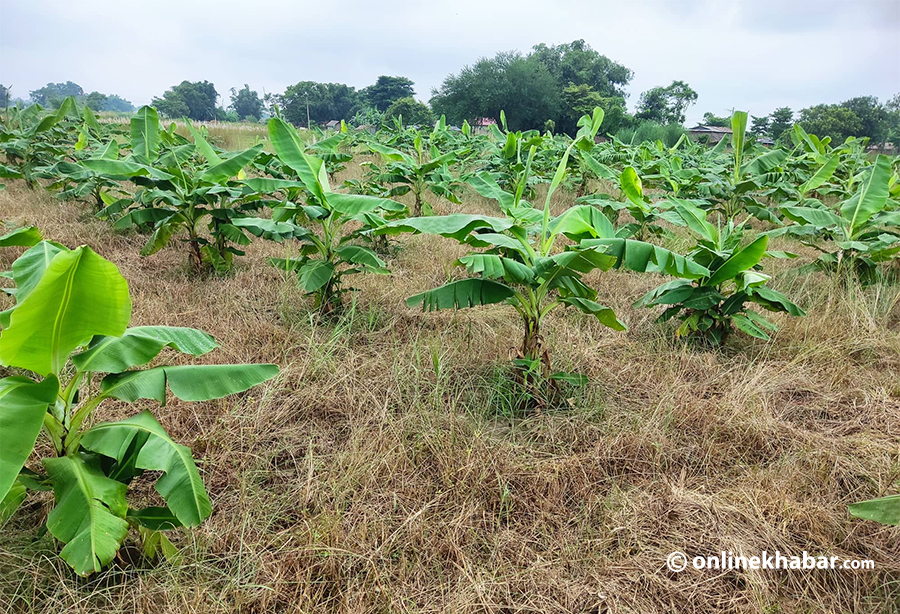 One of them is Chakra Bahadur Dahal from Phaktanglung rural municipality-1 in Taplejung. "I travelled to many places, but it's only here I could find banana plants of advanced varieties that are resistant to diseases."
Basnet can also be seen in the field with the workers. "I live with them, eat with them and work with them, together. It is my experience that it is better to work in a family environment, without any pressure."
He has also taken the responsibility of transporting the bananas grown by the farmers and selling them in the market. "Big traders want to pick as many bananas as possible from one place, so there is a risk of not getting a market for those who produce only a few, so I mix it with the bananas I grow and sell them to the market so that the production of such small farmers do not go to waste. They also get their due money," shares Basnet.
Modernisation in agriculture
Basnet says that modern technology along with all the age-old techniques of agriculture is being used in banana farming.
On Basnet's farm, those who come to work have certain responsibilities, but their work time is flexible. With the attendance system in place, including a mandatory check-in and check-out system, the workers have it easy to get their wages on an hourly basis.
"Some skilled workers can earn Rs 20-50 more than others per day," he says.
Nevertheless, he says that only organic fertilisers and pesticides are being used in banana cultivation. "A concrete structure has been built inside the garden to make the compost for the bananas. There, old banana plants and leaves are buried in a hole to make fertiliser and use it."
He also has set up a shop for organic fertilisers, seeds and organic pesticides needed for banana cultivation in the market, near his house. But, there is no mandatory cash transaction as farmers can also trade banana leaves for seeds and organic pesticides.
The banana farmers are also getting help from PMAMP in any technical or monetary support. "We provide a 50 per cent subsidy for the irrigation equipment and transportation," says Sagar Bista.
---
This story was translated from the original Nepali version and edited for clarity and length.