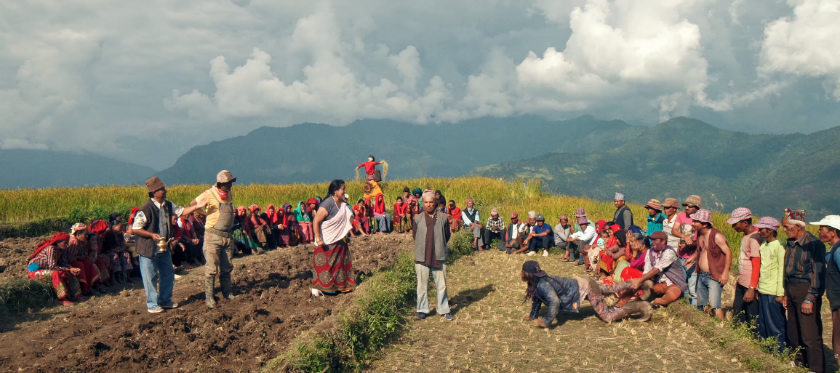 Their alcoholic father passes away without legally handing over a piece of land to his two sons, and the two brothers fight over it.
Lalpurja is Nigam Shrestha's second directorial venture, starring Saugat Malla, Bipin Karki, Manuka Pradhan, Mirnu Magar and Harihar Sharma.
The story revolves around Tantrik (Saugat Malla) and Om Narsingh (Bipin Karki) who fight it out for the ultimate prize in this mystery-laden comedy set in a fictitious village of Miteri Gaun, which is located at midpoint between Ghatmandu (capital) and Akshardham, the 'promised land' where people go to find the true meaning of life.  But the way to the promise land is filled with obstacles.
The story takes an interesting twist when their childhood friend Parpala (Mirnu Magar) comes to the village, trying to patch things between the brothers and wishes to open a dairy on the same land. However, Tantrik wants to open a lodge ('homestay') on the land. His stepbrother Om Narsingh wants to till the barren land so he and his family can make ends meet.
This film served as great entertainment with its colourful cast and numerous plot twists. Shrestha has used actors with whom he has worked with before in films like Chhakde and Loot. Saugat Malla, like always, has been excellent in his role as Tantrik as he once again lays claim to the fact that he is one of the most versatile actors in Nepali film industry.
Bipin Karki, who plays the role of Tantrik's intellectually-challenged stepbrother, has done a tremendous job in pulling the role off. His natural acting stands out along with Malla.
Making her debut alongside Malla and Karki, Miruna Magar also puts on a stellar performance. Although her acting is a bit off at times, it should only get better with time. For her first film, you'd have to say she has done a fairly good job.
Harihar Sharma who plays the role as Tantrik's Mitba also packs in a solid performance along with seasoned actors such as Kameshwor Chaurasiya and Menuka Pradhan.

The cinematography is good too– maybe it's because the producers selected a scenic destination to shoot the film. The way the camera tells the story, captures the essence of the thematic elements at hand, is aesthetically pleasing and contributes to the film's distinctive character and identity.
Editing, too, is effective and while you watching the film you aren't be drawn out. To say the 5Cs of cinematography (composition, close-up, continuity, cutting and camera angles) have been taken care of wouldn't be an understatement. The background score prepared by Night Band's Jason Kunwar is above par and the director has made sure it was used at the correct time.
There are a few times when the movie feels a bit drawn-out. But the script and funny dialogues hold the audience's attention. The film, with its star cast and a good story line, should do well at the box office.
Genre: Comedy
Director: Nigam Shrestha
Cast: Saugat Malla, Bipin Karki, Manuka Pradhan, Mirnu Magar
Screening in cinemas near you