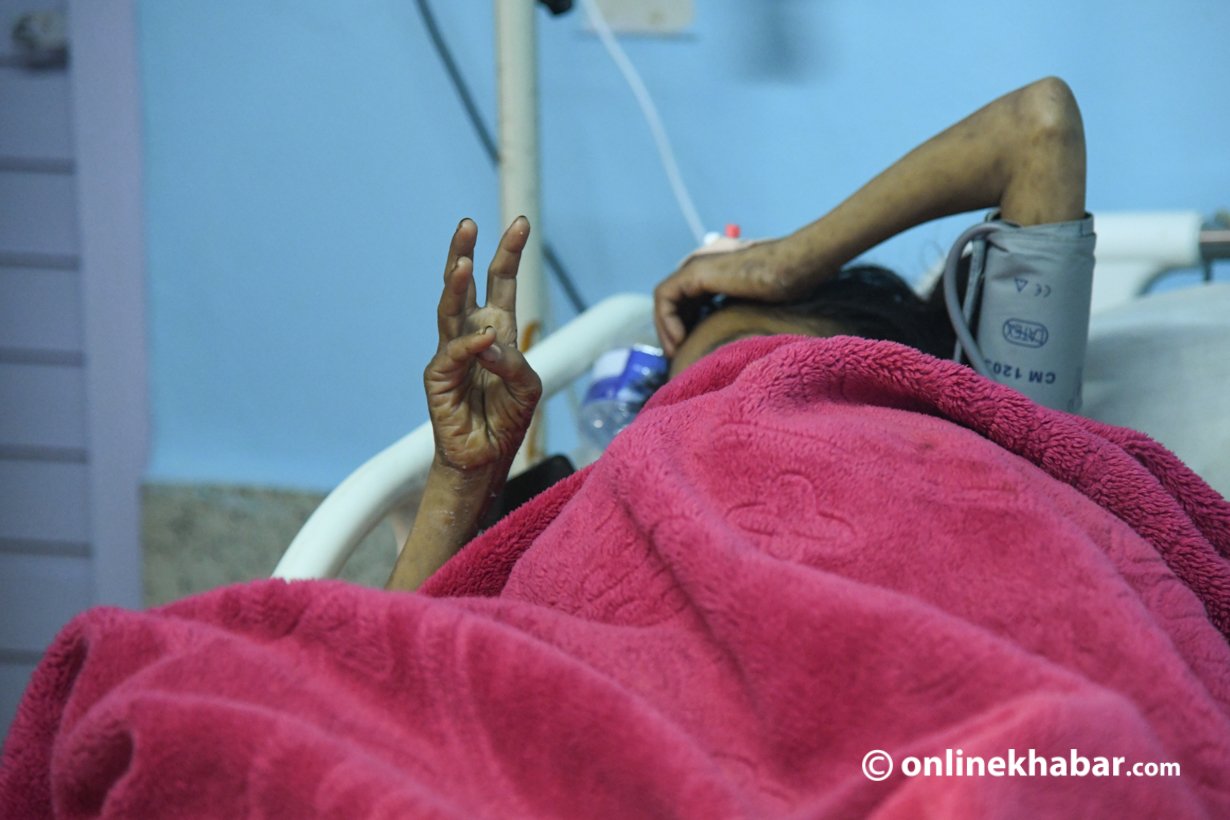 It was around 8 in the evening when Suman Gartaula of Human Service Ashram called me, "Astha (name changed) is no more."
Astha was one of the voices that we had missed to listen to, a face that we do not usually recognise. For a journalist like me, that was a story we seldom cover.
Gartaula had called me around two weeks before that. "We have rescued a woman who was held captive in a hotel in Gongabu for two years and sexually exploited."
Astha, later I thought, was a victim of a big network of internal human trafficking racketeers in Kathmandu.
"Her liver has been damaged", Gartaula had told me. "Her vagina is damaged too. It is difficult to save her."
—
Astha was lying in her bed at the intensive care unit of Bir Hospital. She was given saline intravenously. Her breathing was making a heavy roaring sound, resonating along with the beep of the bedside monitor that was indicating her vitals.
Astha was only 23.
Her abdomen was inflated, but she was not pregnant. "She needs a liver transplant operation," the doctor said. "We don't have any alternative. Her inflated stomach is a consequence of her damaged liver."
A urine bag, half full, was hanging on her bed.
—
She was afraid at first when she saw three to four people. We first needed to win her trust to talk to her.
"We are here to talk with you so that we can help in apprehending the wrongdoers."
After some moments, her eyes were filled with tears.
We asked her if she could talk. She nodded.
—
Born in Burtibang of Baglung district, Astha was working in a road construction project in the district. There were many labourers from other parts of the country also. A boy from Sindhupalchok was working with her. Astha's life took a different road when she got married to the boy and moved to Melamchi, Sindhupalchok.
Astha was only 13 at the time. Child marriage is still common in southern Baglung.
For the first couple of years, Astha found her husband so affectionate. But, he started beating her regularly then. She felt she was cheated. "He used to beat me with a steel pipe," Astha remembered.
But she did not leave her husband. Astha bore a daughter when she was 14 and a son when she was 16. Her husband had started working as a truck driver by then.
Although financially weak, her husband would be drunk every night, and he would beat Astha repeatedly.
"Once he broke my foot. I needed to have it in plaster and had bed rest for three months."
One night in those three months, her husband did not return. The next day, a neighbour told her the bad news: her husband was floating in a pond. Astha got frightened. She walked with a stick, dragging her broken foot and reached the verge of the pond.
"Someone had hit him on the nose, with a brick" Astha remembered vividly with tears in her eyes.
After her husband's death, she went back to Burtibang with her children, but another misfortune struck her: her mother died. Her father was in the Indian Army. He had not returned home for years; maybe he had already passed away. Astha was their single child.
To earn her living, Astha started working at local restaurants in Burtibang as a cleaner. But the owners would not pay her. "They would just give me food and let me sleep."
It was around one year later when a lady, whom she knew during her work, proposed her to go to Nagarkot (near Kathmandu) together and also to her house in Melamchi.
Astha was penniless, but she agreed. The lady paid for her transportation. She left for Kathmandu and reached Gongabu on a cold mid-December evening. The companion told her to wait. The lady said, "I need to buy another ticket."
Astha waited for hours, but the lady did not come back.
Then, Astha was approached by a policeman, who gave her a cup of tea. He also offered shelter at his brother's house. The brother was also a cop and his wife was pregnant. Astha began doing household works for the family and taking care of the pregnant landlady.
But she felt guilty for living there. She considered herself a burden in the family. She went out, hunting for jobs.
—
She visited many hotels and found a job in a five-storeyed one. The hotel promised her Rs 8,000 as a salary.
She started off as a housekeeping staffer and joined the kitchen later. Everything was okay, but she was barred from the outside world there. Since there were other female colleagues as friends, she did not take that seriously though.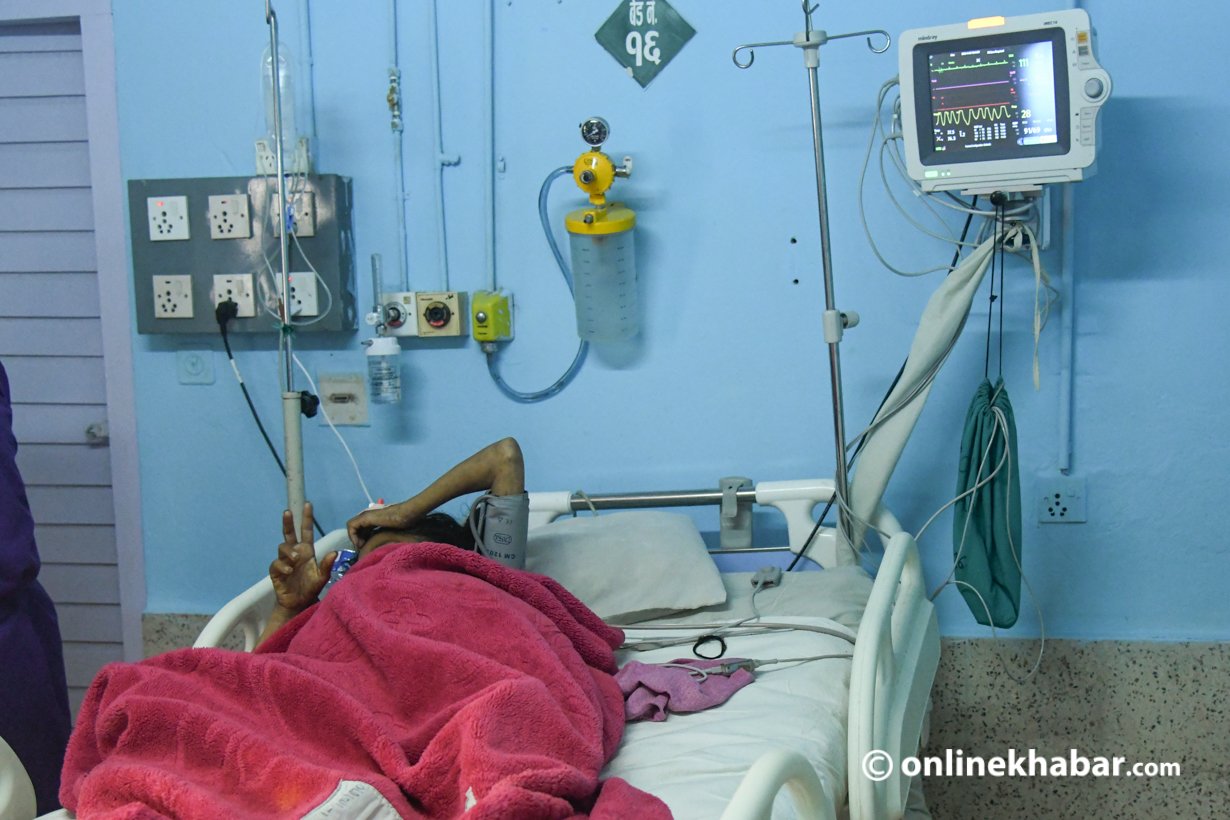 Her only concern was her kids left at the house of her husband's brother in Melamchi. She wanted to send some money for her children, but she was not paid as promised.
It has been around three months since she had been working there when the wife of the owner sent her to a room to serve food. Obedient, Astha did not question her. But the man inside the room grabbed her hands. She resisted and stormed out from the room to the owner's wife.
But, the owner's wife dragged her back to the room and locked her inside. Astha's body was sold.
After a while, the owner's wife came back, dragged her back downstairs and spilled boiling water at her hands. She said, "Your hands are strong only because I fed you nutritious delicacies."
Then, Astha could not get out of that hell. The only option for her was to obey whatever she was told to. Otherwise, they (the clients) would put their cigarettes on her skin. Her clients were Nepalis and Indians, primarily drivers and conductors. The owners would receive Rs 1,000 to Rs 5,000 from each client for one time Astha had sex with them. She would only get cigarette burns.
The owner's wife was pregnant then. When she was admitted to the hospital for delivery, the owner offered Astha some liquor. Astha denied, but she was stuffed into. The owner also raped her. Astha remembered, "I was relieved when his wife was discharged on the 11th day."
It had been more than one-and-a-half years. Her vagina had started to swell. She had several wounds. Astha used to request her colleagues to bring her medicine. But the owner's wife would throw them away. Soon, her abdomen started to inflate.
She felt she got a major opportunity to get out of that hell. One day, when the owner and his wife were not there, she ran away. Freed at last after months, she craved a cup of tea, but she blacked out before reaching the teashop.
When she opened her eyes next, she was on the roof of a house. A group of people was around her.
—
The locals called Human Service Ashram to inform about Astha on October 22, 2019. Social workers associated with the organisation reacted swiftly.
She was taken to Green City Hospital in Tokha of Kathmandu, but the organisation could not afford the charges. She was transferred to Bir Hospital's ICU immediately.
Astha's concern, when she was in the ICU, was still her children. "I wish I could send the money I saved to my children."
"Can you walk?"
"I can, comfortably. I will help the police to grab the people who did this to me." But, it was just her self-confidence.
In the meantime, she was excited to know that the police were looking to catch the perpetrators who 'sold' her.
—
A week after I talked to her, Astha breathed her last.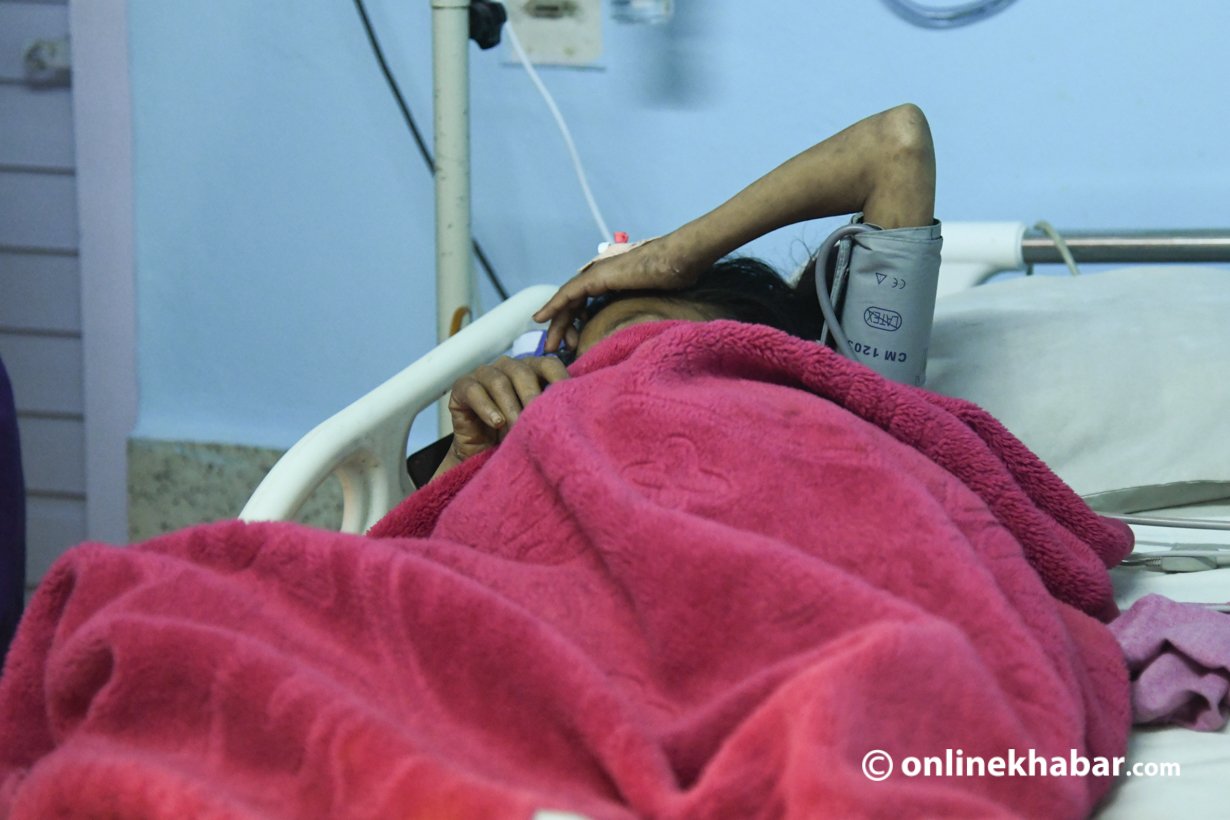 We contacted the police to know whether they were able to capture the culprits. DSP Hobindra Bogati responded, "We roamed around Gongabu with Astha in search of the hotel. But we could not. Based on her descriptions, we have filed a case against three people.
Police caught Krishna Bahadur G C of Pyuthan, Karna Bahadur Chand of Surkhet, and Rudra Bahadur Pachai of Gulmi for an investigation.
Bogati informed that these persons owned different hotels in Kathmandu and had been nabbed for their alleged involvement in human trafficking. However, the case is not registered at the court yet.