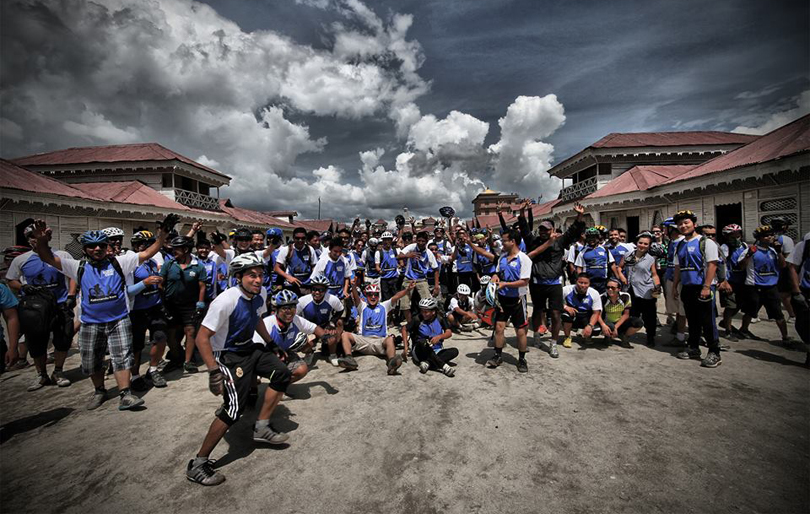 For a layman in the city, 'Kathmandu Kora' perhaps is not something that he has heard about yet. But for Raj Gyawali, it has been the greatest annual festival for the last seven years.
"Yes, it is not everyone's cup of tea," Gyawali says as he begins to explain about the event, scheduled  for this weekend, "If I can make you all clear about the event, it will be an unprecedented success for me."
—
When the prayer wheel takes new turn
Gyawali is the brains behind the annual event in Nepal. "Kora, in Tibetan Buddhism, means clockwise circumambulation of any shrine done to show your respect to the god. Though the term comes from Buddhism, we have had a similar practice in Hinduism as well for centuries. Almost all devout Hindus circumambulate a temple that they pass by."
"Kathmandu Kora is a clockwise circumambulation of three greatest Buddhist and Hindu shrines of Kathmandu Valley—Swayambhunath, Bauddhanath and Pashupatinath."
This is how Gyawali and his teammates at Socialtours, his travel company, thought of organising an annual cycling challenge under which riders draw a circle around the city, seven years ago. They basically tried to expand the religious practice of Kora to the field of sports.
"Because it has already been a part of our religion," he shares, "We thought associating our cycling circumambulation with a philanthropic cause. We began fundraising for a specific social project every year."
Initially, Kathmandu Kora was a part of the corporate social responsibility of Socialtours. As the riding event reached its second year, Cycle City Network Nepal, a group of cyclists, showed their interest and volunteered to manage the event. In 2013, Cycle City also became a part of the organising team.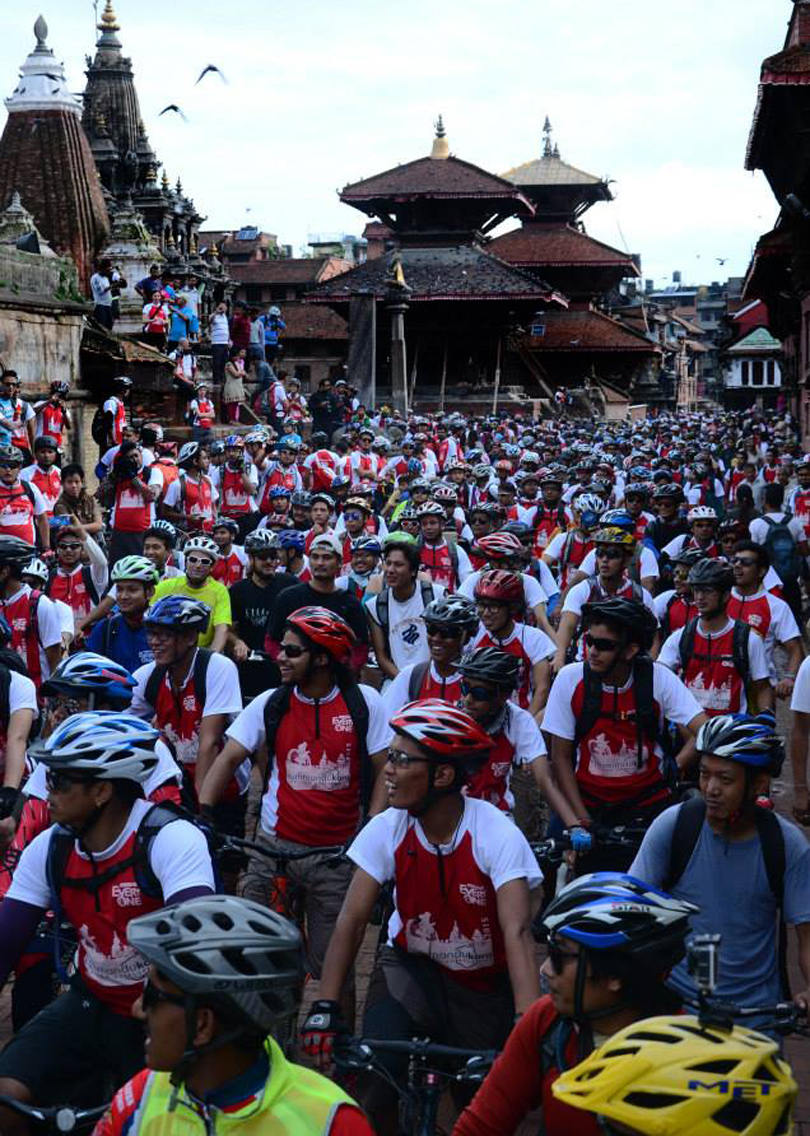 "In the Kathmandu Valley only, there are around 100,000 people who ride cycles for different purposes every day," Sailendra Dongol of the Cycle City shares, "We want Kathmandu Kora to be their greatest festival, like Dashain or Christmas."
---
Every metre matters
But, how can people make a 'good' sum of money to donate by just riding bicycles is still a tricky question that bothers Gyawali around this time every year.
"It is a common international practice of fundraising," he explains, "When I take a pledge to ride certain kilometres for a social cause, say to establish a birthing centre at a remote village in western Nepal, I call my family, friends and acquaintances to donate a fixed amount for a specific distance."
"For example, I am doing 50 kilometres this year and I have called people to give me Rs 100 for each kilometer. This way, I can make Rs 5,000 if I find a single 'sponsor' for each kilometre. If 100 people like me can raise Rs 5,000 each, it will be Rs 500,000, which is the target of our event this year."
But, this does not mean that just Rs 100 can be raised for each km. Gyawali himself has been one of the highest fundraisers in past years.
"I posted my pledge and called for support on my Facebook last night for the event to be held on Saturday, July 15," he shares, "In the past 20 hours, I have already collected Rs 48,000. I am sure I will make it to Rs 75,000 as I have few more days to fuel my campaign."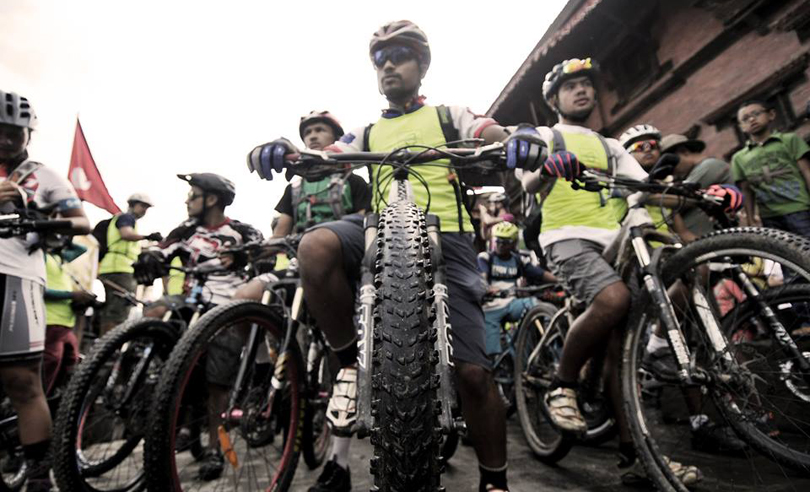 Likewise, Dongol is also riding the 50k this year and has requested his sponsors to pay Rs 100 for every kilometre. "I posted my pledge three hours ago and I have collected Rs 1,000 till now," he says.
Of course, there can be some riders who fail to raise a single penny.
"But, it does not matter anymore because there are many riders who even fail to get registered with us officially," Dongol exclaims, "The riders have accepted it as a festival for their community, and that is a target achieved in itself."
The registration is free. "We do not need anything from you, neither do we give anything," Gyawali informs, "As a responsible cyclist, it is your duty to manage water, keep your cycle in good condition and carry gear for your riding."
"And, as a responsible citizen, it is your duty to support a cause that benefits a larger community in your country, if you can feel it," Dongol adds.
Even then, the event creates some financial buzz in the Kathmandu cycling market.
"Cycling business reaches its peak around this time every year," Dongol says, "You can find every wholesaler and retailer announcing exciting discount offers. The market of secondhand cycles also picks up and there are discounts available on maintenance and sales of cycling parts and protection gears."
—
Cause for this year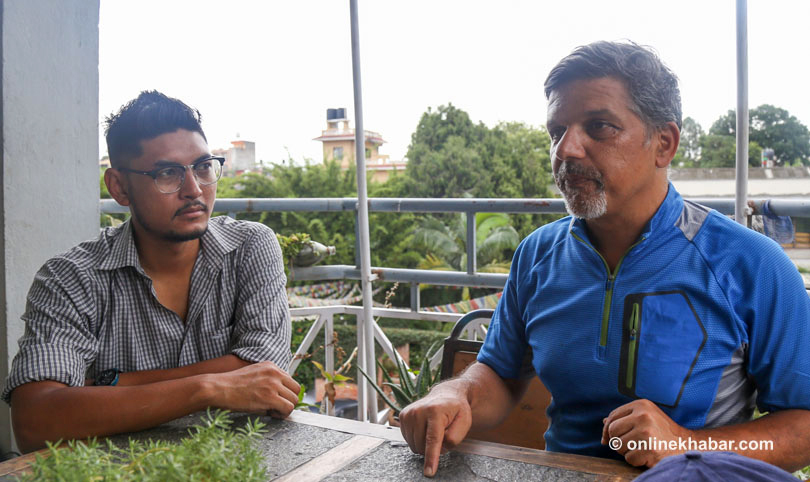 The annual event takes place on the third Saturday of July every year, so it is this weekend. Three routes have been fixed for the Kora: 50k, 75k and 100k. Each route begins from and ends at Patan Durbar Square.
"Every route comes out of the core city from Nakhkhu towards Bhainsepati and Bungamati and it moves towards Chobhar, Kirtipur and Naikap," Gyawali explains, "Then the longer route goes more outward."
Along every route, there will be three water points and a lunch point. "But again, you have to pay yourself for both water and lunch."
The organisers have outsourced the installation of such stations. Some of these companies also donate their proceeds to the cause.
The event's target is to raise at least Rs 500,000 this year to construct a cycling trail in Bungamati, a historic town in southern Lalitpur.
"No, we are not being selfish about choosing the project this year. We are not just investing in the project that will benefit cyclists only," Gyawali defends, "With the introduction of a cycling trail in their community, locals of Bungamati can expect to welcome more tourists, both domestic and international, for cycling there. This way, it will help tourism flourish in a town badly destroyed by the 2015 earthquake."
As many as 1,850 persons have registered their names for the participation till Friday, July 7. A total of Rs 250,000 has been pledged via them.
The organisers expect around 3,000 people will get registered though only around 2,000 are likely to make it to the event.
Registrations are open till Friday, July 14. Interested people can go to the event's website for registration.
—
Opportunities and challenges
"From the business perspective, we hope to bring more tourists to Kathmandu for cycling. Generally, the monsoon is an off-season for tourism in Nepal, but we hope that if the event thrives, foreigners can know that Kathmandu is a fantastic location for cycling in every season and they can give a try to ride in rain," Gyawali argues based on his experience in tourism business for past few years.
"But still, the major challenge is to make people understand the whole concept of Kora."
"Since the beginning of civilisation, human beings have been wandering around gods, praying to grace them," Gyawali tries to rationalise the campaign from a philosophical perspective, "The gods were power centres then. Now, the power centre of our nation is Kathmandu where most rulers live. It is hence very natural for us to circle around them while simultaneously preparing groundwork for some benevolent causes."
Oh yes, but it will take some more years to make the team teach the Kathmandu community why hundreds of people are pushing their pedals every year together.