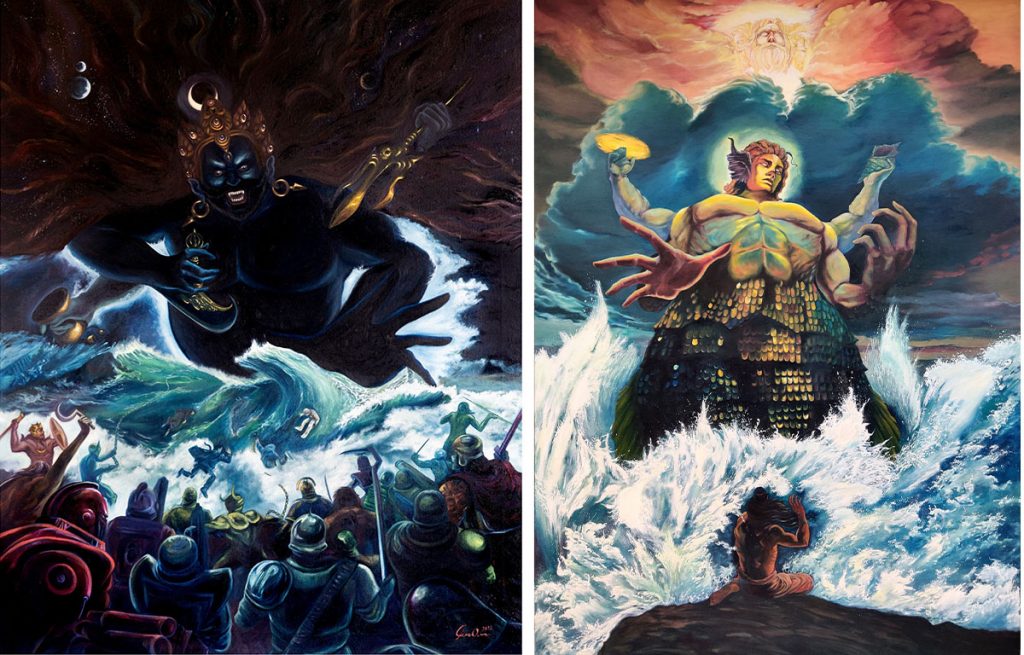 In the '90s, NTV, Nepal's first and only television channel then, used to broadcast Mahabharata and Ramayan serials in the Hindi language. Scores from oldies to kids would watch the series enthusiastically. Those were the times when children got influenced by the stories they saw on TV or the folktales told by their elders. And, those were the times when Jesus Shrestha unconsciously nourished his dream of becoming a visual artist and designer.
Shrestha, who is based in Helsinki of Finland since 2011, says his paintings and other artworks still reflect those roots. Through painting, installation, illustration, music and more that he learned in a European environment, he is expanding the horizon of perspectives, which used to be transmitted orally and rarely documented during his childhood and before that.
A graduate of the master of contemporary arts from Aalto University in Finland, Shrestha says art is a part of the process of living life, and he wants to go through that process at different places at different times. Till now, Jesus Shrestha has done several solo art exhibitions in Finland and this time, he is all set for his solo art exhibition in Nepal at the Museum of Nepali Art (MoNA), Thamel. The exhibition is beginning Sunday, October 22.
Growing as an artist
Jesus Shrestha grew up in the close vicinity of Makhan Tole, that part of Kathmandu that has majestic architecture as one of the focal points of major festivities with interesting narratives associated with them.
Since his childhood days, he got drawn to those stories and the epics of Ramayan and Mahabharata. Then, reading comics became his hobby, and he began to imagine what if the greatest epics were all comics.
Yet, he was reluctant to ask for comics from his parents and used to read them borrowing from friends. In these stories, he used to encounter interesting characters that he wanted to look at again and again.
But, as he did not have money and was afraid to ask his parents, the economical solution was to draw those characters himself. This way, Jesus Shrestha perfected drawing portraits in his school days. His exercise books would be stolen from his place as he used to draw and doodle on them in such a way that everybody liked them.
His love for art began when he was in school. He thanks his teachers and friends who supported his art when he was a kid. Their support helped him envision his hobby as the form of a career in his adult life.
"I received Rs 3,000 for the first time when I created a portrait of the guest, who was the wife of the then police chief. I was given so much pressure to complete the portrait in a short time and it took me half an hour," Shrestha recalls, "The guest became so happy seeing her portrait. That time I was even more confident that I am going to be an artist."
Connecting the east to the west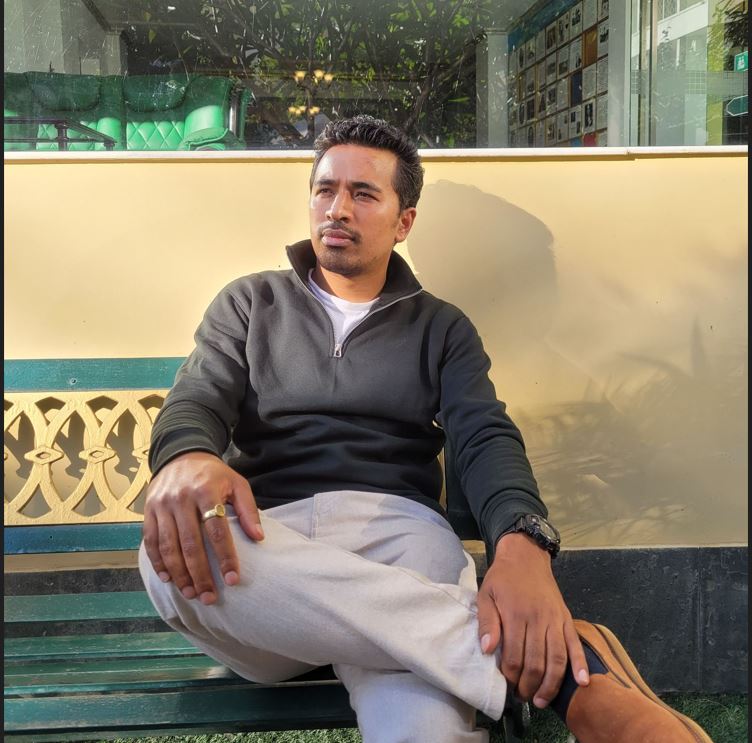 Jesus Shrestha studied at Dipendra Police School in Sanga, some 25 km east of Kathmandu, staying at the school hostel. While his friends and teachers were supportive of his interest in art, his parents would ask him to think of other professions rather than an artist as the goal of life.
As the result, he studied at two institutions at his high school and undergraduate levels simultaneously. Later, he completed his BFA (2010) as well as his BA in sociology (2009) in Nepal. In 2014, he also completed a bachelor's in social science (BASoc) at Diaconia University of Applied Sciences in Finland. He studied visual culture and contemporary art, which he completed in 2019, in Finland.
He did not get support from his family to continue art as his profession so he had to study two different courses. However, his elder sister was (and is) supportive of his artistic journey.
"When I got introduced to western masters, I was influenced heavily by Picasso, Van Gogh and other impressionist artists. There was one time in my life that everything I draw or painted shadowed Picasso," Jesus Shrestha shares.
"When I arrived in Finland, the world of the internet provided me with information that I did not have in Nepal, as at that time internet was not much accessible as today. Then, gradually, I got to see the original works of the masters too through museums in the Scandinavian region, which helped me build my perspectives and thoughts."
Even then, Ramayana, Mahabharata and other folktales from Kathmandu were inside his head. He then decided to find his niche. Today, he says his artworks are a blend of east and west. Looking at his artworks, it seems he has become the catalyst as an artist who can blend these two cultures into one giving a unique form of modern art.
And that is what Jesus Shrestha aims for. He says he realised the value of artworks placed openly in Nepal when he saw how Finish people preserved their age-old art and artefacts. "I felt ashamed and heartbroken to see this as the government has not given the effort it should have given to protect and conserve equally old and even older art and artefacts of Nepal."
His hunger to promote Nepal
As an artist, Jesus Shrestha's aim now is to get Nepal into the world scenario and do something to let Nepal be known to the world, not only for being the country of Mt Everest or the birthplace of Lord Buddha. He says, "Hence, through my art, I am depicting the unique quality of being a Nepali and showcasing the same. My roots are Nepali and it is reflected in my art. I am still working on the project of Dashavatar and it has been 14 years now."
His aim became even stronger when he did his first solo painting exhibition in Helsinki where he was introduced as the first Nepali artist to exhibit in Finland. This made him feel proud and he says, "I now want to make Nepal proud."
Another point that made his desire to make Nepal known to the world was when someone in the exhibition asked him about the difference between Nepali and Indian art and culture.
Jesus Shrestha points out that Nepali and Indian art traditions seem identical in the eyes of the west. "I was stunned by the question. But, I answered him that Nepali art is unique in its own term and Nepal's existence is older than India's."
According to him, he wanted to show the world Nepali culture but in a different way as per the contemporary time. "Through my paintings, I am still in the process to do so."
Exhibition in Nepal and more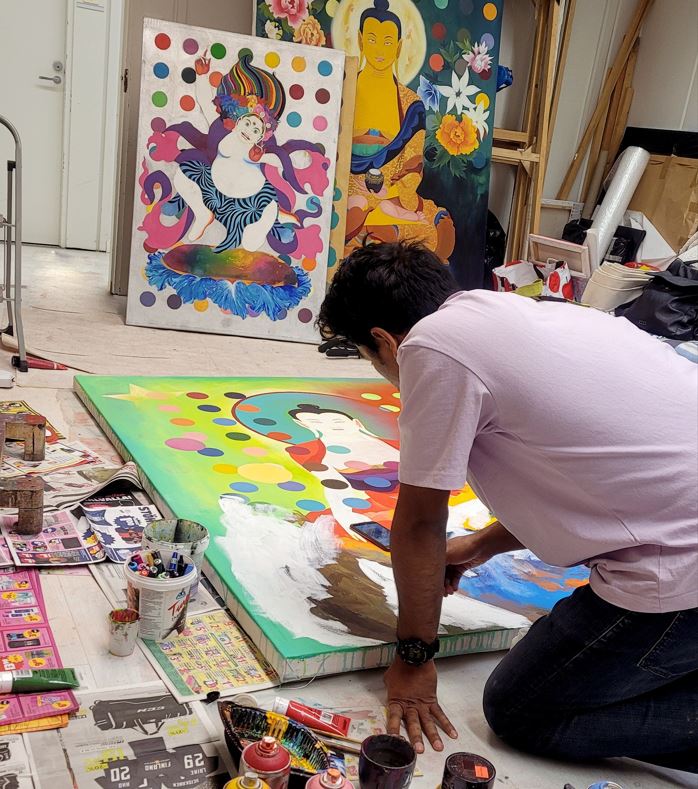 Coming to Nepal time and again, Jesus Shrestha recently got fascinated by the Museum of Nepali Art (MONA). When he met and shared his experience with Rajan Sakya, the museum founder, his wish of holding an exhibition in Nepal materialised as Sakya was interested to exhibit his artworks from his initial stage.
In this exhibition beginning Sunday, October 22, he is showcasing his paintings from 2008 to 2011, which he calls the introduction of himself to Nepal.
It has been more than a decade that Jesus Shrestha has been working in the field of art. In the coming days, he wants to document the folklore of Nepal in the form of an illustrative book focusing on the positive aspects of the characters. He believes history is generally written from the perspectives of the winners, which might not be necessarily positive.
His book Gurumapa is also being launched soon, which has been funded by the Finnish Cultural Ministry.
His awards
2006: SOS best artist of the year, Kavre ( Dipendra Police Academy, Nepal)
2020: Helsinki best illustrator, Maunula publication Helsinki
2021: Finnish Ministry of Education, Taike artist grant: Helsinki
2022: Grant winner from Helsinki city and Ministry of Education, Finland