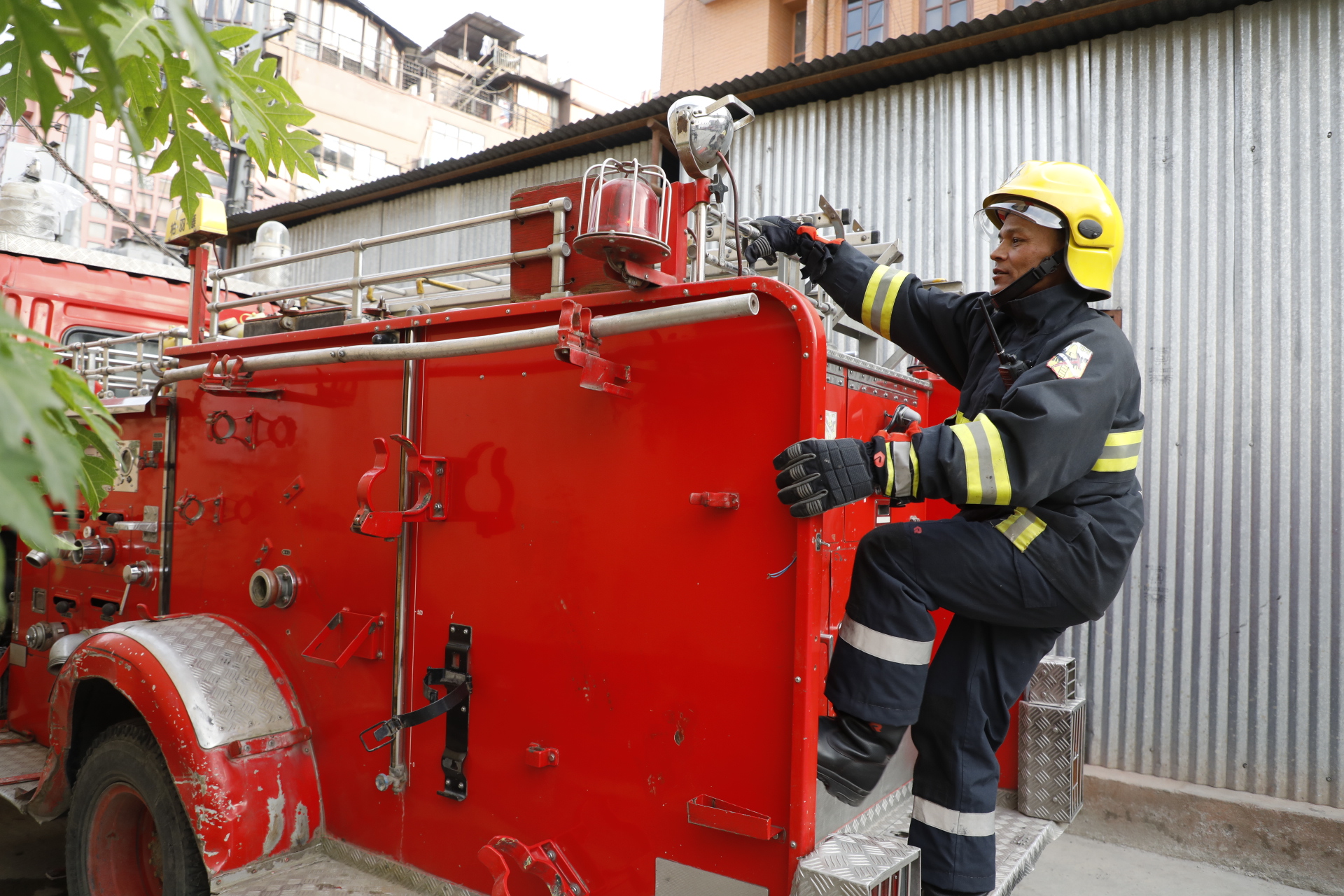 The two weeks between Nepal's two biggest festivals—Dashain and Tihar—is a relaxing period for many.
But, these two weeks make Parashu Ram Shahi, 53, and his three dozen colleagues, anxious. As Kathmanduites prepare for the Festival of Lights, Shahi is busy preparing for the worse.
A firefighter for past 17 years, Shahi says Kathmandu Valley witnesses five to 10 incidents of fire during Tihar every year. Juddha Barun Yantra, the fire brigade operated by Kathmandu Metropolitan City, has never had sufficient staff. Further, a multitude of other problems caused due to 'inefficient' leadership and 'ignorant' locals have made firefighting a risky job.
Keeping life at stake every moment
In the past 17 years, Shahi has dealt with more than 1,000 fires, mostly in Kathmandu. "On an average, our office deals with around 200 cases a year. Our workforce is divided into three groups to work three shifts. It means each of us gets around 60 cases a year," he says.
If the firefighters were in any other profession, an extended work experience would boost their confidence. But, Shahi still feels the same jitters during a fire now as he felt when he started out.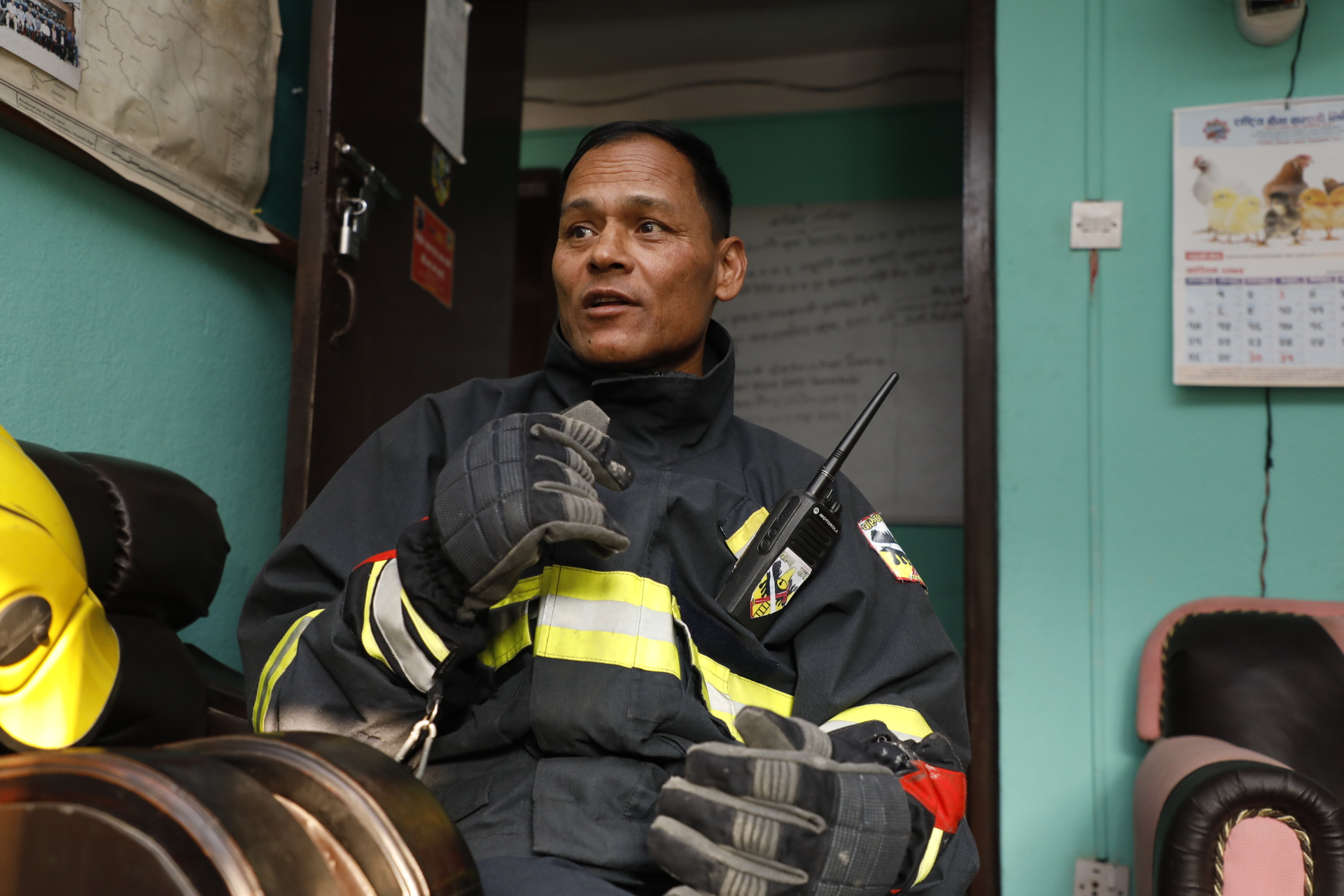 "I feel my life is at stake at every moment. No one knows what happens the next minute." He says that there were at least three moments when he thought he would die.
"While controlling the fire at a five-storey wooden house next to Bir Hospital seven years ago, all of the firefighters fell off the roof. Then, we were working on the ground floor. We could not escape as it was smoky," he narrates.
"It was only after few minutes that we managed to come out. We were saved only because the hospital was just a few metres away. However, one of my colleagues lost his hand."
He had a developed similar feeling around one-and-half years ago. "A gas cylinder depot in Maharajgunj caught fire at night," he explains, "When we reached, the entire hut had been reduced to ashes. Some dogs had been charred."
"At first we regretted not being able to control the fire. But, once we assessed the situation there, we felt a sigh of relief," he says, "The inferno was so uncontrolled that it could devour us if it was two minutes ago. I thanked god we were late."
Countering untoward challenges
It was an exceptional case. In general, getting late equals bigger challenges. As time passes, the fires get more intense and require more effort and resources.
"But, this is not the only disadvantage of getting to incidents late. There is something that common people like you fail to realise," a serious Shahi says, "If we get late, locals abuse us. They say 'you just had a party at your office while we are dying'; it's as if we started the fire," he adds, "Further, some groups obstruct our work. They seize our equipment and tell us to return."
"We cannot argue and convince them that we were there for service. We have to stay silent and in the meantime the fire rages on."
Shahi says the major reason behind such a delay is traffic congestion. Secondly, bluff calls: some 'stupid' people call the fire brigade to entertain themselves. "Every time, we need to confirm with local police and other sources if the call is genuine. It means it will take at least two minutes for us to leave our station," he says, "Two minutes is a very long time."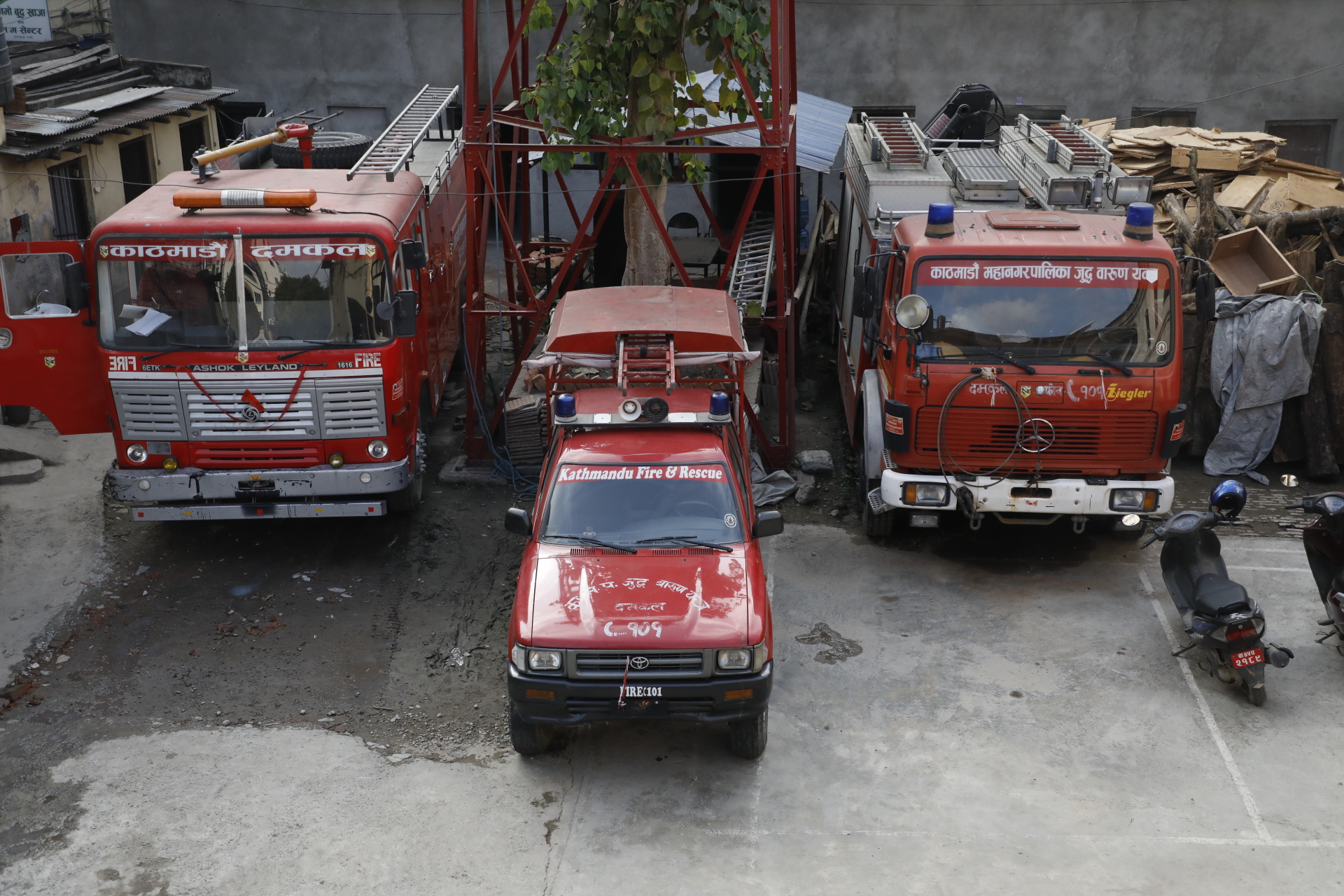 Kathmandu Valley has three fire stations. The biggest station in Basantapur has four fire engines and eight fire bikes. However, the stations in Lalitpur and Bhaktapur have two fire engines and one bike each. Shahi argues that the number of stations is not sufficient to cover the area.
Similarly, there are not enough tanks to refill the engines. While each of three stations has small capacity tanks, the major reservoir for all the brigades is Kathmandu Upatyaka Khanepani Limited's tank station in Mahankal, Bauddha.
"If a house catches fire in Kalanki, we have to fetch water from Mahankal. Do you know the distance between these two places and the time it takes given the city's perpetual traffic jams?" he questions.
Likewise, many human settlements in the core city areas are inaccessible to fire engines. Shahi informs that firefighters use motorbikes and/or longer hoses in such situations. He, however, maintains that they are not enough in some cases.
The leadership's apathy
Shahi blames the city leadership and voters who elect such leaders, as well as administrators for the challenges he faces.
"Many foreign organisations frequently invite us to participate in firefighting training. But, we never get a chance as our bosses pounce on such opportunities," Shahi's sharp satire comes out, "Maybe because we cannot speak English and they can!"
If the local people want, they can easily change this situation, the fireman believes. "Instead of shouting at poor staffers like us, the locals should demand that the authority establish fire stations and water tanks in their area. Kathmandu district's fire station has four fire engines, and they are parked at the same place. Why can't they demand that these engines be placed at four corners of the city?"
Likewise, the municipal government should recruit more firefighters and allocate more funds to equip them with better technologies and apparatuses, he suggests.
"We want a conducive environment to work because our job is important for the life of citizens. We are concerned about protecting them," he says adding, "Fighting with fires, okay; but other issues, no, please! We too want to work in peace."
---
Published on October 29th, Monday, 2018 12:39 PM
---
Download Onlinekhabar App. Android click here & IOS click here . Keep in touch with us on Facebook, Twitter & YouTube.