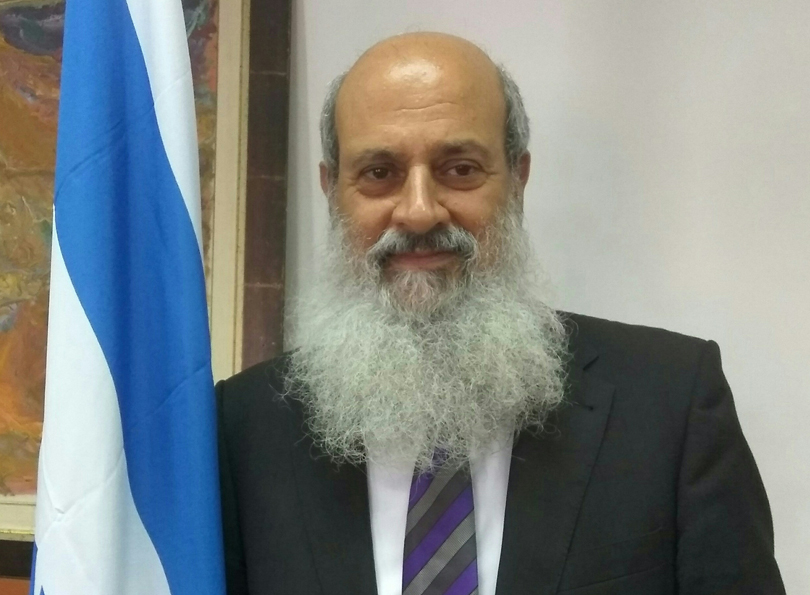 Israel has been in a difficult position in the global political arena owing to its conflict with Palestine. Perhaps that is why the country's presence is not much visible in developing countries like Nepal. This past week Nepal and Israel commemorated 58 years since the establishment of diplomatic ties. On this occasion, Onlinekhabar talked to Israeli Ambassador to Nepal, Benny Omer, on the various dimensions of Nepal-Israel relations.
To begin the conversation, let's talk about your general impression of Kathmandu and Nepal.
I have been the Israeli Ambassador to Nepal for the last six months. I am relatively a newcomer here. But, I was here around 20 years ago, in 1998/99, for nine months as the charge d'affaires. We did not have an ambassador here so I had to serve for the interim period. I have a very good memory of that time. My wife and I really enjoyed living here. Kathmandu at that time was less polluted and friendlier to foreigners. But, this is natural that with the passage of time, people come to big cities, construct more houses…more cars, more bikes, and of course, more pollution.
How do you review the progress made by the two countries over past 58 years?
We have to pay tribute to the great visionary leader of Nepal, the first elected prime minister late BP Koirala, who was courageous to recognise the State of Israel. We are talking about 1960, the first of June. Koirala was courageous not only to recognise Israel as a state, despite international pressure, but also to visit our country in August 1960 and meet then Israeli Prime Minister David Ben-Gurion, whom we consider the father of modern Israel. He was the person who declared the independence of Israel in 1948 after the six-month-long Independence War. Both Koirala and Ben-Gurion were courageous leaders with charismatic personalities.
Well—we do not have high mountains like you do. But, there is something interesting: you have the highest point of the earth, Mount Everest. And, we have the lowest point—the Dead Sea, which we share with Jordan at the altitude of -392 metres. This has made our relationship quite unique and special.
Can you please tell us more about progress and achievements the two countries made together?
Well, owing to courage and vision of BP Koirala and David Ben-Gurion, the relations have been friendly between the countries. Our long-term cooperation for the development of Nepal has been facilitated by MASHAV, the acronym for the 'Israeli Agency for International Development Cooperation' in Hebrew. It is a department under the Ministry of Foreign Affairs. Through this department, we send our experts abroad and invite young people from developing countries to train in Israel in agriculture, education, health. By now, there are total 3,500 Nepalis who have been trained by Israeli experts in Israel. Young Nepali people in almost the same number have been trained here in Nepal.
Can you please recount the major milestones that represent this strong bond?
The strongest part of Israel-Nepal cooperation is human resource development or capacity building. Another thing that we can mention as a milestone in the bilateral relations is the support we offered to Nepal after the 2015 earthquake. One of the first countries to send aid to Nepal was Israel. We sent doctors, nurses and medical equipment. Whenever I meet Nepali people these days, the first or second sentence they tell me is 'we recognise and will not forget the support Israel provided to us at the time of real need after the earthquake'. I wish Nepal would not have to cope with an earthquake anymore, but it provided you with an opportunity to check who your real friends are. They say friends in need are friends indeed. We are trying to be friends indeed every time.
Our doctors are well skilled in crisis management and this is one of the subjects that MASHAV is teaching to professionals from developing countries. We are also supporting them in coordinating with existing doctors and hospitals, civil servants and civil societies, and NGOs on how to prepare as a nation for such catastrophes, to save as many human lives as possible and to avoid the real crisis.
Overall, Israel and Nepal have very good relations although sometimes our friends are left with very hard choices, mainly due to the conflict in our part of the world—it's not easy to live in our neighbourhood. But, I think Nepal is clever, responsible and friendly enough to keep a neutral position and to understand the difficulties Israel is facing.
So do you think there aren't any problems between the two countries?
There is a point annoying to us. On the one hand, there is a very strong bilateral relationship. Both the countries see it the same way. But, there is a point…We have been telling the authorities about it; it is no more a secret. We have told our partners at the Ministry of Foreign Affairs here that we do not see a reflection of our bilateral relations at the multilateral level. By the multilateral level, I mean the United Nations. From time to time, Palestinians or the Arab camp are suggesting that the UN adopt different resolutions. After few amendments to their proposals, there is voting. You see which nation is voting for whom. Unfortunately, when it comes to voting at the UN, in most cases, I don't say in all cases, Nepal is voting for the Arab camp. This is something we, as a good friend of Nepal, do not understand.
It is your government which has been declaring for many years that your position is of neutrality. When I met Prime Minister [KP Sharma] Oli at his residence in Baluwatar a few days ago, he repeated the official position to remain neutral.
Let me share yet another incident with you. On March 19 this year, there was an Israeli delegation coming to the Ministry of Foreign Affairs here. They met Minister [Pradeep Kumar] Gyawali, Foreign Secretary [Shanker Das] Bairagi, and other officials. The atmosphere was so positive. Two days afterwards, there was a voting in Geneva and Nepal was voting for the Palestinians there—which means against Israel. We did not understand how it was possible. We were really surprised.
There are four options in voting. If you vote yes, it means you are with the Palestinians and the Arabs—it is not good for us. If you vote no, it means you are with us; you are for Israel, like America and Australia. The third is to stay in the room but abstain. The fourth option is to remain absent. When the voting is taking place, you go out. For example, we are human beings, we drink and we have to go to the toilet. So you just go to the toilet, let them vote and then you come back. It is possible. Even the Prime Minister [Oli] said we should encourage our diplomats to drink more so that you can be absent with a good reason! In this case, nobody could complain against Nepal.
We understand you do not want to vote against other countries; they are also your friends. You have many people working outside the country. But still, you have the option to abstain or remain absent. Please do not vote against us. This is our request to Nepali authorities.
Though BP Koirala visited Israel immediately after the establishment of ties, there haven't been high-level visits by leaders of both the countries in the recent past. What do you think are the reasons behind it? How can we organise such visits more frequently?
There was another visit at the prime minister's level. It was in 1993. Girija Prasad Koirala visited Israel. Around one-and-half or two years ago, your Deputy Prime Minister and Minister for Foreign Affairs Kamal Thapa visited Israel. In 2015, Israeli Minister for Agriculture Yair Shamir was in Nepal. Just three weeks ago, your Agriculture Minister Chakrapani Khanal was in Tel Aviv to attend the AgriTech Summit which takes place every three years. Nepal missed it in 2012 and 2015. We are very happy that the Minister went to Israel this time.
How do you assess the support Israel has provided to the development of Nepal? What are your future plans?
We are proposing to establish a vocational training centre here. We had an opportunity to establish such a centre in Cameroon. I was the Ambassador there from 2003 to 2007 and we had established the training centre there. Now, I have told Prime Minister Oli the same thing can be done here too.
In Cameroon, the movement of people from rural areas to cities was a big problem. In a family of four to five children, only one or two would get the share of land [from parents]; others had to find other jobs. But, they cannot find them easily. So in order to survive, they take mobile phones from one and food from others. They are not criminals; but they want to eat, they want to survive. The Cameroon President requested if I could help them address this problem, I proposed the vocational training centre, where the young people could go and learn the professions, both low-tech and high-tech. It can help them find jobs, marry, establish families and become decent citizens. This is a great change.
My idea is to establish such a centre in Kathmandu. But now, since you adopted the seven-province model, each province can have one such centre. Can you imagine the effects after 10 years? I believe at least 50 per cent of young Nepalis will stay at home though some will find jobs abroad.
The bilateral cooperation between the two countries in the agricultural sector is more noticeable than in other fields. How do you assess its impacts?
Agriculture is a very important element of your economy as 70 per cent of people are engaged in it. But, you have to import some foods from abroad. I believe Nepal has a great combination of fertile land, water resources and hardworking people in order to be self-sufficient. Food security is a basic need of any nation. Your constitution has recognised it as your fundamental right whereas the Sustainable Development Goals 2016-30 has also talked about it. As I learn from speeches of your lady President [Bidya Devi] Bhandari and Prime Minister [Oli], your country has also prioritised the SDG implementation.
If a government cannot feed its people sufficiently, it is a great challenge. But I believe, on the basis of what I have seen in and outside Kathmandu, you have the possibility of ensuring food security of your people and exporting some of them to your big neighbours on both sides. They will be happy to buy from you as the quality will be really good.
The wheel has already been invented and you have to use the wheel correctly. By this, I mean there are innovative agricultural technologies in countries like Israel and we are happy to share it with you. Around 500 young Nepalis go to Israel every year to learn such technologies. This year, we have sent 540, maybe next year it can be 600 or more. This is the highest number of scholarships or opportunities offered to Nepal by other countries for a single discipline in a year. By now, 2,200 Nepalis have come back home in past five years after spending 11 months in Israel—we call it 'earn and learn' project.  They learn about modern agriculture including drip irrigation, high quality seeds, fertilisers. They can also earn 10,000 to 12,000 US dollars while learning.
This is something that can create a big change in Nepal. But, it will depend on your voting patterns at the UN as there is the reciprocity between what you give and what you get! (Laughs)
This is my vision. As I met Finance Minister [Yubaraj] Khatiwada recently, I told him that the number of people involved in agriculture should be reduced to 30 to 40 per cent in next five to six years because just two per cent of people work in the farm in Israel, but they produce food for the entire country. It suggests fewer people with better technologies can revolutionise the sector. This is a big challenge, and you need mechanisation as well as new ideas.
In other fields also, we send around 35 Nepalis to train in Israel every year. The sectors include education, health among others. In 2018, we want to double the number of trainees.
Another equally important sector in Nepal's economy is tourism. How do you observe the movement and activities of Israeli tourists in Nepal over past few years?
Israelis of all ages love Nepal. Around 10,000 Israelis visit Nepal on a yearly basis—compared to the population of 8.5 million, this is a lot. The first reason for such a large number is the beauty of this country, nature, the Himalayas.
Another reason is related to our government system. You know in Israel army service is compulsory. Every person at the age of 18 must join the army. It is three years for men and two years for women, though many can continue the service as a career after that. You know our army is very competent, not because we love war, but because we are attacked by our neighbours time and again. When you are in the army, you have promised to sacrifice your life for the nation. Some of them unfortunately die. But, a great majority will survive and the first thing they would like to do is to explore the beauty of this world. So they come to Nepal, to India, to China, to Latin America, all over the world. They love challenging places like high mountains. It is psychological. If I passed the army service, I want to see the world, before getting to the university or marrying and establishing a family. Before taking new obligations and entering the system, you want to discover the world, to know other cultures and other nations.
Let's explore another area of cooperation. There is a considerable number of Nepali migrant workers in Israel, women working as caregivers in particular. While their contribution to their families' economics is significant, they might be at risk of labour exploitation. Can you please explain the situation of Nepali workers there and what steps are being taken to ensure their safety? 
We have a nice cooperation between the two governments to ensure their safety. We have very good dialogues with the Department of Foreign Employment here and it has asked us to increase the number of what we call caregivers. Earlier, we used to recruit these caregivers through private agencies; but due to reports of deception and exploitation on the part of these agencies, not employers, we have stopped it and everything is done through the government-to-government channel now.
Generally, in Israel, there are no cases of exploitation. Israel is the only democracy in the entire Middle East. We comply with principles of human rights and labour rights. Besides, there are many NGOs which work for protection and promotion of their rights. There are mechanisms to lodge complaints against employers. Therefore there are long lines of Nepali people wanting to go to Israel. After a very short period, they become members of their employers' families.
Israelis appreciate the level of work Nepalis perform there. We also have caregivers from other countries as well, but it seems Nepalis are most loved and most appreciated by the employers. It explains why they are willing to stay there as long as possible. There are some Nepalis who are in Israel for as long as 14 years.
There can be some exceptional cases. But, in general, you do not see labour exploitation in Israel as they have quite frequently in other countries. Israel is one of the best destinations for caregivers from Nepal. You can also collect testimonies from people who have returned from Israel. I have met few of them.
Now, back to Nepal again—Nepal promulgated the new constitution in 2015 and the country has taken a new political course after that. What are your comments on the constitution and its ongoing implementation?
Let me take this opportunity to congratulate the government of Nepal for successfully completing all the elections last year. Now, it seems this government will be there for next five years. I appreciate the vision of leaders including Prime Minister Oli and Prachanda. They could unify the two parties and get nearly two-thirds majority. This is very promising for Nepal, and encouraging for its friends like Israel because we can start working and planning for the long term. The government will not change in next nine months and we want to work with the same government for few years, not few months.
I arrived in Nepal during the time of election campaigning and I was very happy to see how elections happened here peacefully. This event was very important for democracy of Nepal. Finally, the results of elections, which were open, peaceful and fair, are here with us in the form of a more stable government.
It is mainly important for you, Nepali people. But, as a developing country, it is also important for you to know how the international community sees you. Now, we can call Israeli investors to come here and invest. The first question they will ask is about the stability of the political system. Secondly, they would ask something like regulations about foreign money and if they can take the money back easily. I think your new government is opening new doors and promising a better future for Nepali people. It encourages people like us that this is a stable government and we can work on it in many sectors.
As a part of the constitution implementation, Nepal has elected new people's representatives at local, provincial and federal levels. They have been making tall promises about infrastructural development here. Apparently, we need a lot of foreign support for those projects. How can Israel support us in the journey of making Nepal a prosperous country?
Yes—I do believe that the potential of extending support to infrastructural developments projects is also apparent here. In fact, we are working towards that direction. We believe that relationships between two countries involve multiple levels and our assistance to Nepal can also go through multiple levels, not only the government but also the private sector and civil society organisations including NGOs. They are also important in promoting dialogues between two nations. This is not only the case of Nepal—but governments of many developing countries do not have sufficient money to launch big development projects. Therefore, we need to cooperate with private companies. We want to extend support from the private sectors too.
Nepal and friends of Nepal need to work together towards the prosperity of Nepal. I am sure you will succeed as you have good leadership and hardworking people, with some help from friendly nations. Though small, we are also one of the friends who can support you with our experiences and technologies. You know we are called a startup nation. We have developed many innovative technologies for different fields.
What do you think will be the way forward for the bilateral relations between the two countries?
We are at the beginning of a very promising period because Nepal has a stable government now. We can find new avenues of cooperation in agriculture, education, health and infrastructures. I am looking forward to stronger ties between Nepal and Israel.
Photos: Israeli Embassy in Kathmandu