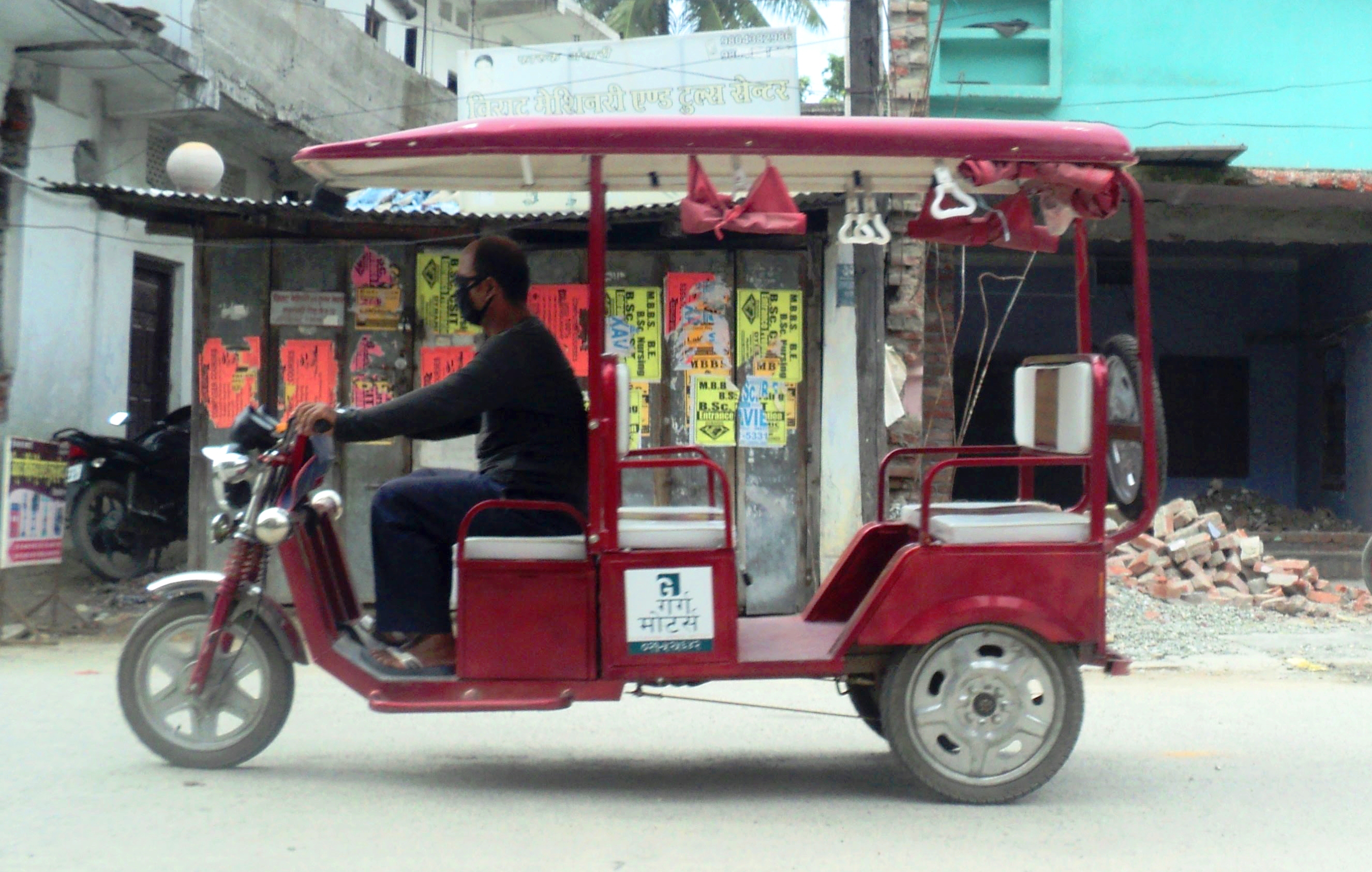 Posht Raj Kapil a city-rickshaw driver, is returning home after a hard day's work driving on the inner streets of Biratnagar, the industrial hub of eastern Terai, when suddenly he gets pulled over by traffic police. He gets a ticket of Rs.1000 and is told to collect his rickshaw from the traffic office the next day. His fault-he runs the rickshaw "illegally."
The one thousand rupee fine is equal to the amount he earns on a normal day. That night he found himself in a fix- he could go to the traffic police the next day, but what will he tell his wife who was waiting for him to bring dinner.
Kapil is a returnee migrant worker from the Middle East, where he worked hours on stretch without any sleep; he developed eye-related problems which forced him to come back.
The "illegal" business all started when Kapil got to know about the city-rickshaws from one of his friends, and advertisements on nearly all the radio-stations in Biratnagar gave the final push. "We believed that we could earn a living driving a rickshaw, so, along with my friend, I decided to take a loan from one of the cooperatives at 20 per cent p.a," he says.
The cost of the city-rickshaw is around Rs 175,000 to nearly Rs 300,000. With the loan issued, and paperwork done, he went to register his city-rickshaw at the Transport Office. It was only then that he finally came to know that driving the rickshaw was "illegal."
E-vehicles, or city-rickshaws as they are popularly known, started plying the streets of Biratnagar, Birgunj, Itahari, Butwal, Nepaljung, Hetauda and Dharana few years ago. The Ministry of Physical Planning and Infrastructure (MoPIT) issued a rule according to which it directed the Department of Transport and Management to register the e-vehicle through their respective zonal offices.
The rule also requires the zonal office to fix the number of permits, i.e registration through a quota system. As per the rules, the Biratnagar Municipality issued permits to only 300 of these e-vehicles. However, till date there are nearly 500-600 city-rickshaws are on the street. The number shows that there is definitely a demand for city-rickshaws and that people are willing to use their services. The municipality of Biratnagar has not issued any economic analysis document to prove that only 300 rickshaws are feasible for the city.
With the regulations, the consumers are being denied the quality of service that they demand, and are causing difficulty for people like Kapil to earn their living without fear.
What makes the situation even more complicated is the category under which city-rickshaws are registered. City-rickshaws were given permit under the 'Ha' category (Motor Vehicles and Transport Management Rule, 1997) – a category for auto-rickshaws.
City-rickshaws operate on a 125-amp-battery and a minimum 1000 watt motor and cannot go uphill. That is why they and do not meet the requirements of an auto-rickshaw. In Dharan, e-rickshaws only run on flat terrain. Due to this, city-rickshaw drivers are not eligible to get a license under the auto-rickshaw category.
Without a license, even registered owners and drivers cannot claim insurance if incase of any accidents which questions the security of their property rights. The government's quota system has caused immense difficulties to returnee workers like Posht Raj Kapil, and the other city-rickshaw drivers in various parts of Nepal.
These drivers invested their own money, from saving, through loans with the hopes that they can earn a living and provide a better life for their family with dignity.
"I am the only earning member of the family, and I have to ensure that my family members get enough to eat and my children go to school," he says. "My only means of income is this city-rickshaw."
The next day, Kapil was forced to borrow Rs 1,000 from a friend to get his vehicle back. The next time he gets caught, he will get another Rs 1,000 ticket, and his wife's face will come before his eyes.
Till then, he is forced to play a cat and mouse game with the traffic police, just to earn a living, hoping that he doesn't get caught.
Note: Bikapala,'An Alternative', a public policy institute based in Biratnagar is conducting a research work on city-rickshaws. As part of their research work, they have made a short movie that depicts the challenges these drivers face on a daily basis. This is part of the campaign for "GariKhanaDeu", (Let me earn my living, a national campaign that promotes the rights of every individual to earn their living without fear).