They say Nepal is a backpacker's paradise thanks to all the budget hotels and cheap eateries across the country. But, over the past few decades, there have been people trying to promote Nepal as a high-end tourist destination.
Following Bhutan's suit, Nepali businesspersons have been trying to cater to the needs of high-end tourists by opening properties that best suit them. While Kathmandu has always had places like Dwarika's Hotel, Hyatt Regency and Soaltee Crowne Plaza, properties similar to their stature are popping up away from the valley as well. Hotels/resorts targeting high-end tourists have opened in remotest places like the Everest and Annapurna regions while Chitwan and Bardiya have also seen a rise in properties built to cater to them.
These places have state-of-the-art amenities, the friendliest staff and offer an experience worth all the money one says. This, experts believe, will help increase the flow of high-end tourists who are looking for a bit more than just a pretty view.
Today, we bring you a list of these places are that so good that once you get there, you will not want to come back.
1. Ker and Downey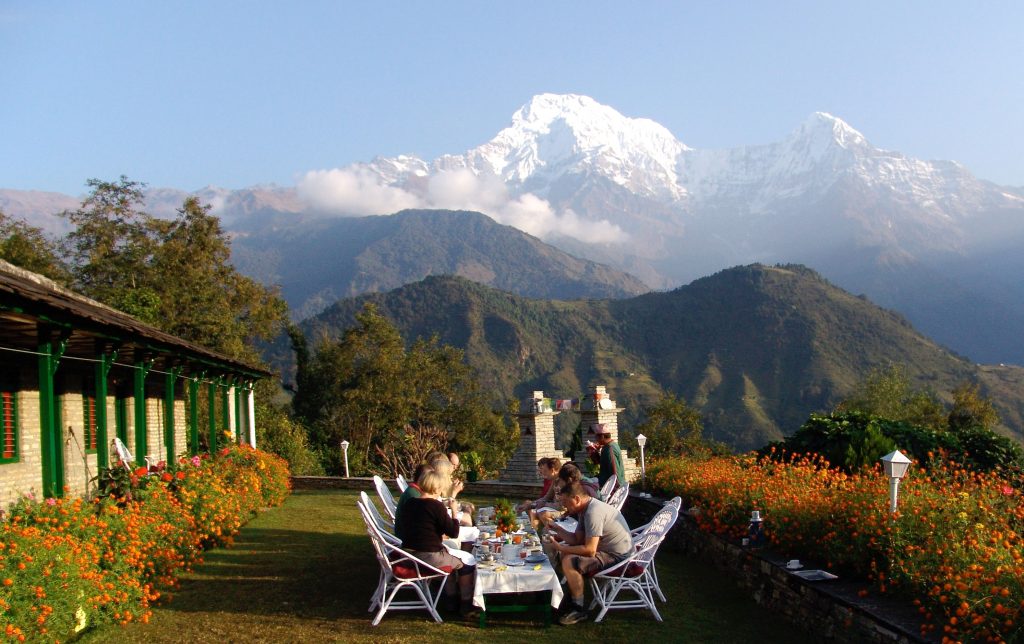 Ker and Downey offers tourists a luxurious way to experience the Himalayas. Its cosy lodges are spread across the Annapurna region and offer spectacular views of the mountains. The food is great as is its staff who are well trained and very friendly. It has lodges in Lumle, Birethannti, Ghandruk, Landurk, Majgaon and Dhamups. All of them have clean rooms and running hot showers. For people who want to trek and experience the Annapurnas without giving up on luxury, this is the way forward. It has some really good packages that have been curated keeping high-end tourists in mind.
2. Yeti Mountain Home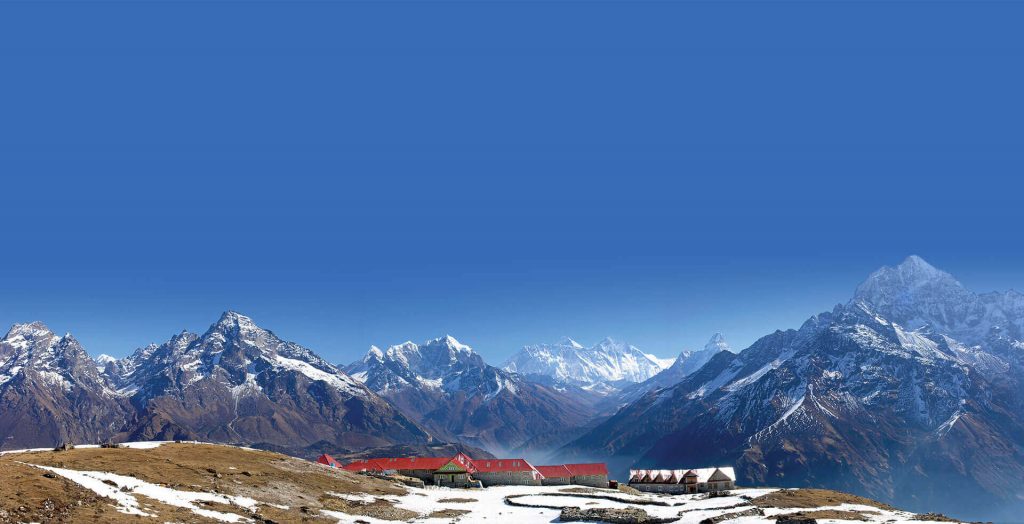 Spread across the Everest region, Yeti Mountain Home provides high-end tourists with indulgent comfort, high-quality cuisine and a very warm Sherpa hospitality. These lodges are in one of the most remote parts of Nepal yet none of them compromises on anything. The property, especially in Kongde, a hill opposite Namche Bazar, is ridiculously good. The views from there are worth every penny you have paid to get there. An underrated gem… expensive, yes, but underrated.
3. Jagatpur Lodge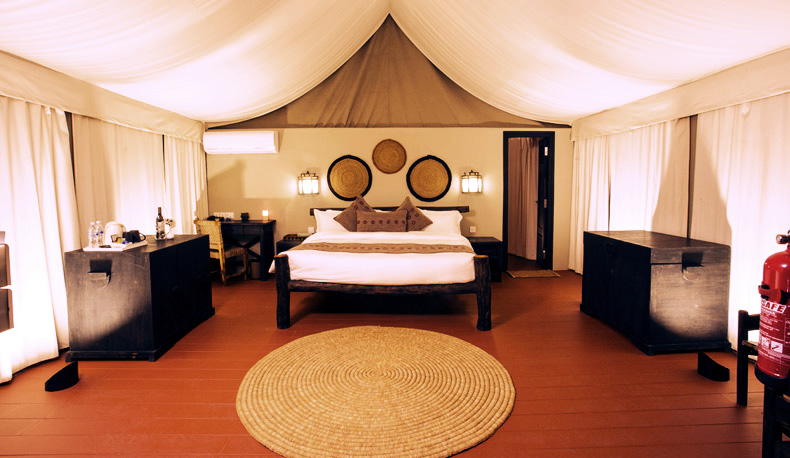 Set by the Rapti river near the Chitwan National Park, the lodge for high-end tourists combines the natural beauty of its surroundings with understated elegance. Spread eight acres of land, Jagatpur Lodge oozes luxury. While the rest of the resort is similar to others around the place, its USP is the luxury tents that have been imported from South Africa. Inside these tents are rooms that even five-star hotels would be envious of. Imagine going back in time during the time of the Maharajas of Asia; this is what staying here will feel like. Sited on raised platforms, each tent has its own private viewing deck, from where you can sit and stare at the magnificent jungle that is Chitwan National Park.
4. Karnali Lodge by Tiger Tops
Many people know about Tiger Tops' property in Chitwan. But, it also has one in Bardiya and it is even better. Karnali is an intimate lodge with ultra-personal service and expert wildlife guiding for high-end tourists. For wildlife lovers who want to see the elusive Bengal tiger, this is the property to visit. The place is also calming and soothing. Signature rooms each with an adjoining bathroom, Karnali Lodge is the epitome of comfort with a focus on privacy and calm. All of its rooms are designed to minimise their impact on the environment and are adorned in soft natural colours and fabrics and locally sourced furnishings. It is a place that promotes sustainable tourism, so you have another reason to go visit.
5. The Terraces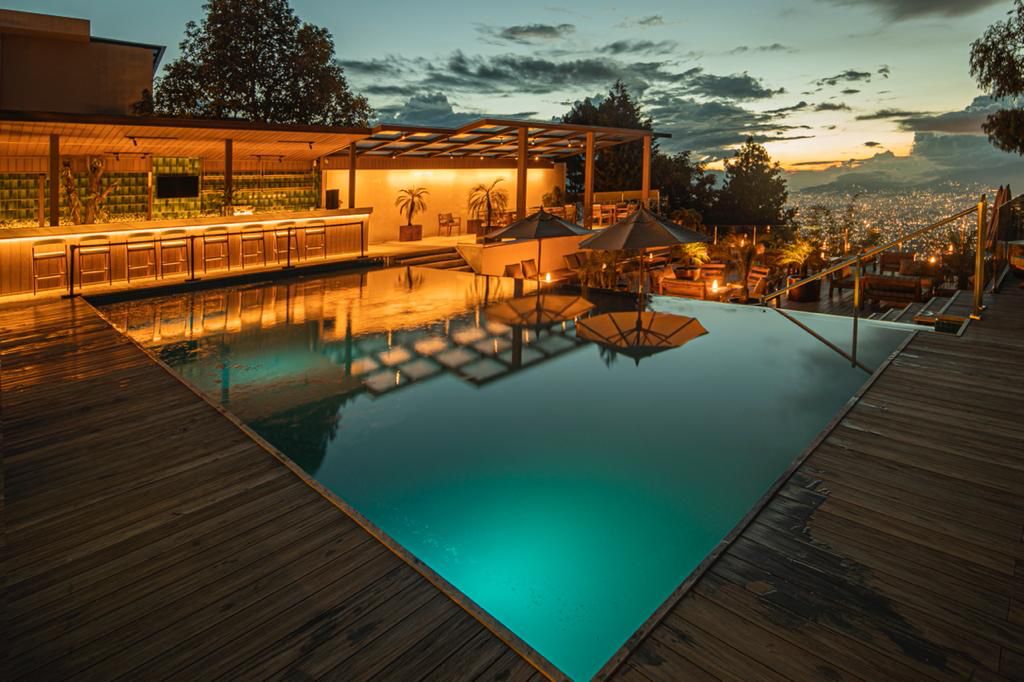 The Terraces is a newly opened property in Kathmandu valley. Set on a ridge to the south of Kathmandu valley, the place offers some of the most jaw-dropping views. The sunsets from the place are magical as is the view of the valley with the mountains in the backdrop. The place offers seclusion and exclusivity and a deeper engagement with the natural environment without sacrificing comfort. It is a great spa so why not wind down and relax away from the hustle and bustle of the city.
6. The Farm by The Pavilions Himalayas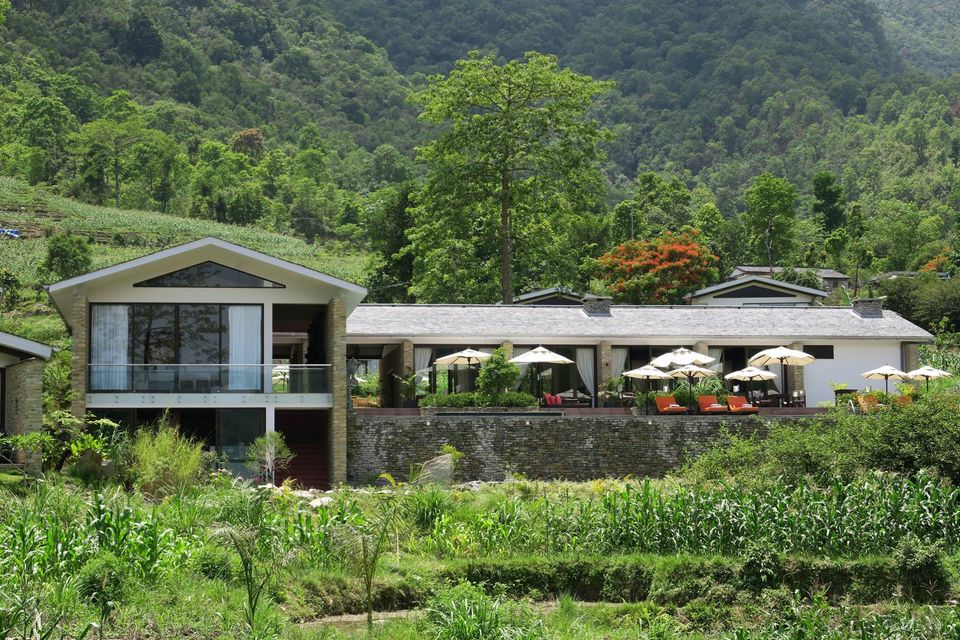 The Pavilions is an eco-sensitive luxury resort for high-end tourists in Pokhara. Its place has been built to give back to the local community. But that said, it does not compromise luxury. It is a place where luxury meets adventure. By the very definition of glamping, you get the best of both worlds – the comfort and elegance of a villa combined with the beauty and wonder of camping in nature. It is a perfect place to come wind down after a long trek. Believe us, it is worth it.
7. Baber Mahal Villas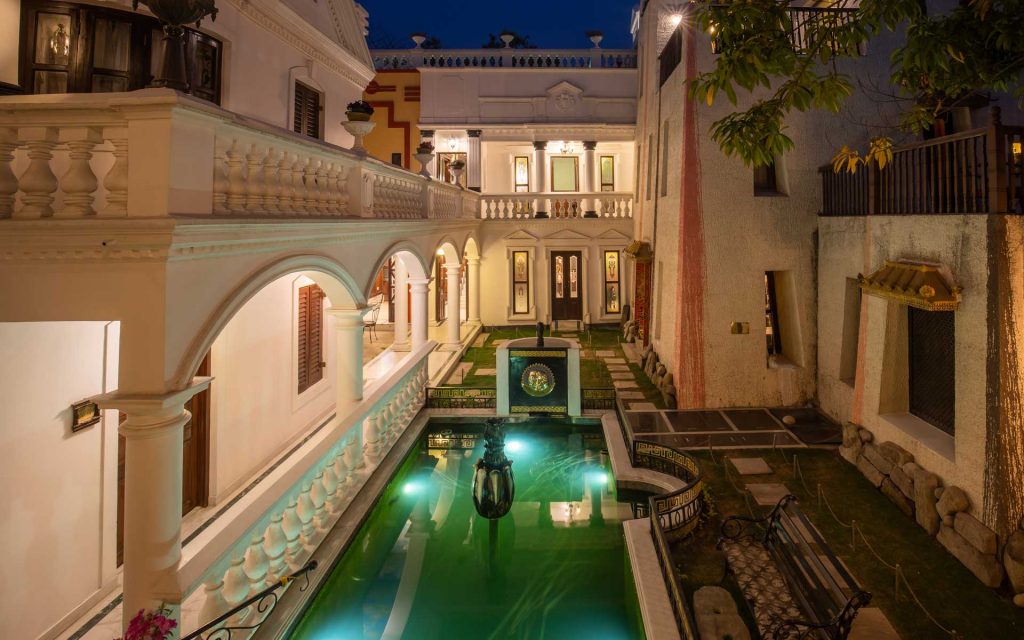 It is a known fact that Kathmandu once had a lot of palaces. While some have been lost due to urbanisation and earthquakes, there are some that have turned into hotels. One such is the Baber Mahal Villas which is certain to take you back in time. Its interior and décor echo the grand lifestyle of the Ranas who lived here. So if you want to live in the palace of one of the most powerful dynasties in Nepal, this is your place to be.