Popular American tattoo artist Dillon Forte was supposed to be at the 10th edition of the Nepal Tattoo Convention, which concluded in Kathmandu on April 9. However, due to his official work, he could not make it. Nevertheless, other tattoo artists from his team as part of Forte Tattoo attended the convention.
Despite his absence from the convention, Onlinekhabar caught up with him through an email interview. Here is an excerpt from the interview in which Dillon Forte talks about the growing tattoo culture in Nepal and the possibilities of sharing ideas between the globe and the country.
What inspired you to become a tattoo artist?
I always liked drawing and elements of design as a child and it transformed into a passion when I was a teen. Where I grew up, there was a downtown area that had a skate shop and a tattoo shop nearby. I was sort of drawn to both groups of people that would hang around those parts. I think a lot of kids who grow up skating end up being creative by default, and I ended up taking an apprenticeship at the shop out of curiosity. The rest is history and I'm thankful for that opportunity.
How many times have you visited Nepal and what brings you back each time?
I've been to Nepal three times to date and it is by far one of my favourite places to visit and take in. The energy and vibe of the whole region really bring a lot of inspiration to me creatively and spiritually. Each time I visit, I try to visit a new area of the city, try different restaurants and meet new people around me. Sometimes, I am tattooing; other times; I am simply living in the moment and taking everything in. The area hosts a tattoo convention annually and I also have that great reason to come back often, the whole experience is really just a favourite in my travels.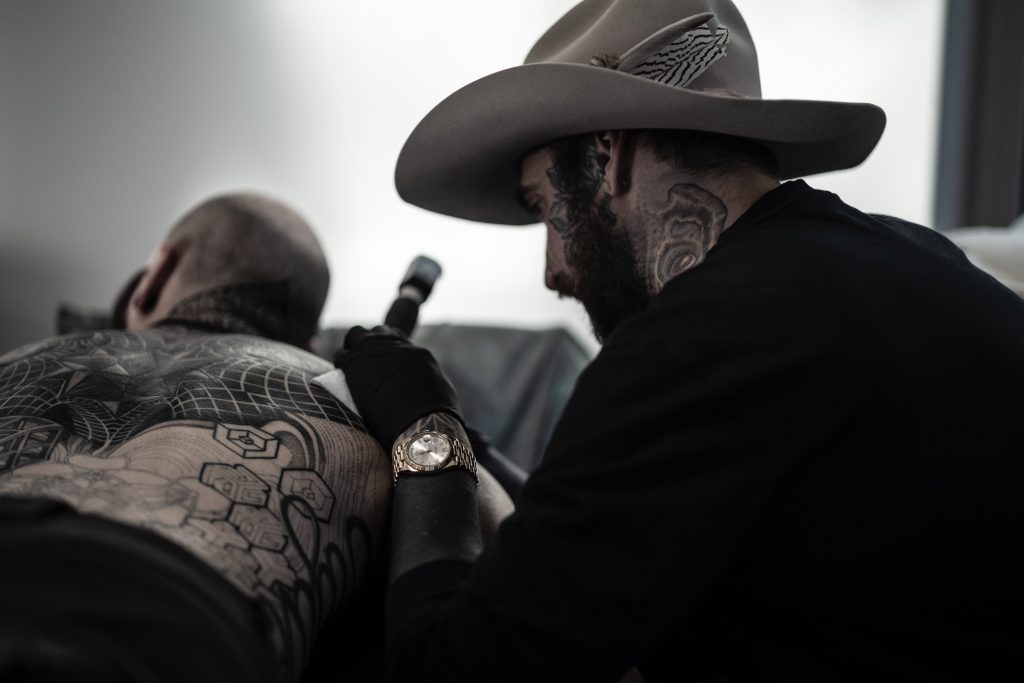 Dillon Forte has been a part of the Nepal International Tattoo Convention in years past and your Forte Tattoo team was at the event this year also. What do you feel about this journey?
I typically set up a booth yearly at the convention and let visitors know more about my tattoo work, and availability, and my team is there to promote their work as well. Forte Tattoo has multiple artists here in Austin, Texas (USA), but we also travel internationally and do work around the world. I see the Nepal International Tattoo Convention not only as a place to promote my work and business but also as a place to gain inspiration since my work takes a lot of influence from Eastern culture and heritage. For this year though, I wasn't there personally, but my team including Jess Steidler was representing Forte Tattoo and setting up appointments for herself and the rest of the crew.
What were your favourite experiences when visiting Nepal in the past?
I enjoy walking around the (Kathmandu) city, often wearing more traditional Nepali clothing and being a part of the whole was a favourite part of my visit last time. The food, people and energy of the area really brought me back to earth, especially after being so busy back home with our American way of living. Sometimes it's eye-opening to visit an area outside of what you're used to, to be in the moment and absorb the simple way of experiencing your day. I like getting outside of the city, getting into nature and connecting with the spiritual energy of the land. I bring my camera setup and get pictures and videos of the things I enjoy most in the area.
There are so many aspiring tattoo artists in Nepal also. What is your message to them?
Find a mentor and keep researching the industry and follow your favourite tattoo artists and their journey. See what you can learn from them so you can avoid any mistakes and really find out if it's the industry for you. I think if the industry is your calling, you'll go down the rabbit hole and become obsessed with it. Especially if you have a mentor to look up to, you'll see the potential of where you can go and see that "proof" of success. Creative people are so visual, so go hang out with artists, get your own tattoos and get into the environment to see where it takes you.
For those unfamiliar, please tell us about sacred geometry tattooing, artwork and the connection to Eastern Asian culture and spirituality.
Sacred geometry is all about the shapes and proportions in the design. They are all related to universal principles that govern our entire creation and existence. We can go far down the rabbit hole here, but I do recommend that readers learn more about it online or even read The Ancient Secret of the Flower of Life by Drunvalo Melchizedek. There are a ton of blogs and articles online that take you further into the deep meanings of sacred geometry and its principles. Even though the roots of sacred geometry are defined in Greek history, Eastern culture and spirituality have taken inspiration in the form of designs like a mandala, lotus, all-seeing eye, yin and yang etc. A lot of it is blended with styles using sacred geometry, blackwork and dotwork designs.
Since Nepal is so culturally diverse, what part of Nepali culture would a tattoo artist ideally take to create tattoo designs?
I see Nepal as more of a hub for spiritually minded people and many of us around the world, regardless of background. There isn't necessarily a handbook or set of guidelines for tattoo artists to take from Nepal though. You see the type of spiritual tattoo designs out there and may think of an area like Nepal just by association, just as Americans see Sedona in a similar way. For those that don't know, Sedona is sort of our spiritual Mecca for various, widely known reasons. Those vortexes get me every time, haha. I absolutely love Sedona, just as I love Nepal.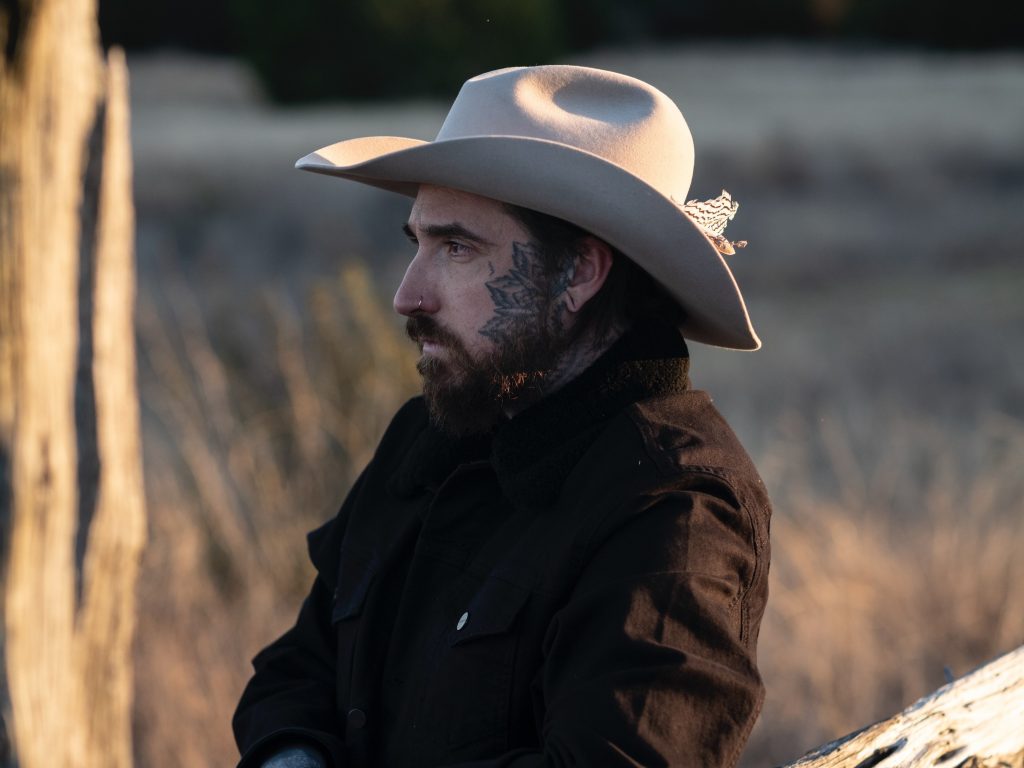 Outside of Nepal, where are some other areas of the world you love to visit and tattoo at?
I've been all around the world, and really feel like I'm getting started with all this. I'd love to visit other areas of India, Africa and Europe to do the tourist/photo thing and also work with some clients that have been waiting for the chance to make an appointment. A ton of clients fly to me, but I also enjoy the excuse of travelling to them since it can double as an adventure to somewhere new.
You have worked with some interesting celebrities including Usher and Chris Hemsworth. How did that come about?
Those connections have been so random and seemingly come out of the blue. I think over time as I keep working, posting on social media and meeting amazing people they just spread the word. The Usher work came from a client/friend referral. And Chris Hemsworth came the same way, but I just happened to be in Morocco when he was there as well filming a movie. Kat Von D came through the network and Kehlani was referred to me as well. Word of mouth, a strong network of friends, clients and working your social media can do wonders for finding awesome work opportunities.
What are your future plans? Any words of wisdom for tattoo enthusiasts?
I've been working on my Tattoo Ranch just outside of Austin, which recently opened, but I'm also expanding with a lot of upgrades and fun ideas. I've been brainstorming. At the end of the tattoo, I've been booked solid with a lot of great clients and just working in fun vacations in-between my crazy work schedule. As far as advice, I always suggest looking within and following your heart with whatever it is you'd like to do with your life. Time moves quickly, so don't waste it doing something you don't absolutely love.