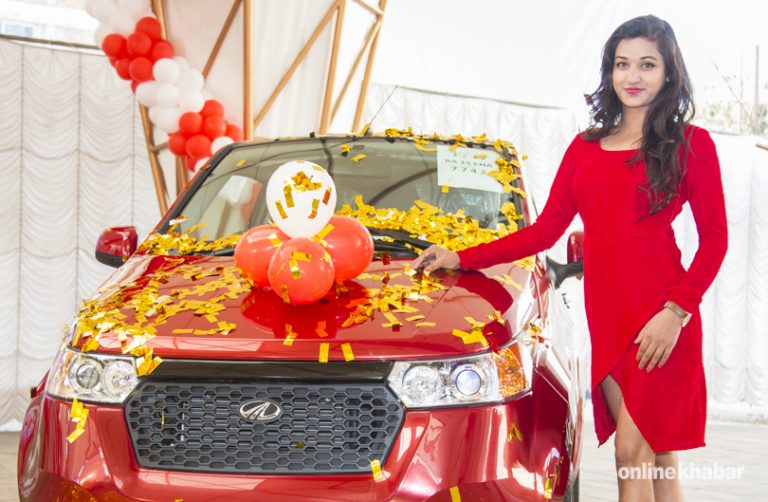 Nepal's former Health Minister and electric vehicle campaigner Gagan Thapa is in a dilemma. His decade-old family car, which he bought with contributions from almost all members of his extended family, now needs to be replaced. Thapa, who has been lobbying for a ban on fossil fuel cars, wants to go electric. But for his wife Anjana, an electric car is 'not even on the menu.'
Electric cars first made their debut in Nepal in the late 90s. The technology used in the cars has evolved, and so has the level of comfort. But still, electric cars are not the mainstream in the hydropower-rich country that imports billions of dollars worth of petroleum from India every year.
Thapa and his associates, who are worried about alarming levels of pollution in Kathmandu, had long been campaigning for the relaxation of government duties on the import of electric vehicles. They got the government to lower taxes from a whopping 240% to around 28% in 2016. The Mahindra EV costs around two-three times more in Nepal than India, and this has been seen as one of the biggest reasons Nepalis are shying away from EVs–if you'd met Gagan Thapa a few years ago, he would have said this.
But now, as he prepares to buy his own car, he has a different perspective. "When it comes to buying a car for my own family, I have a different set of concerns."
Thapa mainly has three options when it comes to buying an electric car. It's either the Mahindra, BYD or KIA Soul. While BYD and KIA Soul are 'luxury cars' Thapa's EV option is narrowed down to the Mahindra, which is manufactured 2,631.2 km south of Kathmandu in the Indian city of Bangalore.
Out of the assembly line 
Of the 5,000 EVs Mahindra churns out at his facility in Bangalore every year, less than a hundred find their way across the border in Nepal. Mahindra dispatches its E20 cars to Nepal after receiving orders from Agni Energy, a trading company based in Kathmandu.
In most cases, including in the case of Mahindra electric cars, vehicle manufacturers in India quote a price that includes cost, freight, and insurance (CIF). Mahindra, one of the biggest car manufacturers in India, factors in all the cost it incurs within the territory of India to calculate the price per unit of its electric cars. At showrooms in New Delhi, the Mahindra E20 P8 was priced at INR 1.197 million.
The long journey to Nepal
It has been three days under the unforgiving April sun for Munna Yadav* (40s) and his friends from Motihari Bihar who ferry goods from India across to Nepal every day. "We travel long distances. We can do everything on the truck except taking a shower and going to the toilet," he shares laughing at his own joke. Truckers like Yadav spend days and sometimes even months behind their wheels.
As we talk to Yadav, who parked a few hundred metres from the Indo-Nepal border in Sonauli (around 264 km south-west of Kathmandu), a policeman jets in on his motorcycle. Only those who have 'chits' will be cleared to cross the border first, he says before storming back to the checkpoint on the border.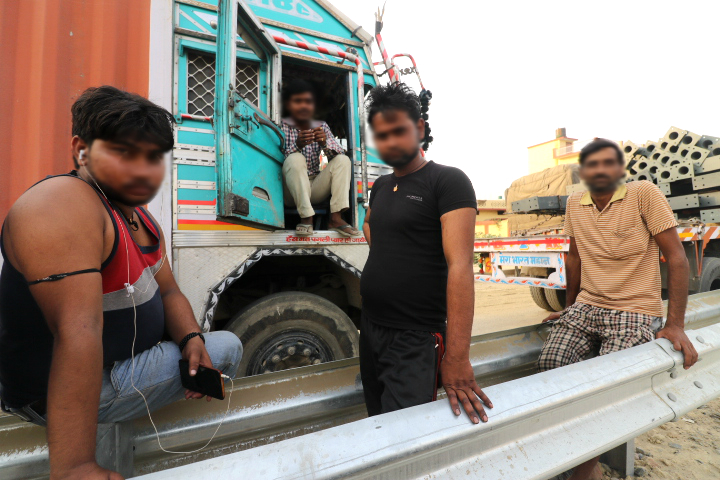 "That's what he and other policemen do at the border. They ask for a bribe and only those who pay them can avoid long lines," he explains. "We need to pay policemen along the highway to pass the checkpoints in India and things are the same when we cross into Nepal," he adds.
Yadav says that when he enters Nepal, he is always ready for surprises. "There are times when there's a traffic jam on the highway and there are times when the highway is blocked because of landslide debris," he explains. "Working on the India-Nepal route is a big hassle. But we are used to it now, and we do not enjoy other routes; the pay is also better here," he chuckles.
Customs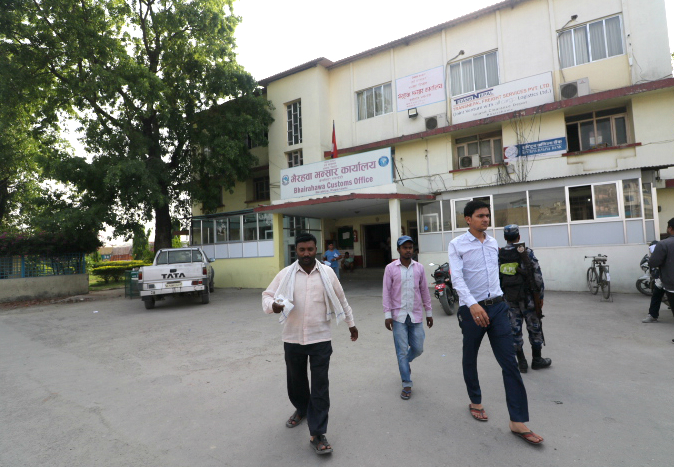 Nepali customs offices near the border in India are one of the most lucrative workstations for government employees. Hundreds of cases of corruption, both on the part of the importers and government employees, have been reported here in the last few years. Anyone who takes out a camera and starts shooting photos meets the gaze of dozens of people who clearly indicate that they do not like people taking photos in the area.
When the trucks arrive at the customs, clearing agents deputed by Nepali vehicle importers take charge of the cargo. They prepare documents in advance to present to the clearing officials. "For us, each car in the cargo is a 'document'. We get paid for the documents we prepare, we don't care if its an electric car or a petrol car," says one of the agents who worked for Agni in the past. The agent says that he is paid around a thousand rupees for every document he presents to the customs officials. When the agents are in the groove, they can clear customs in a matter of hours.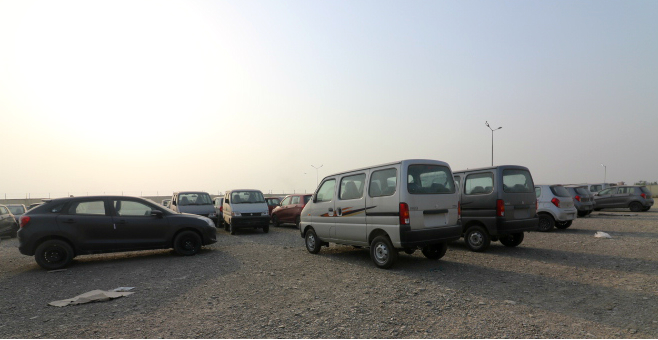 While most of the trucks unload their cargo only after reaching cities such as Kathmandu, trucks ferrying cars and other heavy machinery mostly unload their cargo near the border, where importers have rented parking space. Ferrying the vehicles into Nepal would mean paying the customs– a large sum of money. "What the importers usually do is they order vehicles from India and park them near the border. Whenever the demand picks up, then only they clear the customs and send the vehicles to Kathmandu," he said.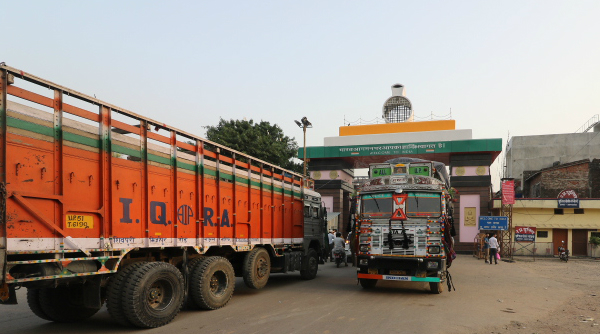 The journey from Bhairahawa to Kathmandu is an equally arduous one. The 277 km ride takes the trucks through the southern plains, past numerous hills and treacherous rivers. With road expansion work going on at different sections of the highway, there is always a long queue of vehicles entering the Kathmandu Valley.
The showroom
When a Mahindra E20 reaches Kathmandu, it makes its way to Agni's warehouse and eventually to the showroom, which has around 40 staffers ranging from managers to clerks and drivers to office assistants. When a consumer walks into the showroom to inquire about the Mahindra E20 P8, the price the company quotes is NRs 2.8 million.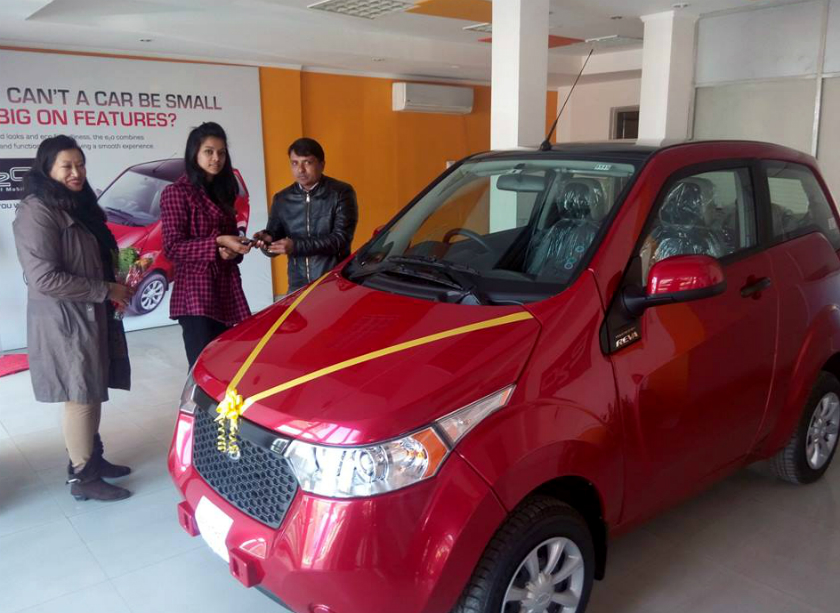 The maths 
According to Agni Incorporated's confidential customs filing, seen by Onlinekhabar, the price of a Mahindra E20 P8 declared at the customs is NRs 1.94 million (approximately equal to the INR 1.197 million price tag in Delhi; 1 INR = NRs Rs 1.6). Customs officials say that importers have a tendency to undervalue their products when they present to customs as lower valuation would mean lower taxes. But in the case of the Mahindra P8, this was not found to be the case.
At customs, the government charges 10 per cent tax as import duty, then there is an additional 13 per cent VAT. Similarly, a 3.5 per cent tax is imposed as road maintenance tax. At the end of the process, the importer effectively pays around 28 per cent tax. The money the importer has spent on one unit of the Mahindra P8 now reaches Rs 2.48 million.
The importer then pays an undisclosed amount to the customs clearing agent. Similarly, the cost of running a showroom and warehouses in the heart of Kathmandu also needs to be factored into the costs. Banks charge commission on the foreign exchange required to import cars and frequent delays at the border pile on costs for the importer. However, according to Nepali law, businesses cannot earn a profit of more than 20 per cent of the cost price of the product. On top of that, Mahindra sells only 2-3 vehicles every month. That would be Rs 1 million a month to keep the entire business running.
Similarly, Agni only imports the top-end models (therefore the priciest) of the Mahindra E20 to Nepal. An official at the E20 showroom in Kathmandu says that the company wants to bring in only the best EVs so that they do not ruin the reputation of electric cars in a budding market.
The end user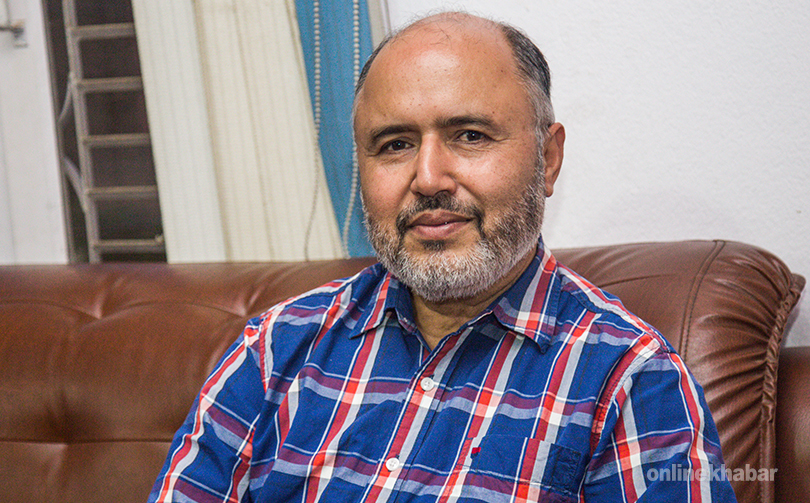 There are various issues, which are not related to the cost of EVs, that have come up in the past few years. In the words of Former Finance Secretary and EV enthusiast Rameshore Khanal, there are four main reasons why Nepali car owners are hesitant to buy electric cars.
"First, it's all about perception. During the 90s, we saw the introduction of Safa Tempo in Kathmandu. The three-wheeler public vehicle uses a lead-acid battery and it has been seen to be very slow. Many people blame the vehicle for traffic congestion in the city. So, there are many people who think about Safa Tempo when we talk about EVs. The vehicle's image is not particularly positive. Battery technology has evolved a lot since the Safa Tempo days, but many people do not know that. They believe that EVs are slow and they do not have the acceleration needed in cities like Kathmandu," says Khanal.
"Second, many people understand that Nepal does not have a good charging network for EVs around the country. They believe that their mobility will be restricted to Kathmandu if they rely on electric cars. They feel that they will need an additional petrol car to go out of Kathmandu."
The third issue EV owners face in Nepal, according to Khanal, is that the government has not yet chosen the charging standard for electric cars. Charging stations are coming up in different parts of the country, but the standards are different. For example, a charging station run by a Chinese company is of no use for an EV made in India, they are simply not compatible with one another. "The government needs to choose one standard so that EV owners can charge their cars wherever they see a charging station in Nepal. This will encourage them to switch to EVs."
"The fourth challenge, as I see it, is the condition of roads in Nepal. Most electric vehicles have lower ground clearance compared to conventional cars. This has to do with the aerodynamics of the car. Manufacturers around the world want to get the most power out of their battery and they are designing their vehicles in such a way that it offers the least resistance to wind. Electric cars, in general, are heavier and designers have no choice but to lower the ground clearance. Driving around with a low-clearance car in Nepal is a big challenge as most of the roads are not smooth."
Nepal Forum of Environmental Journalists General Secretary Ramesh Bhusal also sees challenges galore. After a recent test ride of the Mahindra E20 P8, Bhusal said although he was impressed with all aspects of the car, the lack of charging infrastructure limits it to the status of a 'second city car'– a car that you can only use in the city. "It is yet to become the family car I would like to go on a long drive with my dear ones," he adds.
It's not about the price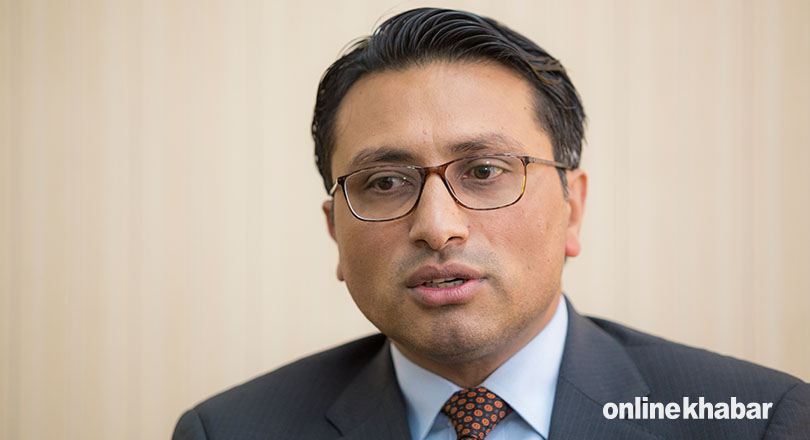 While in the early days of EVs in Nepal, activists believed that a reduction in government taxes on the vehicles would help bring down the cost, but such a move has not brought about the intended consequences. This is a belief shared by former National Planning Commission Vice-chair Swarnim Wagle, who is not in favour of cutting taxes on EVs as automobiles contribute a big chunk of revenue to the government.
"I think the fiscal incentives that we have are enough for now. We must also not forget that there are just a handful of sectors that contribute a huge chunk of money to government revenue. The taxes the government levies on cars is one of the biggest sources of revenue. At the moment, only a handful of people, whom we could even easily name use EVs, but when more people switch to EVs, it will have an impact on government revenue. That is why we need a transition plan to switch to EVs in the future."
He, however, says policies and incentives need to be rolled out gradually. "We need to roll out policies gradually. We are on the right track. We also need to invest in other supporting infrastructure such as roads and charging stations. Having said that, I don't believe that we need to take any radical decision on promoting EVs right away. It is all network economics, we have the financial incentives in place, and people will start adopting EVs. When the numbers are there, then we can design policies for the masses."
The petrol stations of the future
Former Minister Thapa, who is about to buy his new car, meanwhile, is concerned about the charging infrastructure. This is the main issue he is grappling with. "As charging stations are limited to Kathmandu, my mobility will be restricted to the city if I opt for an electric car," he adds.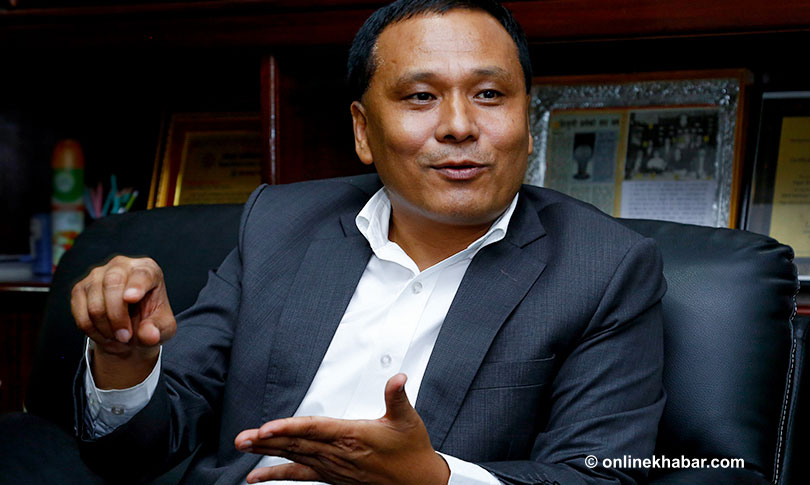 Nepal Electricity Authority Managing Director Kul Man Ghishing says he understands the issues prospective car buyers like Thapa face. " It is important that we to have a good network of charging stations. The network should be at a scale similar to the fossil fuel distribution network we have in the country right now. Charging stations are the petrol pumps of the future."
He says that the NEA is in the best position to set up a network of charging stations across the country and we are keen on developing the network. There are two reasons for that. "If you go across the country, you will see that wherever there are roads, there are power lines and wherever there are power lines, there are NEA substations and offices. We have big pieces of land in almost all parts of the country, including the Kathmandu Valley, where land has become expensive. For anyone else to set up a network of charging stations, they would have to buy or lease land and doing so is not going to be cheap."
That is why Ghishing recently commissioned a study to recommend how NEA property can be used to set up a network of stations. A typical charging station would have around 5-10 chargers and if it is run at full capacity, it will require around 1 MW of electricity to operate.
Power economics
Ghishing says that installing charging stations is important for the public utility's power business. "If you look at our daily demand curve, you will see that it is not uniform. There are two hours in the morning and in the evening when demand peaks and during the rest of the day it goes down by 50 per cent. At night, the demand for power is the lowest–compared to the peak demand, it is only 40 percent. We are in such a situation right now that we need 50 per cent more power just during the peak hours. But during the off hours, our capacity goes unutilised."
"So to optimise our system and to make the load curve more uniform, we need something to spur demand during the off-peak hours. EVs could help us do that. If we could use the underutilised power to charge EVs, the system will become more efficient and the cost per unit of electricity will also go down."
The Indian angle
According to the Indian Engineering Export Promotion Council, Nepal is the second biggest market for Indian car makers. In the first 11 months of the last fiscal alone, Indian car makers exported vehicles and spare parts worth over Rs 73.24 billion to Nepal. That is why former health minister Thapa believes that once Indian car manufacturers get serious about EVs, Nepali importers, who do not have manufacturing units of their own, will have no option but to sell EVs. Thapa says that the Indian government's recent announcement to phase out fossil fuel vehicles by 2030 will also help Nepal.
The entry of other Indian EV manufacturers in Nepal will also make the market more vibrant and consumers like Thapa will have more choices.
Indian auto giant Tata Motors says it is keen on introducing EVs in Nepal, one of the company's key export destinations.
"We are working very hard to bring in electric vehicles in Nepal," says Sujan Roy, Tata Motors' head of Passenger Vehicle (International Business).
He, however, added that the plan is in its initial stage and the details are to be sorted out. "We don't have a timeline. To some extent, we are constrained by the availability of charging facilities. But a Tata EV will be available on the streets of Nepal soon," Roy added. He said that Tata considers it its 'sacred' responsibility to roll out EVs in a 'pristine' country like Nepal. "We have the vehicles they are being manufactured at our plant every day, we would be happy to bring them to Nepal," Roy explained. "Yes, the concessions available on EVs are attractive, but we consider it as a social responsibility to bring EVs to Nepal."
Border checkpoints getting a boost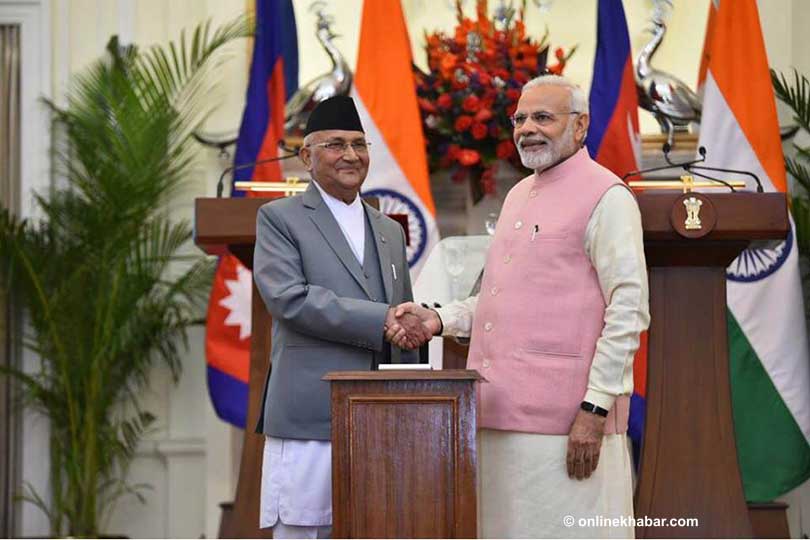 The governments of India and Nepal are also working on simplifying cross-border trade and cutting costs. In April this year Nepali Prime Minister KP Sharma Oli and his Indian counterpart Narendra Modi inaugurated an Integrated Check-Post (ICP) at the Raxaul-Birgunj border.
The Raxaul-Birgunj ICP is the first of four integrated check-posts being developed to ease the pressure on India-Nepal cross border trade due to logistical hurdles. These projects are funded by the Indian government on both sides of the border.
An Indian government official overseeing the development of these projects said, "The next ICP to be operational will be at the Jogbani (Bihar, India) – Biratnagar (Nepal) border crossing. We are hoping to inaugurate this project within the coming three to four months. The aim is to operate these ICPs similar to the ones in the European Union. We hope to bring down the time taken from the moment a truck enters the terminal to its exit to around 7 to 8 minutes."
"The other two ICPs will be at the Sonauli (India) – Bhairahawa (Nepal) and Nepalgunj Road (India)- Nepalgunj (Nepal) borders. The process of land acquisition for these projects will be completed within the next 12 to 18 months," the official added.
India and Nepal are also seeking to complete a stretch of broad gauge flat terrain railway lines from Jogbani (Bihar, India) to Biratnagar (Nepal) and from Jayanagar (Bihar, India) to Janakpur (Nepal).
"We expect an improvement of nearly 70 per cent to 80 per cent at the India-Nepal border checkpoints once these railway lines are operational. The railway links are entirely funded by the Indian government and will be operational within the next 6 to 7 months," the official said.
With so much happening in the EV market, in Nepal and in the region, there is hope that the transition to EVs in this Himalayan nation will take place fast. Former Secretary Khanal thinks the transition in Nepal will be faster than in India as there are far few vehicles on the road in Nepal. NEA chief Ghising, says its a matter of 3-5 years before visible changes can be seen on the streets of Kathmandu.
This story was produced under a grant from Clean Energy Wire (CLEW), Germany.