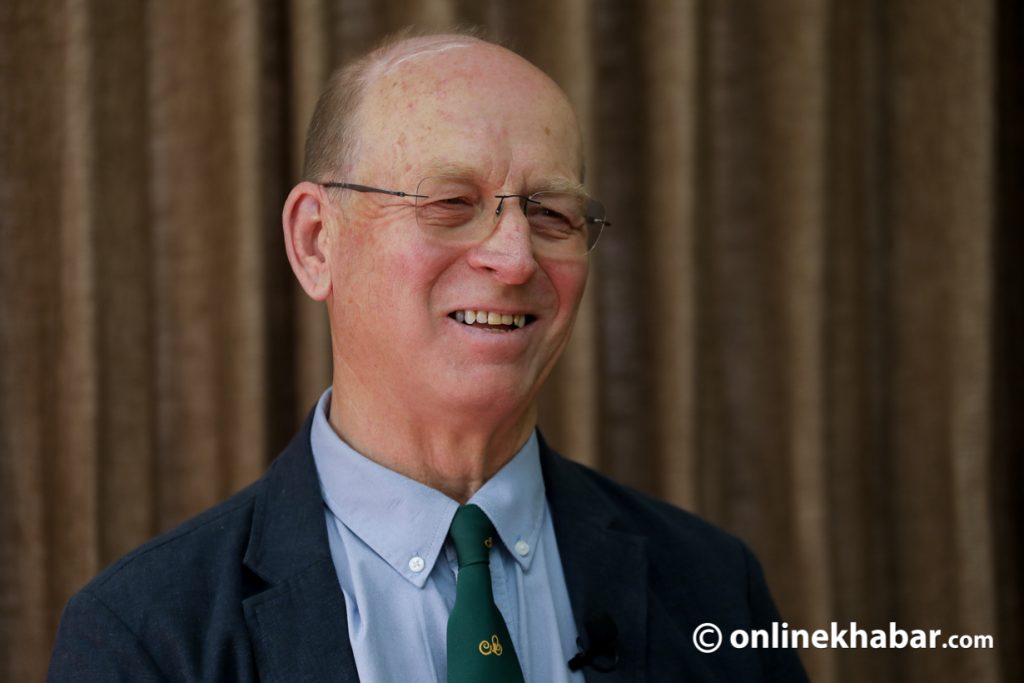 Dr Mike CF Smith is a living example that no geographic boundaries, dress and culture can make a difference if you want to serve people. This 70-year-old British national has been treating Nepalis in rural areas for 40 years for all problems related to the nose, ears and throat.
Mike Smith considers Nepal his second home. Nepal and Nepali people have drawn him in such a way that he wants to serve here till his last breath. He has spent most of his service time in the western region of Nepal, including the Western Regional Hospital, Pokhara.
Despite being born in a developed country, he dedicated his life to Nepalis without results and is considered no less than god by the people he treated. Unfortunately, the government does not recognise him. "The government must know my name as the person who gets entangled the most in the visa process every year," he says.
Choosing Nepal
Mike Smith first came to visit Nepal in 1974 for a week. "I was just an ordinary student then and I returned to my country after seeing the mountains of Nepal."
But he was mesmerised by the beauty of Nepal's nature and the friendly behaviour of people here. Hence, he came to Nepal in 1976 with a plan to trek up to the Everest base camp. After that, he went back and got married. He continued his studies and completed his MBBS from St Mary's Hospital Medical School. At 28, he came to Nepal for the third time in 1980 with the intention of making a difference.
"I was a junior doctor, I was yet to get any expertise and had just started the ear, nose and throat training. Education is free in the UK and I thought I would use my knowledge in a country that lacked the same but I was in a dilemma regarding which country to go to," says Mike Smith.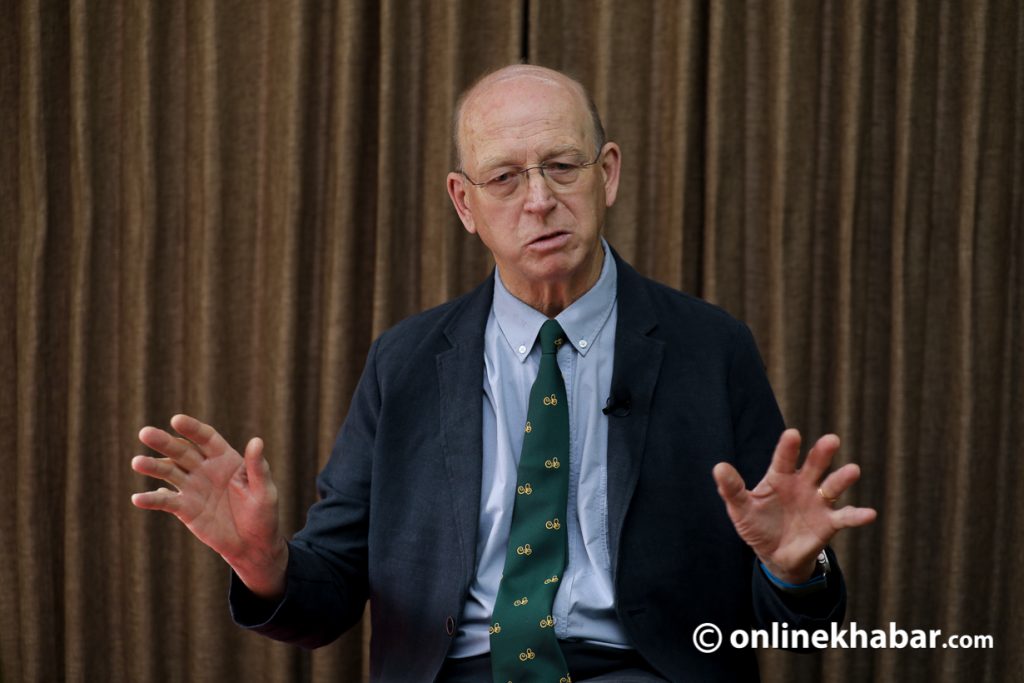 As his friends suggested, he chose Nepal and came here with his wife Fiona to serve the Nepalis.
He remembers living in a simple house on the hospital's compound. "Pokhara was a remote area then. My wife and I lived in a house made of small stones and straw. There was no light so we used to have lanterns."
After two years, Mike Smith returned to his country once again because his father-in-law was ill.
In 1985, he passed the Fellowship of the Royal College of Surgeons (FRCS) in nose, ear and throat. He received a certificate of advanced surgical specialist training. After eight years of work experience when he felt that he was well-versed, he came to Nepal again and began working in the ENT service at the Western Regional Hospital.
Working in adversities
There, Mike Smith performed many surgeries and many patients with large ear tumours, cancer and ear infections benefitted from it. "But there were no resources, laboratories, operating room, pathologists or doctors, so we continued to work despite various inconveniences and I was happy to serve even in such an absence."
But for English-speaking Smith, it was not an easy feat working with a language barrier while providing treatment. So he learned the Nepali language by taking an hour-long class every day and reading children's books. "I even took my teacher to the OPD and learned how to ask about the patient's condition. I noted down thousands of words in my notebook, but I do not remember much; I am still learning," he says.
"We have many bitter experiences. In the absence of equipment, we had to use many tricks, like heating water in a kettle and performing treatments… A girl had a tumour. We got the tumour, but because there was no laboratory or pathologist, finding out more about the tumour was difficult."
Many patients came in the middle of the night, but due to lack of resources, means and human resources lost their lives, Mike Smith shares.
For lasting solutions
Meanwhile, his wife Fiona was a paediatric physiotherapist at the same hospital. In 1992, the couple welcomed their youngest daughter at the same hospital. They had two children before.
When the children grew up, they returned to the UK for their children's education. However, Smith's heart was in Nepal. He would take two weeks of unpaid leave twice a year.
In 17 years, Mike Smith has come to Nepal 34 times, twice every year, and conducted camps.
"About 150 surgeries were performed during the camps alone. We used to work from early morning till late at night. If there was a major treatment, another team was stationed in Pokhara, which was called when necessary."
But Mike Smith was sure that the camp would not be a lasting solution. So he planned a special training centre with support from his Swiss friend, Lukas Eberle who was also an ENT doctor. Eberle would visit Nepal every two years and he raised the money up to a million dollars.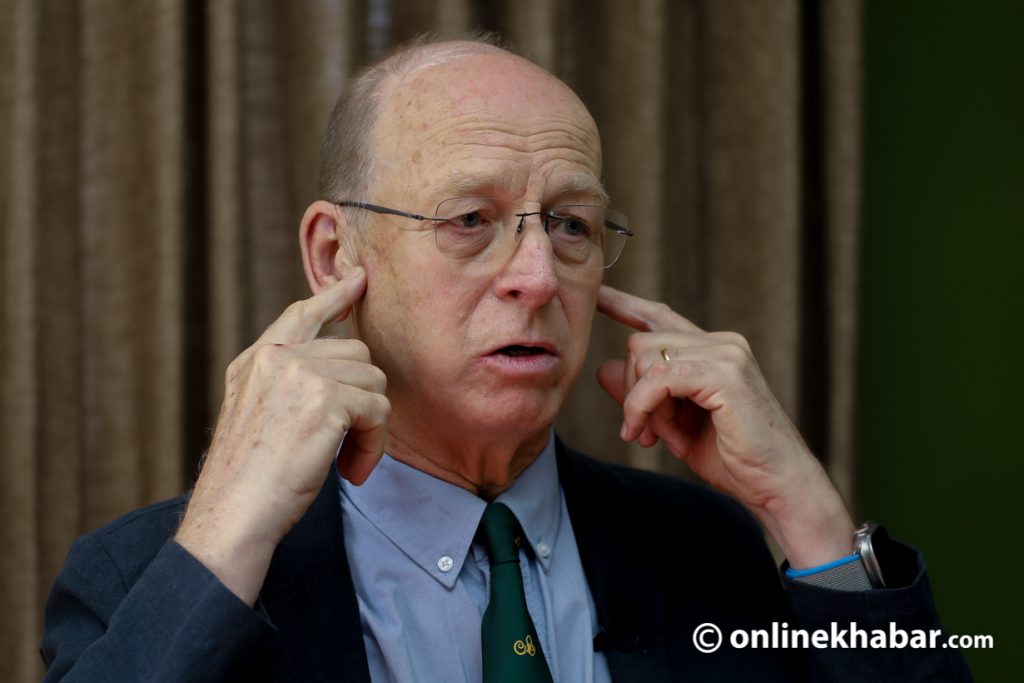 With the money raised and the help of the International Nepal Fellowship (INF), in 2015, an Ear Centre opened at Hariyo Kharka Hospital with 20 beds to perform complicated ear operations. There are currently three surgeons and two hundred employees. It is now helping poor patients.
Unfortunately, Eberle had a road accident in 2016 and got brain damage. Currently, he is getting treatment at a neurological hospital in Switzerland.
Then and now
Comparing the health condition of Nepal then and now, Mike Smith says, "Some 20 to 30 years ago, there was no idea that people had to go to the hospital when they got sick, especially in the remote areas. There was neither a hospital nor a doctor in a remote place and no medicine or even a small laboratory for blood tests."
He adds that it was difficult to even for doctors to go to work in such remote places, leaving their families behind and working in the most inconvenient of places.
But now there have been many improvements in Nepal's health system, says Dr Mike Smith. "Well-equipped hospitals have opened in the cities, and almost every disease is treated in Nepal." However, he believes that significant improvements are yet to be made in the critical situation.
He says that the ENT services are also better than they were before.
Bureaucratic hassle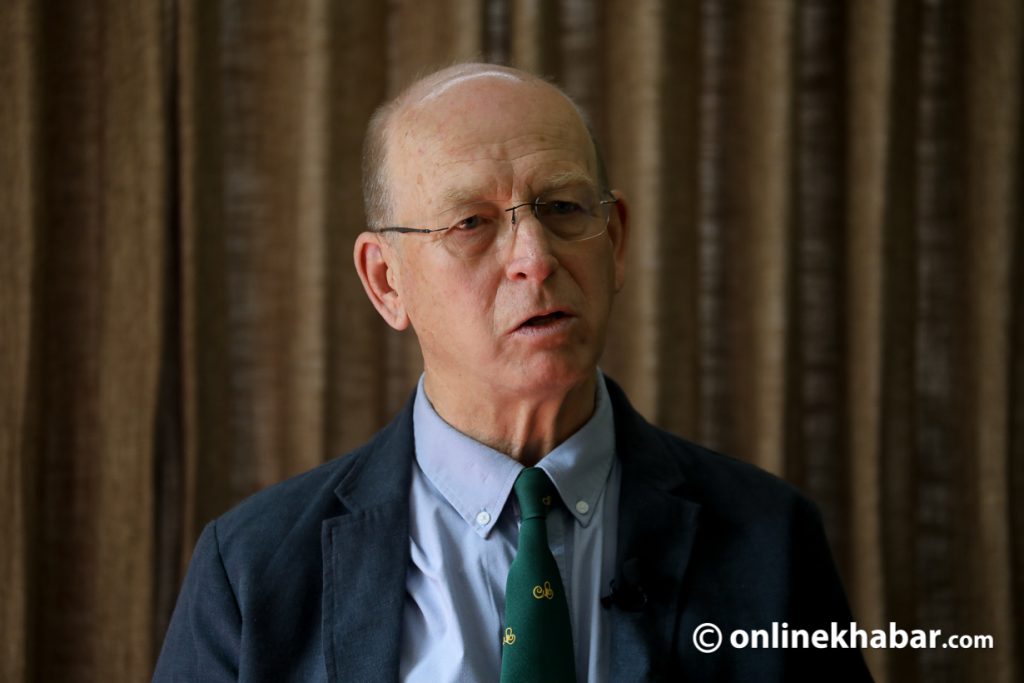 Though many things have changed, many foreign doctors who come to Nepal and try to make use of their expertise still face the complicated visa process. This discourages many, opines Dr Mike Smith. Although he has been serving in Nepal for 40 years now, Smith still finds the visa process very complicated and he has continued to endure them and treat Nepali people.
Smith visits the Ear Centre from time to time. It has even collaborated with Bir Hospital and performed complex surgeries.
Dr Smith has received many awards in Nepal, including the Kalyanmani Acharya Dixit Memorial Trust and Order of the British Empire Award from the UK only two months ago.
His love for Nepal is so much that Dr Mike Smith has even named his children in a Nepali way. The Smiths have named their elder daughter Jyoti, son Jeevan and younger daughter Maya. The elder daughter is an entomologist in the UK, the son is an architect in Australia and the younger daughter is in the UK.
Smith continues to come to Nepal as often as possible. But for now, in the UK, he works two days a week at Hereford County Hospital and Llandrindod Wells War Memorial Hospital. Nonetheless, he says that he does not want to go anywhere else because Nepal is dear to him and will forever be his first choice.
---
This story was translated from the original Nepali version and edited for clarity and length.