Kathmandu, July 10
For the eighth time Dr Govinda KC,  Professor at the Tribhuvan University Teaching Hospital, has begun his hunger strike to press for reforms in Nepal's medical education.
This time, Professor Dr KC is seeking amendment to draft of the Medical Education Act and impeachment of Lokman Singh Karki, chief commissioner, Commission for the Investigation of Abuse of Authority.
Tension has gripped TUTH premises with groups sloganeering in favour of and against Dr KC, at the expense of patients and medical teams attending to them, among others.
Most of those protesting against KC's strike are women. Groups are shouting slogans close to the Paediatric Section's OPD, without bothering about patients.
There's a group under Dr Ram Kumar Adhikari, which seeks to 'save the hospital'. Dr Adhikari said: We support KC's demands, but no one should stage a strike on hospital premises.
Dr Adhikari said their protest will continue unless Dr KC leaves shifts the venue of his strike. Before embarking on hunger strike, Dr KC had sent Dr Jivan KC for talks with Prime Minister KP Sharma Oli. PM Oli had requested Dr KC not to opt for a hunger strike, saying initiatives to fulfill KC's demands are on.
Talking to the media, Dr KC accused the mafia of protesting his hunger strike for commercial purposes.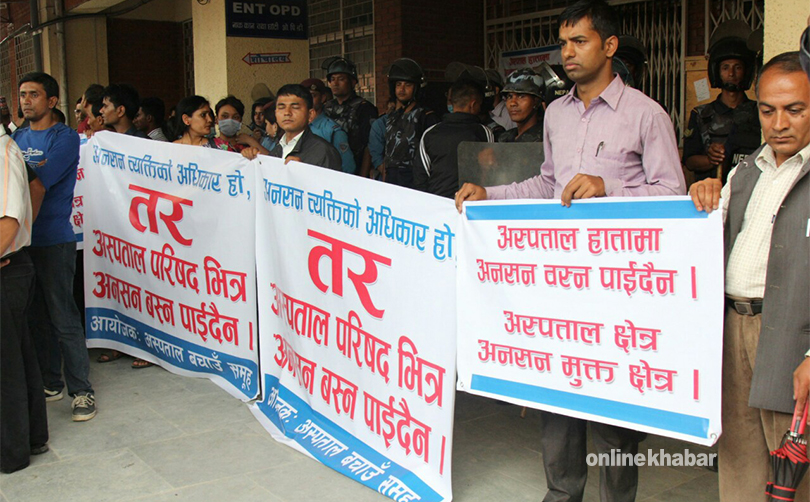 Dr KC has demanded reforms in Nepal's medical education and impeachment of CIAA Chief Karki on corruption charges. His other demands include establishment of at least one medical college in each province, ban on granting affiliation to medical, dental and nursing colleges in the Kathmandu Valley for at least 10 years and a decision against renewing affilation of those colleges that have already got letters of intent.
Dr KC has accused CIAA Chief Karki of stalling reforms in the medical sector to fulfill vested interests of his relatives and shielding the corrupt. He has accused Karki of violating his jurisdiction by ordering intervention in Kathmandu University's entrance examinations. On these grounds, Dr KC has demanded, the Parliament should initiate the process for Karki's impeachment.
Earlier, Dr KC had made public his demands, giving the KP Sharma Oli government 15 days to fulfill them. In response, CIAA Chief Karki had issued a press statement describing Dr KC as mentally unhealthy and directing the government to provide him treatment.