Mugu's Karmarong Community Hospital does not have a doctor. It has been five months since Dr Bhogindra Karki resigned, but, like many local governments in remote Nepal, Mugum Karmarong rural municipality has not been able to hire his successor.
Karki was hired by the rural municipality with the help of Chay Ya Nepal, a nonprofit organisation that helped build the community hospital. It also helped pay part of the salary of medical professionals like Karki. But after two years of funding the municipality, Chay Ya Nepal stopped it.
Following that, the municipality had to pay Rs 150,000 a month owed to Karki. As it did not have the budget to do so, Karki decided to quit.
"We want to hire a doctor, but the provincial government has not approved the human resource plan. But no one wants to come and work here in remote Nepal. They say the services we offer are not enough," says Chhiring Kyapne Lama, the chairperson of the rural municipality.
The hospital has 10 beds, but almost all services have been affected as it does not have a doctor. The nurses and midwives alone cannot help patients.
"The situation is quite dire as we have to walk three days to go to the district hospital," says Lama. "We are in no situation to pay around Rs 2.6 million a year for a doctor."
Doctors not being attracted to go to remote Nepal is quite common. Places like Jumla, Manang, Baitadi and Jajarkot do not have specialist doctors. According to the statistics of health institutions under the government, more than 70 per cent of specialist posts in remote Nepal are vacant.
Too many patients, too few doctors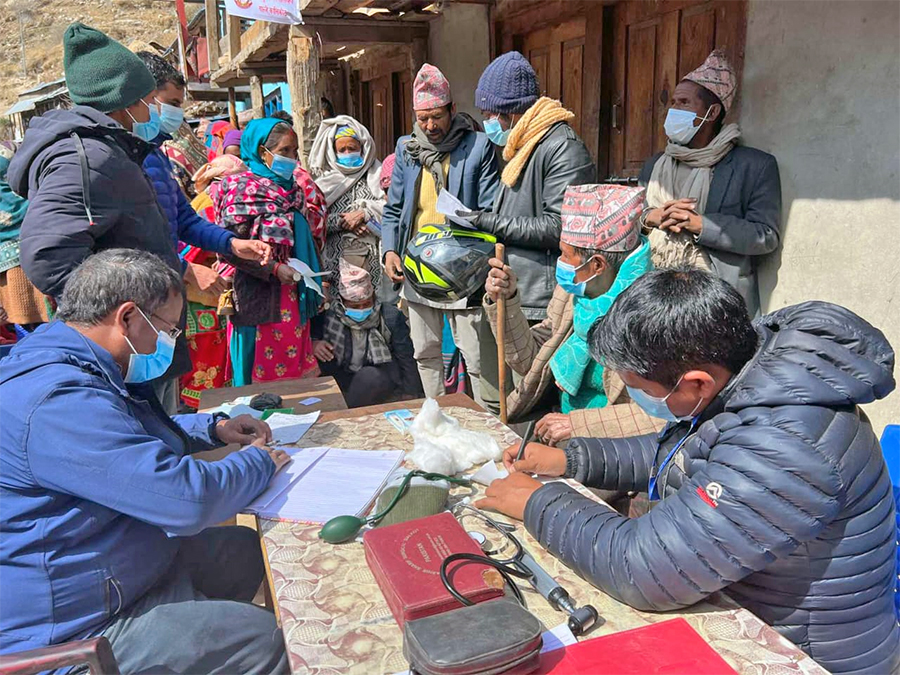 Take Dadeldhura Hospital for example. The hospital can hire 20 specialist doctors, but, currently, there are none. Out of 18 medical officers it can hire, it has only been able to hire seven and four of them are currently on study leave.
Kathmandu's hospitals are not in the best situation either when it comes to specialist doctors. Sukraraj Tropical & Infectious Disease Hospital only has five specialist doctors when it can hire 10. Other government hospitals around the country have the same fate as most do not have specialist doctors to look after patients.
This, experts say, is a serious problem given 32,218 doctors are registered with the Nepal Medical Council. Out of them,10,080 are specialists.
Look at the numbers, it is clear the country has enough doctors and that it should not be facing a shortage. Dr Krishna Prasad Adhikari, the registrar of the Nepal Medical Council, also believes the same.
Yet, he says it is concerning that doctors do not opt to work at government hospitals and only a handful want to go work in remote Nepal.
It is mandatory for doctors who have studied on scholarship to go work in remote areas for two years. If they go to remote areas and work, they will be given extra marks. As these places do not have many patients, it gives doctors the chance to study in a peaceful environment. That is not all, they also get extra allowance for going to these remote areas too.
Government data states 450 doctors who complete their MBBS and postgraduate medical education (PG) on scholarship reach rural areas annually. But rarely do these doctors stay in these remote areas. Why? Many doctors say this is due to a lack of facilities and earning opportunities in these areas.
The problem with payments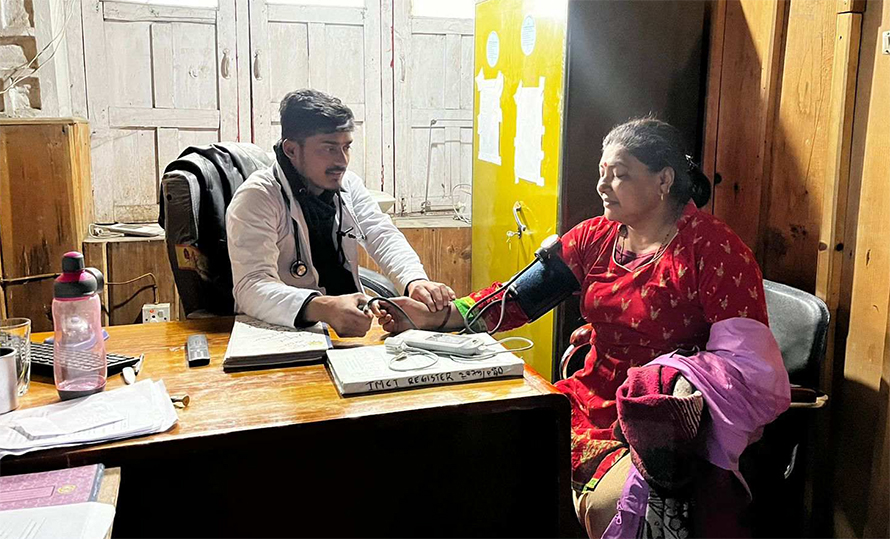 Doctors say they need to spend in excess of Rs 5 million to become a doctor. Even though the government has set a ceiling of around Rs 4 million, private medical colleges take a lot more. But as their salaries are less than Rs 50,000 in remote Nepal, most believe it is not enough to pay back loans taken by their families.
Lamjung District Hospital's Acting Medical Superintendent Dr Ramesh Acharya says this is not enough.
"The government salary of a doctor starts from Rs 48,000. With rising inflation, that is not enough," says Acharya, who believes doctors need to be paid better.
"We have to work day and night in the hospital. Do we get the facilities based on that? Do we get paid based on that?" he questions.
Dr Lochan Karki, a former president of the Nepal Medical Association, also feels the pay is not enough for doctors to leave cities and work in remote Nepal and says the government needs to do more to ensure doctors are attracted to go to these areas.
"Government should guarantee their children can go to good schools and guarantee health services for their families. Doctors want a secure life and the government needs to provide it. If not, they will not go to remote areas," says Karki.
According to Dr Bhagawan Koirala, the chair of the Nepal Medical Council, there are three reasons why doctors do not want to leave Kathmandu for remote Nepal. The first reason he says is the poor atmosphere in other districts followed by weak government policies and a person's discretion.
"A doctor will only go to these places if they see financial growth. But the government has never brought a policy that guarantees this," says Koirala. "If a doctor is sick, they have to take care of themselves and that is a major issue that needs solving."
Medical superintendent Dr Nawaraj Joshi of Bajhang District Hospital believes the government looking at doctors working in urban and rural areas with the same lens as a major problem.
"Sometimes we doctors feel the government does not understand the time, investment and effort needed to get into health service. This sector is different from others and the government needs to look at it differently," says Joshi. "Why would a doctor go to remote Nepal when they have the same service in urban areas?"
Another problem when doctors go to remote areas is the lack of resources and the lack of opportunities for continuous practice.
"You only grow when you get to be active in discussions and treatments. In villages, that is not the case which put doctors off," says Ratna Vir Sunuwar, the medical superintendent at Dolpa District Hospital. "They rather stay in the cities and get better than go somewhere remote to become specialists. Such is the state."
Poor adjustments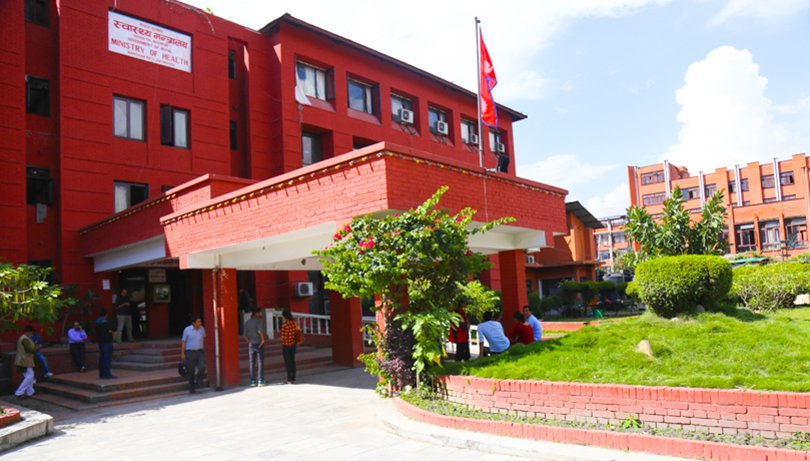 Government officials say that problems have arisen due to the recent staff adjustment policy that says a doctor would not be able to transfer back to the urban area from the rural area or from the local to the central levels. This rule made doctors not want to leave a place like Kathmandu for remote Nepal.
"There is no development as a doctor will have to stay in the same hospital throughout their career. That will frustrate doctors who will seek alternative professions abroad," says Acharya.
Sunuwar also says many specialist doctors go to health centres in rural areas due to scholarship arrangements but return to the cities after serving their two mandatory years.
"Why would a doctor want to spend an entire career in remote Nepal? This employee adjustment needs to be looked at," says Sunuwar.
The security issue is another reason why doctors do not want to go to remote Nepal as they fear they will be attacked by mobs which have been quite common in recent times.
The Health Ministry knows about these issues. It understands the need to help doctors and brings new plans and services to help doctors.
Health Secretary Dr Roshan Pokharel says that if the provincial and local levels can increase the service facilities provided by the federal government, the doctors will be encouraged to go to remote Nepal.
"We know a medical officer needs to earn more than Rs 100,000. When that happens, doctors will not hesitate to go to these areas, but we need to ensure their services are improved too," says Pokharel.
Public health expert Dr Sharad Onta says the number of MDs in general practice (GP) must increase as a GP graduate can provide all types of health services.
"We need to ensure doctors that are sent to remote Nepal are the MDGPs. This is what many countries around are doing and it is the right practice," says Onta.
---
This story was translated from the original Nepali version and edited for clarity and length.