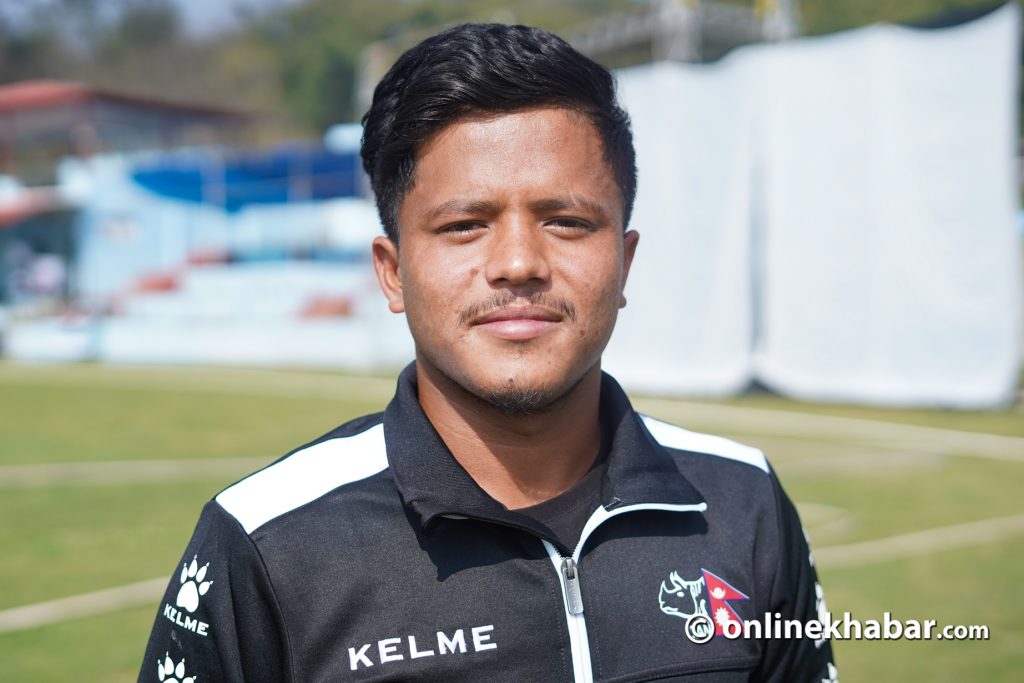 Last Thursday (March 2), Nepal were staring at another defeat at the hands of the UAE. As captain Dev Khanal gave the ball to Dipesh Kandel, he was looking for nothing but a miracle. The UAE needed only 11 runs to win the match and break Nepali hearts to reach the U19 World Cup in Sri Lanka in 2024.
In 2019, the UAE won by one run thanks to the Duckworth Lewis method to reach the U19 World Cup in 2020. Thanks to that victory and performance, the UAE were given a place in the U19 World Cup 2022, which meant Nepal had not competed in the U19 World Cup since 2016.
But thanks to Dipesh Kandel's hat trick, Nepal have another chance to play in the World Cup next year, for which the newly found star says they need to work very hard.
The hat trick happiness
Only managing to score 191 and playing against the hosts, things were not looking good for Nepal last week. The UAE, even though they only had three wickets in hand, looked comfortable. Almost too comfortable…
Defending 10 runs, Dipesh Kandel gave three runs in his first three balls. Then came a twist that only a sport like cricket can offer.
In his fourth ball, Kandel clean-bowled Harshit Seth. Now there was hope as a new batter was coming and the pressure was on.
"This wicket was important as it opened the game for us," says Kandel. "We knew anything could happen from then on."
He and the team knew they needed wickets to win the game. They were confident too, he recalls.
"Everyone was hyping me up. I believed I could win it for us," he says.
When Harit Shetty held out to Dev Khanal, the game turned on its head. Nepal, who were dead and buried a few balls ago, were now favourites.
"It was ecstasy at the point. The next ball was going to be the most crucial ball of my career," he says.
The team were encouraging him too. This was the moment for which Dipesh Kandel and the entire team had worked hard.
He threw the ball as if it was his last. Gajeswaran tried to play it but missed it completely as the ball crashed onto the stumps giving Kandel a hat trick and sending Nepal to the U19 World Cup in Sri Lanka in a dramatic style.
The immediate reaction
Kandel did not know what to do. The moment was too emotional for him. He could not help but cry as he took his country to the U19 World Cup after nine years.
"I cannot explain what I was feeling at the moment. It is the best day of my life," says Kandel. "These types of opportunities do not come often for people like us."
If not for his efforts, the team would once again miss out world cup. During moments like these, the team usually put all their faith in players to come up with the goods.
"Dev (Captain Dev Khanal) told me how I had a chance to create history and asked me to take it one ball at a time. He and other team members gave me all the confidence I needed and that was that," he says.
Cricket does not see many hat tricks. But for Dipesh Kandel, taking a hat trick was not as big as winning the game for the team.
"All our hard work paid off."
Kandel was the hero for the day. But he feels this was a team effort and not something he did alone.
"The country won. Everyone played a part in this victory."
His past
Born in Latikoili in Surkhet, Dipesh Kandel's cricketing career started far away from his home, in Biratnagar in eastern Nepal.
He started off playing gully cricket with a tennis ball. In the initial years, he was having fun, but as years went by, cricket became a part of his identity.
"I never thought I would play for Nepal. But as I joined a cricket academy, I started taking it seriously," he says.
With every local tournament, Dipesh Kandel started to dream about playing for the country. He worked extra hard and that hard work paid off when he led the team to the U19 World Cup this time.
To develop as a cricketer, Kandel lives alone in Biratnagar. So far, his family has supported him in every aspect which has worked as a foundation for him.
"They have done everything they can for me to succeed. I want to make them proud," he says.
Overcoming the challenges through
Success has not come easy for him either. Dipesh Kandel has been representing Koshi province's U19 team for most of his life, but he was not part of the province's team for the Prime Minister's Cup.
"I was in Surkhet when the closed camp happened and sadly I was left out of the team."
But Kandel has played senior-level games too. He was in the Biratnagar Warriors when they won the Everest Premier League in 2017 and has represented the Koshi province in earlier versions of the Prime Minister's Cup.
"I feel great to be a part of the teams that win, but I know I need to do more and keep working hard if I want to get to the next level," he says.
Dipesh Kandel's eyes are now set on the U19 World Cup in Sri Lanka. To do well there, he understands he needs to work very hard.
"The World Cup is a huge stage where we are going to take part after eight years. We need to work very hard if we want to do well."
---
This story was translated from the original Nepali version and edited for clarity and length.