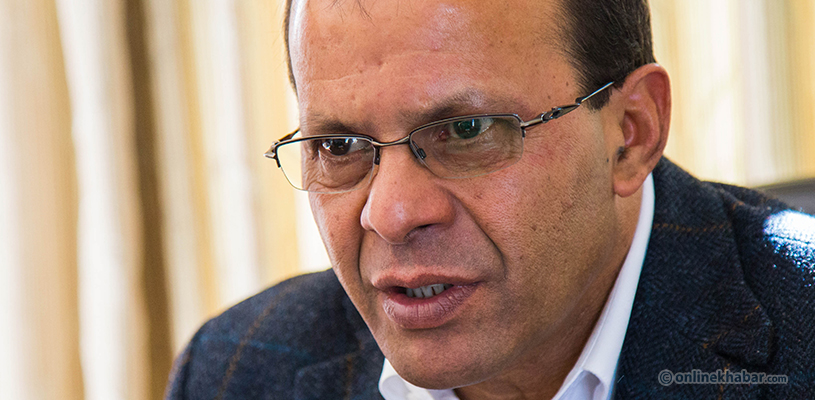 Nepali Congress leader Minendra Rijal was Minister for Information during party president Sushi Koirala's tenure as Prime Minister. Rijal had been a life-long Sher Bahadur Deuba supporter. But now he has become a key member of the 'establishment' faction led by party president Sushil Koirala. Onlinekhabar talked to Rijal about the party's general convention. Excerpts:
* I will back anyone Sushil Koirala wants me to support for Congress presidency
* Koirala made NC the biggest party
* Koirala had reasons to run for Prime Minister, and I supported it
---
How is the party's preparation for its general convention going on?
The preparations are on. Local leaders have finished electing their leaders, and friends from different parts of the country have been calling to inform us about the results. I have also been calling up local leaders to ask about the results. I am taking stock of the effect the local party elections will have on things at the centre as well as in the districts.
Have you switched sides this time around?
Yes, the last time around I did back Sher Bahadaur Deuba. I was one of the key people behind his campaign; I was also on his panel. These days my relationship with Deuba is no longer the way it used to be, the reason is that Sushil Koirala became the party president. I have publicly said that my duty is to help the one who would win. Koirala gave me space within the party, even made me a minister as well as the government's spokesperson. I believe that I am duty-bound to help Koirala. Even if he does not contest, I will back the person Koirala wants me to back.
Do you not think you have betrayed Deuba?
Let's looks at it this way, he (Deuba) has no hard feelings towards me because I am no longer with him. I am also not thinking a lot about it. Therefore, let's not make this issue a matter a public concern now.
That means you are now part of the 'establishment faction'?
If that is the case, yes (laughs).
So how many leaders will run for party presidency from your camp?
One will run. But it has not been decided who will.
You are one of the key leaders of the group. You must be in the know about this.
My personal views are not important. I know for myself who is suitable for the post. But my personal view should not become my public stand. I have maintained that one among the leaders who aspires to become the party president, enter the race.
I must admit that I don't know who that ideal candidate will be. My evaluation could be wrong. Everything should come out during the party's meeting. Second, if I speak in favour of a certain person then it would affect the process at a time when I have been saying that there should be a consensus candidate.
Although you may not admit it, but there are reports that you have been campaigning for Sushil Koirala.
Everyone is free to write. I do not wish to confirm or deny this.
But you would want to say why Koirala should become party president again?
I will do that if he becomes a candidate. However, I think it would be necessary to respond to claims that Koirala has failed, and should not run for president again. He is not a failure. You should note that when Koirala was president, Congress was not the largest party. The party was the second biggest, but the seats it had was not even half of that of the Maoists. It was unfortunate that the first CA was dissolved. But after the second CA election, Congress became the largest party.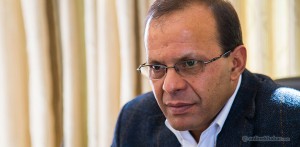 Koirala is not a failure. You should note that when Koirala was president, Congress was not the largest party.
Second, the issue of Maoist army and weapons had not been settled. It was during Sushil Koirala's tenure that the peace process was included. I was fortunate to be a member of the special committee overseeing this,
Third, we could give the people a constitution as per the commitment we had made. All parties played their role in this. But if everyone is to stake a claim, then the biggest credit goes to the party president and the Prime Minister.
When Koirala was Prime Minister we were faced with a massive natural disaster. We needed a huge sum to carry out reconstruction. The international donors' conference was organised and the donors pledged more money than we had expected. It was during Koirala's tenure that the SAARC Summit was successfully organised in Kathmandu.
Similarly, our relations with our neighbours improved; a power trade agreement was signed with India. An agreement with China on promotion of investment could also move ahead. That is why I believe that Sushil Koirala successfully completed his role as Prime Minister and party president.
The other thing I would like to say is that the prime minister leadership style also made a huge difference. I think reaching an agreement on the constitution would not have been this easy if, say, Oli or Prachanda were Prime Minsiter then. Sushil Koirala never pokes fun at others, he listens what other people has to say, and he is soft-spoken. Whoever runs for president, the party needs to give Koirala due credit for what he has achieved.
What about the Madhesh movement?
In the case of taking the Madheshi leaders along, we saw one crucial issue. Passing the constitution required a two-third majority, and when we could muster such a number, Koirala urged everyone to wait for a few days. But when other political parties did not agree to this, Koirala had to change his mind because whatever we had achieved was at stake. That is why Koirala said in Parliament that the constitution would be amended.
---
Koirala had to change his mind because whatever we had achieved was at stake.
---
If you say that he was unable to convince the Madhesh-based parties, it was Koirala who engaged them in dialogue and initiated the constitution amendment process. This is a big achievement. If some more changes are made to the constitution it can be made a document of consensus. In that light, I can accept the criticism. But if Koirala had not done what he did, there was a risk that the constitution would never be promulgated.
The other charge against Koirala is that he decided to run for prime minister by betraying the other three parties, and that Minendra Rijal played a role in doing so.
It was up to him to decide. But I must admit that the situation was such that Congress and UML could no longer move ahead together. Both the parties had different perspectives on Madhesh. Second, it would not be democratic for all major parties to stay in power, someone has to man the opposition.