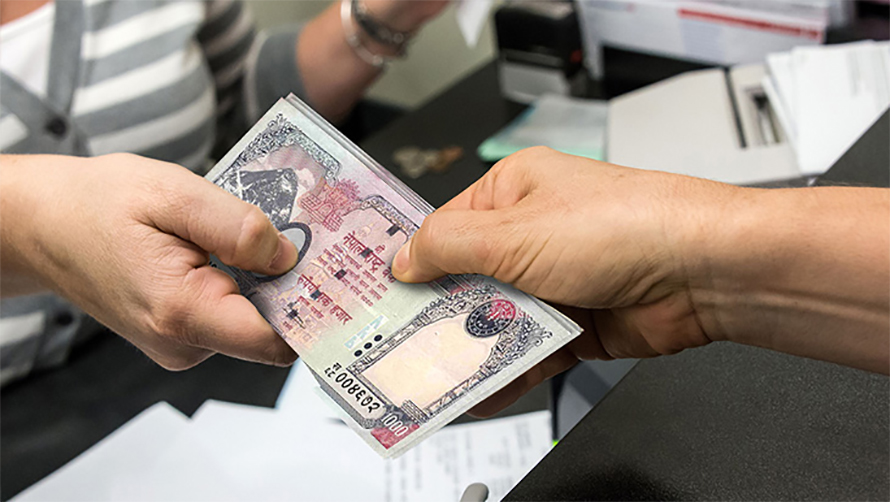 On January 31, the CPN-Unified Socialist raised the issue of demonetisation in Nepal asking Prime Minister Pushpa Kamal Dahal to solve the country's economic crisis by the means of this.
"To bring the funds that are in the informal sector or hidden into the mainstream of the economy, there should be an initiative to exchange old notes by issuing new notes, which should be implemented immediately," said the memorandum.
After the demonetisation notice in India on November 8, 2016, the topic of demonetisation in Nepal has come up time and again too. However, the impact of demonetisation in the neighbouring country has not given a very good experience.
In 2018, CPN-UML leader and former finance minister Surendra Pandey said that to control corruption, the 500- and 1,000-rupee notes should be stopped and only 100-rupee notes should be introduced. On March 18, 2022, at the 32nd-anniversary ceremony of Citizen Investment Fund, the then finance minister Janardan Sharma said that he was looking for where the money had gone missing and said he would work to bring the money within the banking system. He indicated that demonetisation in Nepal was the way out.
But, is demonetisation in Nepal really the need of the hour?
The Indian experience and demonetisation in Nepal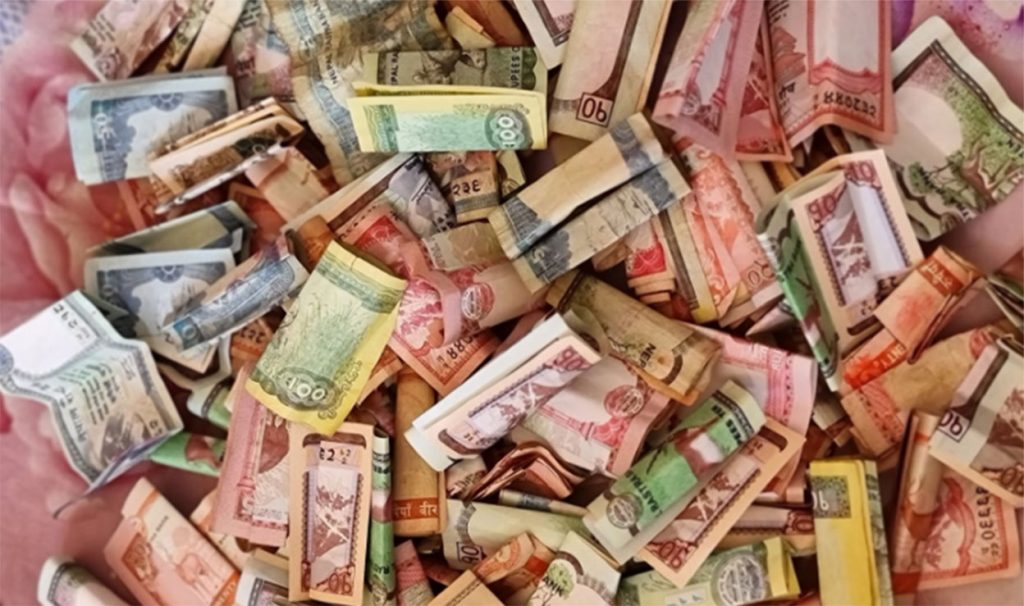 After the demonetisation in India, the people there faced extreme hardships to exchange money, and because of that, the government was criticised a lot for some time. India had decided to ban 500- and 1,000-rupee notes to fight against terrorism and black money. However, the expected amount did not get deposited. The central bank of India, the Reserve Bank of India, concluded that the ban on large denomination notes had failed.
However, after that decision, more than 99 per cent of the notes were returned to the banking system. Only last month, the Supreme Court of India ruled that the Indian government's decision to demonetise was correct, closing the chapter and all questions about India's demonetisation. But, this made more than IRs 50 million in Nepal's banking system unusable.
There are other examples where various countries have decided to demonetise money to control corruption and black money. The government of Qatar also decided to remove the fourth edition bank notes from circulation on July 1, 2021. However, in most countries, it has not given the discussed results.
Experts do not consider demonetisation in Nepal to be a matter worth discussing. Moreover, it requires great political will and secret monetary schemes. It is believed that the money earned from transactions of various legitimate and illegitimate goods and services, including real estate as well as gold and silver, is still piled up in the form of cash in someone's house.
It is assumed that the donations and election expenses received by the parties are based on money outside the banking system. And, the fact that the informal market continues to flourish even when there is a lack of liquidity in the banking system gives strength to such suspicions.
The digital solution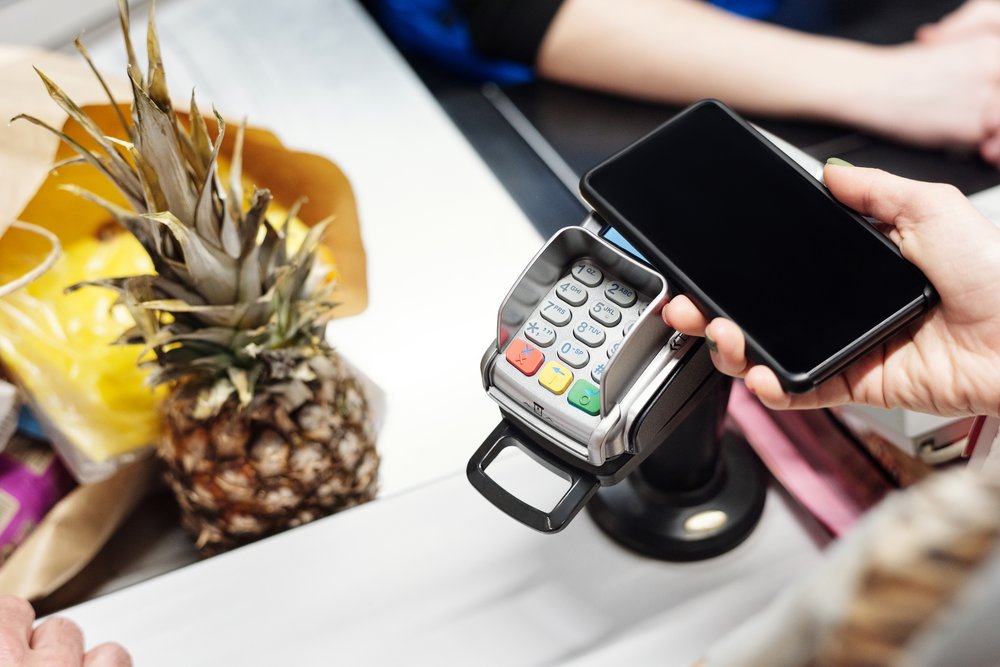 It is not certain how much money is outside the banking system in Nepal. But, it is certain that, in the last few years, with the increase in electronic transactions, cash circulation has been continuously decreasing.
As of mid-October 2021, cash circulation reached Rs 7.13 trillion and since then, it has continuously decreased and reached Rs 5.94 trillion in August/September of 2022. After that, due to festivals like Dashain and Tihar, according to Nepal Rastra Bank, the cash circulation increased to Rs 6.49 trillion by mid-October of 2022. And by mid-January 2023, it decreased to Rs 6 trillion.
Nepal Rastra Bank Governor Maha Prasad Adhikari has also said that as digital transactions are increasing, cash circulation is decreasing. But with that, he says, informal transactions will also decrease.
Former minister Pandey, who previously said that demonetisation in Nepal should also be taken seriously, also says that instead of demonetisation, digital payments should be increased and cash should be exchanged in banks at certain times so that the informal sector will have no money.
According to him, there are different ways to put the money that goes to the informal sector into formal channels. "First, we should move towards cashless transactions. It does not mean that we should adopt a complete model of demonetisation in Nepal. We can also look at the British model."
He explains that Britain does not print currency of more than 50-pound denomination. Every three months, the old notes must be taken from the market to the bank; otherwise, they will not work. There is an arrangement to exchange notes at the bank regularly every six months to control the trend of accumulating black money.
Cash circulation vs demonetisation in Nepal
Now, banks have reached all local units, but most of the notes in circulation are in Kathmandu, so there will be no discomfort in using the system where the notes have to be deposited into the bank within a certain period, speculates Pandey. "If there is an awareness that the money in hand should be taken to the bank and exchanged, the cash circulation will decrease."
He further explains that he does not mean the informal economy should not be allowed now, but rather the country should go ahead with a 15-year plan and a schedule to tighten the transactions in the informal sector.
He argues that cashless transactions can also be encouraged if arrangements are made like in Britain. "The NRB should increase the means of electronic transactions. The urban educated public will consider electronic payment easier."
Nonetheless, he acknowledges that there are still a lot of people in the country who only demand cash for transactions. But, if such a mentality can be reduced gradually, the trend of earning money through informal means and keeping money outside the banking system will be solved.
Former governor Deependra Bahadur Kshetry says demonetisation in Nepal is not an easy task as it is being discussed.
"It is often heard and demanded that the private sector should declare their assets and pay taxes accordingly. That is something doable, but it is not right from a legal or ethical point of view," he concludes, "Demonetisation in Nepal is one option, but before that, many aspects must be considered and prepared."
---
This story was translated from the original Nepali version and edited for clarity and length.