Dell has recently launched the Dell XPS 13 Plus (9320) in Nepal.
The laptop can be classified as both an ultrabook and a notebook. It can be an ultrabook since it is lightweight, thin and has good battery life. It can do most of the tasks of an ultrabook. Then, it is also a notebook as it is versatile and can handle a variety of tasks as it has plenty of RAM and storage. The laptop has an invisible trackpad, making it a thing of attraction among gadget lovers.
Dell XPS 13 has already been loved by most Nepali people because of the features and specifications it has provided. So, the already famous Dell XPS 13 Plus (9320) around the world is sure to have a great response in the Nepali market.
Specifications
Display
13.4 inches
3.5K OLED
Touch
Anti-reflect
500 nits
InfinityEdge
Resolution
3840×2400
Dimensions
Width: 295.30 mm
Depth: 199.04 mm
Height: 15.28 mm
Weight: 1.23 kg
Operating system
Windows 11
Processor
Intel Core i7-1260P
RAM
16GB
Storage
512 GB / 1 TB
Graphics
Intel® Iris® Xe Graphics
Keyboard
Graphite backlit English keyboard with fingerprint reader
Touchpad
Multi-touch with support for windows precision driver
Webcam
720p at 30 fps HD RGB camera, 400p at 30 fps IR camera
Ports
2 x Thunderbolt™ 4 (USB Type-C™)
USB-C to USB-A 3.0 adapter
USB-C to 3.5mm headset adapter
Battery
3-cell, 55Wh, integrated
Power
60W AC Adapter, Type-C
Audio
Dual stereo speakers
Realtek ALC1319D
Connectivity
Dual-band 802.11ax
Wi-Fi 6
Bluetooth 5.1
Price
Rs 282,000 (16/512GB)
Rs 298,000 (16GB/1TB)
Design and display
Dell XPS 13 Plus has a beautiful lightweight design with a very good finish of aluminium and an invisible trackpad. With a 13.4-inch OLED touch display, the laptop features quite a classy look with a premium finish. It has an aspect ratio of 16:10 and 500 nits of brightness. The XPS 13 Plus has a resolution of 3840×2400 and an HD web camera just above the display.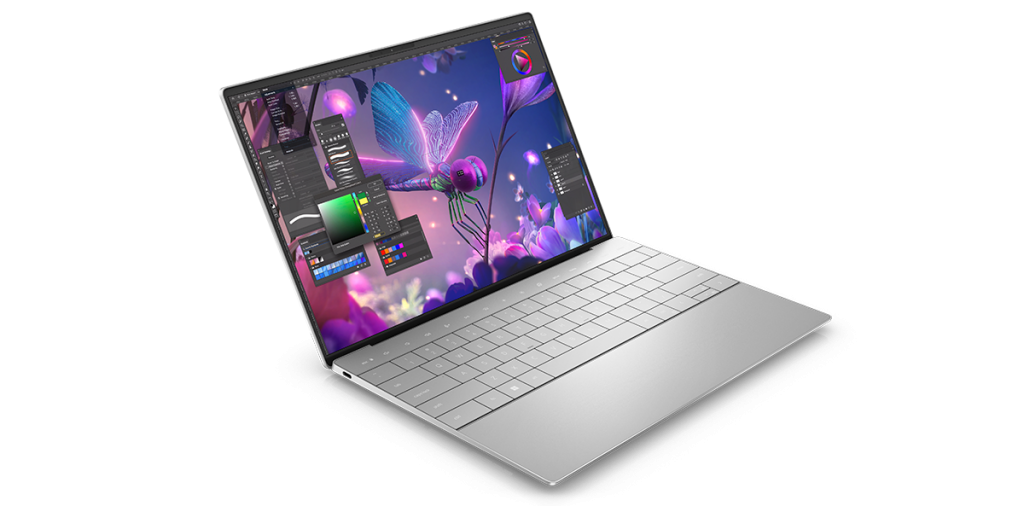 The trackpad on the laptop is invisible and made up of frosted glass pieces. The keyboard is also quite stylish with all the keys being relatively big and connected to each other. Above the keyboard is a touch bar including common functions including pause, play, print screen, end, home, insert and delete.
Performance and storage
The 13-inch Dell XPS 13 Plus (9320) might only look small but has a powered-packed performance in it. The laptop has a few variants sold around the world, but in Nepal, only two variants are available. The first variant includes an Intel Core i7-1260P processor, 16GB RAM and 512GB SSD storage; and the second one includes an Intel Core i7-1260P processor, 16GB RAM and 1TB SSD.
Dell XPS 13 Plus (9320) has a 12-core CPU, which runs up to 4.70GHz. The graphics card used is an Intel Iris Xe graphics, which is good for some heavy-duty work too. The RAM used is an LPDDR5 RAM and the storage used is an M.2 PCIe Gen 4 NVMe SSD.
Battery and others
The battery available in Dell XPS 13 Plus (9320) is a 3-cell integrated 55Wh battery. The battery can relatively last about eight hours in general. The battery can be powered by a 60W Type-C AC adapter. The laptop has just two Thunderbolt™ 4 (USB Type-C™) on either side of the laptop. A USB-C to USB-A 3.0 adapter and a USB-C to 3.5mm headset adapter has been provided in the box to compensate for the lack of ports.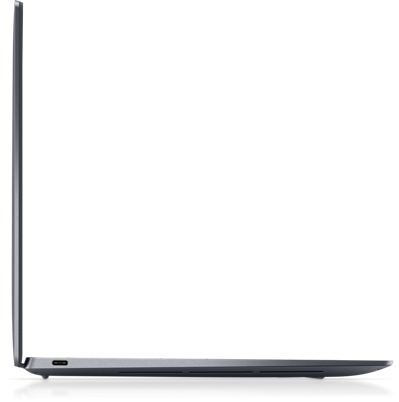 Dell XPS 13 Plus (9320) has dual Realtek ALC1319D stereo speakers as the audio. The webcam on the laptop is a dual-sensor HD RGB camera delivering 720p at 30 fps. The keyboard on the top right-hand side has a fingerprint scanner as security.
The price of Dell XPS 13 plus (9320) for 16/512GB variant is Rs 282,000 and the 16GB/1TB variant is Rs 298,000.