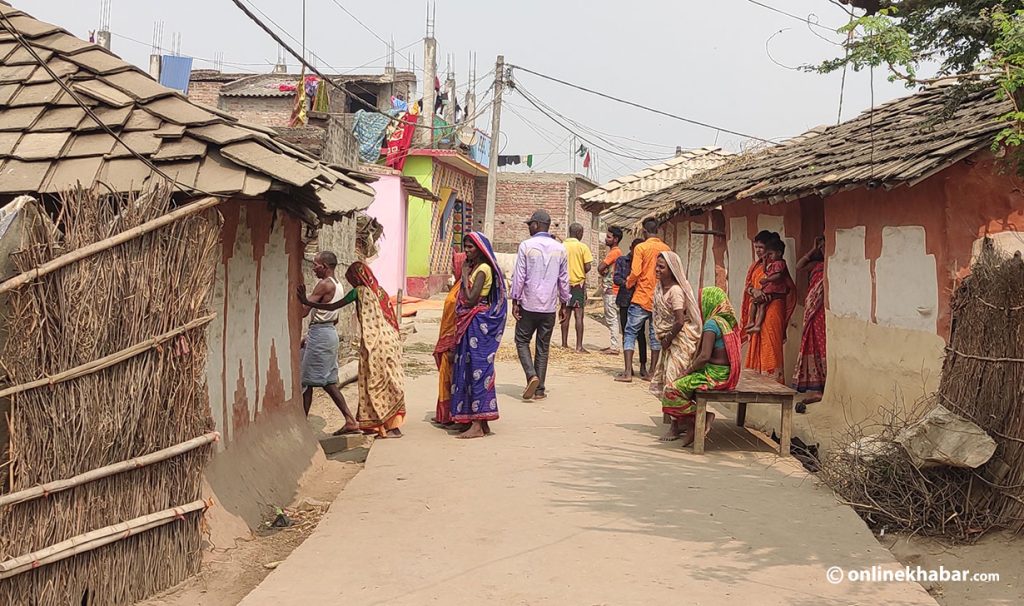 Recently, Shubha Narayan Ram (Chamar) of Khasera, Sonama rural municipality in the Mahottari district of Madhesh, gave birth to a son and hosted a feast for sadhus (hermits).
Around 150 sadhus and 125 local people attended the feast. Among them was a local Bhikari Mahato. Mahato was happy to have attended the feast, but later it turned out to be a cause of his social expulsion. His community does not invite him to any event these days just because he attended a feast hosted by a Dalit.
To seek justice, the Bhikari Mahato filed a complaint against six local leaders at the area police office. But there has been no hearing. "The leaders want me to apologise before being considered a member of the community," he says.
"But I don't believe in untouchability. I won't apologise because I haven't committed a mistake. I have been knocking on the doors of police for justice, but haven't received it yet."
According to the law, untouchability and discrimination are illegal, but still, society practises them. "We are Vaishnavs, but again, 20 to 25 people did not attend our feast due to our caste," says Chamar, "Bhikari Mahato was excluded from his own caste. The situation reflects our society."
Chamar is right as discrimination against Dalits in Madhesh is prevalent in all eight districts of the province despite several legal reforms.
Lawlessness among Dalits in Madhesh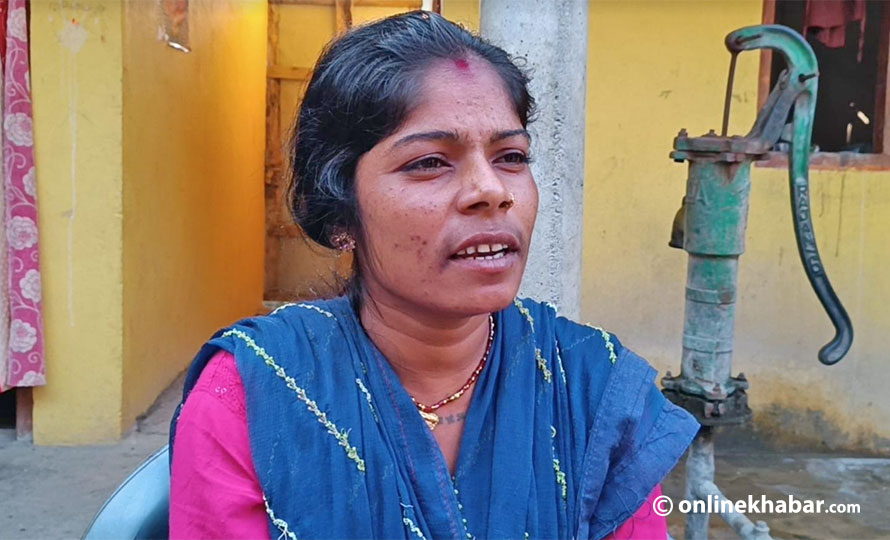 Pramila Sada, a former provincial parliamentarian, recently told a story about an incident that she had to go through for being a Dalit.
She hosted a party to celebrate the birth of a granddaughter in the family. The relatives and neighbours were invited to the function. Many came and ate at the party but some neighbours did not and the reason was her caste.
"Even in the party hosted by a former parliamentarian, neighbours do not eat food. Now think what could happen at the party hosted by other Dalits in Madhesh," she says.
Dalits cover 18 per cent of the population in Madhesh. To end all kinds of discrimination against them, the provincial government enacted the Dalit Empowerment Act, 2019, in which four committees are envisaged at local and provincial levels.
The act provides there will be a Caste-based Discrimination and Untouchability Monitoring Committee under the leadership of the chief minister, a Dalit Development Committee under the leadership of the social development minister, a Caste-based Discrimination and Untouchability Control Unit under the provincial police and a Caste-based Discrimination and Untouchability Monitoring Committee chaired by a Dalit member appointed by the head of the local government.
But even after three years, it has not come into implementation and the Dalits in Madhesh have not realised any benefits from this.
Besides, the federal government has made arrangements for free high school education for Dalit students. Under this arrangement, scholarships are provided to students for studying from undergraduate to postgraduate level, along with monthly living allowances, textbooks, tuition fees, and clothing allowances. The arrangement also provides full scholarships to students studying at private schools.
Moreover, there are also arrangements for planning, collecting and analysing data, conducting research on religious and historical issues and documenting through research. However, all of these are currently limited to paper only as far as the rights of Dalits in Madhesh are concerned.
There is a provision to include two Dalit members in the committee chaired by the chief minister. But even the community leaders are unaware of who those two Dalit members are.
"There are two Dalit members allocated, but even after three years, we are unaware of them," says a Dalit member Ramo Mahara. He expresses his frustration that the budget allocated for Dalit students is frozen every year due to the non-implementation of the act.
Uninterested local governments
The caste-based discrimination and untouchability monitoring committees are supposed to be formed in all 136 local units in the eight districts of the province. However, even after three years, only the Shambhunath municipality of Saptari and the Chandranagar rural municipality of Sarlahi have formed such committees.
Ram Pravesh Baitha, the vice-chair of the Provincial Dalit Development Committee, has acknowledged that the work is not being carried out effectively. He expresses his frustration that despite visiting the headquarters of all eight districts and discussing with municipal chiefs, deputy chiefs, and administrative officers, no one showed any interest in establishing committees for the welfare of Dalits in Madhesh.
Raj Kumar Mahato, the head of Chandranagar rural municipality, argues that there is a tendency in the municipalities to prioritise issues involving money.
CPN-UML provincial assembly chief whip Lakhan Das argues that education, health and security are the biggest foundations of the liberation of Dalits in Madhesh. He says he will raise his voice in the parliament to implement the Dalit Empowerment Act.
Vice-chair of the Dalit Development Committee, Baitha, is also disappointed with the failure to implement the law.
"The provincial government did not create a favourable environment to work. Even at the political level, there is no sincerity in the implementation of this act," says Baitha.
Sarita Kumari Sah, the chairperson of the Dalit Development Committee, says that she will do her best to implement the act.
"Even if it has to be amended, I will implement it for the Dalits in Madhesh," she says.
---
This story was translated from the original Nepali version and edited for clarity and length.