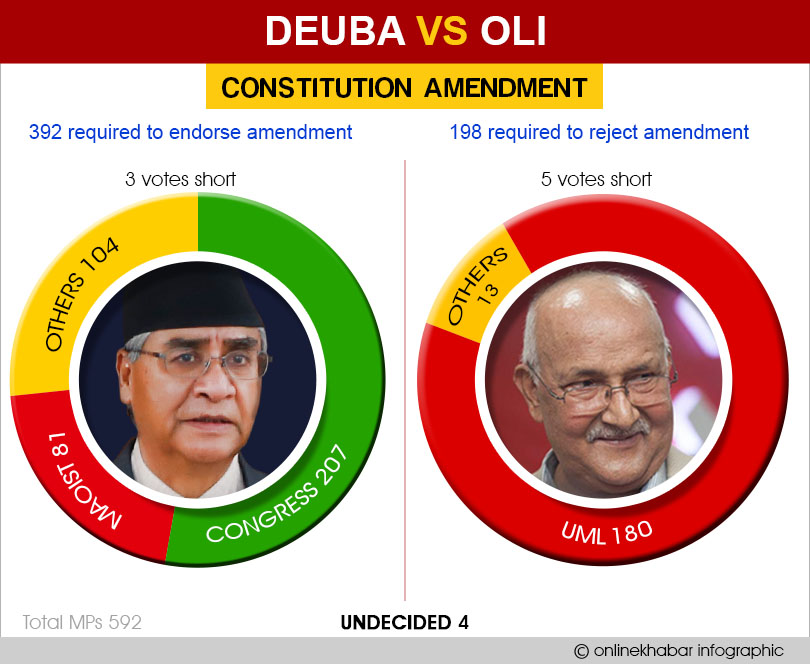 Kathmandu, July 10
As the government plans to put the constitution amendment bill pending in Parliament to vote so as to convince the agitating Rastriya Janata Party Nepal to take part in local level elections in Province 2 and forthcoming provincial and federal elections, the coalition members are struggling hard to garner the support of two-third lawmakers for the amendment.
Currently, the House has 592 members and the government requires the support of 395 lawmakers to endorse the amendment bill.
For amendment
The ruling parties say there are 392 lawmakers on their side and hence apparently trying hard to draw at least three other lawmakers from the opposition alliance.
There are 207 lawmakers of Nepali Congress and 81 of the CPN-Maoist Centre (because the Speaker cannot cast her vote). Likewise, the Rastriya Prajatantra Party and Rastriya Janata Party Nepal have 37 and 24 lawmakers respectively. The Nepal Democratic Forum (16), Federal Socialist Forum-Nepal (15) and CPN-United (3) are also in favour of the amendment.
Samajwadi Janata Dal, Tharuhat Party, Khumbuwan Rastriya Morcha, Janajagaran Party Nepal, Akhanda Nepal Party and Janata Dal have a lawmaker each and all of them are for the amendment.
Independent lawmaker Bindeshwar Jha and two lawmakers who recently defected to the Naya Shakti have also been advocating for the amendment.
Against the motion
Opposition parties need at least 198 lawmakers to make the amendment a failure. But, like ruling parties, the opposition parties are also struggling hard to reach the target.
The main opposition, CPN-UML, has 180 lawmakers. The CPN-ML (5), Nepal Workers and Peasants Party (4), Rastriya Janamorcha (3) and Bauddhik Janatantrik Parishad (1) have supported the UML.
In total, they make 193, five shy to reject the amendment.
Then, it comes down to these four MPs
There are three other parties in Parliament. The Nepal Pariwar Dal has two lawmakers and the Madhesh Samata Party has one. The Bahujan Shakti Party has one lawmaker.
These three parties (with four lawmakers) are members of the UML-led opposition alliance till now, but analysts say they can switch the position any time.
Perhaps, these four lawmakers are targets of both the sides.
The RPP factor
Besides, the ruling coalition is also not completely confident of the RPP's support for the amendment.
The parties had planned to amend the constitution in the first week of May, but had faced the setback as 10 RPP lawmakers went out of contact.
Now also, there are around five lawmakers in the party, under the leadership of Biraj Bista, opposing the constitution amendment, according to party sources.