When Anmol KC told reporters recently that 'Captain' would be more entertaining than World Cup Football, he was either lying or was under an illusion. The 'sports genre' Nepali movie does not impress—despite its unique theme, the storyline is cliched and boring. From a technical perspective, this project represents an unskilled craft.
Clichéd and invented drama
Our hero is sandwiched between his compulsion to look after the family and pursue his passion. One of the parents supports the dream whereas the other opposes. He chooses to continue his pursuit keeping the opposing parent in the dark. This is something too common in Nepali movies. Captain's storyline cannot become different from this pattern.
Despite following a clichéd pattern, the story is detached from the everyday reality of our lives. It is rather invented and overdramatic. Staying in the same house and having lunch and dinner together, you cannot lie to your mom that you are a restaurant manager while you work as a porter or painter or a waiter in the afternoon.
There are other improbabilities in the movie. The mother, who had been opposing her son's interest in football, happens to motivate him to join the national team when the incumbent captain is arrested on the match-fixing charge. She comes to the conversation between the coach and the boy with a sophisticated lengthy statement on the players' duty towards the nation. This is apparently made-up and unrealistic.
After a few minutes, the new captain gets injured and falls unconscious in the second half of the final match of a regional tournament. Now, his paralysed father is taken to the ground on a wheelchair; and his stammering call of "Stand up, captain!" brings him back. He scores two beautiful goals within five minutes, to hand a dramatic win to his team.
Comic and romantic redundancies
Primarily, the movie is the journey of a determined footballer. However, elements of romance and comedy are incorporated into the movie—perhaps to make it more sellable to a diverse audience. The inclusion of both of the elements is quite forceful.
The neighbourhood girl comes to Kathmandu after her parents press on her to marry an NRN; this is quite understandable. But, dramatically enough, she happens to find a job at the hospital where her dream boy's father is admitted. Here are a few questions that the audience cannot find answers to: The lady tells her parents that she is going to Kathmandu to 'study' nursing. But, how can she practise nursing at the hospital without taking any classes? How can the hero not know that she is joining the hospital while he is clear that she came to Kathmandu just to be with him?
Again, knowing that, why does he introduce another lady as his girlfriend? It seems the screenwriter and director invented the love triangle to sell the movie. So is the invention of the villain in another football player.
Likewise, the presence of comic characters in the football team and his workstations contributes nothing to the main storyline. The hero is made to 'wash' a car owner, instead of a car, at a workshop and pour chowmein on a costumer's head at a restaurant. These two scenes are not only blunders of the hero; taking recourse to these lame jokes to make the audience laugh shows a lack of creativity on the part of the writer.
Acting
Given that the weak story, one can only expect the presentation to be average. Anmol KC's acting looks mediocre; there is no apparent fault, but he does not leave any impression either. Debutante Upasana Singh Thakuri also plays her role well; but she cannot powerfully reflect varying emotions and moods of the story. Another debutante Priyanka MV is average.
Most senior members of the cast cannot exhibit a depth of emotions in their dialogues, facial expression and body movements. Saroj Khanal's initial dialogues are too lame and improvised; he lacks authenticity in his voice. Suryamala Khanal looks like a lecturer than an actress. Rajaram Paudel is nothing more than a joker.
Laxmi Giri is an exception. She plays an unusual role as a veteran nurse; and it fits her well. Sunil Thapa and Prashant Tamrakar have done justice to their roles with their bold voice and stylistic face. Buddhi Tamang and Wilson Bikram Rai look natural in their comic roles.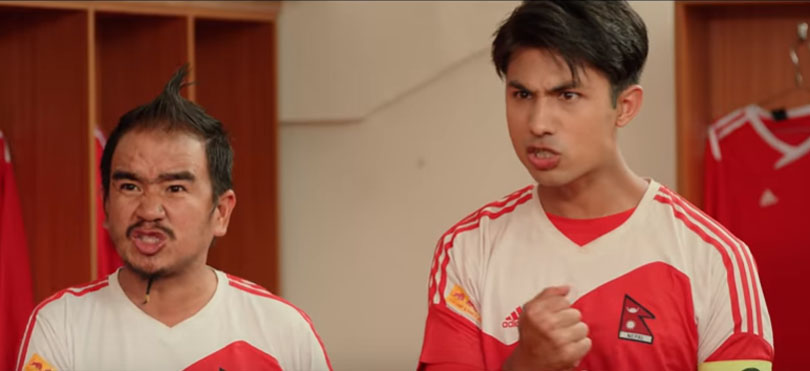 The project includes many established actors in cameo roles. Nirmal Sharma and Ravi Dangol appear in one brief scene; and do not contribute anything to the plot movement. Salon Basnet makes the audience laugh as an America-born NRN.
While these people do at least something in the story, Niruta Singh's impressive dance at the end is essentially redundant. The song, notwithstanding its musicality, is completely irrelevant and senseless. Two other previous songs are also not necessary.
Impressive camerawork
Perhaps the cameraperson is the one who has done the most impressive job in the production. The movie's portrayal of football matches at all levels—between local clubs in Jhapa, A Division league and SAFF Championship—looks grand. It arouses excitement among football fans watching the movie. Likewise, the audience members find the tea gardens of Jhapa quite fascinating to watch in the beginning.
In the same manner, the football commentary also contributes to the atmosphere of excitement. However, thanks to shoddy recording and dubbing, at times it is unnecessarily noisy.
Verdict
Captain fails to establish itself as an example for other sports genre movies to take a leaf from in the future. Instead, like ordinary players, it makes some unsuccessful efforts to shine.
But, as a pastime, the movie is perfectly fine—a complete package of action, love story, comedy and dance numbers.
—
Captain
Genre: Sports, love story
Runtime: 135 minutes
Screenwriter/Director: Diwakar Bhattarai
Producer: Bhuwan KC
Cast: Anmol Kc, Upasana Singh Thakuri, Sunil Thapa, Saroj Khanal, Prashant Tamrakar, Wilson Bikram Rai, Rajaram Paudel, Priyanka MV, Laxmi KC
2/5
---
Published on March 3rd, Sunday, 2019 11:47 AM
---
Download Onlinekhabar App. Android click here & IOS click here . Keep in touch with us on Facebook, Twitter & YouTube.