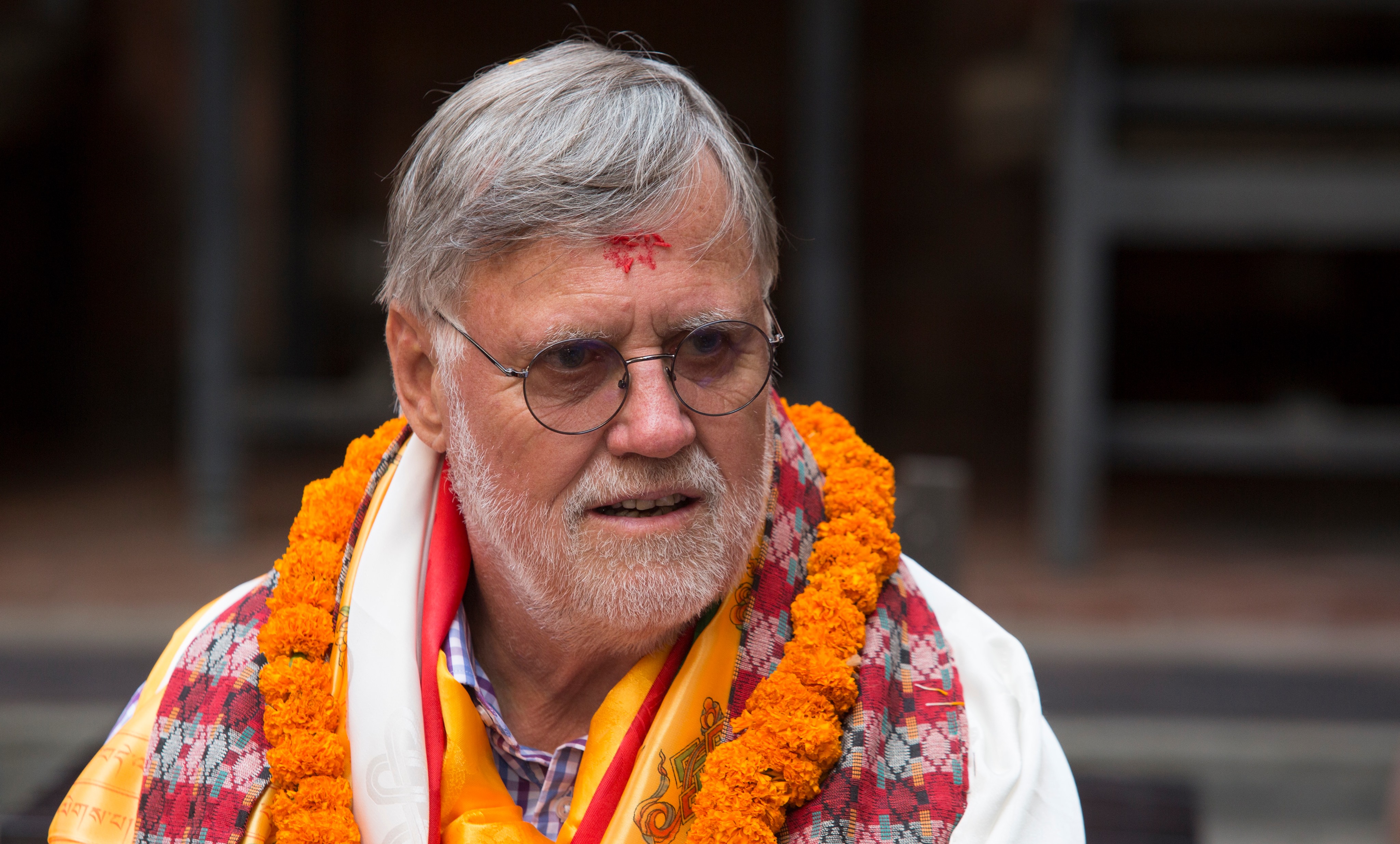 Wolfgang Nairz is a renowned mountaineer and the leader of Austria's 1978 Everest expedition, in which Reinhold Messner and Peter Habeler reached the top of Everest without bottled oxygen.
Nairz first came to Nepal in 1970 and since then has been coming to Nepal on a regular basis. Last week, Nairz arrived in Nepal for the 100th time, becoming probably the first foreigner to do so. Upon arrival, his hosts and fans gave him a 'hero's welcome' at the Kathmandu airport and took him to Thamel on a traditional carriage (baggi). Later, Nairz spoke to Onlinekhabar about his impression of Nepal, how things have changed here and about his projects in the country. Excerpts:
How does it feel to come to Nepal for the 100th time?
It doesn't feel any different actually. It feels like coming back home. It has nearly been 50 years since I came to Nepal for the first time, but the joy I get coming to this country is the same. Initially, I was interested in the mountains, but now I also come for the culture and the people. We have a lot of projects here.
What brings you back every time?
Well, it has to be people. Over the past 50 years, I've met a lot of good people. Along with the people, I'd also say the landscape and the culture and religion. I'd say a harmony between the three.
You came to Thamel riding on a carriage all the way from the airport. How was that feeling?
Incredible. I have some great friends here who have given me a terrific reception on my 100th visit to Nepal. They had told me they were not there, but then everyone was at the airport. It was a great surprise, the one I will never forget. The streets were clean, flowers everywhere. It's like they had done it not for the Chinese President, but for me.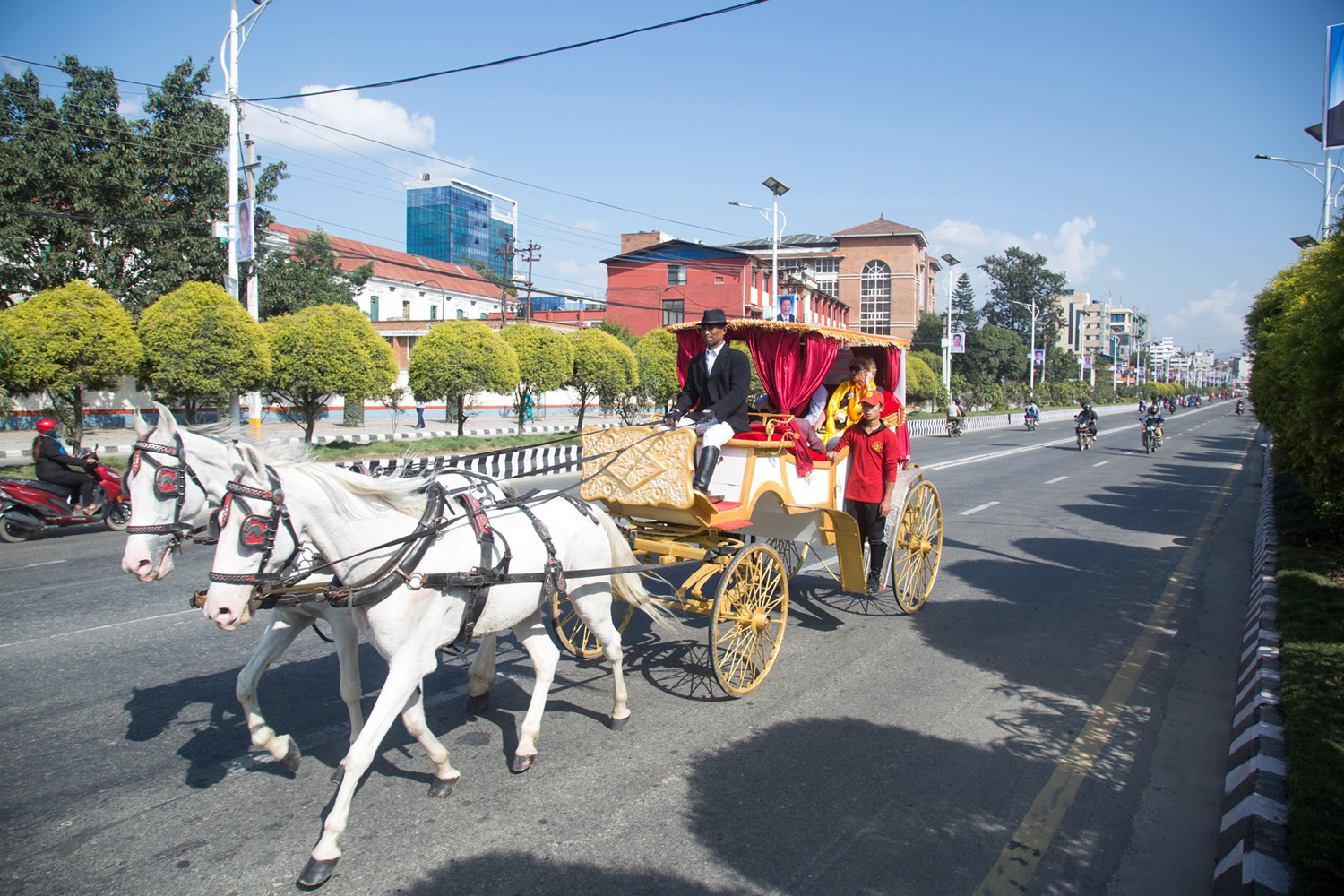 How have things changed since you first came to now?
A lot has changed. I don't think you can even imagine how things were during those times. There were only three or four big hotels; others were only small guest houses. We rode only bicycles as there were hardly any cars on the roads. We used to go to Bouddha, Patan and other areas on our bicycles. It was really a different time.
Kathmandu has changed the most. It was much calmer. Now it's a bit wild. I remember we had to carry our own bags off the plane before going to the immigration office. I'd say the change in Kathmandu is negative. However, the changes in the remote areas have been positive. I think that is all thanks to tourism. It's helped develop areas like Namche into something better.
How would you describe your Everest expedition in 1978?
I'd say it was difficult. Things are a lot easy now. Back then we had to do a lot of work. When I reached the top of Everest, only 60 climbers had reached the top so you could imagine how tough it was. But we had a good team which had Reinhold Messner among others and I think we did a fairly good job. We had no icefall doctors so we had to fix ropes and also prepare camps. It was not as easy as people have it now. We also did not have communication with the outside world. Any source of communication had to come through Kathmandu first, then fly to Lukla and then to base camp.
Was there pressure to summit Everest?
There wasn't actually. We were quite calm. Yes, we did have our fair share of luck thanks to the good weather, but we were good climbers. We knew we had it in us to get to the top of the world's highest peak. Our Sherpas were quite good too.
What other mountains have you climbed here?
I've been to seven 8,000-metre peaks here in Nepal and led the expedition in all of them. I've climbed Manaslu South Face in 1972, which was my first, then Makalu South Face in 1974, Everest in 1978, Ama Dablam in 1979 where we rescued Sir Edmund Hillary's son. I also summited Dhaulagiri, Cho Oyu South Face.
What have these mountains taught you?
Well the one lesson that the mountains have given me is that there's always the next time. It's taught me that coming back down is as important as going up. I lost a friend during the Dhaulagiri expedition which still hurts me. It's taught me that every mountain is different and each should be respected individually.
What do you do when you come to Nepal every year?
The first thing I do is meeting my friends. After that, I go to monitor various projects which I'm funding. We've been doing a lot of charity work here, especially after the 2015 earthquake. We're working on the Hillary Hospital to which my and Messner's foundation has donated around $400,000. We're working with Tashi Tenzing and Green Tara Foundation building schools. I also have a Sherpa Project where I take 25 Nepalis from remote areas to Austria and give them lodge management training.
This is a win-win situation for both the lodge owner in Austria who gets human resources and to Nepalis here who can learn a lot by spending three to four months in Austria. They also get a good salary there.
We're also building schools here. One in Sindupalchok for around 200 children with Tashi Tenzing. In Chilaune of the district, we've built another school. We're also working on a reforestation project in the Khumbu region. We've also help build a few cultural monuments in the region so people can go practice their faith there.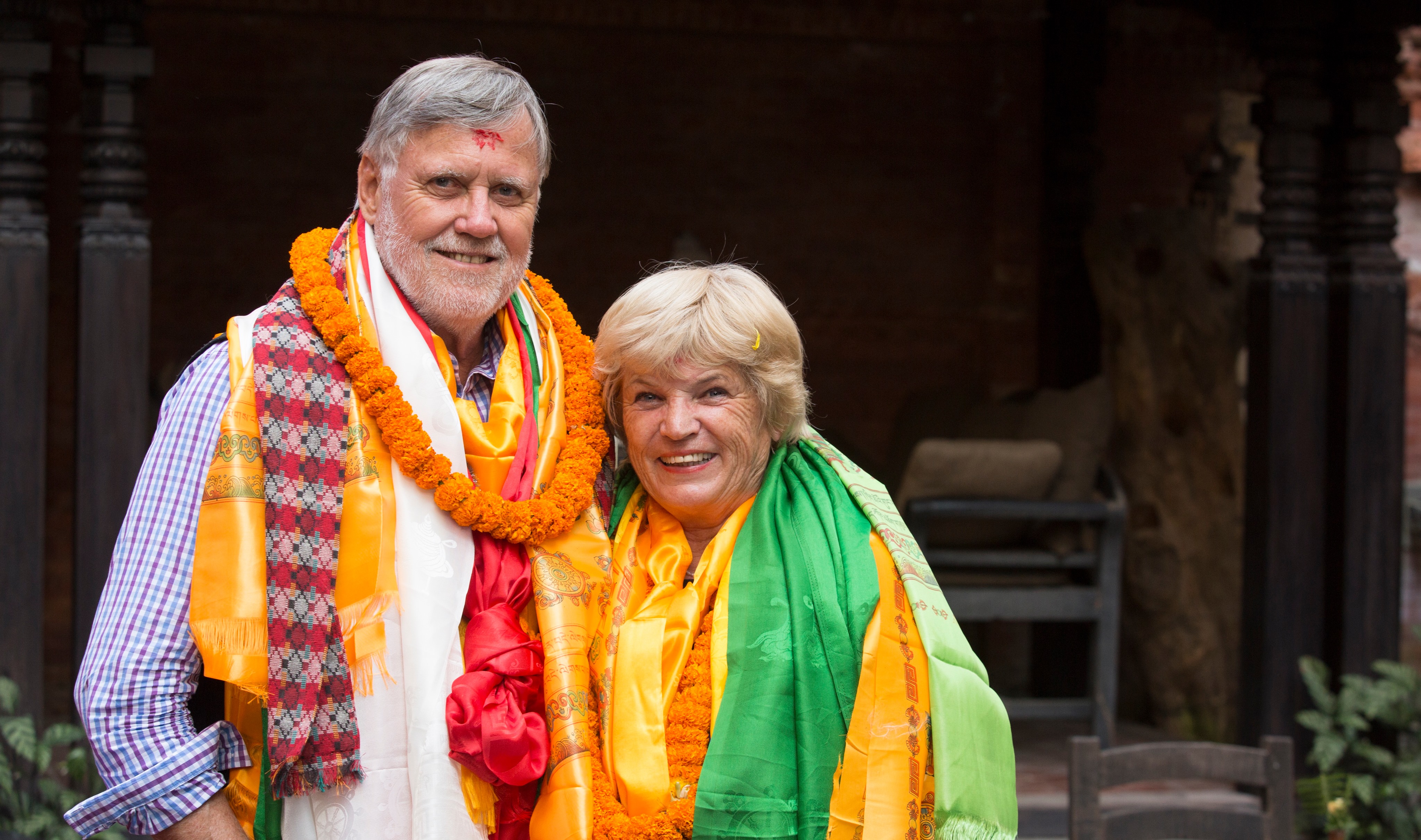 How do you raise money for these projects?
Well, my organisation has over 150 members and we do various fundraising activities. We give lectures, attend various programmes which help us get money. If you look at the things post-earthquake, we've nearly spent $700,000 rebuilding schools and hospitals in the remotest parts of Nepal.
So your charity only involves Nepal?
Yes. Just here.
What about your partners here?
They have been important to me. Sonam Sherpa, Tsering Lama, Tashi Tenzing, Ang Rita all have been great. I can trust these people wholeheartedly. They know where help is required and through them I can send funds there. I know that the money we're raising is going to good hands. Corruption is quite high here in Nepal, which is why we need people like them.
How often do you travel around here?
I travel a lot. How do you think I reach 100? I love to trek around. I've been to some really good places. Upper Dolpo, Mustang, Nar Phu… these places aren't visited by many. I bring friends with me most of the time and we go trekking. This year, we're going to Langtang.
Do you think tourism has got better here?
I think it has, but there is a lot more we need to do to make sure that Visit Nepal 2020 is a success. They have increased visa fees. They take so much money for permits, but where is the money? People need to ask the government what they're doing with the money coming in from tourists. It needs to be addressed. The private sector is doing well when it comes to tourism. However, I don't see the government is doing enough.
Photos: Shreedhar Poudel