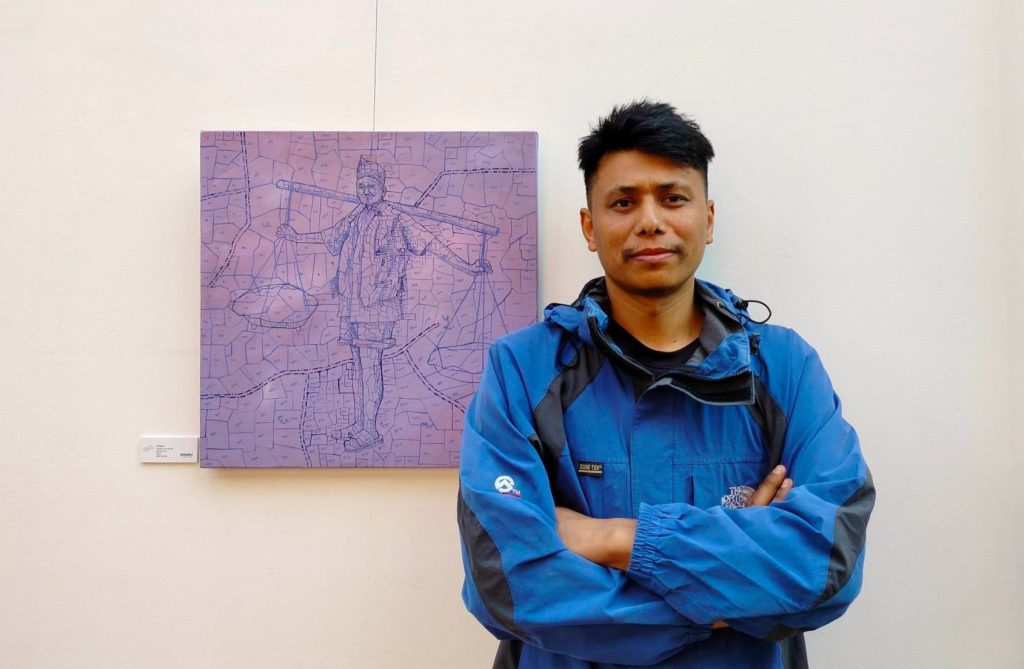 If you are the one who visits Ason or Indrachok's morning bazaar for buying vegetables, you are familiar with the fresh vegetables being sold on kharpan or khamu, a pair of baskets slung on a pole and carried across one's shoulders, generally by farmers of Thimi, Bhaktapur.
However, nowadays, marketplaces are packed with imported vegetables and you will hardly see farmers from Thimi selling their vegetables on khamu.
Moreover, these locally grown vegetables are a rarity as the local young people are no longer interested in working in fields. Then, there is rapid urbanisation which has filled thousands of houses in the place that once used to be covered with green areas.
And, artist Niroj Bade, who belongs to a traditional farming community, has responded to this inevitable situation in his solo painting Khamu, which began on February 17 at Dalai-la Art Space, Dalai-la Boutique Hotel, Thamel.
Homage to the farmers
The farmers in artist Niroj Bade's paintings are represented by the masks used in the Mahakali dance, a popular cultural dance from Nagadesh, Bhaktapur. According to him, it is his way of paying homage to the farmers.
Then, an aerial view of lands like in the blueprints of land, vegetables and modern items are reoccurring symbols in his paintings in Khamu.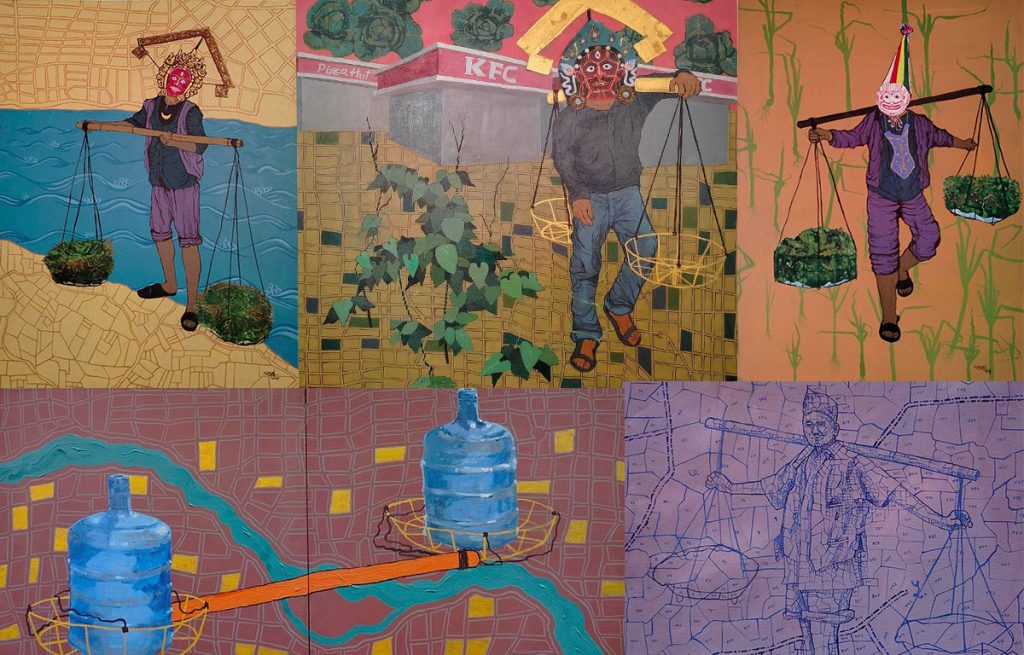 "Similar to gods, farmers also provide for society by producing food. And, with that feeling, I have used the religious masks for the farmers carrying khamu in the paintings," he says, "Khamus—now all but extinct— are also central here, conveying a sense of attachment to my history, culture, memory and need for balance."
Nostalgia and confusion
In one of the paintings in the exhibition, a man wearing the mask of Mahakali is carrying his khamu and is surrounded by various clothing and accessories brands. Even, his khamu is loaded with shopping bags of these brands instead of vegetables.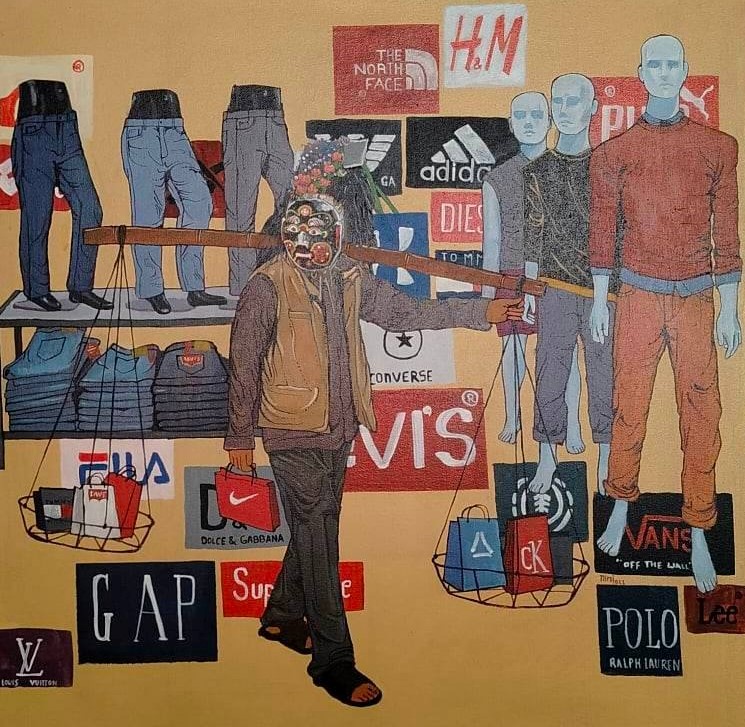 Niroj Bade used a light tone of brown for the background and interestingly placed the logos of popular brands along with mannequins displaying men's wear. He says, "My paintings are the reflection of my feelings and things that I have experienced. There is this feeling of nostalgia and confusion about modernity."
He says that art is his way of expressing things and feeling that he could not convey verbally and hence his way of spreading awareness about the current situation.
Moreover, the aesthetically pleasant-looking paintings in the exhibition have raised a serious question that modern life is varied, convenient, and ever stylish—but at what cost?
The exhibition continues till March 4.