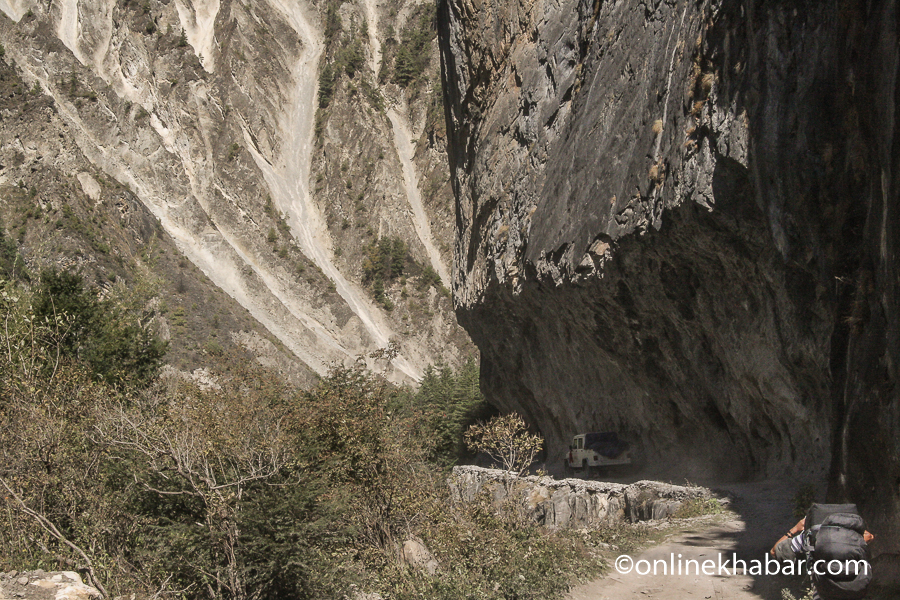 James Murray is one of over 100,000 people to have trekked around the Annapurnas this season. Like many, he came to Nepal because he'd heard it was remote; but when he saw dirt bikes in Manang, he couldn't believe his eyes.
"I came here after my dad recommended this trek," shares Murray, whose father had embarked on the same journey two decades ago.
"Things are a bit different from what my father had told me–he saw men in horses, but I, on the other hand, see dirt bikes. He had said that I'd be in the wild without cars, motorbikes or mobile networks. I guess it's become more commercial which is not what I was hoping for."
Two decades ago, the Annapurna Circuit was in the top 10 best trekking routes in the world, but now it's not on the list anymore.
The road to change
"I feel that is due to the road," adds Tashi Sherpa, a trekking guide. "This part of Nepal was untouched by modern amenities. But after the arrival of the roads, people don't think this trek is as pure as it used to be two decades ago."
The tourists understand the need for roads around the Annapurnas, but feel it could have been done in a better way.
"Nepal is a developing country and these types of roads are a proof of that. Road access means life is simpler for the locals around the area, but what I don't get is why the trails were hampered. I personally didn't like walking on the jeep tracks, which makes up around 40% of the trail," adds Murray.
Nation Trust for Nature Conservation (NTNC), an autonomous and not-for-profit organisation, mandated to work in the field of nature conservation in Nepal, agrees that the trail around the Annapurna Circuit shouldn't have been damaged.
"Road access has made the lives of locals easy, which is a positive, but we do agree that hampering the trails shouldn't have been done," shares Bikhyat Sherchan, Information Officer at NTNC.
He also adds that it was the community which asked for the roads to put on the trail. "The community dictates what is to be done in the region and we just helped them out," adds Sherchan.
The road from Besi Sahar to Khangsar is over 100 km long. Only raised four-wheel drives and motorbikes can travel these roads. It takes 12 hours to complete the journey travelling on snake-like roads at an average speed of 10 kmph.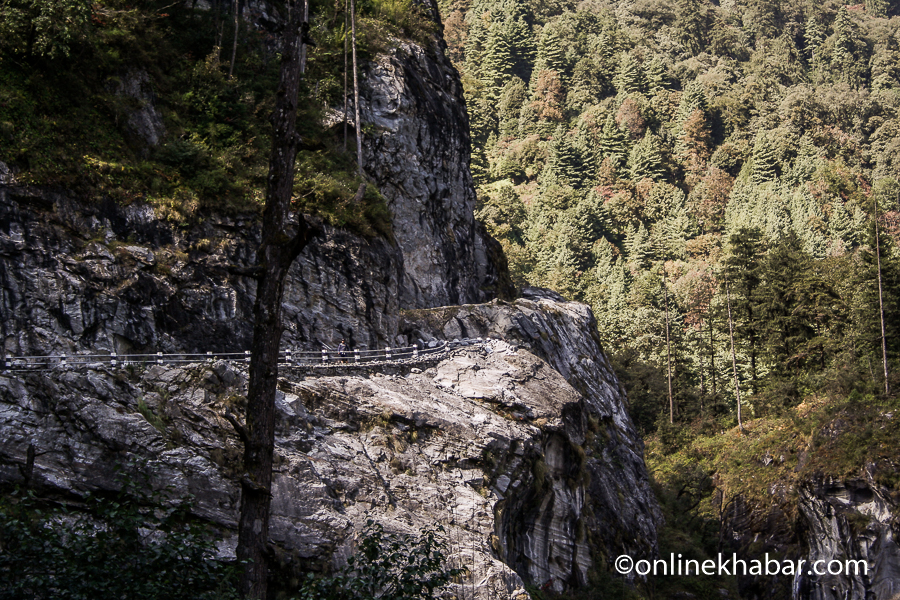 The tiring ride from Besi Sahar follows what used to be one of the world's best trekking trails, up to Thorung La (5,416m) on the Annapurna Circuit. Nepali passengers are charged up to Rs 3,000 for a one-way ride down while tourists are charged up to Rs 5,000. The exact charge depends on the season.
Where did it lead to?
The road has both pros and cons. On one part, it seems to have made the life of the locals easy, but on the other hand, it has impacted tourism. Dil Bahadur Gurung, 45, shares that the road has been a boon for the community as it has made travelling easy.
"I can now easily travel between Chame and Manang," shares Gurung, a local who has hotels in both places. "Earlier, I had to walk two days, but now I can just get on a jeep or a motorbike and travel between the two lodges in a few hours."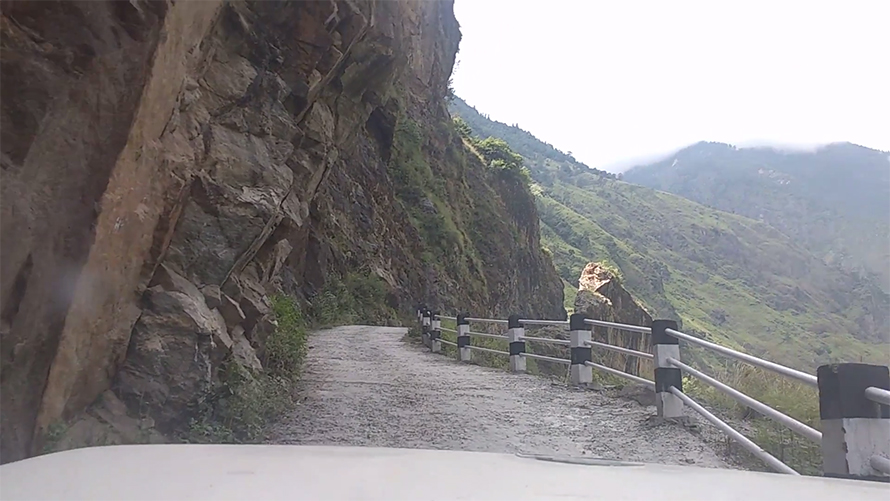 He also shares that road access has made it easier to take the sick to hospitals and has made things cheaper.
But Dhiraj Lama, 60, from Pisang which falls in the Annapurna Circuit, adds that the road has its flaws too.
"I used to own a small poultry farm here and was doing quite good, but now with road access, everything comes from below. As they get things for cheap, no one bought chicken from me, which is why I had to close down the farm," he adds.
Lama also adds that due to the roads along the Annapurna Circuit, the flow of quality tourists has decreased and the NTNC agrees with him. "It has lost visitors because tourists are disturbed by the roads. No one wants to walk on a trail where bikes and jeeps pass by every 10-15 minutes," shares Sherchan.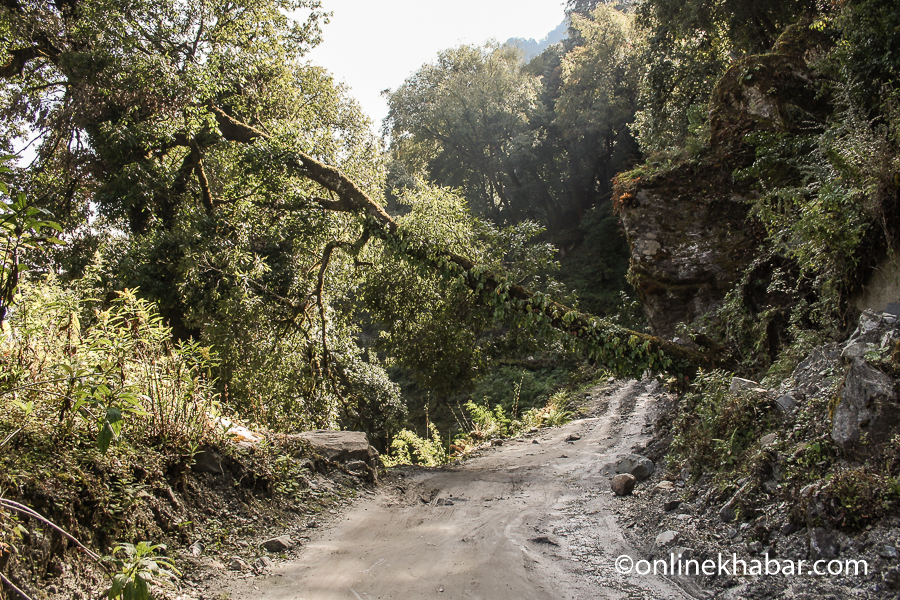 Lama further adds that due to the road, the trek which used to take 18 days could now be done in seven, which he shares has impacted in many lodges closing down. "In those days there was no option but to walk, but now if you're lazy you can just drive to Upper Manang which has affected a lot of lodges in the area."
Opposite patterns of foreign and domestic tourists
While the road has led to a drop in foreign tourists, it has resulted in a rise in domestic tourists who didn't trek around that area before the roads were there. As motorbikes can easily reach up to Upper Manang, the region has seen a surge in domestic tourists.
"We don't have the actual numbers, but the area gets a lot of Nepalis nowadays, which has helped businesses there," shares Sherchan.
"They get up there on the bikes or on jeeps which saves them time. But that said, it is advisable to spend a couple of days in Manang and get acclimatised because the risk of mountain sickness is quite high when you jump altitudes like that," adds Jeevan Lama, a hotel owner at Manang.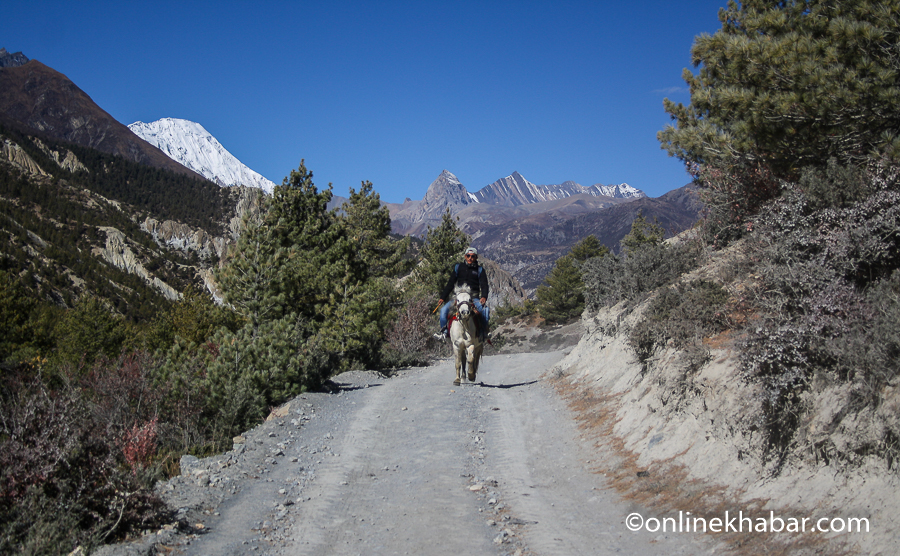 "The road has been important for the improvement of local communities. But, now we have to assess how it has impacted the environment as well," adds Sherchan.
Even though the road has been a boon for locals living in Annapurnas, for trekkers like Uri Levy, it's been anything but.
"This was my second time doing this trek and I'd read about how it had changed. It's such a pity that you have ruined such a scenic trail. This area was so rich in culture and heritage, which with the road will surely lead to its demise," adds the 60-year-old Israeli.
Meanwhile, the NTNC says it is aware of this and trying to promote new trails around the trekking routes around the Annapurnas.