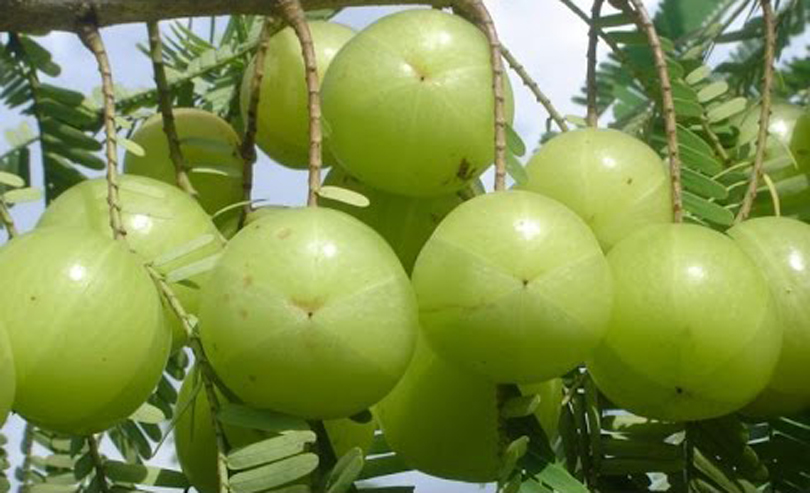 While surfing the net trying to uncover the myths surrounding so-called superfoods, also widely marketed as internet-hyped 'miracle foods'–from açaí berry, sumac, quinoa to cocoa and Ceylon cinnamon, which they claim can make you "live longer and cure and prevent all kinds of diseases", I stumbled upon the name of a commonly known  wild berry found in Nepal that contains twice the antioxidants of açaí berry.
It took me by complete surprise to know that this 'wonder fruit' is none other than the humble light-greenish wild fruit or berry called Indian gooseberry or amala in Nepali (amalaki in Sanskrit) found in abundance in Nepal.
Indian gooseberry or amala (binominal name: Emblica officinalis or Phyllanthus emblica) is native to Nepal, India, Sri Lanka and throughout South-East Asia to southern China. Thriving in subtropical regions, the sun-loving deciduous wild trees can be found in the inner Terai and the mid hills of Nepal up to an elevation of 2000 ft from the sea level. Formerly collected from the wild, commercial farming of amala has been started in recent years.
This bitter-sourly translucent fruit is, in fact, a household name in Nepal. It is eaten fresh, in the form of dried powder dietary supplement, pickles, a digestive pachak or the salivating sweet-tangy-spicy candy called titaura or paun in Newari, loved by many girls! It is a seedy fruit, the pips are widely eaten in India for their high content of Vitamin C.
The goodness and natural healing properties of amala have been passed down to us from generations from the days of yore. I still remember my grandma passing them around to us when we were young, explaining to us about their therapeutic properties.
Arguably one of the most significant ingredients used in the traditional Indian medical science, Ayurveda, for millennia, it enjoys a hallowed position and is revered as a powerful 'rasayana' (elixir). Amala happens to be one of the vital ingredients in making of Chyawanprash, an ayurvedic tonic jam. Amala is used in ayurvedic medicine as a diuretic, for constipation relief, insomnia, the treatment of scalp, as well as other purposes.
Nutrition
Gooseberries are a potent source of nutrients, vitamins and minerals such as Vitamin C, Vitamin B50/B6, dietary fibre, anti-oxidants, bio-flavonoids, flavones, caretenoids, carbohydrates, copper, manganese, phosphorus, iron, and the list seems endless. To say the least, it is both hypolipidemic and hypoglycemic.
Nutritional value of amala:
The nutritional value of 100 g of edible amala is:
58 kcals
82 percent water
No fat
3 g of fibre: 25% RDI
14 grams carbohydrates
50 mg calcium: 7% RDI
20 mg phosphorous: less than 5% RDI
2 mg iron: 10% RDI
.03 mg thiamin (B1)
.01 mg riboflavin (B2)
.01 mg niacin (B3)
600 mg vitamin C: over 240% RDI*
*Some sources list its vitamin C content as 430 grams, but the Indian gooseberry is still one of the highest natural sources of vitamin C. In fact, one small berry contains as much as approximately two oranges (Source: indianvegam.blogspot.com).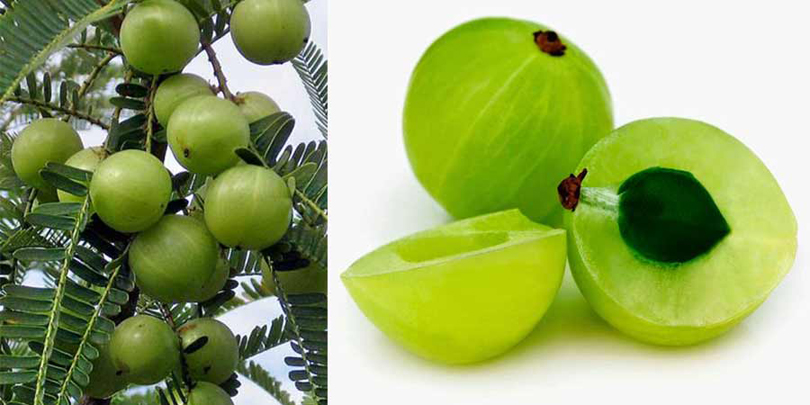 If we are intent on busting the myth surrounding certain foods about being 'super', screening them through an ORAC test would be relevant, if not necessary. ORAC stands for Oxygen Radical Absorbance Capacity. It is a lab test that attempts to quantify the "total antioxidant capacity" (TAC) of the tested food".
What came to light, will take your breath away. Let's take a look: – The Orac units are in μ mol TE/100g.
Fresh blueberries = 4,669 μ mol TE/100g
Spirulina powder = 5,970
Maca powder = 6,100
Fresh wild blueberries = 9,621
Fresh black raspberries = 19,220
Acai powder = 102,700
Amala powder = 261,500
(Source: www.superfoodly.com)
"In view of the above findings, it is suggested that amala produces significant hypolipidemic effect along with a reduction in blood pressure. Addition of amala to the currently available hypolipidemic therapy would offer significant protection against atherosclerosis and coronary artery disease, with reduction in the dose and adverse effects of the hypolipidemic agents." (Source: www.ncbi.nlm.nih.gov)
Shall we now consider the possible benefits of Indian gooseberry or amala?
Cardiovascular health
According to a WHO factsheet, cardiovascular diseases (CVDs) cause more deaths annually than any other ailments–17.7 million in 2015 alone (31% of all global deaths).
Oxidation and inflammation which results in the "hardening of the arteries" or "lipid peroxidation" leading to atherosclerosis is the main cause of coronary heart disease and stroke.
Packed with anti-inflammatory properties like Vitamin C and amino acids and rich in chromium and iron, regular intake of amala or its extract nourishes the heart muscles and prevents the build-up of plaque in the vessels arteries.
Preclinical studies of amala have shown the boost in blood circulation and oxygenation of cells, which helps the growth of tissues, restores the vessels, keeps the arteries clean and maintains the cholesterol level. Thus, a regular intake of amala can lower the risks of stroke and heart attack.
"Studies focused on cholesterol balance with amala have shown strong results. In fact, participants using 500-1,000 mg of the botanical increased HDL (good cholesterol) by 14% and significantly decreased LDL cholesterol by 21%. Total serum cholesterol (total cholesterol) was reduced by 17% and triglyceride levels dropped by 24% within only three months." (Source: www.terrytalksnutrition.com)
Diabetes
Another life-threatening disease that precedes CVDs (cardiovascular diseases) is diabetes, which according to the WHO factsheet caused 1.6 million deaths in 2016 with a high number of cases involving blindness, kidney failure, heart attacks, stroke and lower limb amputation.
Tests results for amala have been significantly promising for type II diabetics. Tests carried on humans claim that a daily intake of three gram dried powder amala lowers the fasting blood sugar level better than the prescribed drug.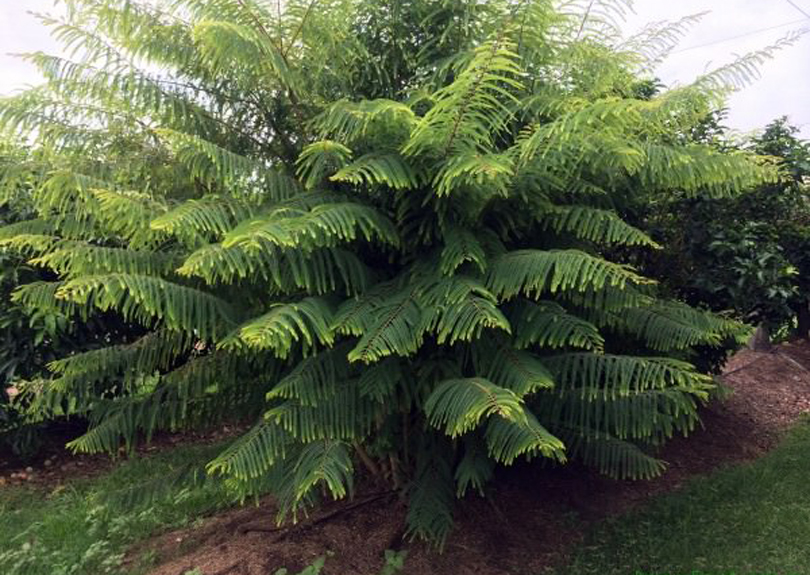 It is said a regular use of amala in your diet helps the secretion of insulin hormone by stimulating the body cells. The high content of chromium in the fruit also controls the carbohydrate metabolism and boosts the body response to insulin. It facilitates in curbing the erratic fluctuation in blood sugar level.
The daily intake of amala is also said to prevent complications such as diabetic neuropathy, a major cause for nerve damages of the legs and feet.
Liver
One of the largest metabolically active organs in our body, the liver is burdened with real heavy works. Some of them are: produce bile that helps dispose of waste, build protein needed by the blood plasma, clear the blood of drugs and harmful substances and a host of other functions that keep our health in order.
The anti-oxidant like Vitamin C, flavonoids, gallic acids and tannins in amala, is said to safeguard the liver from a drug-induced complication called hepatotoxicity, and significantly purify the blood.
Cancer
Because of its high ORAC value and a rich source of anti-inflammatory and antioxidant compounds, the Indian gooseberry or amala is said to be a potent factor in "preventing DNA cell damage from free radicals and oxidative stress." As a result, it works in two ways: first, it helps slow down the growth of cancer and secondly, it quells the cancerous cells, meanwhile, retaining the healthy ones.
Others
Apart from the above, amala has been clinically tested of having diuretic, laxative, antimicrobial and restorative properties and are said to fight against:
Digestive system
Hair health/loss
Age-related renal dysfunction
Alzheimer's disease
Anti-aging of DNA
Eye problems
Menstrual cramps
Diarrhoea and dysentery
Piles
The ease of its availability and affordable price makes amala as one of the best 'superfood' bargains.
Now that you know how nutrient-dense amala is, manifestly, it is no big deal working it into your diet–granted that you do it. Let me end with this quote: "Knowledge is power? No. Knowledge on its own is nothing, but the application of useful knowledge, now that is powerful." — Rob Liano.
*The information in this article is purely research-based. Cross-reference and readers' discretion is solicited.