Yam Sajan Sunar, 25, cannot sleep at night because he keeps thinking about what he could have been if not a runner. Back from competing in the 100 metre event at South Asian Games in Indonesia, Sunar feels that things could have gone a lot better. But now, with the time running out from his sprinting career, he feels that deciding to run was the biggest mistake of his life.
The brakes on early sports
Born in Kudu, a small village in remote Jajarkot district, Sunar was a curios boy who ran around looking for adventures. At a tender age of six, the national sprinter broke his leg when he fell down from a tree while climbing.
"I can still remember how painful it was. It was pretty tough for my family as well because I had to be flown to Nepalgunj to get it checked where the doctors advised to place a rod in the leg," he says. "When my father heard that, he was very scared as he had heard that if not done properly it could cause cancer. So he took me to Lucknow for the surgery, which went well and within few months I was back in Kudu," he adds.
Before getting injured, he used to participate in long jump and triple jump events with children from his age group and beat them easily. But after coming back, they beat him comprehensively in many events. "Being beaten in something I was good at made me really sad. I cried a lot, but my father consoled me that I had to be patient until the injury healed and I'd be back to my best in no time."
Flying with the wind
When Sunar was in the seventh standard and his injuries had completely healed, he competed in a long jump tournament in a village fair. "I was extremely determined and managed to beat everyone by a metre, which was quite unexpected given I was in my early teens," shares the sprinter.
After that win, he became a household name in the village where people often praised him by saying 'Yam Sajan ta hawa jastai udchha' (Yam Sajan can fly like the wind).
The 14-year-old boy then started to dream. However, for his dream to come true, he had to leave his village and explore the opportunities. "A friend of mine who studied at Deep Jyoti Boarding School in Nepalgunj had told his principal about how having me in the school would help them win medals in sports events. The principal then asked me to join his school, so I left Jajarkot for Nepalgunj," he remembers.
Leaving his village was not easy for him. He was in a new place, away from his family, but that did not deter him and he soon became one of the best athletes of the school and went on to represent his school in a national level tournament in Kathmandu, where he stood first in the long jump event.
"A lot of people noticed me then. Everyone was shocked that a 14-year-old boy from a small village in Jajarkot had just won a gold medal," he shares. That was when he saw a future where he could someday represent his country at the international level.
The run continues
Till the age of 14, Sunar had never participated in any running competition, but in the fifth National Games he decided to try competing in the 200m event. "Till then I thought long jump was a sport which I could excel in, but when I came fifth in the 200m event, I knew that I would do well in sprinting too," he shares.
So after a year, with full support from his family, Sunar felt that he could really achieve something in sports. "My parents were very proud that their son's name was in the newspapers. Seeing them proud and having their support made me really happy back then," he shares.
After completing his final secondary examinations from Nepalgunj, he went to Singapore to compete in the Junior Games in 2009. Then, he came back and continued his studies at Xavier International College because he felt that education was also equally important.
Having competed in the 200 metre event, Sunar in the sixth National Games in Dhangadhi decided to try his hand at 100 metre. In a controversial final, Sunar finished second to Olympian Tilak Ram Tharu. "It was quite an interesting race which gave me a hope that I could compete in this event too," he says.
After that, Nepal Engineering College offered him a scholarship, but since his focus was in sprinting and he wanted to make a career in it, he refused the offer. "If I could go back, I would have taken that scholarship and become an engineer. But at that time, my whole focus was on running and being the best sprinter in Nepal," adds Sunar.
However, he did get enrolled at Tri Chandra Campus for the BSc Physics programme.
His hard work did pay off when he set a national record of 10.40 seconds in the 100 metre race at the National Championship held in Lumbini. "My aim, which was to set a national record some day, came true and I was very happy that day," he says."Everyone was happy. My parents were very proud of me but they kept on asking how being in sports would help me earn money," he adds.
Most of his life he had been asking money from his parents, but after that he decided to start earning. He ran for Armed Police Force and Nepali Army, which initially supported him.
Loss of luck
According to Sunar, he was at his best just before the South Asian Games in South Korea in 2014. He says, "I was at my peak. During the qualifying, I beat Tharu too, leaving him three metres behind me and broke my own record when I clocked in at 10.30 seconds." But after injuring his ankle just before the tournament, he could not perform well. "That was the time I started to think that training alone wasn't the key to success. Sometimes luck plays an important role too," he shares.
In fact, Sunar had already begun considering himself unlucky quite earlier. There were a number of reasons behind it. He adds that for any sportsperson to succeed, the associations play an important role. But, the case in Nepal is different.
"How can we compete with the best in Asia when we don't get half the facilities the others have?" he shares. "For a runner to succeed in the biggest stage, he needs proper diet, proper training facilities and proper monitoring, all of which are absent here. How can we run fast when all we were eating was dal bhat and uncooked chickpeas?" says the frustrated sprinter.
Even though he was doing well at the national level, his wish to excel in the international stage had still not been fulfilled as his performance in the 2016 South Asian Games in India did not go as planned as the ankle troubled him there too.
However, he won gold medals in both 100 and 200 metre events in the seventh National Games. "I don't know how, but I still managed to win the two events in such a poor track; but for me it was good preparation for the 2018 Asian Games."
After a training camp in Kolkata where the ankle still troubled him, he left for Indonesia to compete in the 100 and 200 metre events. "This time it wasn't just the ankle, that was troubling me. I don't think I was in the right frame of mind which is why my 100 metre didn't go well and I had to pull out from the 200 metre event."
Frustrations about future
He says for an athlete to do well, everything has to go right. "If a runner doesn't have security about his future, how will he run well?" questions Sunar. "Having run for nearly a decade, I now feel that Nepal doesn't have an environment for athletes to succeed. Until the government prioritises sports and implement it promises, there will always be athletes who leave the country for better opportunities."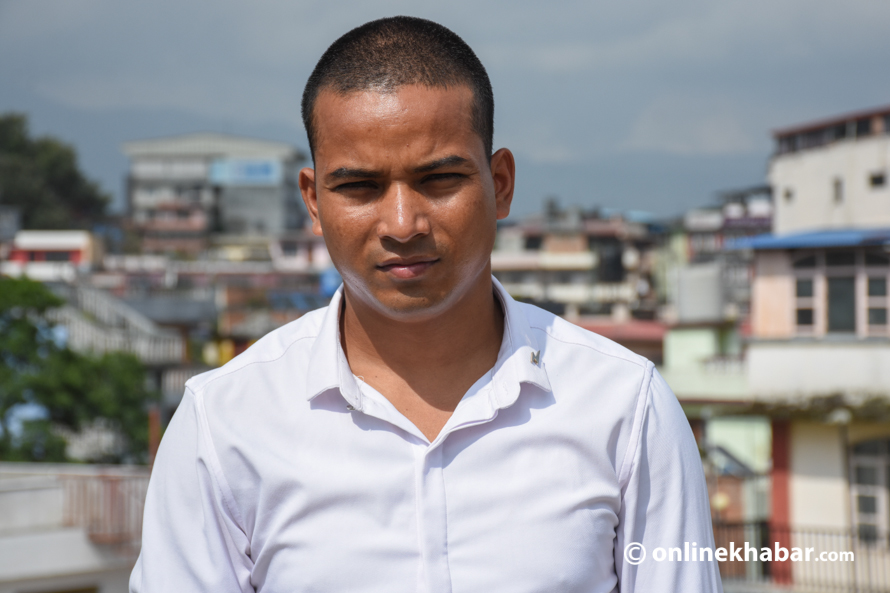 Sunar feels that if he had better coaching and a secure future, he would have done well. "In the past few years all I've thought about is my future. I'm a grown man now and asking money from parents is quite embarrassing."
Now, the boy who used to fly feels his wings have been chopped. "My wish to win a medal always eluded me. I always believed that sports is connected to nationalism and I wanted to give the people of Nepal something to cheer about, but I couldn't and that will always make me sad," he adds.
He also adds that kids shouldn't make sports their priority. "My message to kids out there is simple. Focus on studies and only get into sports if your family can support you. By playing sports, you will never be able to support you family well."
While going from Jajarkot to Nepalgunj, he felt he could conquer the world, but now he realises that his race is coming to an end. "One half of my heart wants to quit, but the other half wants to continue running. This dilemma is what's troubling me right now," says the sprinter, adding the upcoming South Asian Games might be the last time the fans see him on the track.
---
Published on September 21st, Friday, 2018 10:46 AM
---
Download Onlinekhabar App. Android click here & IOS click here . Keep in touch with us on Facebook, Twitter & YouTube.