Robin Marston and his wife rolled into Kathmandu 40 years ago on a Land Rover, having driven from England via Afghanistan, where they arrived on the same day the Soviet Union invaded. He settled down in the idyllic valley and took up a job in Mountain Travel Nepal, which according to him was the first trekking company in the world. It was the start of a professional life that revolved around the tourism sector in Nepal. He talked to Kapil Bisht about the pre-lodge trekking days, taking the Prince of Wales trekking, his hopes for Nepal and why he loves the country.  
You came to Nepal overland in 1978. How did that idea come to you?
In 1977, I decided to leave the British Army. I had done 20 years by then. My wife Wendy and I were visiting friends down in the Channel Islands. It so happened that those friends had a lady working for them part time, as a typist. In the course of conversation it came up that she had a brother who was working and living in Nepal. Her brother turned out to be Jim Edwards, who set up the Tiger Tops Lodge inside Chitwan National Park. It was suggested that we meet Jim. This we did, in London in October 1977. As a result, I came out to Nepal in January 1978 to see the operations. Consequently, I was offered the job of General Manager at Mountain Travel, Nepal's original and finest trekking and mountaineering company.
In April 1978, Wendy and I set off in a long wheel-based Land Rover towing a half-ton trailer. We drove it out to Nepal from England along the old Hippie route, which was the way you had to come because the Iron Curtain was still in place. We drove through Turkey, Iran and Afghanistan. On the day we drove into Kabul, the communists staged a coup that overthrew President Daud's government. We ended up staying at the British Embassy for a couple of nights. We eventually got escorted by a military convoy out of Afghanistan and down over the Kyber Pass into Pakistan. It was a great trip. On May 9, 1978, five and a half weeks after setting out from the UK, we arrived in Kathmandu.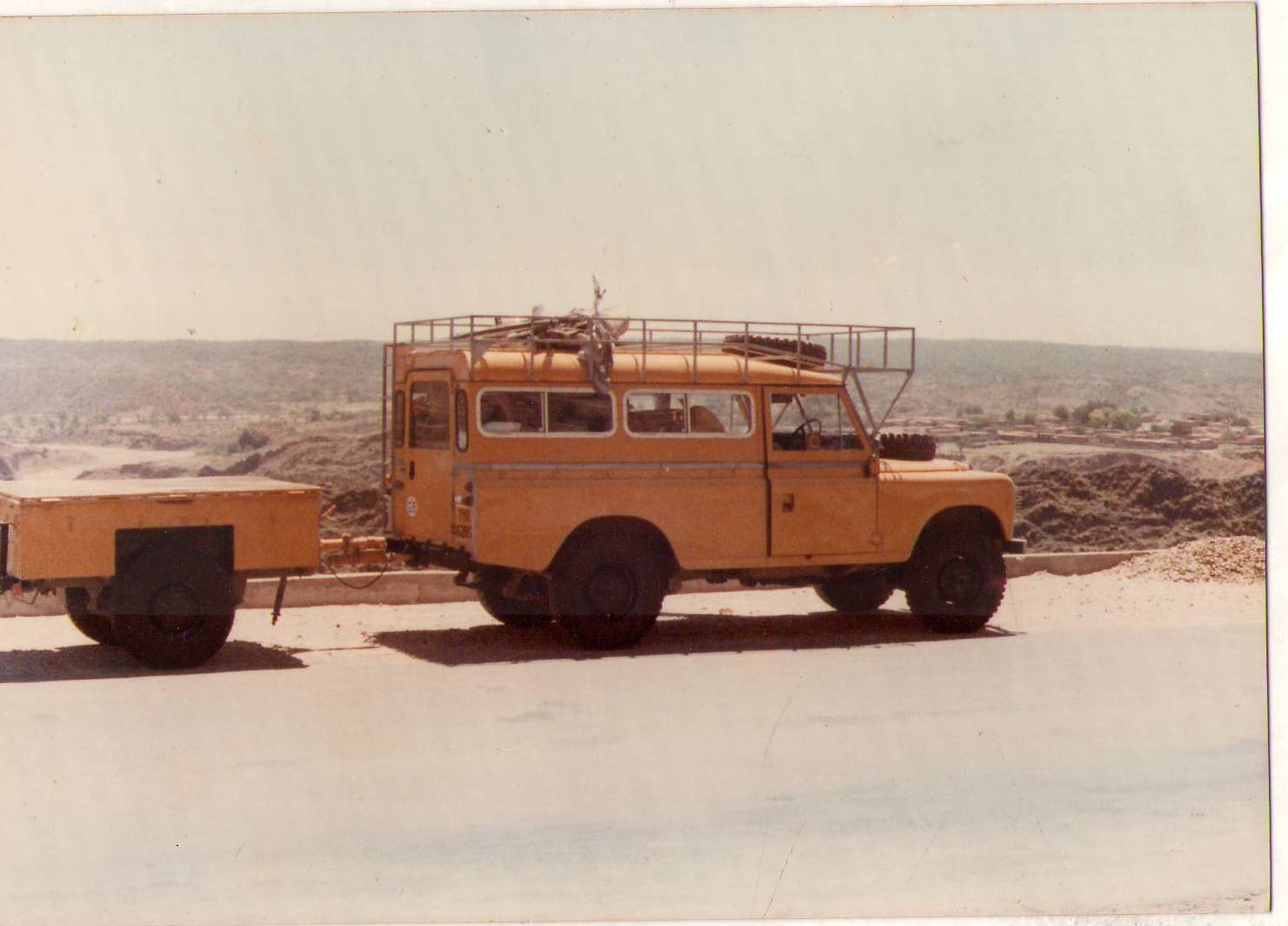 What did you do after arriving here?
My wife Wendy and I came to Nepal because I had been offered the job at Mountain Travel Nepal. Mountain Travel was founded by Colonel Jimmy Roberts in 1964 and operated the first commercial trek in 1965. It was the first trekking company ever. At the time Colonel Roberts lived mainly in Pokhara on his pheasant farm. Whilst by then he had less involvement in the day to day running of the company, he still knew more than anyone about all the Sherpa field staff, and continued the vital job of selecting the teams for both climbing expeditions and treks.
I was with Mountain Travel for 12 years. During that time we took Prince Charles, the Prince of Wales, together with Prince Dhirendra Bir Bikram Shah, their accompanying staff, medical and communications support teams trekking, in December 1980. This was in the foothills to the east of Pokhara.
It was a very successful company and it was super to be with. In those days, all the treks we did were tented trekking. We didn't do lodge treks at all. Trekking today has been turned upside down because when I left Mountain Travel in 1990, it was still 90 percent tented trekking and 10 percent lodge trekking in Nepal. Now it's the other way round.
Tell us about your work with the Pipar Pheasant Reserve.
This again links back to Col Jimmy Roberts. He was an old-fashioned conservationist, in that he liked to shoot as well as protect animals, including birds. He had a farm in Pokhara, just near the airport, where he had pheasants and quails. One time, some of our staffers were out on the eastern flank of Machhapuchhre, and up at around 9,000 feet they came across this area, which has come to be known as Pipar. There were a lot of pheasants in that area. Below Pipar is the Seti River. On the west bank of Seti is a village called Ghachok and some other nice villages. There are schools there. So Col Roberts had this idea to get a conservation message across to the schools, something simple like, Don't shoot the birds during the breeding season, and in exchange he would help the schools by raising funds for them. His aim was to turn those villages into support bases for the Pipar Pheasant Reserve project.
Col Roberts worked on the Reserve and school support was up until his death on November 1, 1997. A year later, Keith Howman from the World Pheasant Association UK, the main sponsors for the programme, and I came up with the idea of establishing the Jimmy Roberts Memorial Fund to continue his conservation work and the support for the schools. So I took over, on a purely volunteer basis, and I continue to assist to this day. We help 10 schools in that Valley with teacher support, 'Training the Trainer' programmes, toilet building and making furniture. In one school, we were able to build a new block that houses grades eleven and twelve. Now girls who graduate grade twelve have a better chance of going on to college.
I still visit Pokhara quite regularly and drive myself there and back.
Do you drive a rental car?
No, no. I've got an old, two-door Pajero. It was new when I got it, which was 23 years ago. I have done 280,000 km in it. It's a dear friend.
Roads are being built to almost every part of Nepal now. How do you think this will impact the country's renowned outdoors scene?
The roads have impacted the outdoors already. I saw an article in one of the English dailies in Kathmandu. It was by a group of young Nepalis who had been on a five-day – yes, five day! – around Annapurna trek. And I said to myself, What? I don't believe this!
They did it on motorbikes, right?
No. In fact, they went by jeep right up to the Manang valley, then trekked over the Thorong La (nearly 5800 m) and down via Muktinath to Jomsom and flew back to Pokhara. When we first started running the around Annapurna trek, when the area opened in 1977, it was a 25-day trek! That old around Annapurna trek, Pokhara to Pokhara, was listed as one of the seven finest treks in the world. Frankly, that's gone! It is a heavy price to pay for putting the roads up the Kali Gandaki and into Manang.
Tourism is changing. There is no doubt about that. There is not much increase in the number of Americans, Europeans, Australians – what used to be the base market – coming in.  There is a big upturn in the Chinese, Indians/Sri Lankans and probably South-East Asians. It's good: the numbers are fine. But it does mean that there is a change in what people are looking for, what their approach is, and they don't necessarily have the historical sense of what Nepal is about, compared with many of the early trekkers.
Roads, for instance, have allowed many thousands of pilgrims to visit Muktinath. On the other hand, the number of trekkers in the same area has halved. Is this the way it is when one builds roads into remote areas or is there an alternate, a more balanced, approach available?
Perhaps what could be done is a little bit like that which happened in the Alps. People do not go and trek from one village to the next and so on; instead they go to a village and make their base there. Then they do day walks and sightseeing from that base. The Manang Valley, Tukuche, Marpha area of the Kali Gandaki and Namche in the Solukhumbu are ideal for developing the same sort of holidays in the hills of Nepal.
In the end, all debate about roads boils down to the fact that the local inhabitants need roads. It is they who have to suffer if there are no roads linking their villages to hospitals and schools and markets. What is your take on this subject?
The one area that is being very well managed from this point of view is Khumbu. The Sherpas are very smart like this. For instance, they will certainly never let a road go up to Namche, knowing that what they have got up there is where their fortune lies.
So each area has different needs and a different approach.
Another result of the roads going in is that the villagers come out. Villagers, particularly the young men, come out because they don't see the chance for employment in the villages. They go abroad to work. A lot of the villages are getting run down because there are no men. However, the other side of the coin is that eventually with the advent of electricity, TV, Internet in the villages, people's lives will improve. They will say, "Hey, we can live more comfortably here than down in the cities. If we can make a living here, why live in Kathmandu, where the air is so bad?"  So we might see a move back to the village in the next 20 years.
Tour operators and others involved in the tourism sector often bemoan the fact that Nepal draws more budget travellers than big spenders. Is this a problem?
I support not placing restrictions on the number of tourists coming into Nepal. However, there are issues that need fixing. We started the Himalayan River Exploration, the first of the river running companies in Nepal, in 1977. By 1980, we could comfortably charge $65 for a day's river run, including camping and food. That was nearly 40 years ago. Now you get river running for $25 a day—a third of the price, 40 years later! Something has gone wrong. Tourist numbers, although they are not that big, are still large enough to put pressure on the tourism sector. The products on offer are limited. The internet allows clients to assess from far away where they can get the best value (or cheapest service) for their money. So the world is more competitive now. It's too late now to impose any limitations on tourist numbers. Nepal is actually hoping to increase tourist arrivals. But until we do something about infrastructures like airports and roads, we are not going to get far on that. Nepal needs to be able to offer products of all levels, to attract all levels of budgets. Good infrastructure is the need of the day.
Do you think Nepal as an outdoors destination is unique? How so?
It's now well established that the side of Nepal that tourists love most is 'the people'. They are one of the very unique things about Nepal. Another interesting aspect is that you didn't have to develop trekking routes; they were there traditionally. The villagers always trekked from one village to another. So all the foreign trekkers had to do was follow what the villagers always did and walk from one village to the next.
What is it about Nepalis that endears them to foreigners?
They are genuinely warm and welcoming. They have a great sense of humour, especially the hill people.
Do you see the tourism sector slowly moving towards a situation where a handful of people own everything, especially in destinations that have been popular for a while now, like Solukhumbu and the Annapurna regions?
Indeed there is. There is a lot of wealth up there in Solukhumbu (the Everest area). But there are also a lot of people who have slipped through the net. And the same applies to the Annapurna area. There has been a proliferation of lodges in Annapurna and Khumbu regions and to a lesser extent, in Langtang. It would be nice to diversify the tourism industry in those places and take pressure away from those areas. Otherwise, there isn't enough business coming in to distribute it evenly. We can't look at tourism as 'the be all and end all' of the economy in Nepal. We need a balanced economy and job opportunities across the board.
Along with Nepal's water resources, tourism is the other sector that is often touted when talking about Nepal's potential. What, in your view, is keeping Nepal from realising its potential as a tourist destination?
This conversation will – and should – bring us back to talking about the need for better infrastructure. Kathmandu's airport needs to be improved and there needs to be a proper second airport. Maybe even not a second big airport but several regional airports.
It is unbelievable that we only have (effectively) one road connecting the Kathmandu Valley to India in this day and age. The pressure on that road, apart from anything else, has ruined the pleasure of driving out of the Kathmandu Valley. Tourists don't want to do it. I've driven out of Kathmandu for 40 years now, and even I am nearly deterred from doing it anymore.
If we can take care of the infrastructure, the private sector will pour in the rest of what is needed to improve the economy.
Photos: Robin Marston
---
Published on July 8th, Sunday, 2018 11:03 AM
---
Download Onlinekhabar App. Android click here & IOS click here . Keep in touch with us on Facebook, Twitter & YouTube.