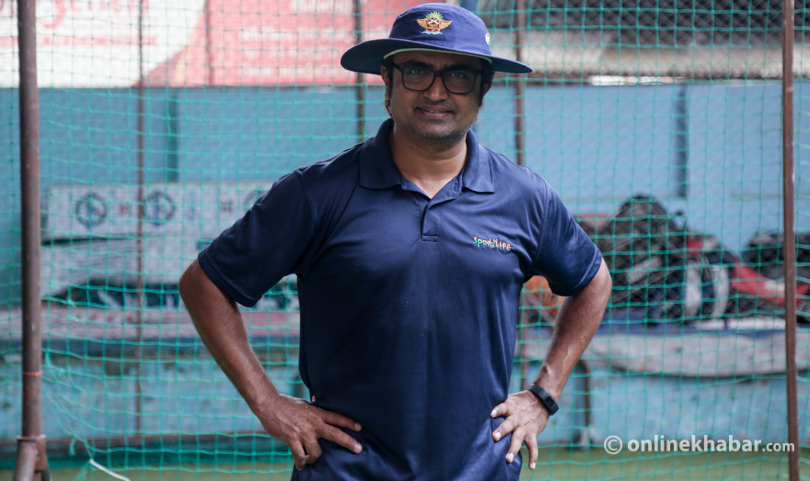 Mrugang (Monty) Desai is seen in the Indian cricket fraternity as someone who has the hawk eye to spot talent. He carries his famous notebook whereever he goes and is not shy about scribbling notes. The mumbaikar, who wanted to play professional cricket in his early days, switched to coaching after big names such as Hanumant Singh, who coached the Kenya team that played in the 1996 Cricket World Cup, suggested that he take up coaching. Desai has had successful stints with the IPL squads Rajasthan Royals and Gujarat Lions in various crucial roles. Onlinekhabar recently caught up with him when he was in Kathmandu as a consultant batting coach for the U-19 national squad.
Did you bring your notebook with you when you came to Kathmandu?
It's in my bag. I normally carry it everywhere… I try to note down any important skill that players have so that I can reflect upon it later.
Are there any names you have written down on your notebook here?
(Laughs).. Here it would be too early to do that. But yes, I have come across some exceptional talent here.
We know that you were there with the national squad in Ireland when the team played the T20 World Cup qualifiers. But is this your first time in Nepal? 
Yes, this is my first time here in Nepal. I think in 2015, I was able to play a partnership role with Pubu (Pubudu Dassanayake) as I reflect back on the tournament. But it was not the first time I had come across Nepali players. A few players from Nepal have come to Bombay to train and in 2012 we invited Shakti Gauchan to train with the Royals. Then, the national team was also in Rajasthan for sometime.
During the 2015 tournament, it was the first time I went on tour with the national squad. We had a lot challenges then, but my work primarily was to help the batsmen understand their roles in the team.
When you were there with the national squad in 2015, Pubudu was also there with the team. It would have been easier to communicate with the players when he was around.
When Pubu was there, Binod (Das) was already working as the bowling coach and we had connected nicely. He brings in a lot to the team, and the transition has been smooth. I have come here for the U-19 team and Binod had been doing a good job with the team.
You are here for just 10 days. What difference can 10 days make in the way a team performs?
That's a very good question. The last time also, Pubu was trying to bring me early, but we could not nail it because of some difficulties. During the World Cup qualifiers I came in when the team was already into the tournament, but now I have 10 days here. Although we can't expect lot of things to change overnight, we are focusing on two important things: building partnerships and identifying an additional area to score runs for each batsman.
During the recently concluded World Cup Qualifiers. the batting unit looked in poor shape. Even teams like Malaysia and Singapore, considered way below Nepal in terms of performance, challenged the batsmen.
See, I don't have firsthand experience about the tournament you are talking about. But Binod and I discussed the tournament. It was one of those tournaments in which you expected to perform well. but things don't go as planned. Then it is difficult to come out of that phase where players doubt their abilities. In that situation the players need space to reflect on their performance. This can happen to any team so we are not even talking much about it. The players have to have a positive attitude to come out of a situation like this.
The players perform well in the nets, they have the potential. Converting that potential into performance is what coaches need to think about.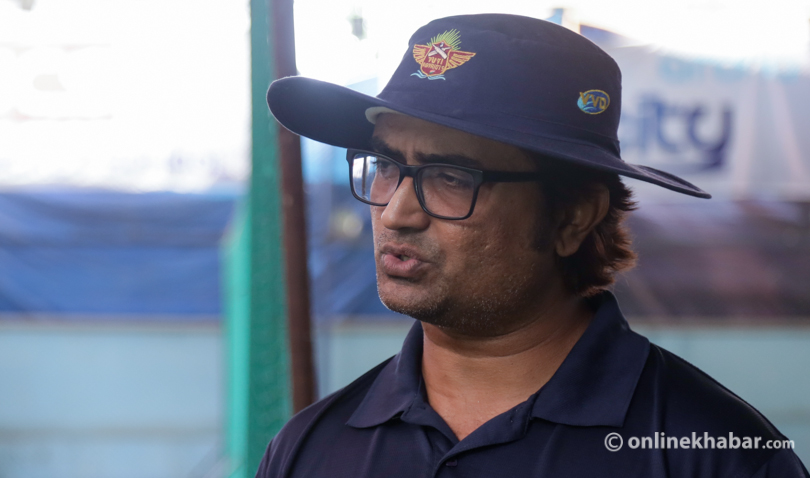 Do you think the players are getting the 'space' you were talking about ?
We recently conducted a workshop to make the players aware of what a successful bating unit needs; we talked about mini-partnerships and getting runs together. The last two matches we played against the national side, we got to see some of that. In one of the matches, we were 6/2 but the batsmen played well, one of the openers anchored the innings and we got close to winning. What I saw was that the batsmen improved their footwork.
So, we are that the players are better equipped to take decisions. We want to add one more area on their 'wagon wheel' to score runs.
We have seen over the years that Nepali batsmen play a lot of dot balls in the middle overs.
Yes, you are right about the dot balls. We are working on it. The number of dot balls may remain the same for sometime but what we are looking at is footwork and improved position of batsmen at the crease so that they can find the gaps in the field and score runs.
Is it also because the batsmen are used to playing on a slow wicket like the TU ground?
That could also be one of the factors. On a slow wicket you have to stick around for some time and play cautiously. But on a flat batting track, you need a different style of batting.
The other thing is the number of T20 games being played in Nepal these days.
Let's look at an example. If one particular batsman plays 50 T20s and just 10 one-dayers, it will be difficult for him to switch gears. It will affect his decision-making, it will affect the way he attacks the ball. In T20 you don't care a lot about dot balls because you are dealing in boundaries, but in 50 overs, the singles, especially in the middle overs are really important. The other thing is that in T20 there are four fielders inside the circle stopping singles, but in 50 overs, there are five players, and it makes it difficult to get singles when the bowler is holding his line.
In you observation, what is the main weakness of the team?
I would not say weakness, but the next thing Nepal needs to do is improve the ecosystem for cricket. For example, let's look at India. The IPL has been around for 10 years now. As part of the IPL, local players are getting the opportunity to play with senior national and international players, and there is lot of mentoring and knowledge-sharing that's going on. India now has a three-tier team structure with the U-19, the 'A' team and the main team. Anyone from the lower tiers can be ready to play for the national side. The lower tier teams also go on tours and the players get to develop their leadership skills as well. That's what we need in Nepal as well.
In Nepal, you have defined passion in the right way, even when there is not lot of money coming into cricket. I see the passion in the players. If I tell a player to train the whole day, he will happily do it. When Pradeep Airee was sent to Mumbai by Pubu, he was training in the nets one day without wearing a helmet. As the light was not good, I told the bowler, who bowls at around 120 kmph to bowl length balls so that he can drive. But he ended up bowling a bouncer and the ball hit his head. I was so nervous. But Airee, the character he is, was up and ready to bat in a matter of seconds.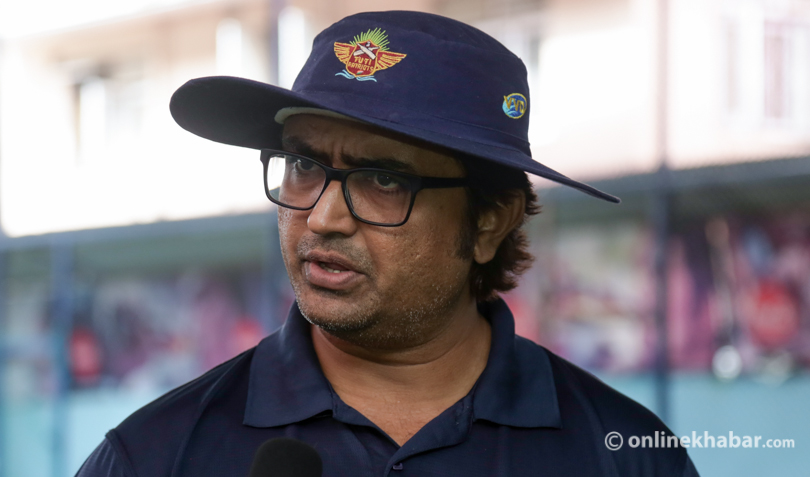 So, the work ethic here is terrific. You need to store these qualities somewhere.
Although you are batting coach, you have said you have a soft spot for bowlers, who are unfairly considered 'second-class' cricketers these days.
Let me ask you a question. There are two bowlers, one of them picks up 3-4 wickets while the other gives away 20 runs in his 10 overs. Whose performance is better?
Whenever you show the highlights of the match on tv, you only show the fours and sixes, you don't show a wonderfully-bowled dot ball. I still believe that bowlers make the biggest difference on tracks meant for batting these days. Look at what New Zealand did in the last World Cup, they were taking wickets, the fielders were attacking and that proved to be their winning formula.
So  when Sandeep (Lamichhane) takes those, it would not have been possible if someone else was not bowling good at the other end?
Yes.
In the modern game, the strategy of almost all teams bowling first has been to take early wickets with the new ball and apply pressure on the batting side. But in the case of Nepal, the opposition has managed to do it well as Nepali batsmen get out in the early overs.
I agree. When it comes to the U-19 team, we have acknowledged that the last tournament, but we don't want to hold on to memories. We have identified our opening batsmen and we are not changing them. We have told them not to worry about individual runs and to go for partnerships. Out of seven innings, we just need them to to stay around for over 10 overs half of the time. It wont't be realistic to expect a complete change. We can't  be expecting 70/0 or 100/0 starts. We've told them to get us 60-1 at least, and that's what they did in one of the practice matches.
There are players whose natural game is to go after the bowlers, we do not want to put curbs on that. But we are telling them to take a few balls and decide where they want to hit.
There are players in the squad who have done well at the TU ground, but fail to do the same outside. What is your take on this?
Again, we are jumping to conclusions ourselves, we are judging the players. Imagine someone swimming in a 4 ft deep pool and imagine throwing that person into the deep sea. The person would know how to swim, but he would be unaware of the strategies needed to swim in the sea. That's what happens when junior players get the opportunity to play for the national side.
That's where coaching and mentorship come in. Binod is developing the players as leaders, instead of instructing them, he is asking them questions, and players like Paras (Khadka) and Gyanu (Gyanendra Malla) have taken 2-3 players under their wing.
I am a fan of Nepal cricket. The players here remind me of Mumbai where so many players are putting in hard work to make it to bigger teams. It takes them time to do that, but they keep playing. The talent is here, no doubt. By talent I am not just referring to hitting sixes and fours, time management is also a talent and so is doing the best to your ability in a consistent manner.
You said that you have learn a lot from Pubudu, who has done a lot for the Nepali team. So, will you be ready to take up a full-time job as the batting coach of Nepal? It would also be some sort of a generational 'passing down'.
If such opportunity comes, I would definitely like to think about it. I believe that Pubu and Paras have brought the team to this place. There are many countries that want to be where Nepal is right now.
---
Published on September 11th, Monday, 2017 11:45 AM
---
Download Onlinekhabar App. Android click here & IOS click here . Keep in touch with us on Facebook, Twitter & YouTube.