Lying on his hospital bed in 2003, Himal Aryal felt his life was over. He was unable to walk after losing his vertebral column and was going to spend the rest of his life on a wheelchair.
But Aryal, who wanted to change people's perception on how they see 'differently abled' persons, showed immense mental strength to become a source of inspiration amongst his peers.
The dream achieved and shattered
Born in Gulmi, Aryal always wanted to become an army man, which is why in 2001, the 18-year-old joined the national military force. "The Maoist insurgency was at its peak and the rebels were attacking security forces throughout the country, and I wanted to help my country. But I never thought that I would also be one of the casualties."
After two years of his recruitment, Aryal with his mates was on a truck on the way to Makawanpur when a landmine exploded, throwing everyone in the truck in the air. "I was on the ground and felt an awful pain in my body. Everyone was on the ground wounded and in a lot of pain. Thankfully, an army helicopter rescued us and we were brought to Kathmandu."
A week later, he woke up at the Army Hospital in Kathmandu and found out that the attack had left his lower body paralysed. "The ambush has finished my army career. The doctor said I had a broken T-12 vertebra which meant that walking again was impossible. All my hopes and dreams were shattered."
A dream was shattered, but the life was not over yet.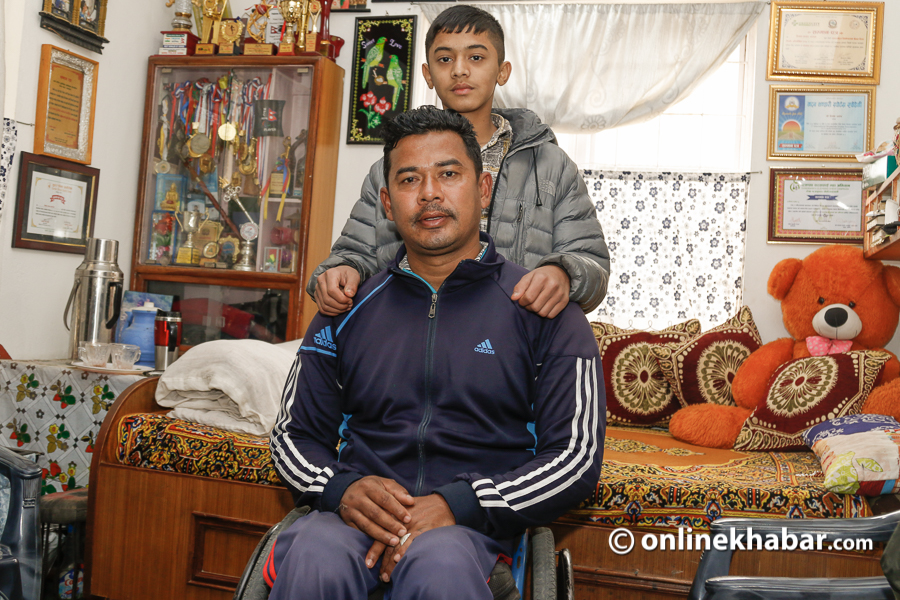 The reconstructed dream
He spent nearly four years in the hospital where he convinced himself that he wasn't going to walk again. "It was hard for me to come to terms with my injury but I had to. Hence, I decided to go home to reflect on life."
But that didn't go quite well. When he returned home in a wheelchair, everyone talked about him being a 'cripple'. "People who respected me now took pity on me. Even my parents were unsure how a disabled son would take care of them. It was a painful time."
Aryal, however, didn't let that come in the way of his recovery. While in hospital he picked up a few hobbies to keep him occupied. "I started to paint. It helped me focus on something. If It helped a lot."He also tried his hand at singing and playing the guitar. "When you can't move around as you please, you do need things to occupy yourself."
But as he started to get better, he also started gaining physical strength. He started to meet his fellow differently abled soldiers, who told him how it wasn't the end of the world and that he could still participate in various sports. He adds that if he had not been sent to the Nepal Army rehabilitation centre in Bhandarkhal, he would have never overcome the mental hurdles required to become an athlete.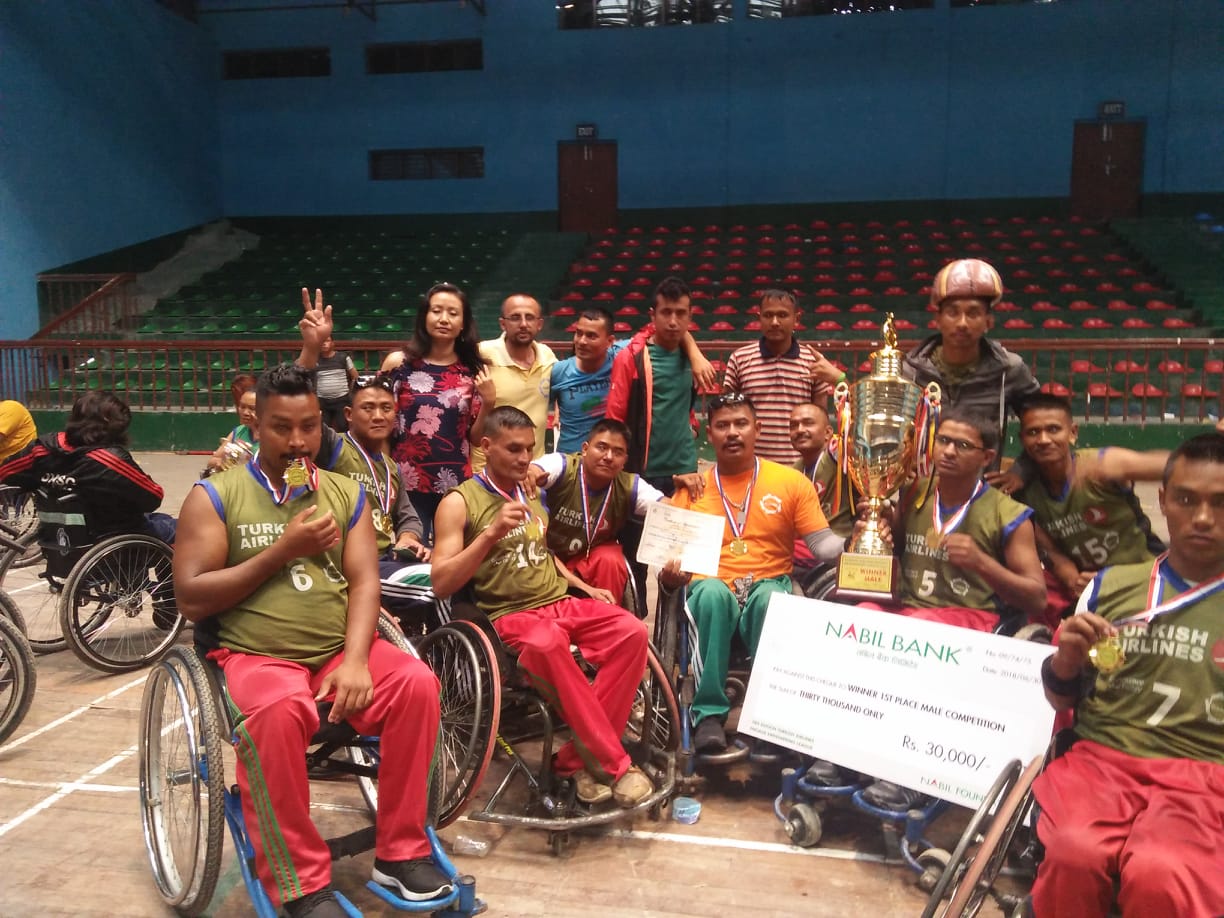 Journey into professional Paralympics
There he met Man Bahadur Lopsang, a member of the International Paralympic Committee, who gave Aryal and his fellow mates the added confidence which proved quite vital. "If he had not pushed us, we wouldn't have been in this position."
Aryal then started to train for weightlifting events. In 2010, he participated in power lifting events in China. That event proved vital because it not only gave Aryal exposure but also a belief that if they could win medals being disabled, so could he.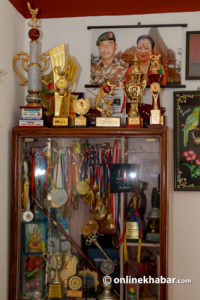 Coming back from China, he urged his 'disabled' colleagues to form a basketball team and started to train every morning. "We didn't know where we were going with it. But, as we didn't move much sitting on our wheelchairs, the sports played a key role to keep us fit."
He became the captain of Nepal Army's wheelchair basketball team. "Our team is quite strong. We've been winning for many years now and most members of the national team are from the Nepal Army."
Adding to the nation's pride
He is also the captain of the national team and has taken Nepal to Bangladesh for a tournament, during which they came second. Under his captaincy, his team has also beaten India, which he feels is a great achievement. "Beating India in any sport is great given the infrastructure they have as compared to us and I feel quite proud about it."
Aryal adds that the desire to do well and prove themselves was the driving factor to train everyday even though they didn't have a proper coach. "I've been working as a player and a coach for both the basketball and the cricket team."
He shares that he pushes his team quite hard. He says he does that because he knows that his team cannot get complacent. "We won medals by working hard. If we want progress, we have to work hard. Else we will not win games."
His team also won the International Wheelchair Basketball Tournament last year. He, however, complains that the government or stakeholders did not give much importance to it. "All medals and international recognition for the nation hold equal value whether they are brought by 'abled' individuals or 'differently abled'."
However, Aryal does feel that the disrespect he used to get from people around isn't there anymore. "While going to the barrack in Chhauni, some little boys used to talk a lot of bad things, but now that they know who I am and treat me with respect. This sport has given me a lot. Even my parents aren't as sad as they were before. People know me through this wheelchair."
Aryal shares that if he wasn't in the army, he wouldn't have come so far. "They helped me both by taking care of me and my family, for which I'll be forever grateful. They didn't let me sit down and blame my destiny but asked me to fight my inner demons. If they hadn't done that, I'd have remained confined to my wheelchair, feeling sorry about myself."
---
Published on December 6th, Thursday, 2018 12:10 PM
---
Download Onlinekhabar App. Android click here & IOS click here . Keep in touch with us on Facebook, Twitter & YouTube.