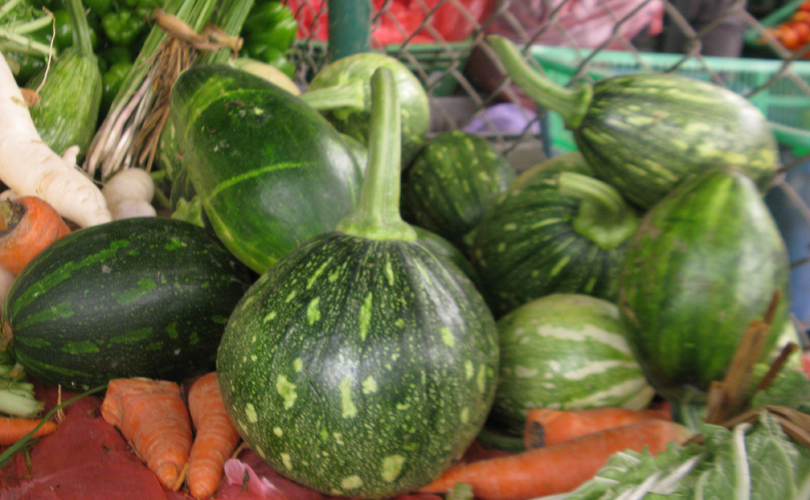 Let food be thy medicine and medicine be thy food. — Hippocrates, father of medicine, 431 BC
As a green vegetable, zucchini (also called courgette in France and vegetable marrow in UK) or hariyao pharsi in Nepal is a very common vegetable eaten worldwide.
Zucchinis can be eaten: raw, boiled, sautéed, grilled, baked, stuffed, you name it. You can even use its flowers as an appetiser by dipping it into a batter and deep frying it, a Japanese dish called "tempura".
Zucchini is often cooked in Nepali homes.  It is easy to cook as a curry—no need of peeling, scraping or seeding it, just rinse the whole plant, chop to size and prepare it. Some like it as a plain curry; others prefer it cooked with meat such as mutton, chicken or buff jerky to make it more savoury.
Genetically belonging to a fruit family of squash, cucurbita pepo (including pumpkins and cucumbers) and also called summer squash, zucchinis are elongated in a cylindrical shape measuring 6 to 12 inches with a dark or light green soft smooth thin rind and a buttery white pulp with soft seeds. Some are speckled.
There are green speckled rounded or pudgy shaped squash too, called kainda farshi in Nepali and chikan fashi in Newari.  The present text focuses on zucchinis proper typical of cucurbita family.
Zucchinis can grow to a length of more than a metre but are largely harvested young because they are softer and taste better when immature.  Rare in Nepal, light golden coloured zucchinis are more native to western countries.
Going by history, zucchini is said to have its origin in Central America, especially Mexico and believed to have been introduced in the Mediterranean (Italy, France, Greece, Turkey, Spain, to name a few) by Christopher Columbus some 500 years ago.
Zucchini, a derivation of Zucchino, an Italian word, meaning a small squash, was introduced in the United States by Italian immigrants in the early 1900s.
Often overlooked by most, I, too, did not care much about this unremarkable looking vegetable cooked at home. It was amazing to know that this not-so-remarkable vegetable, in fact, had a rich nutritional profile and a host of incredible benefits. Let's take a look at the nutrition facts of zucchini in the table below.
Zucchini Nutrition Facts

Serving Size: 3.5 ounces (100 grams), with skin, raw

 
Amt. Per
Serving
% Daily
Value*
Calories
16
Calories from Fat
2
Total Fat
0 g
0%
Saturated Fat
0 g
0%
Trans Fat
Cholesterol
0 mg
0%
Sodium
10 mg
0%
Total Carbohydrates
3 g
1%
Dietary Fiber
1 g
4%
Sugar
2 g
Protein
1 g
Vitamin A4%
Vitamin C
28%
Calcium1%
Iron
2%
Source:  foodfacts.mercola.com
Let's take another look at the scores of benefits we can obtain from zucchini by including it in our staple diet.
Weight loss
Good news for those who are keen on losing weight. No need to jump to a crash diet plan. Incorporate this simple vegetable in your staple diet and shed the unwanted pounds. Incredibly low in calorie, it is high in water content (95 per cent) and very rich in fibre. This way you gain three things:
* You can help yourself to liberal helpings of this vegetable, which induces less craving for food and also replaces the need to have other calorie diet.  On the other hand, its low calorie count helps you to burn it off easily.
* Its high dietary fibre content cuts the extra fat in your body.
* Its extremely high water content keeps you amply hydrated.
Good for heart
A healthy heart needs potassium to maintain a steady heart rhythm and to keep the blood pressure in control.  "Having the right amount of potassium is critical for the heart to beat properly," says cardiologist John Day, MD, who specialises in heart rhythm disorders at the International Medical Center Institute in Murray, Utah.
Amazing as it may sound; zucchini contains more mineral potassium than a banana. The rich potassium content in zucchini (295 milligrams per cup, or 8% of your recommended daily value) helps you neutralise the adverse effects of excessive quantity of sodium (salt) in our body and controls blood pressure. Devoid of saturated fats and cholesterol, the high percentage of manganese and vitamin C in this vegetable strengthens the heart.
Helps control diabetes
Very low on glycemic index and with negligible starch content, zucchini fights off diabetes, especially the type 2.  Rich in B-complex, zinc and magnesium, this wonderful vegetable helps breaking down the sugars in our body. In the mean time, its ample fibre and pectin content stabilises the blood sugar level.
Zucchini, a veggie that combines the nutrients of both vegetables and fruits, is also a good source of vitamin C, vitamin B1, vitamin B2, vitamin B6, dietary fiber, little amount of omega-3 fatty acids, niacin, zinc, protein, beta-carotene, antioxidant properties, calcium, riboflavin, and so on. All these fantastic properties:
*Attenuate colon cancer conditions
*Alleviate and prevent osteoarthritis, asthma, and rheumatoid arthritis
*Enhance eye vision; remove puffy bags under the eyes if applied externally
*Alleviate symptoms of BOH—prostatic hypertrophy (enlargement of the prostate gland)
*The calcium content in zucchini strengthens the bones and the teeth
The message is loud and clear that zucchini is a nature's prescription for us to fight off life-threatening diseases like heart failure and diabetes—the cause of death for millions each year.
Side-effects
There are no known side-effects of zucchini. In rare cases, bitter zucchini may contain toxicity. It is better to taste it before cooking or consuming raw.
Wow! The more I researched about this vegetable, the more overwhelmed I was. This wonderful vegetable is nothing short of a huge storehouse brimming over with every conceivable essential nutrient you can think of.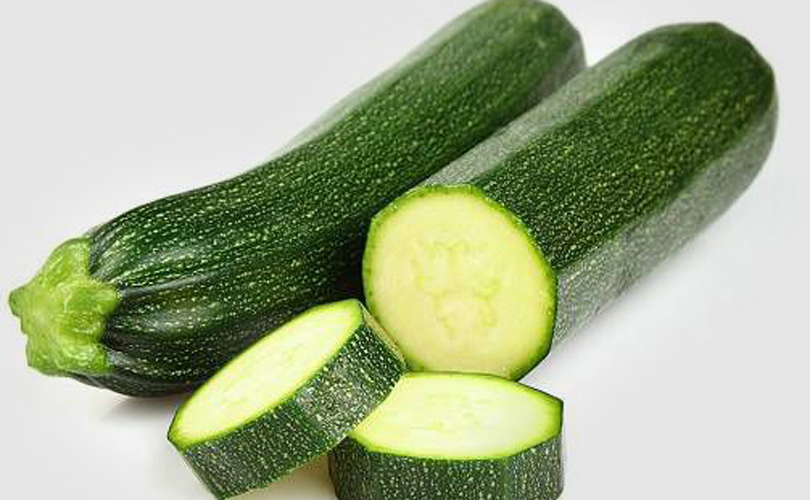 Being a food lover, I tried my hand at preparing a raw zucchini salad, which took me hardly 15 minutes. Surprisingly it tasted very good and wholesome.  Would you like to try it, too? Here you are:
Raw Zucchini Ribbon Salad 
Serving: 4 persons
Ingredients:
* 1 table spoon of olive oil
* 1 ½ teaspoon of lemon juice
* ½ teaspoon of freshly ground black pepper
* Two medium-sized fresh zucchini (fresher the better)
* 8/10 number of black olives (cut in halves)
* 1 ½ tablespoon of grated cheese (preferably parmesan or cheddar)
* Salt to taste
Preparation
Unless you are a stickler for organic stuff, for a thorough cleaning, soak the whole squash in a vinegar solution (to wash off pesticide/fungicides) for some time and then rinse in running tap water giving it a vigorous scrubbing.
Using a vegetable peeler, slice the fruit (with its rind intact) by working from top to bottom into thin ribbons. Place the zucchini ribbons in a bowl, add pepper, lemon juice, olive oil and season it with salt. Now throw in the halved olives, sprinkle the salad with the grated cheese and give it a vigorous toss.
Voila! Your nutrient-packed ribbon zucchini salad is ready to be served.
Singh is a 65-year-old outdoors man, lost in his own little adventures. Interests?  It used to be hunting; it stopped during the Maoist insurgency. Then came fishing followed by mountain biking. So, his passions are writing, mountain biking and fishing. Ambition?  Ride his mountain bike from Beni, Baglung, to Lo Manthang and Upper Mustang.