At a flat in Kathmandu, Darshan Pokharel, Prasanna Bajracharya, and Sushil Sapkota along with their team at Untitled.np are working tirelessly on a music video. With them is one of Nepal's most popular rappers, Chirag Singh Khadka also known as 5:55.
It is late, and they have shot all night. The video is about hallucination after having 'magic mushrooms', a concept hardly seen in Nepali music videos, and they are working very hard to pull it off. After the video shoot is done, the team then goes back to their studio to work on the animation, which is done by Rasik Shrestha and his animation team. After working hard, the video is done and released via Khadka's channel. The video has over 3.3 million views.
"We want to do something different," says Darshan Pokharel, the founder of Untitled.np. "Create content that is not stereotypical and bring change to the industry… because people like us, we're not treated with the amount of respect we deserve."
Through Untitled.np, Pokharel and his team want to create a community of artists from all walks of time and create content that hopefully will put Nepal on the global map. They want to build a community in a bid to learn from each other and to ensure that people don't con them by exploiting them.
Great start, greater goal
To date, the team has done projects for artists like Sajjan Raj Vaidya, 5:55 and Nasty and have also worked on multiple commercial projects including a recent one for Nepal's first electric bike Yatri. But, the aim to go big. With the slogan "from Kathmandu to the world", their aim through the community is to go global.
"We've only started and the response has been great, but we have a long way to go," says Pokharel.
Untited.np officially started last year, but the idea had been inside Pokharel's head for a few years. Pokharel, after he shot Anushka Shrestha's Miss World video, rose to fame in Nepal. Having only come back from living in the UK with his parents, he was shocked by the response.
"It was just a simple video about Nepal. I felt weird when people started applaud me for something so small," he says.
That made him insecure. He had high hopes and wanted to make it big and definitely did not want to be stuck up on a few seconds of fame even though it received an award at the Miss World pageant.
He wanted to do something big. With that thought, he started to look for things to do in Nepal. He started searching for his one true purpose.
That came to him after doing a few projects in Nepal. By the time he was 18, he had already worked for a few international agencies. He had worked in Dublin, London and Dubai where he had shot commercial videos for various agencies including some renowned freestyle footballers.
Frustrations and fighting back
But, when he started to work in Nepal, he started to see how bad clients treated content creators like him.
"In less than a year, I was fed up with the industry," he says. "They like extracting things out of you for free while they reap all the benefits. That kind of pissed me off."
That is when he dreamt of creating Untitled.np and building a community around it. For that he met a lot of fellow content creators and talked to them about his vision and his goals. He met with dozens of people. But, in the end, only a few called back.
"It was disheartening at first, but I felt that those who called back genuinely cared about the project and believed in me."
Then, they started to work a little over a year ago and since then have worked on eight music videos and six documentaries. With every project, the community is growing too as people are buying into his vision of learning from one another and helping each other evolve in their respective fields. There are 30 of them now.
"We have people from all backgrounds. We have rappers and musicians, stunt artists, photographers, designers: all working and learning from each other. It's quite a holistic environment and we love it."
Expectation vs reality
They sit together, listen to the song and conceptualise a video right after listening to it. Each person brings an idea, which is then discussed further to see if it is at all possible to do it in Nepal.
"We don't promise things we can't do because, here in Nepal, we have limited resources and spaces where we can shoot."
That said, he does feel the clientele in Nepal needs to show a bit of respect and put their money where their mouth is. Like many content creators and freelancers who work for companies in Nepal, Pokharel too feels that companies need to pay what is due to the creators for their effort.
"They talk a lot without having any money in their bank account. And, when it's time to pay, they tell us, come another day," he says. "There has been an instance where I've had my number blocked by a client. How poor is that from their part? Its basic decency which they lack."
That was one reason why he started Untitled.np, to educate content creators that they are worth a lot more than what people value them for.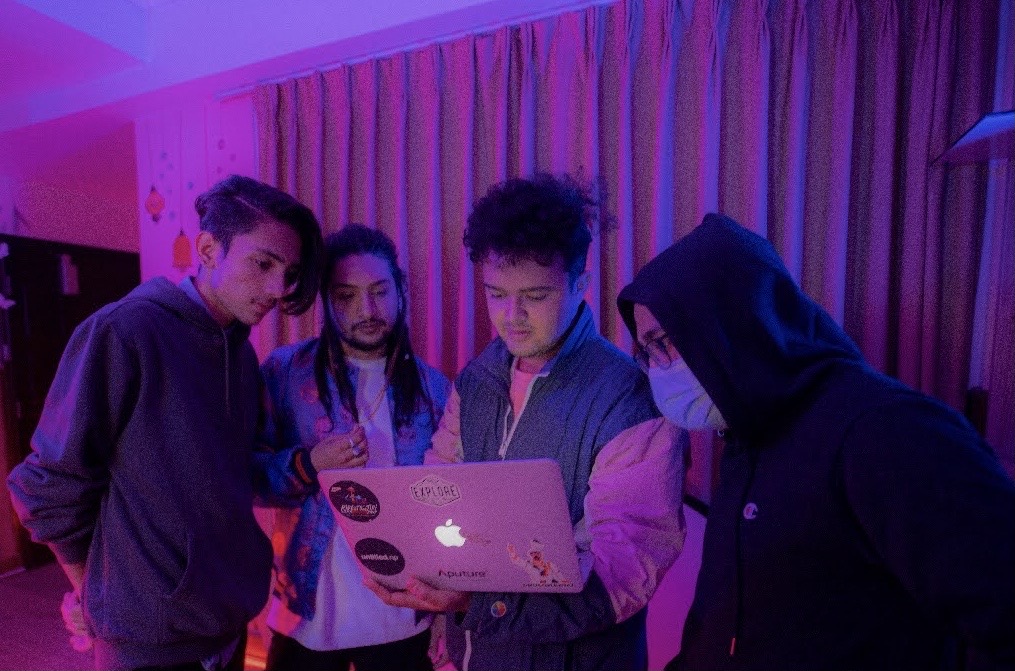 But, they want to let that slide for now because they know that if they continue to put up one great content after another, they will be in a position to choose projects.
"We want to release 50 videos and see where we go from there," he says. "All we need is for one video to blow up and after that, we can be sustainable."
After working with a lot of rappers, now they want to work with other artists too who have been under the radar. Pokharel says that they want to even work with superstars becasue that will help the lesser known artists get some views too.
"It is disheartening to see people who are so good get only 2,000 views. We want to create a space for them and promote them because Nepal has talented people who have the ability to make it big."
They know that it's going to take time to make it big. But, for such a goal-oriented team, its just a matter of time.
"Even during this lockdown, we're working on a few things. We're not going to stop because this is just a beginning and we have a long way to go."