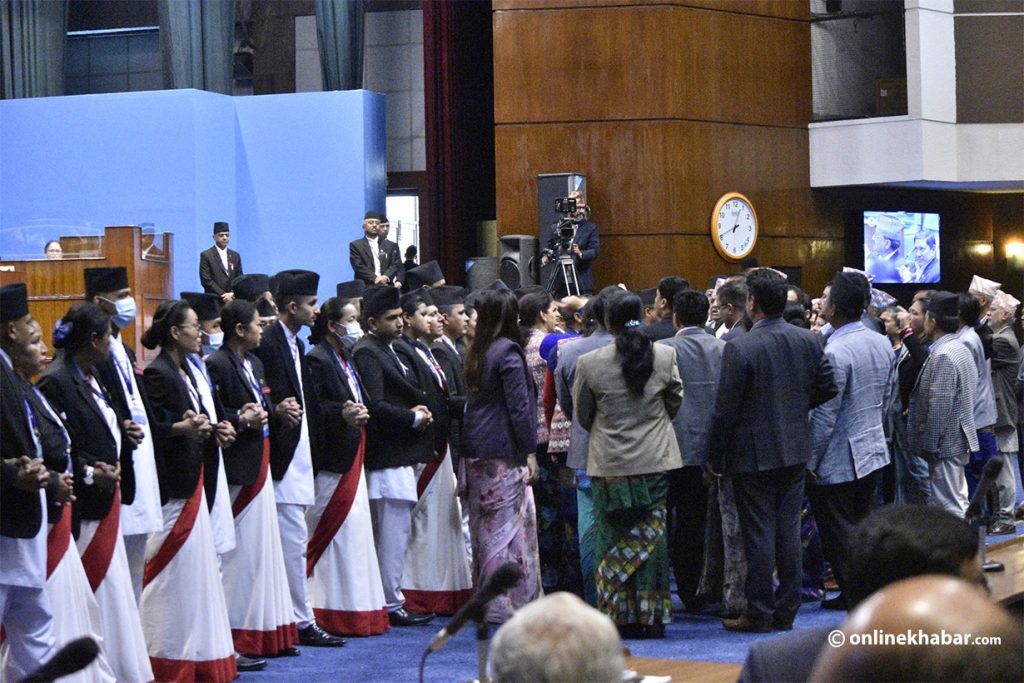 Kathmandu, May 26
The meeting of the House of Representatives (HoR) which was adjourned following a protest by UML leaders could not resume on Friday.
Speaker Dev Raj Ghimire had to postpone the meeting at 12:45 pm after the main opposition UML lawmakers obstructed it.
Speaker Dev Raj Ghimire has scheduled the next meeting for 4 pm on Saturday.
Lawmakers from the main opposition party stood from their seats in protest and obstructed the meeting at its outset, saying the session could not start until the government clarified whether the jalahari installed at the shrine of the Pashupatinath Temple is made of gold or brass.
A jalahari is a passage made at the bottom of a shiva linga for the water (or milk) poured on it to flow out.
They said the House could not proceed ahead with the day's business unless the government responded to the allegation made by Maoist leader Lekh Nath Dahal about the jalahari installed at the temple was made from brass and not gold.
UML leaders were irked as their chair KP Sharma Oli was the prime minister during the time.
The UML argued the session could not move ahead until the government investigated whether the jalahari at Pashupatinath Temple is made of gold or brass
There are also allegations stating around 11 kg of gold disappeared when creating the golden jalahari.
The Supreme Court had also issued an interim order on the day the jalahari was installed stating nothing could be added to an archaeological site.