When Ulrich von Schroeder came to Nepal in the summer of 1965, he was instantly drawn by the stone sculptures in the Kathmandu valley.
He had come to Kathmandu overland from Switzerland. Having passed India on the way to Nepal, Schroeder had already started to notice all the stone sculptures in the subcontinent. But, when he came to Nepal, he was captivated by them.
"I'd rent a bicycle and roam around the streets of Basantapur, Patan and Bhaktapur," recalls Schroeder.
A visual-oriented person who was into photography, Schroeder, went around the valley clicking pictures of these stone sculptures especially those from the Lichhavi era. He was deeply interested in them and he wanted to study them. But, with no one to help him, he left Nepal knowing he would come back.
Since then, he has come to Nepal over 50 times to gain additional knowledge about these stone sculptures and in turn document them. As a result, Schroeder has published an over-1,500-word comprehensive book about the stone sculptures in Nepal, both Hindu and Buddhist, titled Nepalese Stone Sculptures.
Documenting past, for the future
"This is my gift to Nepal and its people," Schroeder, who is currently in Kathmandu at an invitation of the Museum of Nepali Art, says. "This might not be relevant now, but in 50 years or a century, it will be and that's when people will realise its importance."
Schroeder is not new to the documentation of ancient sculptures. He has been writing about them since the 1980s. His first book was 'Indo-Tibetan Bronzes' written in 1981. He claims this to be the first monograph on the stylistic and iconographic development of metal statues in the Indo-Tibetan cultural region. Then, in 1990, after seven years of research, he published 'Buddhist Sculptures of Sri Lanka'.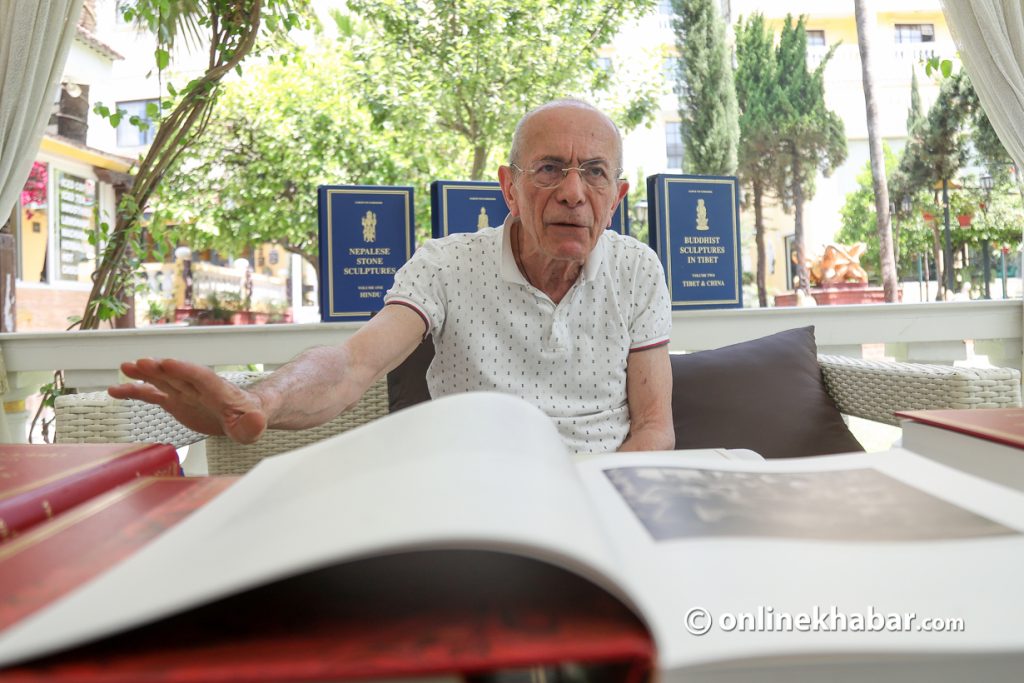 His work continued as, in 2001, after nine years and 14 expeditions in Tibet, he published 'Buddhist Sculptures in Tibet', illustrating in two volumes more than 1,100 previously unpublished sculptures discovered in Tibet. The first volume documents sculptures from India and Nepal in Tibetan monasteries. The second volume illustrates Buddhist sculptures made in Tibet and China.
"I've always liked doing this. I'm fascinated by them, but my primary goal has always been documenting them."
Works on Nepal
During the visits to Tibet, Schroeder always passed through Nepal meeting the likes of artist Lain Singh Bandel, archaeologist Surka Sagar Shrestha and photographer Sunil Dongol. These people gave him more information about the sculptures he asked about and also told him about more.
"As a foreigner, I could not go to Hindu temples. In Tibet, I got into the Potala and Jokhang, but here, I knew I had to respect the people and their faith, which is why I owe a lot to Sukra Sagar, to whom these two volumes are dedicated."
Shrestha also helped him take photographs of some of them. As a result, the two volumes have nearly 2,000 illustrations of sculptures, most of which have been reworked.
"Some pictures I received were so bad I had to pay a good amount to work on them."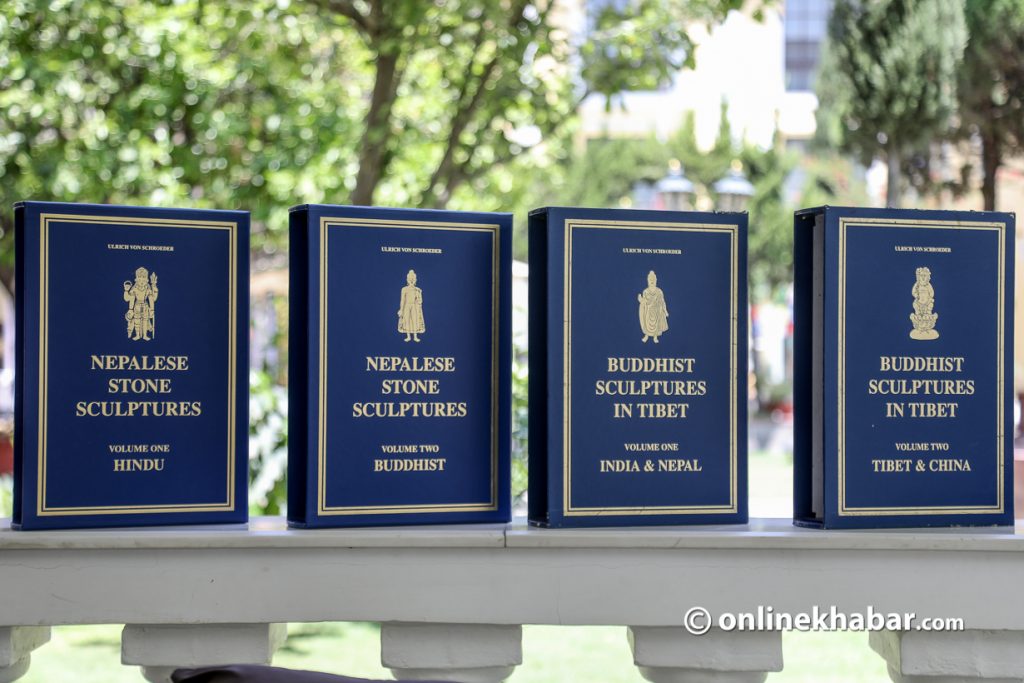 Apart from the 2,000 illustrations in the book, there is an SD card at the end of the second volume, and it has over 15,000 photographs of stone sculptures, which, he says, are in the public domain as he wants everyone to have access to them.
The reason he says is he wants to make things easy for the future generation so that they will have the difficulties researchers like him had.
"For those who want to do research or write a book on a specific stone sculpture, they can go through the book and start their research. I'm sure it'll be helpful for them."
On stolen artworks and their recovery
But, what makes him sad is when he revisits some of the places he visited in 1965 as some of the stone sculptures are missing. They have been stolen and taken away from Nepal. He says that it was a regular occurrence as sculptures, both bronze and stone, were taken to the West right under the nose of officials at the airport.
"No one did anything about it. No one cared."
But, through his books, he wants to change that. Also, he is positive that documentation of the sculptures will help everyone.
"With this book, the market for Nepali stolen art is dead," he says. "The sculptures listed on this book will not sell anywhere. No auction house or museum will buy them because they will know where it came from originally."
The reason he is so confident is most of the museums in the West will have to do provenance research to trace how the piece entered the museum.
"When that happens, things will come back naturally."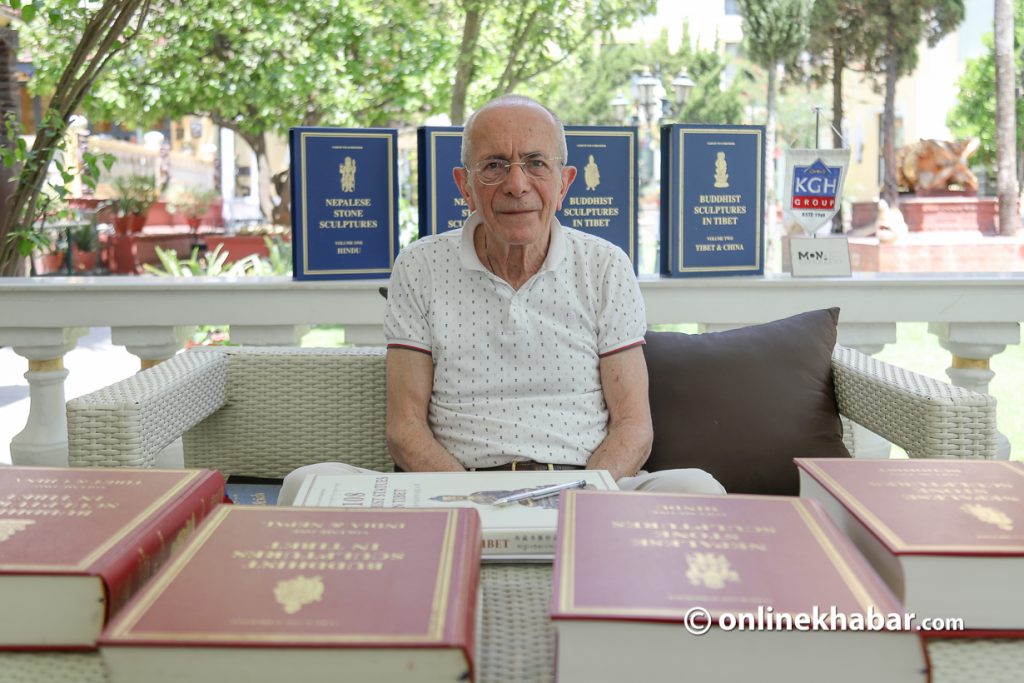 This is why Rajan Sakya, the founder of the Museum of Nepali Art, has called the two volumes of Nepalese Stone Sculptures the best documentation in the history of Nepal. 
"This book is like the Ramayana and he is Valmiki," says Sakya. "We need to recognise and appreciate people like him. His legacy will outlive him."
Schroeder is also giving the book to a few Nepali scholars and government bodies as he wants Nepalis to use it as well. In return, he wants nothing because this is what he likes doing.
"This is my legacy."
Even at 78, he is still working, this time on Nepali bronze statues. Even though he knows a lot has already been stolen, he is aware that there are a lot in Kathmandu valley that are interesting and are worth documenting. And having done the book, he knows where they are.
"I can't do it during Covid. But, I'll be back. There is a lot of work that needs to be done and I'm already excited about it."