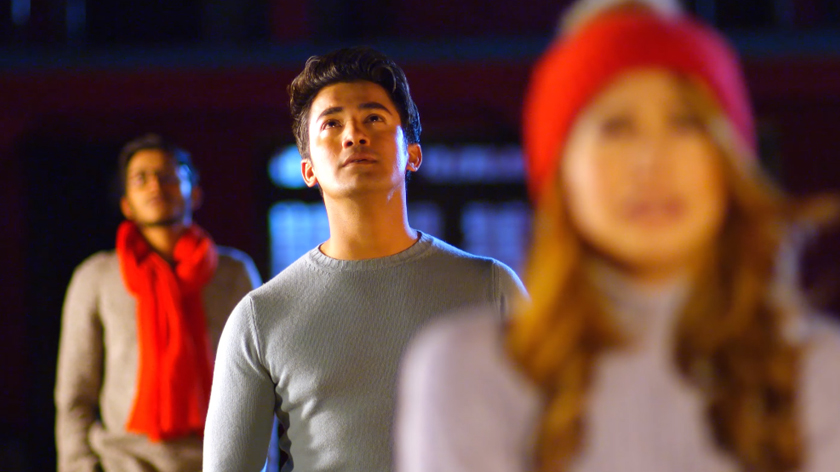 The story revolves around three characters, all from different walks of life destined to travel together. Niti (Samragyee RL Shah) is an NRN visiting Nepal for the first time and she meets Shuvam (Aakash Shrestha). He is her guide for her trek to Poon Hill. Bharat Raj Mishra (Najir Husen), an unusual trekker from Terai with his own personal mission, meets Niti and Shuvam on the way. During their journey, they go through unexpected love and emotions with each other.
Beginning of the movie Timi Sanga along with the first half is enjoyable as romantic comedies generally are; but there is a feeling that the director got carried away in the second half and stretched it too long. The actors have done a steady job trying to connect with the audience, but they fail to materialise in the second half of the film. One could sense what was coming because the second half of the movie plays on a similar narrative old Hindi movies used to play with corny dialogues in the forefront of it all.
The actors have done a decent job in the film. Fan favourite Samragyee Shah looks to be in her zone playing the role of an NRN. Acting as the lead in her third film, she has come a long way since her debut movie Dreams. Her attitude stands out in the film along with her acting in some of the emotional scenes.
Najir Hussain like always is brilliant with his witty acting and powerful dialogue delivery. One can't help but feel that without him and his constant jokes, the movie would have been difficult to watch.
Acting in his second film, Aakash Shrestha also looks in his zone as his chemistry with Shah stands out. But there are times his inexperience shows especially during some emotional scenes. That said he also needs to dance better if he wasn't to be a versatile actor.
The actors, however, have been let down by a poor script. The storyline has been thought of well but the dialogues are not as good. Some are witty and makes you laugh but most are frail and uninspired.
The film is over two hours long thanks to a number of songs, most of which are futile and drag the movie making the audience restless. The song 'Man Ma Ago' was needless and maybe would have been popular a few decades ago. Romantic movies do need songs but apart from 'Ladyo Ladyo'. The rest of them are below average along with the background scores.
The cinematography is good given it was shot in such picturesque destination around the Annapurnas. However, they have done nothing new in the film and one can notice 'grains' during some night shots which makes it clear that the director didn't give enough attention to details. Along with that, dubbing is equally bad as the audio isn't in sync with the visuals.
Influenced by romantic Bollywood films, the movie isn't a bad watch. The story is good and is engaging thanks to some fine acting by the cast. But with better planning and a shorter script, it could have been much better.
Timi Sanga
Genre: Love story
Director: Shishir Rana
Cast: Samragyee RL Shah, Nazir Hussain, Aakash Shrestha
Being screened at cinemas near you