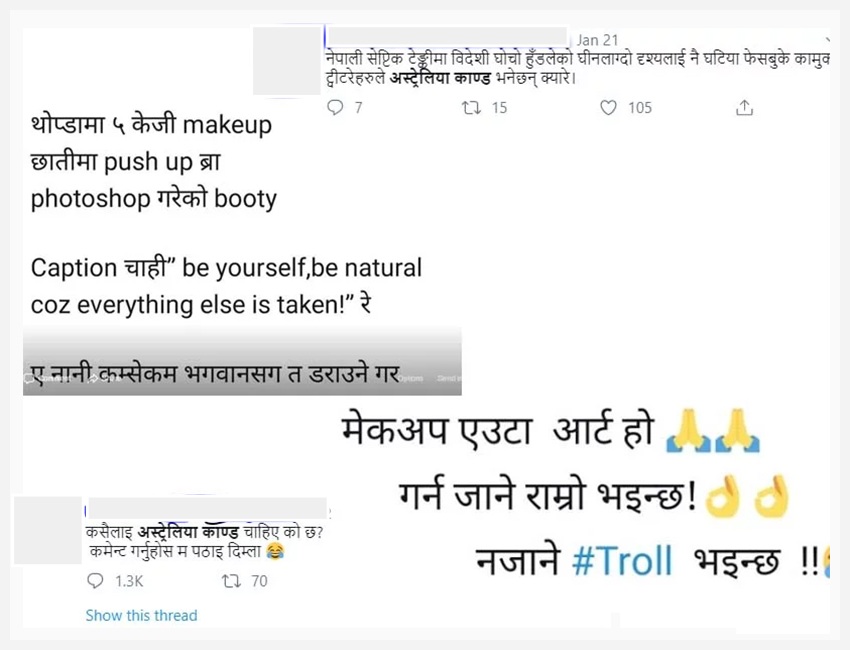 "Kasai lai Australia Kaanda chahieko chha? Comment garnuhos, ma pathaidiula. (Does anybody want the Australia Kaanda? Comment and I will send it to you.)"
The above statement appeared in many tweets in the second half of January. Many social media users, by now, have already known that it was all about a pornographic video supposedly of a Nepali woman residing in Australia. While the girl in the video has been assumed to be a Nepali, it is unsure whether she is indeed Nepali or not.  Some of these kaanda-wala posts have been responded with thousands of comments.
Leaked sex videos often easily garner such attention in Nepal and are labelled as 'Kaanda', which translates to 'a scandal'. There have been many kaandas among social media users in Nepal in the past few years, and most of them resemble the recent Australia Kaanda. The reactions to the videos are also not much different.
Irrespective of how the videos are leaked, the consequent reactions victimise girls or women appearing in such videos as they are subjected to trolls, memes and sexist jokes, suggestive or offensive comments, and moral policing among others. But social media users do not care about it. Though sexist posts and remarks are spontaneous and casual on social media, they demonstrate such behaviours are deeply rooted in the society's sexist prejudices and have already been institutionalised, believe experts and activists.
Control of women's sexuality
Such mannerisms are not limited to Kaandas only. These are ubiquitous on social media platforms such as Twitter, Facebook, YouTube, and Instagram among others, attacking specific women in particular, but women in general.  
Santosh Giri (Gurung), a lecturer at the Department of Gender Studies of Tribhuvan University, says the language used in social media reflects how patriarchy controls women's control over their sexuality. Such language may stem out of a joke or out of hate, but the expressions have been undermining women since the development of human civilisation, she argues.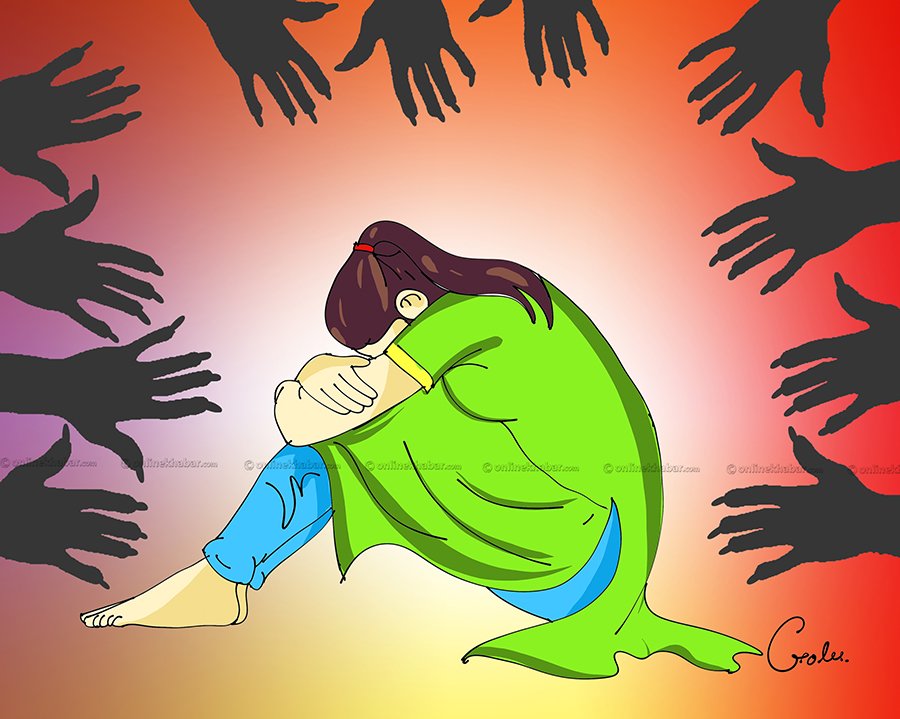 Men tend to either joke upon women or raise moral questions whenever women think or talk about their sexualities. While they can be expressive of their sexuality, women are supposed to be bounded, Giri says, adding the sexist social media posts are also a part of that tradition.
"It is all about the male ego," Giri says. "Women have been treated as sexual objects and child-bearing machines.  Men with traditional patriarchal mindsets believe in the differences between masculinity and femininity, and objectification of women. The language oriented towards such perceptions devalues women and only seeks to control the sexuality of women."
She believes that men have not been able to stand the women who have broken the traditional roles and hence express their intolerance through bully, teasing, hate or revenge. Men also bear hatred towards women when women oppose or resist their approach.
Sanjog Thakuri, a feminist activist, says, "The rights related to sexuality are still one of the least debated issues in Nepal. Sexism in Nepali social media sphere is toxic and arises from a narrow-minded mindset."  He argues that gender-based abuse is far beyond the binary relationship of men and women, "but people are yet to acknowledge the existence of sexuality of other groups."
He further adds that misogyny is a byproduct of fear of losing power that the patriarchal society has been abusing, stating that women are not only being objectified in verbal manners but also through religious and cultural symbols. "In Terai, rivulets are considered a symbol of a woman, but people erect a stick in the middle of a rivulet supposedly to control its wilderness. What will a girl think about her sexuality when she observes such practice?" he questions, "Won't she think that her sexuality needs to be controlled by men? Or being 'wild' is a bad thing?"
The transitional phenomenon
Men in a patriarchal society feel that they can dominate women from what they learn in the family and socialisation.
Giri says, "If a boy was labelled 'impotent' by his peers when he does not have five or six girlfriends, the boy would try to achieve a status and therefore would take women as objects"
She adds "It always has been the cultural practice, both in the east and the west. The ancient times were dominated by male philosophers. For example, ancient Greek philosophers created a binary opposition between men and women and cited men as superior in many respects."
She further expands her example by citing a couplet from Ramayana, which plainly translates as "Dhol (a musical instrument), low-caste men, domestic animals and women: all deserve a good beating or control." It means the men on social media might have been feeling that they are doing what women deserve.
But, many people believe that the Nepali society is transforming into modernity. But why do the patriarchal behaviours exist even in this digital age?
Giri has an answer to it. Nepali society is still in transition in terms of sex, sexuality and gender roles and the social media posts about such kaandas reflect the confusion, according to Giri. "On the one hand, the Nepali society wants to embrace 'progressive' impacts of development as in the west, and on the other, it has not let go the traditional values."
Thakuri concurs, "The social, cultural and religious propaganda against talking about sex has limited the scope of discussions on sexuality. That is why it is not discussed in the public arena or even taught properly at school."
Difficulty in dealing
Although ignoring such posts can be the best option for women sometimes, ignoring might not be the actual solution. As Giri puts it, sexism needs to be resisted in social platforms before it takes an extreme form.
However, most responses resisting such posts on social media are identical, "Tero gharma aama, didibahini chhainan? [Don't you have mother and sisters at home?]", in a hope that such comments would pinch men to their hearts.
Thakuri views that such responses are effective as their pride and sentiments get hurt when talking about their own mother or sisters. Giri also thinks so, "While men like to point their fingers on others, they are rather protective in case of their family members."
But while women defend themselves by mentioning the perpetrators' mother and sisters, the line has developed itself as a meaningless cliché.
"It is because women are not aware of their rights," Giri suggests. "Maybe they are unaware of their own situations and the idiosyncrasy of their exploitations. There have not been many feminists in the country who would voice women's concerns."
Thakuri believes that the best way to combat sexism is through policy. "Policy on gender equality is important to tackle the narrow-mindedness of society. The issue of sexuality should be debated and discussed in an open platform. Also, the education system should embrace teaching about sexuality and gender equality.