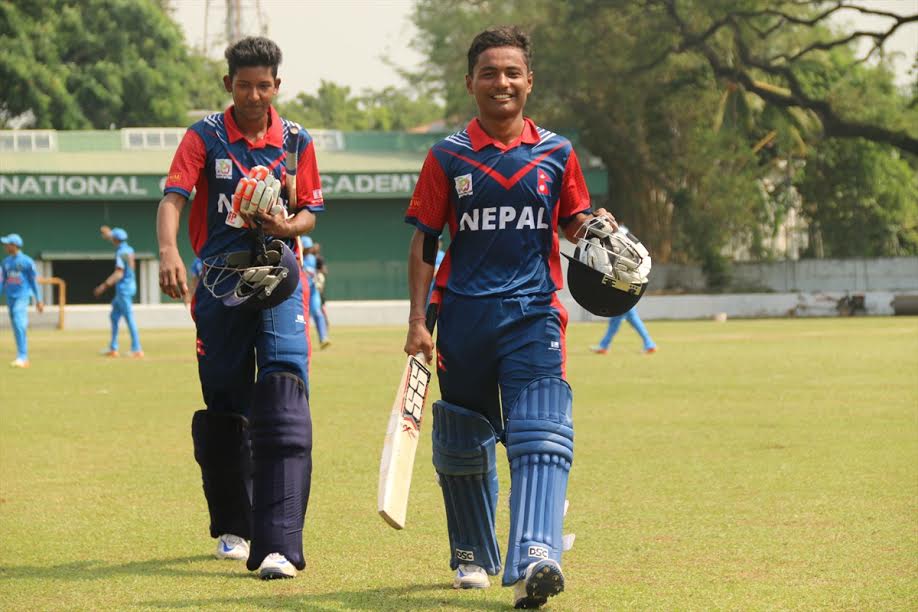 Kathmandu, December 16
Nepal's youth side were handed yet another defeat in the second match of the ACC U-19 Asia Cup in Colombo on Friday.
Indian colts defeated Nepal's U-19 side by six wickets, a figure which looked highly unlikely as Nepal were at one stage six down with just 86 runs on the board.
Although Nepal suffered a heavy loss at the hands of the Indians, Nepali fans will remember this day as the day a number 8 batsman not only made 68 runs against a formidable attack, but also hit three fours and two sixes in the final over. He made faced 98 balls, and remained not out.
Rohit Paudel (pictured right), who was not even selected for the first match against Sri Lanka, guided Nepal past 150 runs, giving the team at least a fair total to defend.
Who is Paudel?
Rohit Paudel, who is from Nawalparasi, plays for Baluwatar Cricket Club in Kathmandu. According his coach Rikesh Lama, Paudel is a genuine allrounder who opens with the bat for his club.  "He has been with the club for over three years says Lama, adding, "He could even make it to the team as a pure batsman. His bowling is equally good, and bowls as the third-fourth bowler for his team."
Lama says he advised Paudel to have a shot at selection from Bhairahawa, and was selected for the U-19 team from the region. According to Western Cricket Academy, where Paudel trained in Bhairahawa, he was mentored by coach Jagat Chhetri.