In the case of an average person, when luck and hard work come together, an uninterrupted rhythm is created. In such cases, even the distant moments of life resonate with a big picture. For Prakash Saput too, life is coming together.
Four years ago, he had neither fame nor glory. His world was small and opportunities were less. Being poor and an 'untouchable' from a Dalit community did not help him either.
But, Prakash Saput did not just accept the fate he was born into; he drew motivation from his experiences too. His options were either to go for foreign employment or pursue his dreams and he found himself at the crossroads. And, he chose the latter and made a name for himself in the Nepali folk music industry.
Diverse dreams
Though life was hard, Prakash Saput would decorate his life with his colourful dreams. It was in his nature to dance, do caricature and joke around.
He would be the first one to sing and dance if there was a wedding ceremony in the village.
He is a singer yet he has many feathers on his hat. He is a lyricist, director, choreographer and actor. He has shown his talents in most of the songs. And, now he is also drafting a book, to publish soon.
As a kid, Prakash Saput used to wish to be a "hero", an actor in the cinema. He would paste posters of heroes on his walls. Tying a handkerchief around his head, he would imitate the hero and this gradually led him to art. But, wherever he shared his dreams, he would not be taken seriously. Life was not as simple as he had imagined, yet he never lost his patience and kept working hard through a series of ups and downs. 
But, now, Prakash Saput can be a hero when he wants. "The script is ready and being a hero is my dream. The movie might get made in the next two/three years."
He started working at Dhaulagiri FM, a local radio station in Baglung. He used to run the programme 'Just for You'. There, he wrote and presented plays and also did the mixing and recording.
Once in their village, a Dalit girl and a Newa boy committed suicide by jumping off a cliff after their family rejected their love. Imagining their plight, Prakash Saput wrote down a play around what the couple might have gone through before committing suicide. It was a huge hit and is even popular today. 
The play made him a popular radio presenter too and that motivated him even more. However, just dreaming of success was not enough, there was still a weight of responsibilities.
His roots
Prakash Saput's ancestors used to make sickles. Then, they would trade them for food from the neighbouring villages. But, the villagers were not so warm to him or his family. "We were made to believe that we are at the lower class, we grew up like that. No one would allow us to enter their house. We would sit outside the door and spread our arms. Life was full of sorrows."
Saput was in his maternal uncle's home in Butwal during his childhood. He reached his village in Batauli of Baglung at the age of eight. In his initial days, he surprised everyone with his dancing and singing around the village. "My father had gone first to India and then to Malaysia seeking employment, and my mother raised us. Then my grandfather made us live in a barn, together with the cattle."
Dark days clouded his life. Being economically poor also robbed his family of the happiness of eating together.
"My father returned home, at 50, after his intense labour. My family's responsibility on his shoulders limited my career options. But, in the end, I made the same choice as his father and went to Qatar." For that, Prakash Saput obtained a passport and travelled to Kathmandu. Here, he trained as a security guard for 25 days. After the training, the Arabian interviewer said "You are too young" and failed him. But, he was happy.
Of the Rs 5,000 in his pocket, he spent Rs 1,500 on transportation to return home and the rest in books. But, he felt directionless there. So, he came back to Kathmandu and began to look for work. He was staying at his friend's hotel. But, for free food and accommodation, he started working around the hotel.
Coincidentally, Prakash Saput got a job in Gambesi Dohori. His salary was small there, but he got tips. Then, month by month, his salary kept increasing. The club opened a branch in Dubai, so he went there. After three months, he came to Nepal to get married. Though he went back to Dubai, he could not last there longer. And, his life went back to misery and struggle.
On one lucky day, he met Prithvi Thakali who gave him a job in Prithvi Entertainment. His monetary problems got sorted after that. 
Music is life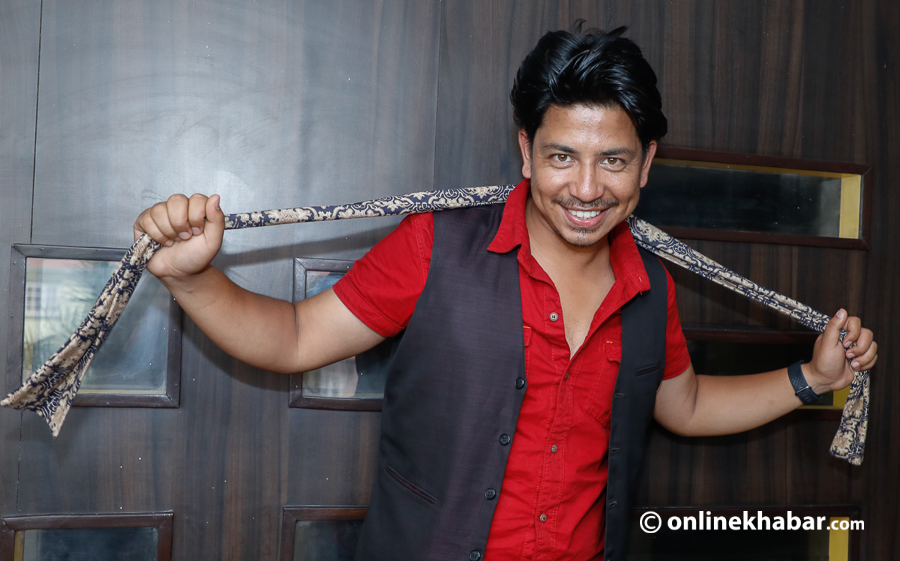 The music pieces Prakash Saput has composed are all different, and when they were released they have created quite a stir in the market, individually. But, how is that possible?
A nostalgic Saput says, "My compositions are a reflection of my life experiences, full of joys and sorrows. The rollercoaster-like experiences are rare and colourful. All that gives my music a more rustic, ethnic flavour."
He adds further, "We grew up in a time where villagers would gather and listen to the radio or watch TV. Radio, FM and television came. The TV changed from black and white to colour. Collecting posters of actors and actresses, writing letters or having posters and calendars on the walls, we saw cars plying the village roads and saw dozers digging the roads."
In Prakash Saput's career graph, from 'Bola Maya' to 'Kura Bujhna Parcha', he is not just singing songs but also composing music with a specific style and addressing social issues.
With 'Bola Maya', Saput came into the spotlight. The plot of this tragic song was based on the story of his father, who spent all his money on foreign employment. Like his father, many young men left home to go abroad to earn money to take care of old parents, educate the young children and give happiness to the family. But, they return lifeless in coffins. And, he described the same in his melodious tunes.
Prakash Saput is very close to his village and one can find the essence in his songs too. "I was in Kathmandu when the grandfather passed away. As soon as I reached the village, my grandmother hugged me and cried. While crying, she expressed her grievances in a few lines, in a certain tune common during mourning. I used the same style at the end of the 'Bola Maya' song."