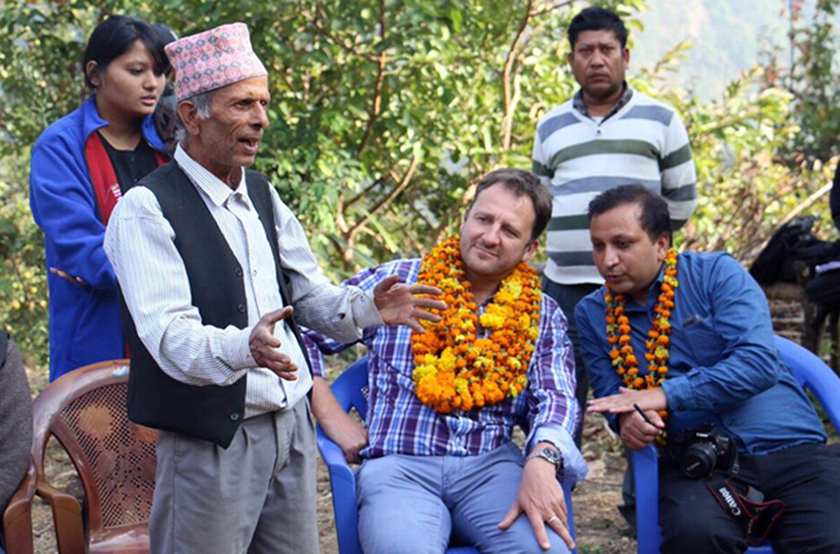 My journey from Kushma to Deupur via Pathichaur was a journey to remember. The rewards of the treacherous travel amid the woods, especially from Pathichaur to Deupur on the back of a four-wheel jeep, were miles and miles of smile coming from villagers leading a hard life, sweet music flowing in rivulets, fragrances coming from the woods and fruit trees, and a conversation with Tikaram Timilsina (60), hubby of two wives and father of five children.
The size of a family he keeps is not much of an introduction, isn't it? After all, an individual should be recognised by his feats and not the size of he/she family, isn't it? In a country where reproduction had been thriving like a cottage industry when Timilsina was in his prime (the youngest son of this man from the 'baby boomer' generation is a schoolgoer), why would go up and up and up on a rough and tumble ride, undertaking which makes every inch of your body ache?
Answer: A farm abuzz with bees (Apis Serena) and an orchard full of oranges, not to mention the sweet fragrances coming from them that makes you forget your exhaustion and gives you a new lease of life.
Getting where he is today was no mean feat for this mountain man with a very humble beginning.  Talking to the media team accompanying UNDP and Microsoft Innovation Centre officials, who were on a mission to bring more profit to micro-entrepreneurs by developing apps suitable for them and reducing the role of middlemen, an emotionally overwhelmed Timilsina shared how he had started it all by keeping four-five beehives, grew his business and tried his luck on orange farming in acres that were someone else's.
Fired up by his determination to do better in business and raise his family properly, this man gave up millet farming about 22 years ago, tired of fighting monkeys who would not let him harvest his crop cultivated in fields carved out in the hilly terrain, which many of his neighbours took as cursed land of sorts.
To this day, this humble man, originally from Jukepani of Parbat, is indebted to the person, who donated him the land where his dreams have grown and come to fruition.
Timilsina has received all sorts of training related to horticulture and beekeeping, in Kirtipur and other parts of the country. Empowered with new knowledge and new insight, this man expanded his business, with help from government and non-government agencies, not to mention the generous donor.
At one point, Timilsina had a loan of four million rupees on him. Through hard work, he said, he cleared it in a year. Presently, he has around 300 orange trees. As of early December, 2015, he had already sold 1,500-1,600 Ghars (modern beehives). One ghar, according to Timilsina, fetches Rs 7,000. He also makes money by selling young bees.
His problems have not vanished into the dense woods of Deupur. They are very much there with him and his family. For one, there's no irrigation facility. Then there's an unexplained disease that kills orange trees. The beehive collapse disorder has not only troubled Europe, but has also made inroads into Timilsina's fruit farm. The disorder resulting from climate change has brought down both population and productivity of bees, causing a drastic decline in honey production.
Not the one to mince words, Timilsina feels the state has not given due recognition to his achievements. He has gotten district level and regional level prizes, with purses of Rs 10,000 and Rs 25,000, but failed to get the President's Prize despite much expectations.
He feels the jury has given away the coveted prize to someone else on an ad hoc basis without bothering to visit his farms.
A doer, Timilsina has achieved most of his dreams. But he knows one should not stop dreaming and chasing dreams. Timilsina has a dream: He wants to provide training to Nepali youth and stop their outmigration.
Inspired by this man, Rajendra Chapagain of Deupur has returned home from the Gulf after sweating it out for two years. The youth in his 20s has 150 orange trees in his farm and 40 of them have started bearing oranges. Chapagain plans to start beekeeping as well. His message to the youth: Don't go abroad. Sweat it out in here.
As for Timilsina, he is anything but a pessimist. Timilsina feels modern technology is a must for generational shift of business. He hopes mobile phone-based apps and web portals designed to bring micro-entrepreneurs together will help the farmers like him connect to the world, empower them and bring in more profit by reducing the role of middlemen. If that happens, one hopes, both farmers and consumers will benefit. As for the middlemen, they can rest in peace.