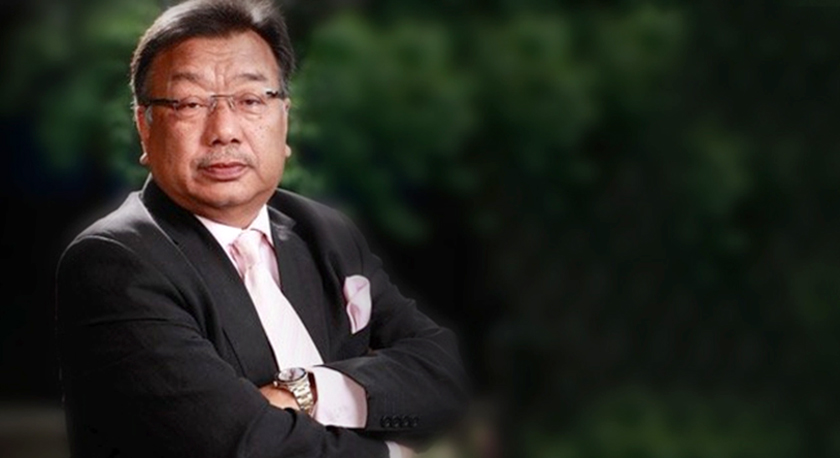 Karna Sakya is one of Nepal's pioneering hoteliers. Sakya established Kathmandu Guest House in Thamel, an area in Kathmandu that has become synonymous with tourism, four decades ago. His KGH Group now owns seven hotels in Kathmandu, Pokhara and Lumbini. Sakya is preparing to launch the group's Maya Manor hotel in Kathmandu soon. Onlinekhabar caught up with Sakya to talk about his new project, and the state of the hotel industry in the country.
So, what effect has the earthquake and the blockade had on your business?
It's been more than three years since I stopped being actively involved in the tourism business; I have retired, without getting tired that is. I haven't gone around talking to people the effects of the earthquake and the blockade. But I can share with you, how I am dealing with these things. I have always said positivity is what we need. Even during the insurgency, we did not hesitate to invest in the hotel business; we invested in 6-7 hotels. I must say that things have not turned bad, at least for me; KGH group has not been affected badly.
After the earthquake, one of the three buildings of Kathmandu Guest House, which was more than a hundred years old, became unusable. I had been thinking of demolishing the building for quite some time so that we could build a garden there. But because we had guests, we were unable to do so. After the quake, we figured out that we were not going to have guests for at least two months. So, that was the right time to demolish the building. Within two months, the building with 18 rooms was gone, and in its place was a beautiful garden.
Despite the problems, Kathmandu Guest House has occupancy of around 70-80 per cent. There is risk in whatever we do, but an entrepreneur should remain unfazed and seize the moment. There is no electricity, and no fuel, but still construction work at my hotel is going on. Yes, I am buying fuel from the black market, I don't know whether this is right or wrong, but an entrepreneur should not let the opportunity slip. That is exactly what I am doing.
I believe that when someone is investing his hard-earned money, the investor has no option but to complete the project, regardless of the obstacles that may come up. That is what keeps the private sector going in Nepal. In the case of government-run projects, the people involved are not managing their hard-earned money, so they do not care about the completion of the project on time; they get paid, regardless the state of the project.
Do have any dream project that you would like to work on?
I am 74 years old now, thinking about a new project would be akin to adding a new challenge; that is what I do not want to do now. These days, I write, talk to young entrepreneurs, and share with them my experience. I don't think my body would allow me to take up another challenge at this age. I have seven hotels, including Maya Manor, now.  That is why I am concentrating on writing these days.
Tourism industry in Nepal will never go down. Those who understand this are ready to invest here. The industry is not going to come to a halt.
How has the feedback on your books been?
I write only to share my experience. I do not write to preach. I am happy to see that there are young Nepali people, who have returned from abroad to start businesses in Nepal, after reading my books. They invite me to take part in celebrations to mark 4-5 years of their business, and that is what I feel happy about.
Many hoteliers have said if the situation persists, they would be forced to shut shop. But still you are going ahead with your new project. What is the reason?
Two of my hotels, one in Kathmandu, and the other one in Pokhara, will soon come into operation. Let me tell you, the tourism industry in Nepal will never go down. Those who understand this are ready to invest here. Why do you think big chains like the Hyatt have their hotels in Nepal, and some others are preparing to come to Nepal? They think long-term. The industry is not going to come to a halt.
Talking about foreign chains, some local hotels say they are looking for international partners to manage their hotels.
We are not considering that option. There are two ways a hotel can be run, first one is the family-run model and the other one is the corporate model. All our hotels are family-run hotels, where tourists feel at home. This is different from the star hotels. We do not have the money to establish big hotels, neither have we the managerial capacity to do so.
But I must also stress that Nepal needs star hotels, as much as it needs lodges and homestays, so that all kinds of tourists come to the country.  The people, who trek around the country, and stay in homestay facilities are the ones who write about Nepal. Their writing helps us get publicity in the international market.
There are experts, who say that the industry has not flourished in Nepal. What do you say to that?
That is totally wrong. There are more than 200 countries in the world, and Nepal manages to be on most of the 'must-travel' lists published by organisations of international repute. This means that Nepal's tourism industry is developed. We are far ahead of India and Pakistan. I must say that we are ahead of the pack in South Asia.
How does the industry compare to that in Bhutan?
What has happened in the tourism industry in Nepal is that first it showed signs of development, and then the government came up with a plan to promote tourism. It should have been in the reverse order. But in Bhutan, the industry is learning from the mistakes that we made in Nepal. For Bhutan, Nepal became a place to learn lessons from, but for us in Nepal there was no place from where we could learn. I think our biggest weakness is that whenever we come across something that is beyond us, we do not allow other people to take that thing forward. That is what 'leg-pulling' is about.
My final question to you. Would you suggest investors to put their money in hotels now?
The best time to invest in a business is when there is a slump. This is because when the slump gets over, it becomes expensive to invest. Opportunities do not knock at your door every day, you should garb they when they come.