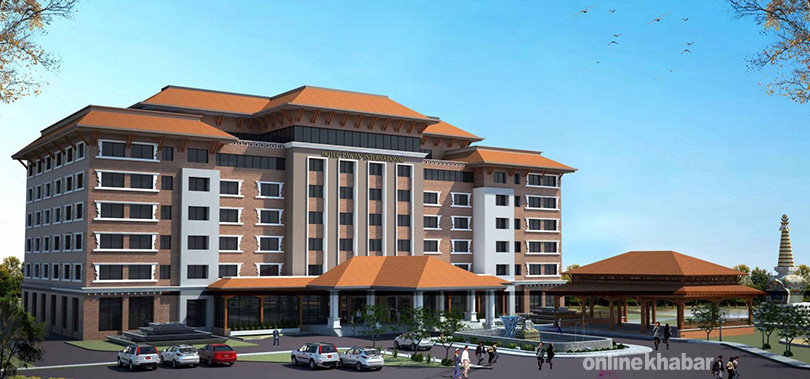 Pawan Palace
The construction of an international airport in Bhairahawa in southern Nepal is bound to turn the tourism sector in the Lumbini area on its head.
At least four new five-star hotels are currently being constructed there, while several more are in the works. The lucrative opportunity to lay claim to a piece of the tourism market of the region, which mainly consists of pilgrims visiting the birthplace of Gautam Buddha, has sent tourism entrepreneurs from Nepal and elsewhere into a frenzy to operate hotels of all scales and sizes.
The number of tourists visiting the area is expected to rise sharply after the international airport comes into operation in 2018. The airport is seen by many entrepreneurs as the growth engine for tourism in the region.
There are approximately 1.5 billion Buddhists all over the world.
In Bhairahawa's Balapur, Hotel Bodhi Red Sun is currently being upgraded to a five-star. Bodhi Red Sun has been one of the most sought-after hotels in the region. Once completed, the capacity of the hotel will increase to 106 rooms from the current 64 rooms.
A new wing is currently under construction at the old site. The construction is expected to be completed in spring next year.
Also read: These six hotels redefine tourism in Nepal's Lake City Pokhara
Another five-star hotel currently under construction in the region is Hotel Pawan Palace. Unlike Hotel Bodhi Red Sun, Pawan Palace will be constructed from ground up and will house a total of 147 luxury rooms. The hotel is being built at a cost of Rs 1.35 billion, and is expected to come into operation in October, 2017.
The hotel is owned by entrepreneur Pawan Kumar Halwai, a popular name for his confectionery business in the area.
It is not only regional entrepreneurs like Halwai, who are investing in the hospitality sector of the region. Kathmandu-based hotels are also trying to grab market share in the lucrative tourism sector of the region.
Among those looking to further their presence in Lumbini are Crowne Plaza Kathmandu Soaltee, Hotel Shangri La, Hotel Tibet and Dwarika's Hotel. Also looking to venture into the region are Chaudhary Group, Landmark Hotel and Resorts and Asian Pharmaceuticals.
While it remains to be seen how well the large amount of capital invested by entrepreneurs like CP Shrestha, who is building the five-star property Nansc Two in Belahiya, yields result, the boom in the tourism sector of the region is welcomed by many.
As of now, those who have invested in the region, like the Hong Kong-based Silver Heritage Group, which has backed another five-star property called Tiger Palace, are largely focused on completing the construction of their hotels in time before 2018.
***
More on the region
Here's how Bhairahawa is transforming into a modern city
These hotels in Lumbini are all set to welcome tourists and pilgrims