Nepal is known for its art, many claim it. But, the statement is yet to be proven right in the mainstream market. The country is said to have a lot of potentials when it comes to art, which majorly includes handicrafts items. But lately, during and after the lockdown imposed to control the Covid-19 spread in the country, the art sector has sustained losses and is struggling to grapple for its way in the market.
The Federation of Handicraft Associations of Nepal (FHAN) was established in 1972 in the entrepreneurs' bid to promote the country's handicraft market. It currently has chapters in 14 districts and works with artists, entrepreneurs, businesses, traders and exporters. To date, it has some 4,000 members among which 1,500 are active. The organisation's major work is to give its members the market, nationally or internationally, advocate their problems in front of the concerned authorities.
The organisation's Senior Vice-President Prachanda Shakya has worked in the sector independently for 11 years. He got involved in the FHAN some nine years ago and has been VP for the last two years. He has discussed prospects, opportunities and shortcomings of the handicraft market in Nepal with Onlinekhabar.
Excerpts:
How is the status of handicraft business in Nepal?
It is a growing business sector but has seen a hit due to the lockdown. Before Covid-19, we used to have a market of around one billion rupees, both internationally and nationally. It is giving employment to about one million people, directly and indirectly.
Handicrafts are majorly categorised into two major sections; traditional and modern. Over 70 of the handicraft products of Nepal were exported on a regular basis, where the felt industry dominates it. Felt saw a stable market in many of the European countries, with a high demand during holiday seasons and for other interior decorations.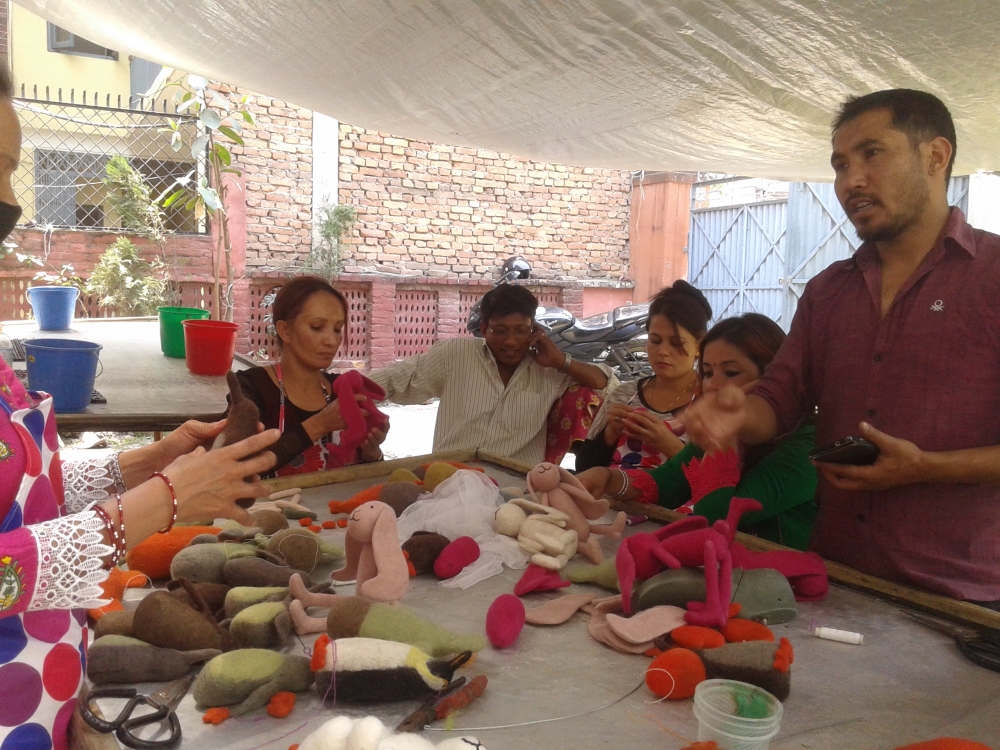 Another popular section was woodcrafts and metal crafts including silver jewellery.
So, how has the pandemic affected the sector?
As I said, the majority of our exports used to go to Europe. But, with travel restrictions and economic crisis, the orders are not coming in. During the lockdown, the business seemed to be better in comparison to today because we still had pending consignments and it was giving people employment.
Now, because the consignments have been exported, we do not have new orders. Our small and medium enterprises are highly affected by this. Even if they want to send a consignment abroad, the shipping charge has been so high, from Rs 125/kg to Rs 500/kg that they cannot afford.
But, the industry is seeing a recovery in the national market, post Covid-19.
Businesses with small investments and startups are prone to shutting down early. Do we see this in the handicraft business too as an impact of Covid-19?
To see the results of any business, it takes time, the handicraft sector takes more. Generally, it takes a minimum of two years of initial investment to set up the business. In five years, you will start seeing the returns and only in 10 years will one start making any profit. So, it is a matter of patience. Many cannot survive due to lack of investment and a stable market.
So you mean to say that does not affect much. If so, what are other major problems of the sector?
A major complain the people have is that Nepali handicraft products are not well-packaged. Many people still search for consistency and uniformity in products in terms of size, dimensions and quality, which is not possible. The small differences make them unique, we still have to realise this. Ironically, many people also think that Nepali products are unreliable, expensive and lack quality, discouraging the business.
We also lack resources including human resources. And, the recent intervention of machinery that promotes uniformity, finesse, and quantity is also limiting the progress.
In addition to that, there is no promotion of handicrafts from the government side. Handicraft businesses, according to government policy, are required to operate with PAN bills. It is okay as many SMEs lack a turnover of Rs five million and more every month. But, not getting listed as a value-added tax (VAT) payer means they are deprived of big orders.
The Value Added Tax Act, 1996, amended in 2011, has enlisted handicrafts as one of the VAT-exempted sectors. But it has not been implemented well and the SMEs and local businesses also are not aware and are discouraged to do bigger businesses at many levels, even in government offices who do not support or convey the messages properly.
The government also does not promote the handicraft businesses in its offices, say in terms of decorations, and also does not prefer giving handicraft gifts to any diplomatic or foreign delegations when they visit.
Another problem I see is that we have not been able to handover our craft and knowledge to the younger generation, be it family business or new entrepreneurs. There have been some and they are doing well, but it is not enough. There are many handicrafts sectors that are going unnoticed and discontinued because it lacks human resources, market and other resources. Many others are sustaining within the family only with limited workforce and resources. We have not been able to expand and capitalise on them.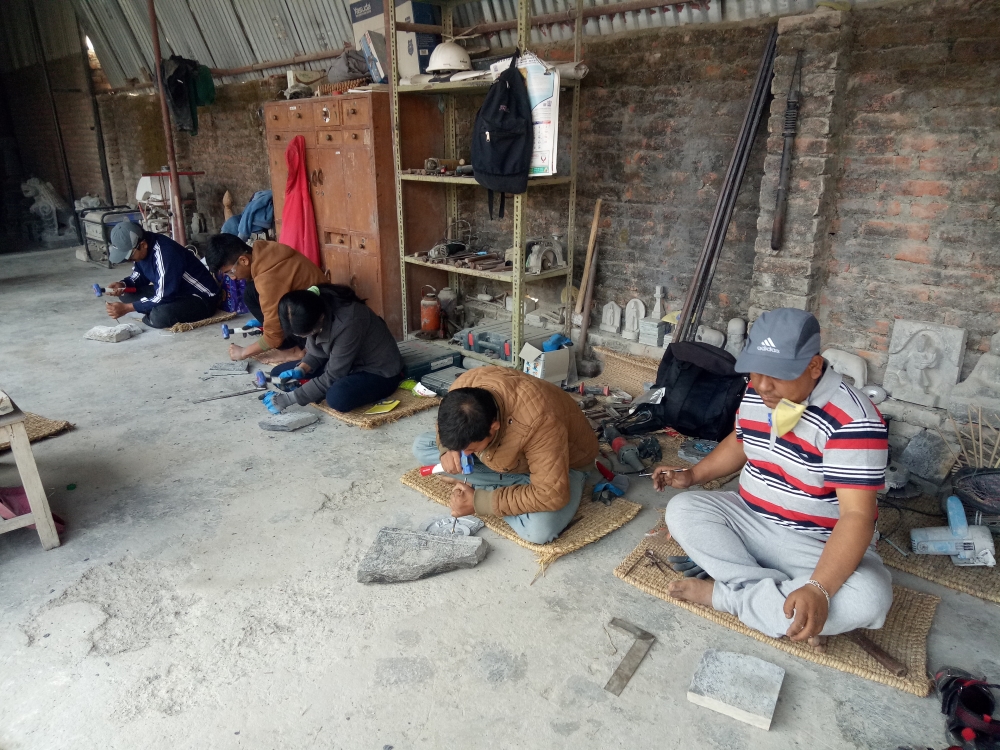 But, don't you think we lack innovation in the handicraft sector? What are the few things we can work on?
No, we do not lack innovation in the sector in terms of quality. Even the felt industry that has a comparatively larger business is still innovating and attracting the market. Everest Fashion House (EFH) and Amrita Crafts are a few such examples.
But, quantitative innovations are missing because there are so much that we can still do. Nepal has an abundance of resources and our major focus can be around the natural fibres that we can produce through plant-based resources like making masks from marijuana plants that purify air better.
How can we solve these problems?
Along with the problems, I have also seen opportunities. There are teenagers and younger people who are interested in the field, to learn the craft and get into the business. We have to connect them to the proper training and utilise their minds and skills to scale up the handicraft businesses. The FHAN has also not been able to support their queries but we are working to rectify that.
Another problem is packaging, which can be solved too. We have to realise that presentation is important nowadays. If the craft is excellent but the packaging is not, the market will not value them. Many Chinese brands in Kathmandu are doing good business because of their packaging that appeals to the consumer. Well-packaged goods are easy to market and then attract customers as well.
The FHAN's sister organisation, Handicraft Design and Development Centre, works to curb this problem with research and design works, which can be utilised by all.
Another good thing is that we can capitalise on social media. Along with exposure and easy access, it gives any business today. Because of this, many people from the older generation are also getting chances to sell their craft and make money. Academically also, we are progressing. If we can harness the opportunities internet and academia have given us, we can increase the quantity too.