Gita Paudel of Rupandehi has been playing cricket for the last 15 years. When Nepal formed the world's first national cricket team of visually impaired women, she was a member of it. Since then, she has played blind cricket in national and international series.
Durga Acharya of Surkhet also started playing blind cricket from her school days.
After being selected at the local to the provincial level, she has been playing cricket in the capital for the last five years. Acharya, also a table tennis player, is satisfied with sports.
Two members of Nepal's women's blind cricket team–Paudel of the first generation and Acharya of the second–are examples of what a sport can give to people deprived of equal opportunities in several respects in society. Cricket, for them, is respect, recognition and life.
Finding the meaning of life
"Along with physical fitness, the sport has also provided us an opportunity to be involved in social interaction," says Paudel.
"Our unique capability has changed the way of looking at us. It has propelled the people to realise that we can play and do something," she says, "Our identity has been created in society."
Paudel played blind cricket against England and Pakistan in 2014 and 2019 respectively.
Nepal's Cricket Association of the Blind (CAB) is keen to develop blind cricket in both men's and women's categories, but it lacks resources. Events are held whenever the association finds sponsors.
Nepal is the first country in the world to officially introduce blind cricket for women and it is played in five other countries.
"The players have learned to live life normally. They have built confidence to realise that even they (despite lacking eyesight) can do something," says Pawan Ghimire, the CAB president, adding, "They have made friends by playing internationals. The progress attained by those players has made us proud of our efforts."
After Nepal reached the Men's Blind Cricket World Cup in 2012, dozens of new-generation blind cricket players began picking the sport as their career. The founders are happy looking at its popularity.
Durga Acharya of Surkhet also decided to make her future in cricket by looking at Nepal's progress. Although she used to play it since her school years, she began playing it regularly in the last five years.
"Sports teaches us discipline and team chemistry, and it also makes you physically and mentally strong," says Acharya.
She is happy to gain both recognition and respect from cricket.
"If I had not been associated with this game, nobody would have known me. You and I, we both wouldn't have met," she says. "I have earned an identity and respect among friends and society after becoming a sportsperson."
Bharat Chaulagain of Nepalgunj, who has played in the men's world cup of blind cricket, echoes Acharya.
"Cricket has changed the perception of life," says Chaulagain, also a political science student at the Tribhuvan University.
Hard work paying off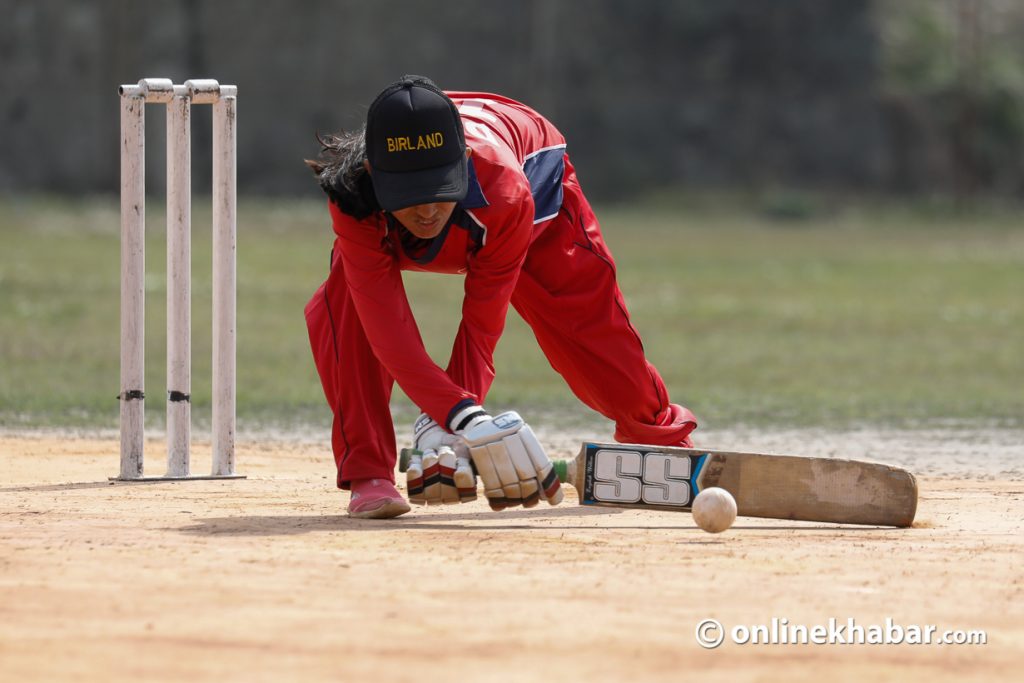 Pawan Ghimire introduced blind cricket in Nepal in the mid-2000s. In the initial phase, he faced enormous challenges but with continuous efforts, things have changed now.
"It was very hard to make visually impaired people play with a ball and bat," Ghimire says. "We also didn't have any financial support, so we spent all the money from our own earnings."
Ghimire and his team searched hard for potential players. To retain them, they initially provided an allowance from their own pocket. With four bats and 20 balls provided by Pakistan, their journey began.
With the span of time and continuous efforts, they gradually overcome the challenges. The men's team even played the World Cup matches and won against developed nations like New Zealand, Australia, and South Africa. No World Cup event has been held in the women's category in blind cricket so far.
"Our success has proved that we can do anything if the opportunity is given," says Ghimire.
Ghimire is a two-time vice-president and two-time treasurer of the World Blind Cricket Council and two-time director for the Asian region. This shows that the Cricket Association of Blind-Nepal is well recognised globally.
The association now has a plan to organise a World Cup in Nepal.
"We want to develop this sport from the grassroots level," says Ghimire. "We are also planning to reach all seven provinces to explore players who could perform well in the World Cup."
With that, the association also wants to organise international tournaments for women in Nepal.
---
This story was translated from the original Nepali version and edited for clarity and length.