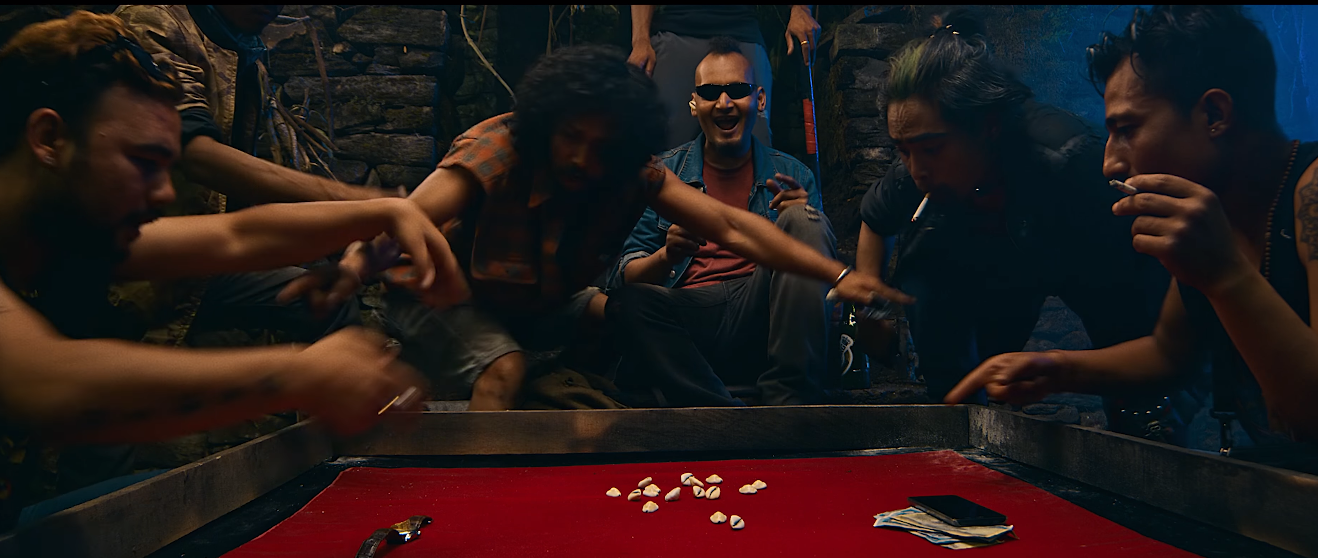 They say never judge a movie by its trailer because the trailer only shows the best bits from the movie.
Naakaa is one of those movies that gives the audience a lot of hope with this interesting and catchy trailer but fails to live up to their expectation with its poor presentation and lack of imagination.
The plot revolves around two smugglers in a race to con each other to end their financial drought by seizing the prized possessions of Tibetans. Goldie (Bipin Karki) is a smuggler and a small-time 'don' based in Barhabise near the border with China. He is in need of money. He gets an urgent call from a local smuggler and a businessman to rescue a Tibetan girl and her transporter illegally from one of the border crossings to Barhabise. As he is bringing her back to Barhabise, he faces a lot of difficulties from the police and businessman Lata Bob (Robin Tamang).
The start of the movie is enjoyable and engaging but soon it drifts away and disappoints. The screenplay seems to have no vision as the first half survives just on Karki's bad humour. Apart from that, there is nothing noteworthy about the first half. The second half is confusing and that is the fault of a poor script which fails to explain what exactly is going on.
The actors are inconsistent: some deliver good performances while others are below par. Lead actor Karki, who has made his name as a versatile actor, fails to live up to all the hype. After getting good reviews in his previous two movies Pashupati Prasad and Chadke, his performance in Naakaa is repetitive and boring. I expected a lot from him than just a few comedy scenes.
Tamang who plays the role of Lato Bob is good but there are times you feel he could have done better. His expressions are a bit off as he is always angry. Thinley Lhamo who plays the role of a Tibetan on her way to Dharmashala has given a natural performance. She doesn't have a lot of dialogues in the films but has given a powerful performance with her genuine expressions throughout the film. Supporting actors like Ghanashyam Joshi, Ram Bhajan Kamat and Sajan Thapa Magar have done a good job, despite the poor screenplay.
The cinematography is good but one could argue it could be improved. The night shots and the jungle shots are good but you feel that the with a little more planning it could have been better. The story and script are the major weaknesses of the movie and are one the prime reasons the movie fails to grab the audience's attention.
Debutante director Amit Shreshta has come up with a new topic but fails to treat it in a manner which the audience would like. The hype he created with the trailer does not match with the movie. The background score and music by the talented Rohit Shakya is the only saving grace.
There are better Nepali movies being made than this and they deserve more attention than what Naakaa received.
Director: Amit Shrestha
Genre: Drama
Cast: Bipin Karki, Robin Tamang, ThinleyLhamo
Screening in Cinemas near you
---
Published on March 4th, Sunday, 2018 12:08 PM
---
Download Onlinekhabar App. Android click here & IOS click here . Keep in touch with us on Facebook, Twitter & YouTube.