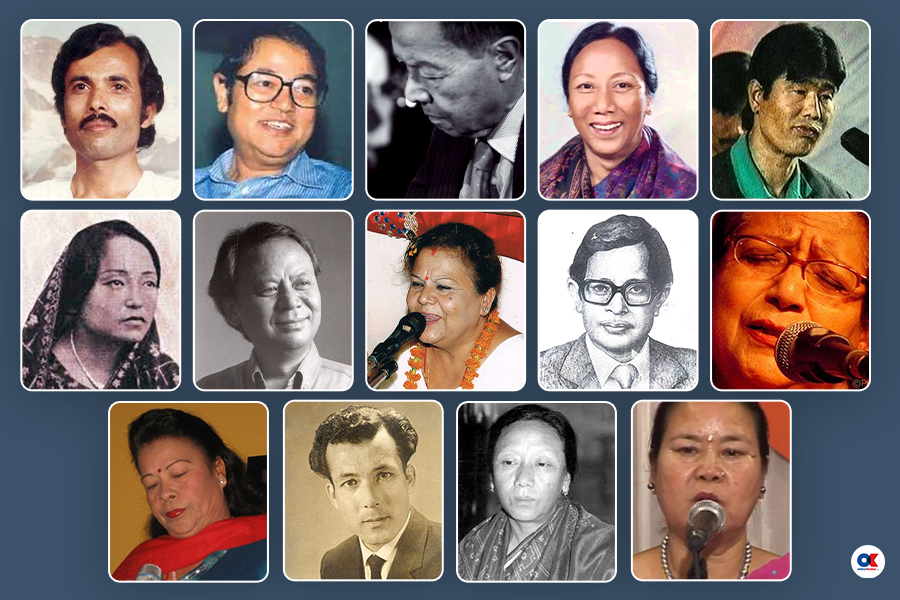 Nepal has a long history of music. In the past, the rulers of Nepal took on the responsibility of safeguarding and promoting music, which thrived within the royal courts of the Mallas, Shahs, and Ranas. These esteemed courts provided a platform for the emergence of the legends of Nepali music.
From traditional to modern, all kinds of musical genres have been a part of the Nepali music industry. Over the course of time, the music sector of Nepal has witnessed a plethora of changes, musically as well as technically. The advancement of technology has taken music to new heights.
While the development of the music sector is booming each day, at the same time we should not forget the roots, that made this development possible. Their contributions are significant and relevant because the lyrics, composition, arrangement and melodies created by them are still the inspiration for a lot of contemporary and emerging musicians. 
Some of these legends are still alive while many have passed away. On World Music Day, we take a moment to reflect on the legacy of the legends of Nepali music whose timeless contributions will forever be cherished by the Nepali people.
Narayan Gopal
Narayan Gopal, known as Swar Samrat needs no introduction. He has given the Nepali music industry plenty of evergreen songs. Some of them include Malai Nasodha, Kehi Mitho Baat Gara, Timro Jasto Mutu, Yeti Dherai Maya Diye and Yo Samjhine Maan Cha.
All these songs are still played in gatherings and various programs. Born in 1939 he died in 1990.
Gopal Younjan
Singer/composer and lyricist Gopal Younjan is one of the legends of Nepali music. His works define the foundation of Nepali music. Narayan Gopal, Aruna Lama, Tara Thapa, and numerous other legendary singers have lent their voices to his enchanting lyrics and compositions.
Some of his famous works include Kahile Kahee Maan Ka Kura, Aljhechha Kyare Pachheuri, Chhati Ma Mero Yo Chhoto, Kanchhi Hey Kanchhi and Kehi Chotle. Younjan passed away in 1997.
Aruna Lama
Aruna Lama is another name that we should always remember when we talk about the legends of Nepali music.
Lama, popularly known as Nightingale of Hills, has sung hundreds of Nepali songs. Some popular songs include Pohor Saal Khusi, Eklai Basada, Hera Na Hera Kaanchha, Chautarima Basera and Bhettinu Chhutinu. Lama died in 1998.
Tara Devi
Tara Devi is also known as the Nightingale of Nepal due to her enchanting and mellifluous vocal abilities. Her melodious voice possesses a unique sweetness that captivates audiences and leaves a lasting impression.
Some of her songs are Ukali Orali Haru Ma, Parbati ho Nau, Saguri Bari Ni Ho and Timi Badal Ho. Devi passed away in 2006.
Arun Thapa
Arun Thapa, a native of Pokhara, made his debut in the Nepali music fraternity in 1980 with the song Timi Dherai Tadha Bhaye Pachi. According to reports, many of Thapa's songs are dedicated to his former lover, who were separated due to a caste issue.
Some of the notable numbers of Thapa are Jati Maya Layepani, Ritu Haruma Timi, Dosh Kasailai and Chot Ke Ho Byatha Ke Ho. Thapa passed away in 1999.
Natikaji Shrestha
It would not be wrong to say that Natikaji Shrestha introduced the Nepali music industry to the golden age. Shrestha started his musical journey at the age of seven when he began playing the harmonium in Gujeshwori Bhajan Mandali. He is also considered as the pioneer of modern Nepali music.
Shrestha composed over 2000 songs like Phool Ko Thunga, Para Laijau Phool Haru, Sapna Bhulai Sara and Yesto Pani Hudo Raicha.
Shrestha died in 2003 at the age of 78, six years after being diagnosed with Parkinson's Disease.
Melawa Devi
Melawa Devi is the first female Nepali singer to record a song making her one of the distinguished legends of Nepali music. Her song Sawari Mero Railaima, which was released in 1928 is the first Nepali song that featured the voice of a lady singer.
Some of her songs are Haye Mero Pardeshi Pritam, Mirmire Jhyalaima and Chhani Chhani. She died in 1955.
Phatteman Rajbhandari
Phatteman Rajbhandari was an iconic figure in Nepali music, celebrated for his exceptional talent as a vocalist and musician.
Some of his most notable songs include "Marna Baru Garho Hunna," a heartfelt melody that touched the hearts of listeners. Another memorable piece is "Banai Khayo Dadelo Ley," which showcased his versatility and ability to infuse emotions into his music. "Yesto Pani Hudo Raichha" is yet another gem that resonated with fans, thanks to Phatteman Rajbhandari's soul-stirring rendition.
Rajbhandari passed away in 2013.
Bhakta Raj Acharya
Bhakta Raj Acharya alias Bhajan Shiromani is widely known as one of the greatest singers of all time. Acharya's musical career started in 1973 after winning a gold medal in an All Nepal Song Competition organised by Radio Nepal.
The remarkable life of one of the legends of Nepali music, Bhakta Raj Acharya, has been brought to life in the form of a film titled Acharya, portraying his inspiring true story.
Some of the popular songs of Bhakta Raj Acharya are Jati Chot Dinchhau, Hajar Aankha Herne, Hajar Sapanaharu and Maya Meri Sanjha.
Shanti Thatal
Shanti Thatal is the first female composer in the Nepali film industry. She made her debut as a composer in the movie Paral Ko Aago, which was produced in Darjeeling. In Paral Ko Aago she picked Aruna Lama as the main singer for the movie. The other singers who got breakthroughs from Thatal are Pema Lama, Shankar Gurung and Dawa Gyalbo.
Thatal has also been featured in the Paleti, a live musical show. If you want to see her live performance check the videos of Paleti.
Some of the popular songs of Thatal are Samhalera Rakha, Kahi Feri and Udi Jau Bhane.
Prem Dhoj Pradhan
Known as the Golden Voice in the Nepali classical music industry, Prem Dhoj Pradhan was born in Chautara of Sindhupalchok district in the late 1930s.
Some of his most popular songs are Yo Nepali Shir Uchali, Para Laijau Phulaharu, and Ghumtima Naaau Hai. He has also sung with famed Indian singers such as Usha Mangeshkar and Asha Bhosle. Pradhan took his last breath in 2021.
Amber Gurung
Amber Gurung is a veteran musician known for his immense contributions to modern Nepali songs. His deep understanding and expertise in choir singing, jazz, and symphony have significantly influenced and steered the direction of Nepali music towards new horizons.
Gurung's remarkable works include Kahile Lahar Kahile Taranga, Kahin Aafnai Bhumar, Timi Bhulma and Ukali Chadda. Gurung passed away in 2016.
Dawa Gyalmo
Similar to esteemed singers such as Tara Devi, Bhakta Raj Acharya, and Mira Rana, Dawa Gyalmo has also achieved the prestigious title of being the winner of Radio Nepal's annual singing competition.
Dawa, who has created her own identity in singing, came to Kathmandu from Darjeeling in the mid-1930s and recorded an iconic song Mayalu Le Samjhi Ki Kaso on Radio Nepal. The song additionally enhanced her popularity in the Nepali music fraternity. Some other songs of Gyalmo are Amrit Bhani, Sahar Bhitra Keko Halla and Malai Aaphnai Dhunmaa.
Shiva Shankar
Shiva Shankar is a music composer and a playback singer who has worked on over 1000 Nepali songs of various genres. He also worked as a mentor in Radio Nepal, where he used to mentor new musical talents. While working at Radio Nepal he worked with popular names such as Tara Devi, Kunti Moktan, Arun Lama and Prem Dhoj Pradhan.
Some of the works of Shankar are Aafno Sansar Aafnai Haatle, Ma Jindagi Bhar and Mero Manko Euta Ghau.
Shankar, who passed away in 2004, is also an actor in the first Nepali movie Aama.
Bacchu Kailash
Besides his ability to sing and compose, Bacchu Kailash is also appreciated for his lyrics writing skills which are highly poetic and depicts a subject from a different perspective.
Some of the popular songs of Bacchu Kailash are Tada Tada Janu Cha Sathi, Juneli Raatma Dila Kholi, Kalpana Ko Gagan Muskuraune and Timle Ta Hoina.
Dwarika Lal Joshi
Dwarika Lal Joshi is another prominent musician in the Nepali music industry. He is best known as the singer behind the immensely popular traditional Nepali song, Resham Firiri. Alongside this masterpiece, Joshi has captivated audiences with hits like Badha Parun Jatinai, Maiti Ghar Timro, Shit Sangai, and Mero Geet.
His contributions have left an indelible mark on the vibrant Nepali music scene.
Koili Devi
Koili Devi is the first female lyricist and composer in the Nepali music industry. Her voice has been featured in over 4,000 songs. Sansarko Jhamela Lagdacha Kya Yo Mela was her debut song recorded in 1950. Some other songs of Koli Devi include Akha Judcha and Aja Ko Din.
Koili Devi passed away in 2002 at the age of 78.
Ranu Devi Adhikari
Ranu Devi Adhikari is the first female singer of Radio Nepal. She has sung revolutionary songs like Nepali Nepali and Aaja Deshko Kranti. Adhikari was also involved in the artistic and musical front in the democratic movement against autocracy.
Adhikari passed away in 2020 at the age of 86.
Lochan Bhattarai
Lochan Bhattarai is the first singer in Nepal to transform poetry into musical compositions. She became the winner of a nationwide singing competition in 1987, organised by Radio Nepal. In three decades of her musical career, she has recorded over 900 songs. Some of her popular songs are Tadha Tadha Nabhai Jau Timi, Khotang Jilla Diktel Bajar and Maya Garneko.
Gyanu Rana
Gyanu Rana is the voice behind popular songs like Siri Ma Siri Ni Kanchha, Chyangba Hoi Chyangba, Kasaile Bujhena and others.
So far Rana has recorded over 2000 songs among them over 400 are hymns and over a dozen are child songs.
Meera Rana
In her six decades of musical career, Meera Rana has recorded her voice in over 1600 songs. Rana is also known as the first female pop singer of Nepal. She was Chief Music Manager at Radio Nepal for over 35 years.
Some of the popular songs of Meera Rana are Mero Paumaa Aaja, Makhamali Cholo and Mero Joban Laijau.
Tara Thapa
Tara Thapa has been in the music sector for the last five decades. On April 10, 1972, she recorded her first song Majhi Dai Dhunga Tarideu Taal Ko Panima Salala which is sung even today in many parts of the country.
In her musical career, she has collaborated with various popular artists. Some of them include Prakash Shrestha, Deepak Kharel, Ram Thapa, Purna Singh Nepali and Pema Lama.
Some of her popular songs are Sabaile Dine Ustai Huncha Maya, Pahilo Pahilo Bhet, Mero Maya Ko Sansar and Ma Ta Timrai Harek.