Bardibas, March 29
Minister for Irrigation Umesh Kumar Yadav has directed government offices under the Ministry of Irrigation to disseminate information and messages to the public in Province Number 2 in Maithli and Bhojpuri languages.
After inspecting the Bighi irrigation project site in Mahottari on Monday, Minister Yadav issued this directive to the offices at a programme in the irrigation division office in Jaleshwor.
He said this during interaction with officials from the irrigation division office, Janakpur-based water-induced disaster prevention office, farmers and political leaders and cadres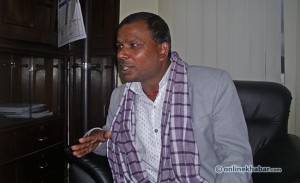 .
Participants at the programme lauded the directive, pointing that this comes at a time when the United Democratic Madheshi Front has been demanding constitutional guarantee for lingustic diversity and use of different languages in official communications.
Raju Khadka, district in-charge for the UCPN-Maoist, said: Though the constitution has regarded all languages spoken in the country as national languages, in practice, only Nepali language is in use in government communications. Minister Yadav has directed the concerned to do away with this situation.
Yadav directed the concerned bodies to publish and broadcast information related to irrigation in Maithli in eastern districts of the province and Bhojpuri in the province's western districts.