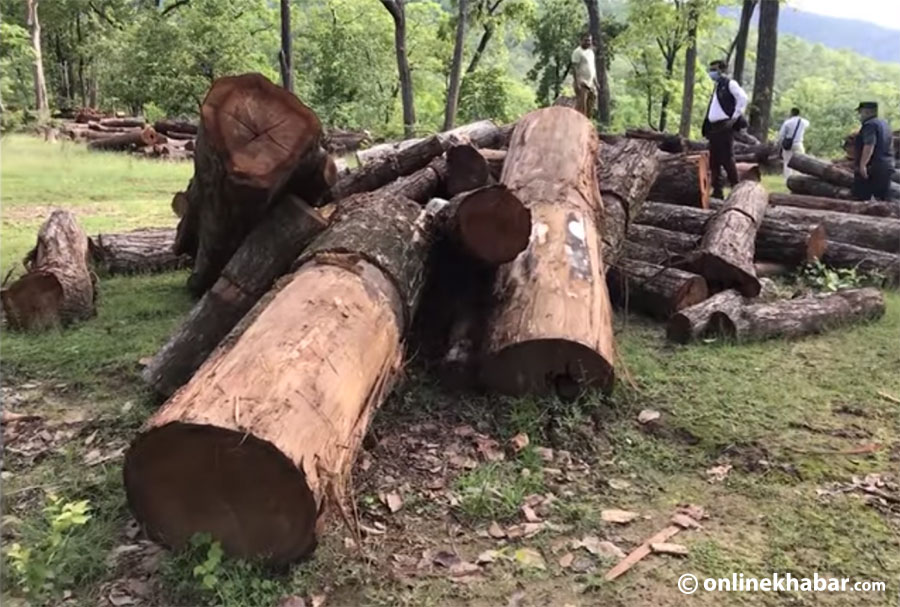 Kathmandu, July 20
A parliamentary panel has claimed that many forest areas of the country are being destroyed in the name of 'scientific forest management'. Though local communities are also involved in forest management, a handful of contractors and smugglers own the forest resources, according to the committee.
A three-member sub-committee under the Public Accounts Committee in the House of Representatives, formed to investigate into reports of rampant felling of trees during the lockdown imposed to control the coronavirus outbreak in the country, found negative impacts of the 'scientific forest management' in the country.
Members of the panel say they visited various community forests in six districts of the country, namely Kailali, Kanchanpur, Banke, Kapilvastu, Nawalparasi West, and Nawalparasi East (Nawalpur) in the past month and found several trees have been felled smuggled during the period.
"Under the name of scientific forest management, several growing trees have been cut down. In some jungles, big sections have been cleared," lawmaker Pradeep Yadav who led the committee says, "We saw that community forest users existed only in names. The jungles are owned by contractors in reality."
In some cases, officials of the community forest user groups and District Forest Office also worked in cahoots with the smugglers, according to Prem Aale, a member of the committee. In some cases, the real users have been barred from entering the forest so as to facilitate deforestation, according to him.
The study is not finished and the deadline of August 3 should be extended, the committee demands.