Analysis
Nepali Congress, the country's oldest surviving party, elected its leadership last week. The party, which is grappling with factionalism, elected its president and general secretary from two rival factions. Regionalism, which emerged following the movement in the Madhesh, became a new ailment for the party, and in an attempt to woo Madheshi voters, rival groups fielded Madheshis as candidates for treasurer.
So, how did factionalism and regionalism decide the outcome of the elections? Onlinekhabar analysed the results and came to this conclusion: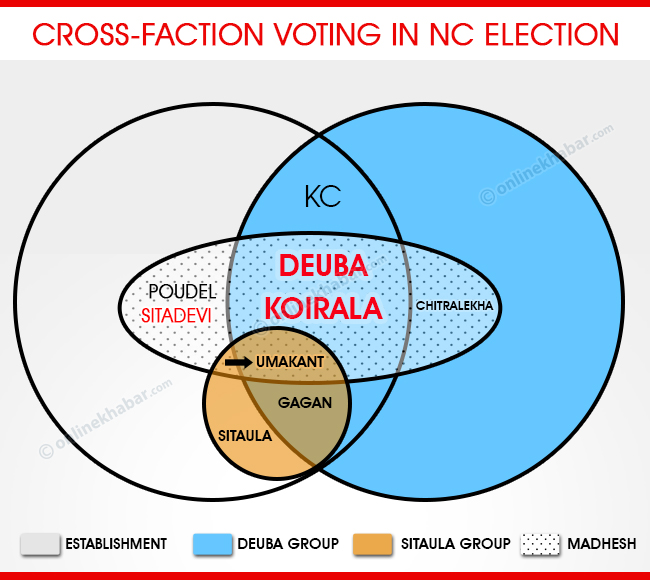 During the 12th convention of the party, then president Sushil Koirala received 1,652 votes, and his general secretary Prakashman Singh 1,656 votes. Both were from the establishment faction.
This time, Sher Bahadur Deuba has become president, but Shashank Koirala, who is not from the Deuba faction, has become general secretary. Of all the candidates that the establishment faction fielded, Shashank  received the most number of votes.
Establishment's vote: 1,200 
Ramchandra Poudel, the establishment side's candidate for president, received 1,160 votes in the first round, and in the second round it went up to 1, 296. While the faction's candidate for treasurer, Sitadevi, also received 1,217 votes. That is why it can be said that the faction's true supporters are 1,200 convention delegates.
How did Shashank get 200 more?
But Shashank received 1,417 votes, 200 more than Yadav and Poudel. Shashank's close competitor Arjun Narshingh received 1,017 votes. According to sources, those who voted for Poudel or Deuba for president did not necessarily vote for general secretary candidates backed by the two. This was evident because the ballot for treasurer and general secretary was the same.
According to a member, Arjun Narsingh KC, candidate for general secretary from the Deuba faction, polled 150 more votes than expected, given the number of voters from the Deuba camp. In the races for general secretary and treasurer, Gagan Thapa and Sita Devi Yadav polled 300 more votes than expected.
Based on this analysis, if one is to assume that the establishment had a total of 1,200 votes, Arjun cut 150 of Shashank's votes, whereas Gagan cut 300 of his votes. This means he got around 750 votes from the establishment faction. In all, Shashank from the establishment faction bagged more than 1,400 votes from outside his camp.
Khum Bahadur's support
Arjun Narsingh KC had left the establishment faction to join the Deuba camp days before the start of the NC's 13th general convention. The KC move probably did not go well with some Deuba loyals, who may have voted against KC, the Deuba candidate for general secretary. It should also be noted that Prakash Sharan Mahat, KC's rival, who also hails from Nuwakot district, is with the Deuba camp. In the vital race, KC did not get more than 50 votes from Mahat and his loyalists. In the Deuba camp, Khum Bahadur Khadka heads a faction that is campaigning for declaration of Nepal as a Hindu state. This faction has more than 150 votes. Leaders from the Deuba camp concede that the Khadka faction voted for Shashank.
On the eve of the NC jamboree, Shashank, in an interview with BBC, had said it is possible to backtrack from secularism, republicanism and federalism. This interview probably brought him votes from the Khadka faction. Even if we are to consider that Shashank got 200 votes from this faction, it is impossible for him to poll more than 1,000 votes.
So, how did Shashank poll all these votes?
Bimalendra-Amaresh factor
Remember what NC leader Dr Shekhar Koirala had told Onlinekhabar right before the NC general convention? Dr Koirala had said Madhesh will be a decisive factor in the Congress general convention this time around. In case of the race for NC general secretary, that is what happened.
This time, Amaresh Kumar Singh went with the Deuba camp. According to Congress leaders, Singh asked Congress voters to vote for Deuba and Shashank. Singh told Onlinekhabar: I am satisfied with election results, I played a role in all this.
According to a source, party leader Bimalendra Nidhi also played a role in securing Madhesh votes for Shashank. Nidhi is second in rank in the Deuba camp. He is a contender for the position of general secretary (nominated).
If Arjun Narsingh KC had won the race for general secretary, he surely would have prevailed over Nidhi. Nidhi did not want this to happen, so he played a role in KC's defeat and Shashank's victory, the source says.